M3GAN Is Already Slaying Her Opening Weekend Box Office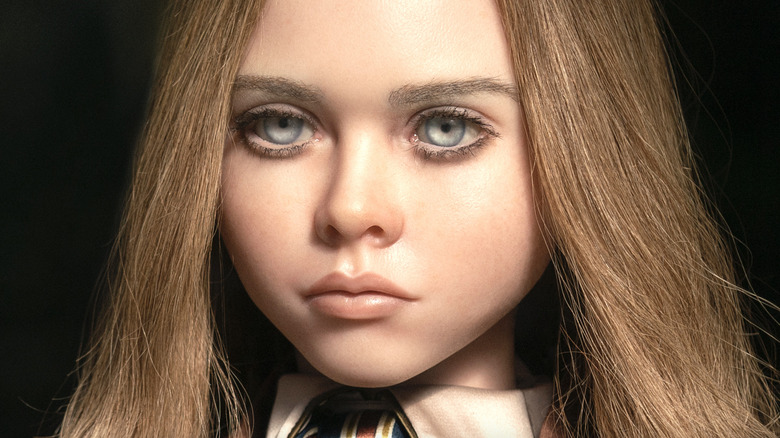 Geoffrey Short/Universal Pictures
It's only has been a week since 2023 began, but one new movie already seems to have caught American moviegoers' attention. The film in question, "M3GAN," has been a topic of conversation ever since the first trailer for it was released by Universal Pictures back in October of 2022. The film's debut trailer went viral, and it's never been hard to see why. Not only does the trailer tease the film's premise, which revolves around the creation of a robot doll named M3GAN, but it also features one truly absurd, laugh-out-loud scene where M3GAN begins to dance in the middle of a dark office hallway.
Ever since that trailer was released, "M3GAN" has been shaping up to be the first noteworthy horror film of 2023. The anticipation surrounding it only continued to grow, too, after it was revealed that the film was written by Akela Cooper, who received similar attention in 2021 for the bonkers screenplay she wrote for director James Wan's supernatural thriller, "Malignant." Her newest film was, notably, based on a story that she and Wan created together — a fact that made "Malignant" fans only more excited to check out "M3GAN."
Now, just one full day after "M3GAN" hit theaters in the United States, it seems safe to say that the viral hype surrounding the film has already started to pay off for it.
M3GAN's opening weekend box office estimates have grown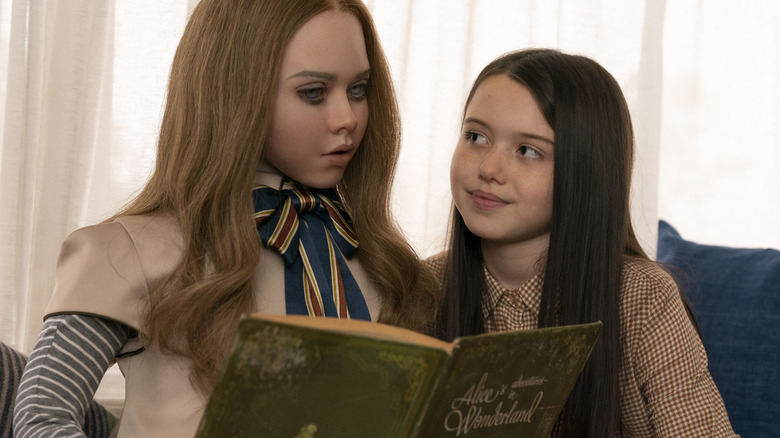 Geoffrey Short/Universal Pictures
According to Deadline, "M3GAN" took the No. 1 spot at the domestic box office this past Friday by raking in a total of $11.7 million across 3,509 theaters. As a result, the film has managed to rake in a whopping $30.2 million during its opening weekend. "Avatar: The Way of Water" continues its winning streak, set to rake in somewhere over $45 million in its fourth weekend. While "Avatar" was the overall weekend warrior, it should be noted that "M3GAN" managed to bring in $300,000 more than James Cameron's sequel on Friday. The "M3GAN" stans clearly showed up on Friday. 
To date, BoxOfficeMojo reports that Wan's "M3GAN" has already earned a total of $45 million at the worldwide box office. Its domestic performance, notably, makes it the first January horror film to earn more than $20 million in its opening weekend since "Insidious: The Last Key," which raked in $29.6 million when it made its debut in January of 2018.
These early box office totals should come as welcome news to Universal Pictures, Akela Cooper, Wan, director Gerard Johnstone, and the rest of the creative team behind "M3GAN." With such positive reception at the box office, it means the film has already earned more than double its $12 million production budget (via Variety) in just its first three days in cinemas. The film is, in other words, already on its way to performing well enough financially to warrant behind-the-scenes discussions about a potential sequel. For theatres and studios, however, the early the success of "M3GAN" also means that the theatrical experience isn't dying.
What does M3GAN's early box office success mean?
As the film industry continues to reel from the challenges presented throughout the last few years, it's fair to suggest that the first weekend at the 2023 box office was a success. While "Avatar's" dominance was sure to continue, "M3GAN" remained an unknown quantity, even in the face of the strong viral push the horror film received thanks to TikTok and other social media posts. James Wan's latest proves that audiences are more than ready to return to cinemas for intriguing and gutsy ideas, at least when it comes to horror. 2022 proved to be a fruitful year for horror projects at the domestic box office with "Nope," "Smile," and "The Black Phone," all raking in over $90 million –  a feat star-studded flicks like "Amsterdam" and "Babylon" could barely achieve (via Box Office Mojo). "M3GAN" is just the latest entry to capitalize on this profitable trend. 
As 2023 continues to unravel itself, many in the industry hope that this year's box office can continue to grow. 2022 raked in just shy of $26 billion, a might number, albeit 35% below the 2017-2019 average (via Variety). For now, "M3GAN's" success is a good start to 2023, and all eyes are on what's next. The ending of "M3GAN" does open the door for a future sequel. With that in mind, while its franchise prospects will likely depend entirely on its box office totals after this weekend, it seems safe to say that the film's slow march toward a sequel has already gotten off to a very promising start.