Phil Lord, Christopher Miller Won't Receive Directing Credit On Solo: A Star Wars Story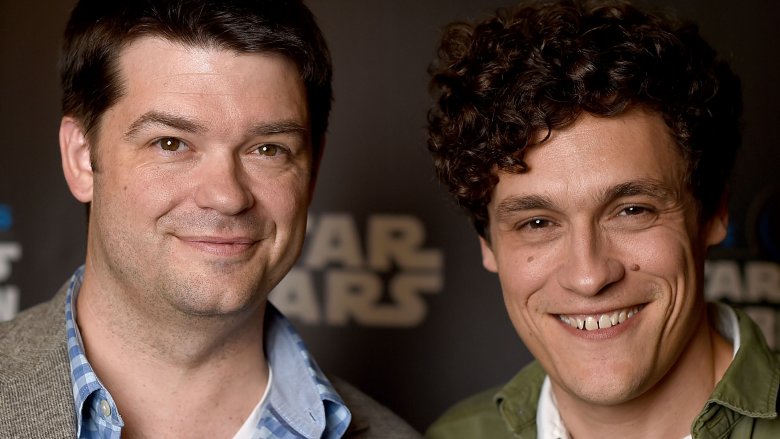 Getty Images
Former Solo: A Star Wars Story directors Phil Lord and Christopher Miller have revealed that they won't receive a directing credit on the forthcoming film. 
Speaking at the third annual GLAS Animation Festival in California on Friday, Lord and Miller indicated that rather than taking recognition for their directorial contributions on Solo: A Star Wars Story, the young Han Solo movie starring Alden Ehrenreich, they have decided to take a different creative credit. 
"We were really proud of the many contributions we made to that film," Miller stated to the audience (via Variety). "In light of the creative differences, we elected to take an executive producer credit."
Lord and Miller — who together directed Cloudy with a Chance of Meatballs, The Lego Movie and 21 Jump Street — were fired from Solo: A Star Wars Story in June of 2017 due to those aforementioned creative differences. Lucasfilm president Kathleen Kennedy explained at the time, "Phil Lord and Christopher Miller are talented filmmakers who have assembled an incredible cast and crew, but it's become clear that we had different creative visions on this film, and we've decided to part ways." 
The duo also chalked the exit up to a clash in creative vision, stating that their ideas for Solo: A Star Wars Story "weren't aligned" with ones that others involved in the project had. "We normally aren't fans of the phrase 'creative differences,' but for once this cliché is true," Lord and Miller said in a statement. "We are really proud of the amazing and world-class work of our cast and crew." 
Shortly afterward, additional information obtained from sources close to the film's production revealed that Kennedy, Lord, and Miller weren't on the same page in the slightest, with Kennedy believing "Lord and Miller were hired to add a comedic touch" to the Star Wars spinoff, and Lord and Miller believing "they were hired to make a comedy ... a Phil and Chris movie." The two reportedly deviated too far from the established script, encouraged actors to improvise rather than stick to the story, and even allegedly made major changes to the script in the middle of production — all things frowned upon at Lucasfilm. 
A Beautiful Mind and The Da Vinci Code filmmaker Ron Howard was tapped as the new director of Solo: A Star Wars Story after Lord and Miller were officially out of the picture. During filming, Howard often sprinkled behind-the-scenes teases (like videos of R2-D2 droids going up in flames and footage of scrapped speeders) across his social media platforms, possibly in efforts to divert attention away from the director-related drama and ease any worries about further production woes. 
With a rockin' teaser released during the 2018 Super Bowl, an official trailer unveiled the very next morning, and a ton of awesome exclusive set photos shown off in the weeks after, Solo: A Star Wars Story has shaped up to be quite the promising spinoff, despite all the chaos that happened behind the camera. 
Set before the events of 1977's Star Wars: A New Hope, Solo: A Star Wars Story features Woody Harrelson as Tobias Beckett, a criminal who serves as Han Solo's mentor; Donald Glover as Lando Calrissian, the smooth-talking smuggler with a major reputation in the galaxy's underworld; Phoebe Waller-Bridge as L3-37, Lando's droid companion; Emilia Clarke as Qi'ra, Han Solo's childhood pal and partner in crime; and Paul Bettany as Dryden Vos, a mysterious crime lord originally played by Michael K. Williams before he was cut out during reshoots. Topping off the cast are Thandie Newton as Val, Joonas Suotamo as Chewbacca, and Harley Durst as Moloch. 
Head back to the galaxy far, far away when Solo: A Star Wars Story is released on May 25.