A Droid Is On Fire In New Han Solo Set Videos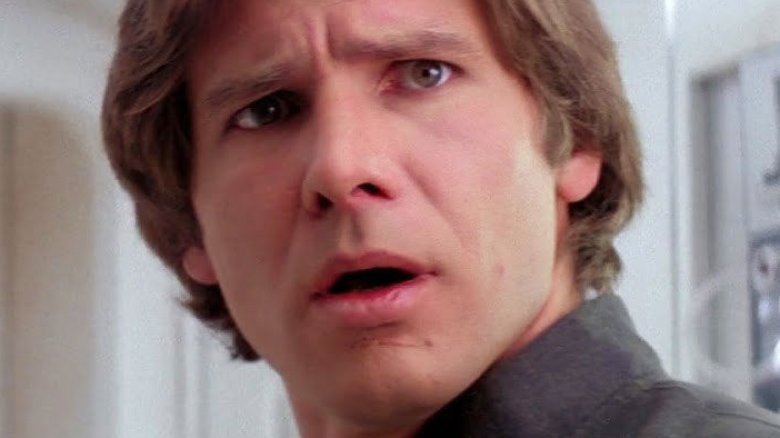 Things are heating up on the set of the untitled Han Solo movie. 
Ron Howard has been teasing Star Wars fans ever since he took the helming reins from original Han Solo directors Phil Lord and Chris Miller after the pair were reportedly fired back in June following conflicts with Lucasfilm. From on-set snaps hinting at new characters, sneak peeks at Donald Glover as a young Lando Calrissian, and even behind-the-scenes looks at hyperspace adventures, Howard's toying has been incessant. 
Now, he's upped his game yet again, sharing two new videos from the Han Solo movie set. The first, posted on his Instagram account, features a chopped-in-half R2-D2 figure with what appears to be a barbecue rack over the top. Inside the droid are hunks of brightly burning fire wood; behind it are piles of discarded junk. "Things are a little rough all over the Galaxy," Howard captioned the clip. 
A second video was shared on Howard's Twitter account, and it features even more junkyard scraps. Howard echoed the same words in his previous caption with this one, describing the scene as showing a "rough corner of the Galaxy." The video starts off showing a steaming section of machinery before panning down to burnt metal pieces. 
These new looks follow just a few weeks after Howard shared two other Han Solo set videos that feature some of the same visuals. One shows a camera-rigged crane swopping across a massive wall of green screen panels. Another gives fans a peek at a beat-up Speeder covered in what looks like either white fire extinguisher residue or freshly fallen snow. "Where old Speeders go to die," Howard captioned that video. 
Perhaps these separate bundles of footage are somehow linked, as they seem to share the same junked items. Then again, this could all be part of Howard's master plan to mess with Star Wars enthusiasts in the months leading up to the Han Solo movie's launch. 
In any case, production on the film is going swimmingly, and Howard couldn't be more pleased with the project and its incredibly talented cast. "It [has] a fantastic script, a great cast, and I am having a fantastic creative experience with it," said Howard. "It's a great young cast, incredibly strong—smart, funny people who love their characters and love being part of this. I think we'll be able to do something that is a lot of fun."
The movie stars Alden Ehrenreich as Han Solo, Joonas Suotamo as Chewbacca, and Glover as a young Lando Calrissian. Woody Harrelson, Emilia Clarke, Thandie Newton, Warwick Davis, and Phoebe Waller-Bridge round out the cast in yet-unspecified roles. 
The yet-untitled Han Solo pic will fly into theaters on May 25, 2018. Until then, check out at everything we hope to see in the movie once it's officially released. 
Rough corner of the Galaxy. pic.twitter.com/A6UmPI60kV

— Ron Howard (@RealRonHoward) August 18, 2017