Keanu Reeves Claims John Wick: Chapter 4's Action Scenes Blow Away Everything That Came Before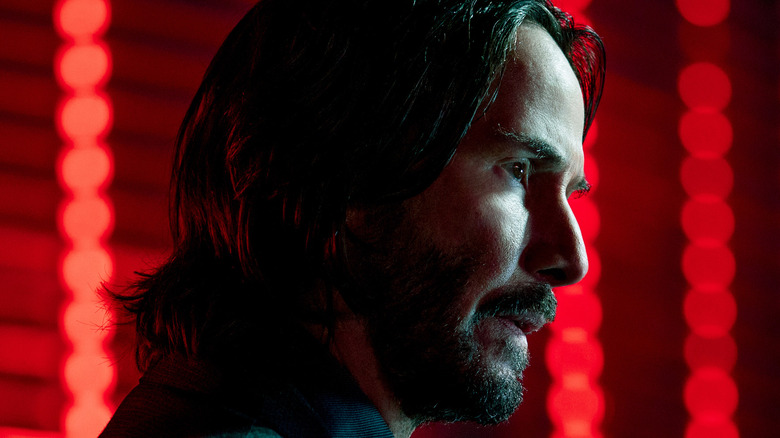 Lionsgate
As most people know by now, Keanu Reeves is someone who takes his job very seriously, especially when it comes to the "John Wick" franchise. But for his latest entry, "John Wick: Chapter 4," even the Baba Yaga himself was pushed to his physical and creative limits, with him dubbing it "the hardest movie" he's ever made.
"In terms of action, the hardest," Reeves explained recently at Brazil's CCXP22 panel in São Paulo. "But that's what makes it good."
Ever since the first film, "John Wick," came out in 2014, fans have been blown away by Reeves' commitment and passion towards the franchise and its titular role. The legendary actor has not only put in the necessary work and training behind the scenes but he's also made sure to keep upping the action ante on set with each new sequel. In November 2022, Reeves called "John Wick: Chapter 4" the most physically-demanding movie he's ever had to do, and his director, Chad Stahelski, backed up the claims.
"Keanu spent months knocking himself out, getting good at nunchucks," Stahelski told IGN. "Ambidextrous, right hand, left hand, while shooting a gun. F***ing guy is great at it."
Speaking at the CCXP22 panel in São Paulo, Reeves peeled back the "John Wick" curtain to reveal exactly why the most recent chapter is without a doubt the hardest of his career, and why it blows the previous films out of the water.
Reeves says Chad Stahelski wanted John Wick 4 to be a culmination of all the others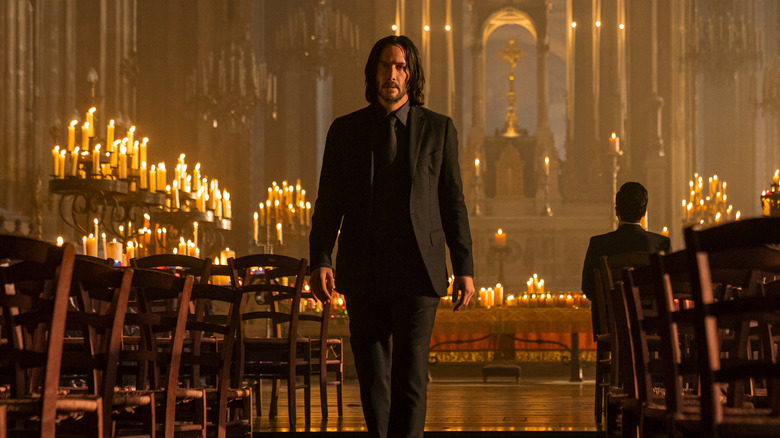 Lionsgate
When it comes to exactly why making "John Wick: Chapter 4" was so hard on Keanu Reeves, the answer is simple: The director wanted to go big or go home. Thus, they needed to up the ante on the action, compared to the previous installments.
"There's more action in this film than any of the others," Reeves explained at CCXP22. "The director has a vision to try and make [the John Wick movies] interesting. Like, we have a great fight in the middle of a street in front of the Arc de Triomphe [in Paris] ... We go back on the horses...Some driving...There's some nunchucks...There's some swords...There's some bow and arrow...It's crazy John Wick stuff."
Speaking to IGN in November, director Chad Stahelski talked about how he wanted "Chapter 4" to be the most John Wick movie ever made, and part of that meant pushing Reeves to the physical and creative brink.
"Keanu's got to get better," Stahelski recalled thinking. "I'm saying he's got to get better at John Wick. He's got to expand, he's got to get better at martial arts. He's got to get better in every way." And that's exactly what seems to have happened, according to Reeves.
"I get to do so many crazy things, whether it's [to] be on a horse or have a knife fight that's like a snowball fight," he told the CCXP22 panel. "But it's the world of John Wick that I think separates it as well," Reeves added, describing his love for the role. "It's just a lot of fun."