How Keanu Reeves Is Training For John Wick 4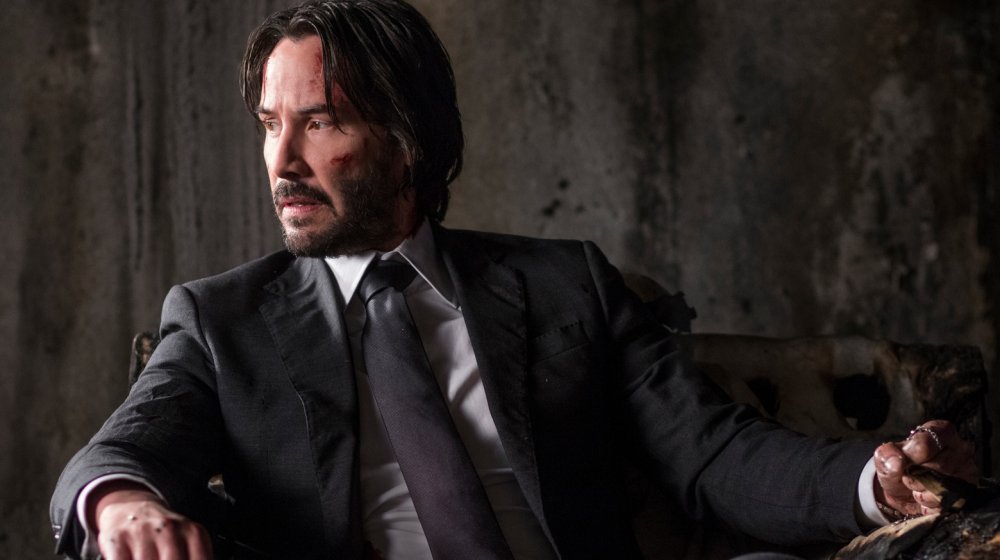 Lionsgate
While Bill & Ted Face The Music is hogging the spotlight right now, Keanu Reeves' other upcoming projects are just as deserving of attention. John Wick 4 is on the way, arriving in a couple of short years, and fans could not be more excited. The cliffhanger ending of the third film left viewers wanting more, but they should be careful what they wish for. At any rate, Reeves himself appears to have the film on his mind too, as he's already undergoing a great deal of training to step back into the hitman's shoes (via CinemaBlend).
Keanu Reeves donned the blood-soaked suit for the first time in 2014. The first John Wick movie was a resounding success, resulting in two more popular sequels. One of the series' hallmarks is its incredibly fluid and believable action sequences. Such scenes take a lot of planning and plenty of practice, which is a testament to Reeves' commitment to the role.
Playing a madman like John Wick means there's no time to let up. Preparation is full-steam ahead until filming is over. It's more than a day's work to get down complex fight choreography and precise gun handling. Even though John Wick 4 got pushed back a whole year from its planned May 2021 release date, Reeves isn't taking a break from his training. After all, those shooting skills aren't going to sharpen themselves.
Keanu Reeves is taking aim at a famous Hollywood shooting range to prepare for John Wick 4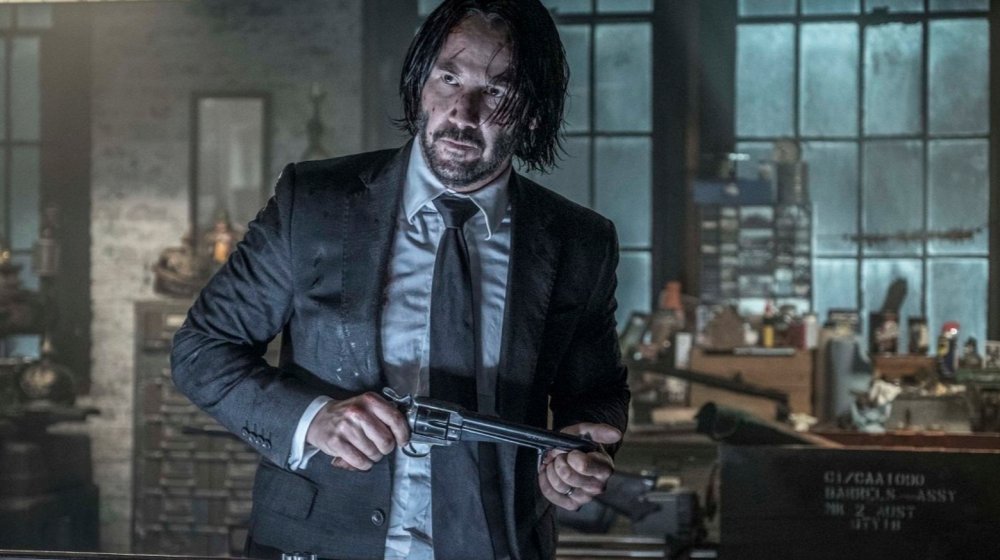 Lionsgate
As everyone knows, one of John Wick's biggest strengths is his proficiency with a gun. He can clear a room in the blink of an eye using only a handful of bullets. With three films under his belt so far, Keanu Reeves is surely an excellent shot in real life, though he certainly has to get the rust off between films. To that end, Reeves has apparently been spending a lot of time at the gun range to get his trigger finger back in shape. 
Enter: Taran Butler, gun trainer to the stars. Butler's shooting range, Taran Tactical, has been an important training stop for gun-slinging A-listers, including Michael B. Jordan, Shemar Moore, Joel Kinnaman, and Will Smith, who trained there to play the villainous assassin Deadshot in 2016's Suicide Squad. 
It's perhaps no surprise that Reeves is back at the range with Butler; he trained there previously with Halle Berry in preparation for 2019's John Wick: Chapter 3 – Parabellum. All that time at the range isn't just about John Wick, either. Those gun skills should also serve him well in The Matrix 4, which will likely require a similarly trigger-happy Reeves. Considering the shooting range's past results, it's safe to assume that Reeves — and his big-screen alter-ego — are in good hands.