Jonathan Majors On His New Movie Devotion, Flying Old Warplanes, And More - Exclusive Interview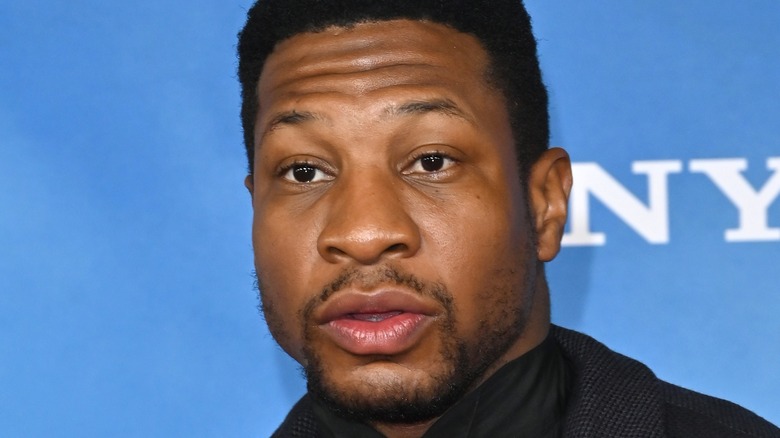 Featureflash Photo Agency/Shutterstock
Acclaimed actor Jonathan Majors leads the new historical war drama "Devotion" as Jesse LeRoy Brown, who fought in the Korean War as the first Black aviator in the history of the U.S. Navy (via Naval History and Heritage). Based on the book of the same name, "Devotion" (directed by J.D. Dillard) embodies its title in two ways: by chronicling Brown's deeply moving relationship with his wife, Daisy (Christina Jackson), and showing his inspiring friendship with fellow aviator Tom Hudner (Glen Powell) — two people who gave Brown strength and support during some of his darkest moments.
In a wider sense, "Devotion" tells the story of courageous pilots who fought during a war that has been somewhat overshadowed in history by larger conflicts. But it also documents the life of a Black man whose incredible accomplishments have not gotten the full historical accounting they richly deserve, even as he fought the institutionalized bigotry of the time to make his mark and serve his country.
"Devotion" also marks a significant step forward for Majors, who takes his first lead in a large-scale Hollywood theatrical feature following notable supporting or main roles in indie or streaming efforts like "Hostiles," "The Last Black Man in San Francisco," "The Harder They Fall," and "Da 5 Bloods," as well as his acclaimed starring turn in the HBO limited series "Lovecraft Country."
He'll also be seen early next year as Marvel supervillain Kang the Conqueror in "Ant-Man and the Wasp: Quantumania" (after cameoing as a variant of Kang in "Loki") and as a figure out of Adonis Creed's past in Michael B. Jordan's "Creed III." For now, he told Looper in our exclusive interview that getting to fly in actual vintage aircraft for "Devotion" was a "super cool, bucket list-level" experience.
The legend and importance of Jesse Brown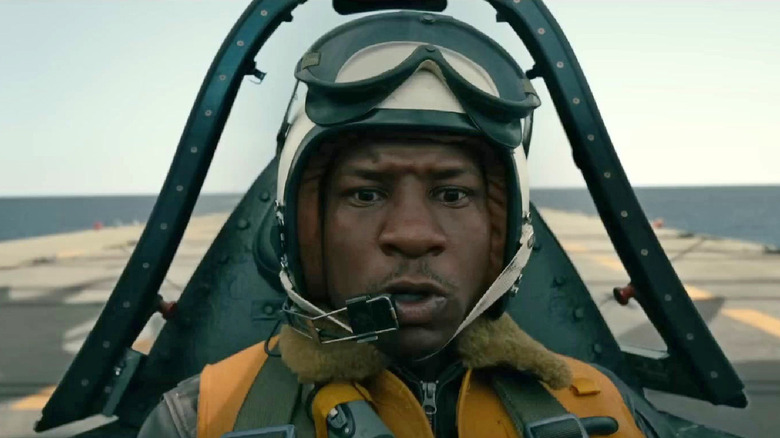 Sony Pictures
This is such a powerful story, and it's a piece of history that a lot of people probably are not familiar with. What was your familiarity with Jesse Brown's story?
It was a bit of a surprise as I could pride myself on knowing a bit about the Korean War. My grandfather was in the Korean War, [and] I was in a TV series in which I played a Korean War veteran, and yet when I got this script for Jesse Brown and his story, I hadn't heard of it. "Devotion" — the story, the film, the book — was my first acquaintance with the legend that is Jesse LeRoy Brown. 
From there, as I read and heard about the story of him coming from Mississippi and essentially making his way into the sky against so many odds, it became clear that this man is not just a legend, but potentially my hero.
How relevant is his story now, 70 years later, especially to people of color who are still having roadblocks thrown in their paths and going through some of the same stuff that Jesse went through back then?
It's extremely relevant. What do heroes do? They give us a light at the end of the tunnel. They give us hope. They give a blueprint on how to get through our own trials and tribulations and shortcomings — and in this case, members of the African diaspora, in this country and abroad, are constantly and consistently having to deal with systematic roadblocks.
That's just the system, not to mention what it feels like to move through the world. Moving through white supremacy is not comfortable. There are things that happen out loud, and there are things that happen secretly that impact a human being.
With Jesse Brown, we see a Black man, a member of the African diaspora, who deals with these roadblocks. He metabolizes that pain and that racism and bigotry, and it essentially fuels him in a way. He overcomes it. He combats it with joy and devotion to something that seems impossible, and he achieves the impossible. If anything, it serves as a testament to one's own drive and one's own hopes.
'One hell of an experience'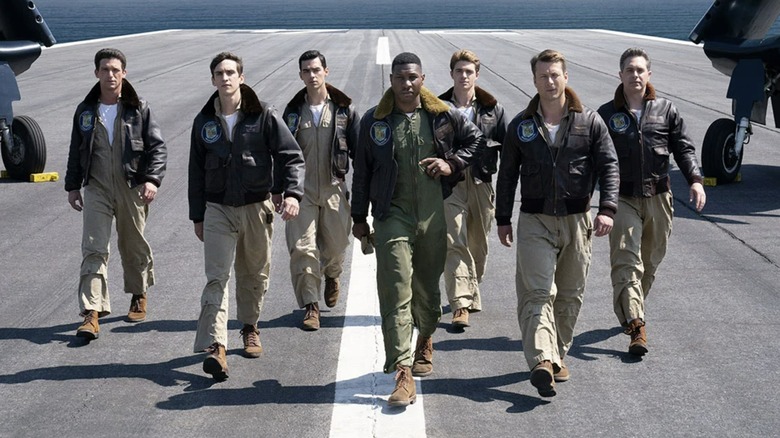 Sony Pictures
You and Glen Powell and other actors actually got to fly in vintage airplanes for the movie. What was that like, and did Glen give you any tips about how to handle it from his "Top Gun: Maverick" experience?
Glen is a pilot, so I don't know if he could go back to learning it. He is one of my best buddies, and he was very gracious in giving me some tips. I handled it okay — a lot of it was because of Jesse. What is the impact of Jesse Brown? Playing him gave me so much drive and so much gusto. We were up in the plane, [and] there were times where I'm sweating bullets, my lunch is in my throat, and the operator asked me, "Do you want to go down?" I said, "No, I do not want to go down."
Jesse wouldn't, so I wouldn't. He was already serving as a blueprint for me. But it was a lot of fun flying those old warbirds and doing those maneuvers. Very few people can say they've done them. Glen, myself, and a few others actually got to do it. That was a gift. That's super cool, bucket list-level. Then you add to that the dangers of combat and dogfighting and all of that. You get one hell of an experience and get one hell of a film.
"Devotion" opens in theaters on Wednesday, November 23.
This interview has been edited for clarity.