Jonathan Majors' Devotion Role Gave Him The Need For Speed And Flying Lessons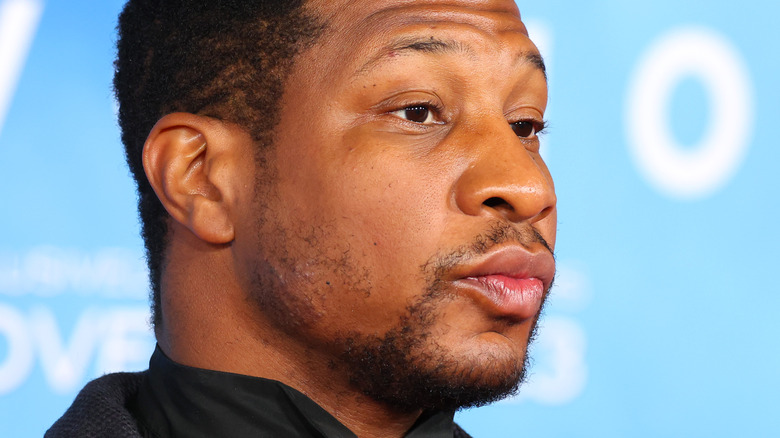 Leon Bennett/Getty Images
Jonathan Majors could be positioned to become one of the biggest movie stars of his generation. In fact, he may be this already, considering the projects he's been involved in during the last 11 years. Majors' breakout role was arguably in the ABC mini-series "When We Rise," as he'd quickly land supporting feature film roles in "Hostiles," "White Boy Rick," "The Last Black Man in San Francisco," and "Da 5 Bloods" just to name a few. However, many fans likely know Majors from his starring role in "Lovecraft Country" alongside Jurnee Smollett and the late Michael Kenneth Williams. Now, he holds an iconic role in the Marvel Cinematic Universe as Kang the Conqueror and will go toe-to-toe with Michael B. Jordan in "Creed III." Needless to say, Majors has a very bright future ahead, but it will all start this Thanksgiving with "Devotion."
Based on a true story, "Devotion" will follow Majors' portrayal of Jesse Brown, the first Black man to complete Naval Aviation Training back in 1948, and who became one of the most decorated pilots in Navy history during the Korean War alongside his wingman, Tom Hudner (Glen Powell). Powell had already gone through extensive pilot training for his role as Hangman in "Top Gun: Maverick," and in the meantime, earned his pilot's license, according to Majors (via "Jimmy Kimmel Live").
This meant Majors had some catching up to do for the role, and he recently explained that training for "Devotion" gave him the need for speed after flying lessons.
Jonathan Majors says flying gave him swag and made driving a car difficult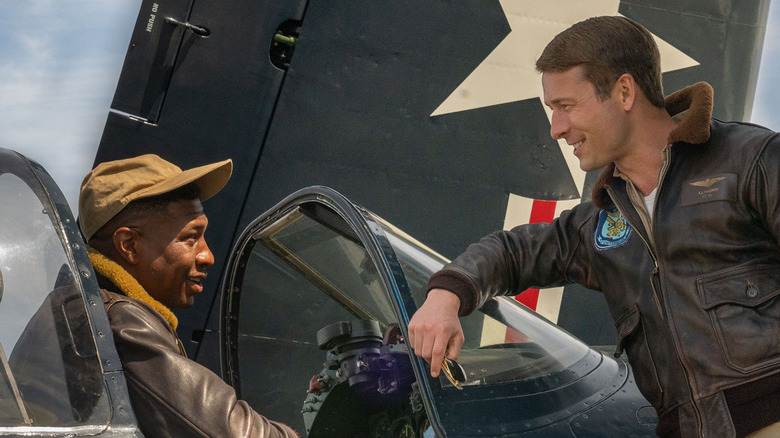 Sony Pictures Entertainment/
While speaking on the "Jennifer Hudson Show" about his upcoming role in "Devotion," Jonathan Majors detailed the flying training required for the movie and how it affected him. "You should eat bananas because they taste the same way going down as they do coming up," Majors joked. "It's intense, and the cool part about it is if you can make it, the amount of swag that you get when you get out [of] that plane is untouchable," he continued. Majors went on to say that aside from a sense of confidence, flight training oddly gave him the best sleep that he's ever gotten in his life as well. However, it affected his car driving ability, making it hard to adjust to a lower speed. "But the funny thing is what happens to you the next morning when you get in your car," Majors noted. "Because after flying an airplane, driving a car is a whole different ball game."
Majors explained that he started going 70 miles per hour in 40-mile-per-hour driving zones, and he allegedly even got pulled over about five times for doing so. All-in-all, Majors has logged 27 hours of flight time for "Devotion," and he said he wants to finish it out and get his pilot's license like co-star Glen Powell. The film already has very positive reviews from critics and will release on November 23rd in theaters for audiences to experience.