Dominique Thorne Wanted Riri Williams To Break Expectations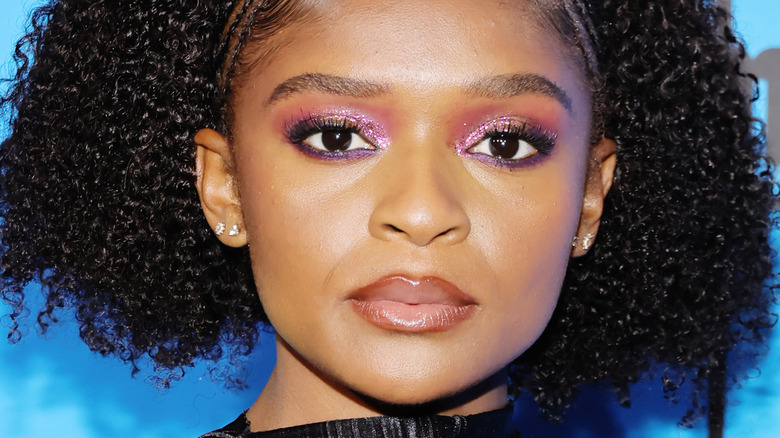 Amy Sussman/Getty Images
As the final theatrical release of the Marvel Cinematic Universe Phase 4, "Black Panther: Wakanda Forever" had a lot of work to do. Not only did it need to follow up on everything that's happened in Wakanda since the Blip and work around the untimely death of the original Black Panther, Chadwick Boseman, but it also had to lay the groundwork for future MCU stories.
In keeping with that ethos, "Wakanda Forever" introduces the character of Riri Williams, aka Ironheart. Played by Dominique Thorne, Williams is a child prodigy whose genius outstrips even that of her MIT professors, and one of her inventions — a machine that can detect vibranium — becomes the inciting incident propelling much of the film's narrative engine. When the secretive underwater nation of Talokan, led by the mutant Namor (Tenoch Huerta) finds Williams' machine probing for vibranium near their waters, Namor seeks to apprehend and kill the young scientist, believing that her invention spells the beginning of the end for his secretive kingdom.
Thorne will reprise the role of Williams in the upcoming Disney+ series "Ironheart," so introducing the character in "Wakanda Forever" is reminiscent of how Tom Holland and Chadwick Boseman were first introduced as Spider-Man and Black Panther in 2016's "Captain America: Civil War" before they featured in their own solo films. "Ironheart" will see Thorne as Riri Williams as she builds a full version of her iconic Ironheart suit.
Since Riri Williams is a genius who builds Iron Man suits — something even Tony Stark doesn't accomplish until his middle ages — in her spare time between MIT classes, it was important to Thorne that she play the character in such a way as to subvert audience expectations of that archetype, as she elaborated in a new interview.
Dominique Thorne played Riri Williams as a different kind of genius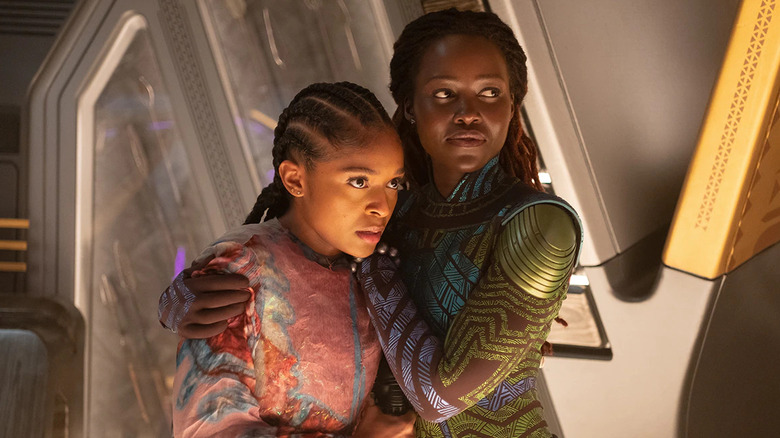 Marvel Studios/Disney
Speaking to Collider, Dominique Thorne explained how she approached the role of Riri Williams, saying she always wanted the character to buck the stereotypical ideas regarding how young geniuses are portrayed. "It was important for me that Riri Williams, who we all know is a super genius, and who we all know does this incredible build by making her Ironheart suit... was outside of what folks might expect when they think about what a genius looks like, or what someone who goes to MIT sounds, or just how they carry themselves in that space." Watching her introductory scenes in "Wakanda Forever," it's clear Thorne imbued Williams with a cocky streak that's more than a little bit reminiscent of Tony Stark's brashness, but with her own unique spin.
Thorne is no stranger to genius, having attended Cornell University before taking her breakout role in the Academy Award-winning James Baldwin adaptation "If Beale Street Could Talk" (via Cornell Research). In the MCU, she joins a growing roster of fresh-faced talent recruited by Disney over the past several years to star in new projects, including Hailee Steinfeld ("Hawkeye"), Iman Vellani ("Ms. Marvel"), and Kathryn Newton ("Ant-Man and the Wasp: Quantumania"). In that context, setting Riri Williams apart from the pack may be of even more importance, a way to differentiate her when she gets the spotlight for "Ironheart." After all, Riri is in many ways the successor to Robert Downey Jr.'s iconic Tony Stark.
Acknowledging that her ambitions for the character were supported by "Wakanda Forever" writers Ryan Coogler and Joe Robert Cole, along with Harvard scholar and "Ironheart" comics writer Eve Ewing, Thorne continued, "In me figuring out how to embody Riri is wanting to figure out how I could play around in different moments and maybe do something differently than whatever my first thought might be."