Riri Williams' First Steps As Ironheart In Wakanda Forever Mirror A Classic Iron Man Scene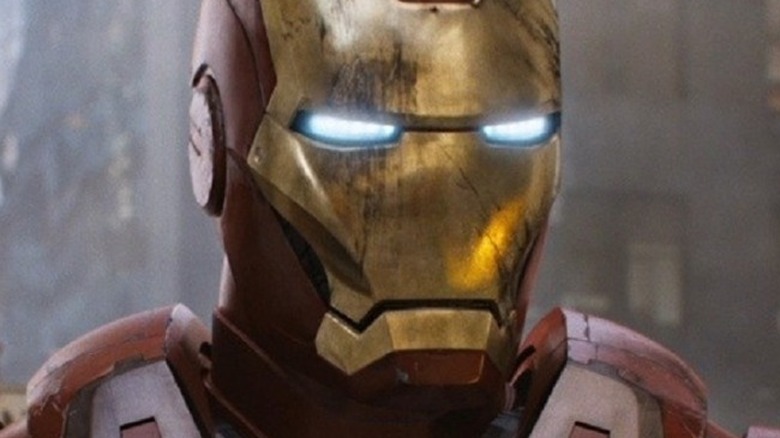 Marvel Studios/Disney
The following article contains spoilers for "Black Panther: Wakanda Forever."
"Black Panther: Wakanda Forever" sees Shuri (Letitia Wright) step up to take on the mantle of Black Panther. After T'Challa's death early on in the film, no one assumes the title and rank of the country's protector. This is, in part, due to the fact that there's no more heart-shaped herb, as Shuri's unable to reproduce its properties. However, after a major crisis, Shuri manages to solve the scientific puzzle and gain super strength from an artificially-crafted herb. She then designs her own Black Panther suit and carries on the legacy. 
However, a new Black Panther isn't the only superhero to get introduced in this story. Riri Williams (Dominique Thorne) gets on the Wakandans' radar when an invention of hers falls into the wrong hands and makes Namor want her dead. Shuri aims to keep her alive, which proves to be fortuitous during the final battle between Wakanda and Talokan, as Riri designs a new set of armor to fend off foes with. This will undoubtedly lead to her taking on the mantle of Ironheart, as is the case in the comics. 
Ironheart, of course, takes after Iron Man (Robert Downey Jr.), who sacrificed his life in "Avengers: Endgame." Expect plenty more parallels between the two heroes when Ironheart's Disney+ series of the same name debuts in the near future. But for now, we'll have to make do with a mirroring between the first time the characters took flight in their respective introductions. 
Both Iron Man and Ironheart run into trouble from going too high
Riri Williams finds herself in a pinch when she escapes from her garage in her prototype Ironheart armor. As she escapes with Shuri and Okoye (Danai Gurira) in tow, they discover there's a drone on their tail. Riri has to fly high up into the sky to take it down, but the problem is that her suit doesn't have a mask yet. She starts losing oxygen and eventually passes out. Don't worry, though; she regains consciousness in the nick of time. 
This seems like a pretty obvious parallel to the first time we see Tony Stark try out his armor in 2008's "Iron Man." He also flies high into the sky, but his problem comes down to icing. His suit freezes up when he's too high, and he temporarily loses control of it. Once again, he gains control of his suit to save his life right at the last second. 
While both Riri and Tony are geniuses, the sequences show they still have a lot to learn, and there are improvements to be made to their suits. But that's not the only parallel Riri gets to the godfather of the MCU. 
Iron Man and Ironheart also exploit the former weakness to beat the bad guy
However, that's not where the similarities end. Later in the movie, Riri Williams gets a shiny new set of armor, complete with a mask so that she can fly even higher. This comes in handy as she and Shuri need to trap Namor (Tenoch Huerta) in a dehumidifier chamber, so Riri is able to lure him into the sky while Shuri catches him in the container while he's disoriented. 
Likewise, Tony Stark uses the icing problem to his advantage later on when he goes up against Obadiah Stane, aka Iron Monger (Jeff Bridges). Obadiah constructs his own Iron Man suit using Tony's technology, but he hadn't figured out the ice problem by that point, so all Tony has to do is lure him high into the sky for him to fall back down to earth. 
Again, the scenes reveal something about their respective characters. Part of being a genius is knowing how to adapt. They each take a former weakness and use it to their advantage later on. They're both geniuses, and if Ironheart's going to become the MCU's new Iron Man, it only makes sense to directly relate her to such an iconic character.