Black Panther: Wakanda Forever's Dominique Thorne Teases Ironheart And Iron Man Connections To Come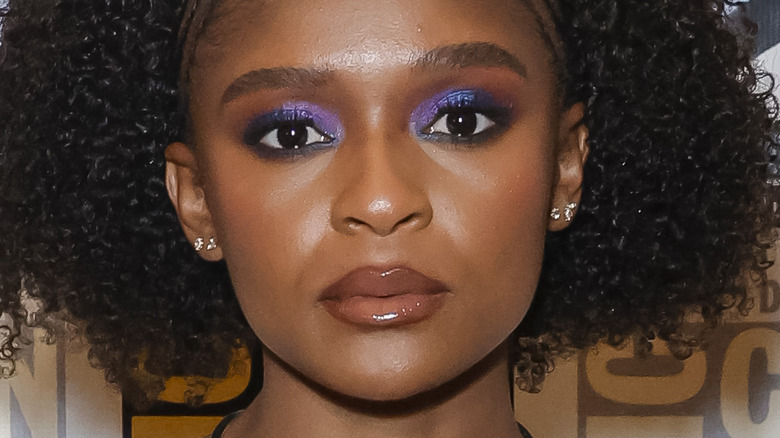 Frazer Harrison/Getty Images
"Black Panther: Wakanda Forever" is taking over the box office after its opening weekend. The sequel to 2018's "Black Panther" earned over $180 million, breaking the previous record of the highest-grossing opening weekend in November in North America set by "The Hunger Games: Catching Fire" (via Variety). The film has also garnered positive reviews from fans and critics thus far (via Rotten Tomatoes), making it an excellent close to the Marvel Cinematic Universe's Phase 4. The cast of "Wakanda Forever" knew they had a tough task ahead of them before filming the sequel, as the death of the late Chadwick Boseman was still fresh. Letitia Wright was candid and told Looper in an exclusive that they all took it one day at a time, grieving when they needed to, and leaning on each other for support.
"Wakanda Forever" honored Boseman's legacy from the beginning of the movie until the end, even drawing some parallels from his journey as T'Challa to Wright's as Shuri concerning vengeance and other experiences. T'Challa had to face Erik Killmonger (Michael B. Jordan) as he found his footing as the Black Panther and King of Wakanda. Shuri now faces Namor (Tenoch Huerta) and the people of Talokan — a powerful and gifted nation of ocean-dwellers. The conflict begins, however, because of another important character — Riri Williams, a.k.a. Ironheart (Dominique Thorne).
Thorne has her self-titled series coming out in the Fall of next year (via Marvel), and after her debut in "Wakanda Forever," she's given fans a little tease for some future Tony Stark (Robert Downey Jr.) connections.
Dominique Thorne says that her character will have similarities to the Marvel Comics version
While speaking with ComicBook.com after the release of "Black Panther: Wakanda Forever," Dominique Thorne explained that the MCU version of Riri Williams would share some similarities with her Marvel Comics counterpart moving forward. "They definitely are similar, but definitely two independent expressions of this beautiful mind," Thorne said. "I think the answer to that is best left to the series next year, so that's where you'll have to come for the truthful answer to that question." If this is true, we will likely discover more threads between herself and Tony Stark.
In "Wakanda Forever," it's very obvious for any longtime fans of the MCU that the scene of Riri crafting her improved Ironheart armor is a callback to 2008's "Iron Man," where Tony builds his first suit. Other than that, the two share the apparent trait of genius-level intellect at a young age, and it's also important to note that Riri attends M.I.T. in Boston, a place where we saw Tony donating at the beginning of "Captain America: Civil War."
Thorne added that she, too, acknowledges the parallels to Tony. "I do think in Riri's creation of this suit, or pursuing a build like that, I think that there's an inherent acknowledgment of what Tony Stark did by creating this suit of armor," she explained. However, Thorne truly believes that it's the ambition that she and Tony both share that leads them down paths to create suits of armor.
Thorne teases the shared ambitious natures of Tony and Riri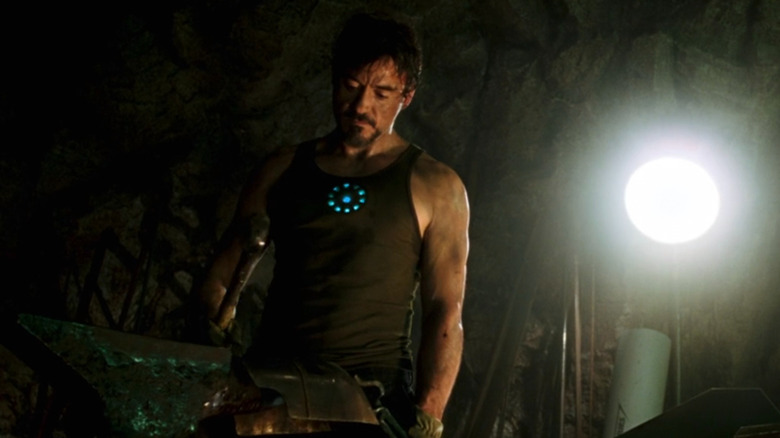 Marvel Studios
We know from Tony Stark's journey in the MCU that his ambition drives him and sometimes leads him astray. This came to a head during "Avengers: Age of Ultron" and nearly cost him Pepper (Gwyneth Paltrow) in "Iron Man 3." At the same time, Tony's ambition has played a part in saving millions of people. Thorne told ComicBook.com that her version of Riri also shares this quality, as we can already see it got her into trouble with Namor during "Black Panther: Wakanda Forever."
"I think for someone as ambitious as Riri Williams, it's without a doubt something that draws you in and begs your attention," Thorne said. "As you can tell from the movie, that ambition will lead where it will lead and this time it's led to her being in line with him by creating her very own suit of armor."
At the end of "Wakanda Forever," Riri does leave Shuri (Letitia Wright) with the suit of armor that she created using Wakandan technology. This means that she will have to make improvements to her own suit that we saw her using earlier on in the film. If she is to follow her Marvel Comics "Ironheart" counterpart, this could involve using old parts from various Iron Man suits. This could likely track the attention of Pepper Potts and possibly even Peter Parker (Tom Holland). Only time will tell when the "Ironheart" series comes out, but fans may witness heavy Tony Stark connections moving forward.