Everything Wakanda Forever Sets Up For The Ironheart TV Series On Disney+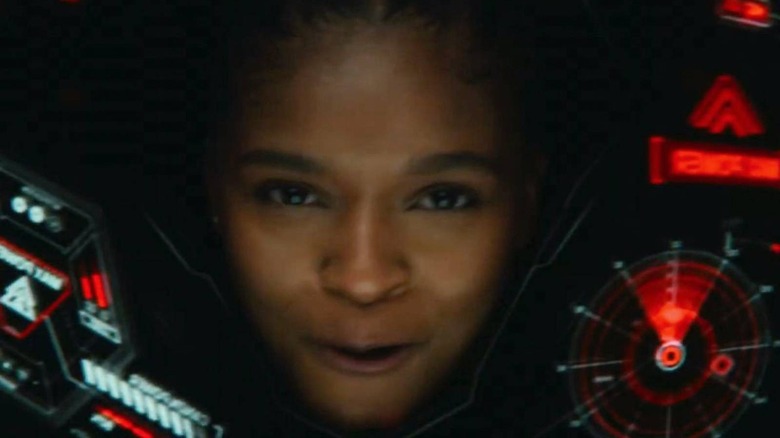 Marvel Studios/Disney
The following article contains spoilers for "Black Panther: Wakanda Forever."
"Black Panther: Wakanda Forever" keeps one foot firmly planted in the past while keeping the other foot pointed toward the future. As seen from the trailers and other marketing materials, the film deals heavily with the fallout concerning the untimely death of King T'Challa (Chadwick Boseman), mirroring the real-life tragedy of Boseman's passing in real life. In that way, the film very much continues the tradition of Marvel Phase 4 films dealing with grief and loss. 
However, while no one will forget T'Challa or Boseman any time soon, the movie also makes it clear there are other heroes out there who can serve as shining beacons for the future of the franchise. Nowhere is this more evident than in the introduction of Riri Williams (Dominique Thorne), aka Ironheart. In the film, she's a studious MIT pupil with a penchant for creating devices that get co-opted by the government. Fortunately, they haven't yet gotten their hands on her pièce de résistance — the Ironheart armor. 
Riri will return for her own Disney+ series, appropriately titled "Ironheart," and while there's still much we don't know about the show so far, we can glean a few things from the ending of "Wakanda Forever." 
The basics surrounding Ironheart
Disney+'s "Ironheart" could go in any number of directions, but after watching "Black Panther: Wakanda Forever," we at least know some of the basics of what to expect. For starters, when we're first introduced to Riri Williams, she's a 19-year-old student at MIT. It's safe to say the show will likely take place heavily on this college campus, seeing Riri juggle building her Ironheart armor with being a regular student. We also get a bit of her backstory, with her revealing that her father is the reason she went into engineering. 
Marvel has already confirmed that The Hood (Anthony Ramos) will function as an antagonist in the "Ironheart" series (via CBR). However, Riri will also likely go up against another barrier along her solo journey. In a key piece of dialogue featured in "Wakanda Forever," Riri bemoans how she's rarely taken seriously for being young, brilliant, and Black. It'd be a safe bet Riri will face systemic issues as well in "Ironheart," where she's underestimated due to her age and the color of her skin. 
What about Ironheart's armor?
One thing that will have to happen in the "Ironheart" series is the titular character will have to get a new suit of armor. There are two Ironheart suits Riri Williams wears in "Black Panther: Wakanda Forever." The first is a rough prototype Riri's forced to use when government officials close in on her garage. However, for the film's final battle, Riri gets one heck of an upgrade with an Ironheart suit she makes courtesy of Wakandan technology.
While it's a pretty slick suit, Riri can't keep it. Shuri (Letitia Wright) tells Riri at the end of the film that while she's able to return to MIT now, the suit has to remain in Wakanda. It makes sense; Wakanda isn't exactly in a safe place on the world stage by the movie's conclusion, so the Wakandans probably don't want their technology to be seen on such a wide scale for the time being. 
As such, one of the first things that's probably going to take place in the "Ironheart" show is Riri designing a new set of armor for her to wear. The Hood is a formidable opponent who uses magic, so Riri's going to need to use all of her wits to come up with something that can match him. While all these details paint a rough picture of what to expect with "Ironheart," there's still plenty that will be a surprise, and we'll just have to wait to see what the Disney+ series has in store for fans.