The Best Shows On Netflix In 2022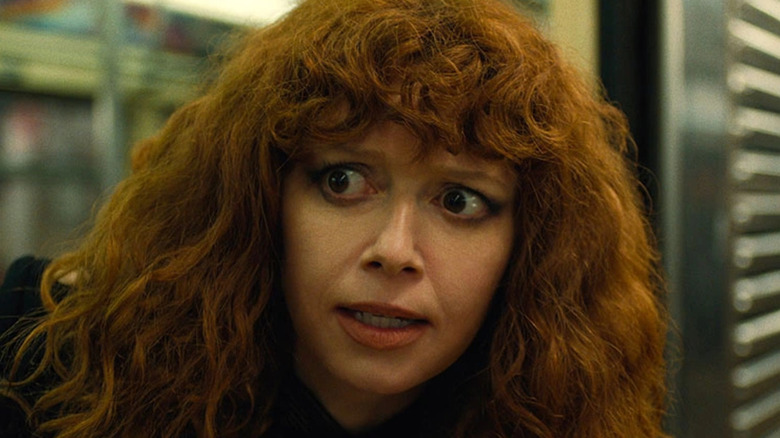 Netflix
2022 has been a huge year for Netflix, particularly with regard to the premium streaming service's original television programming. From the eagerly anticipated return of several fan-favorite series after extended hiatuses to the debut of new shows that are sure to earn fans of their own, Netflix's library has only grown. Across such a wide variety of genres and formats, it's easy to overlook some of Netflix's biggest and best shows this past year. Thankfully, Looper is here with the winning highlights.
With everything from time-bending superhero stories to true crime tales revolving around manipulation and mayhem, there truly is something for everyone to watch on Netflix this year. Here are all the best Netflix original shows to date that released new episodes in 2022 as the digital platform expanded its selection with television that kept audiences at home binging.
All of Us Are Dead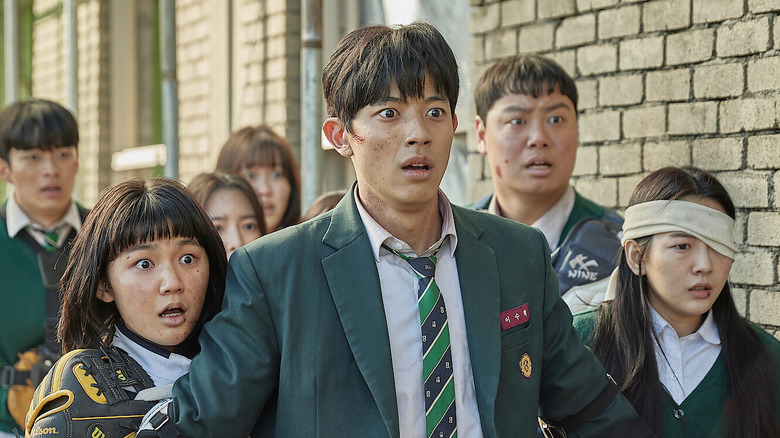 Netflix
From K-pop to "Parasite," South Korean entertainment is taking the world by storm. That cultural diffusion has spread to Netflix's original television programming, notably with its 2021 thriller "Squid Game." Netflix kicked off 2022 with the Korean horror series "All of Us Are Dead," based on a webtoon of the same name by Joo Dong-geun. The series follows a group of teenagers trapped in their local high school in the face of a zombie apocalypse that overtakes their community.
With its strong ensemble cast of characters isolated from the rest of the world, "All of Us Are Dead" leans heavily into the interpersonal drama between the group of survivors. Running for 12 episodes, the show mixes dark humor with undead action as the trapped students struggle to survive the zombies and learn to live together. Elevated by an earnest young cast, "All of Us Are Dead" offers a more humanistic alternative to the zombie genre than contemporaries like "The Walking Dead."
Cobra Kai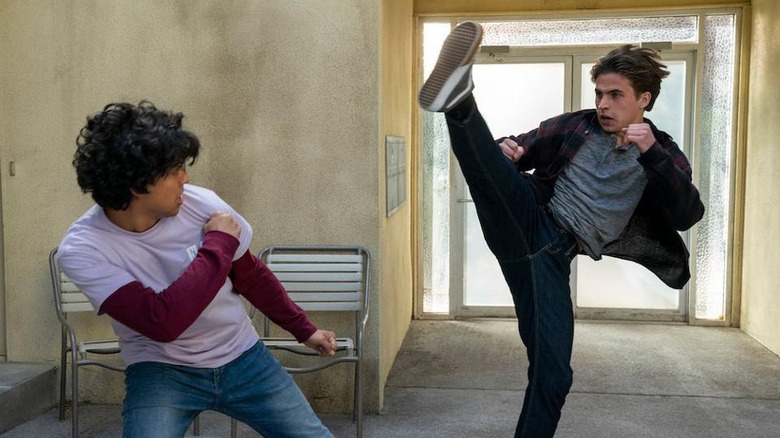 Netflix
Five seasons deep and "Cobra Kai" continues to find exciting new depths to the "Karate Kid" saga, bringing back familiar faces and reforging long-lost rivalries for a new generation. Season 5 delivered the show's most brutal fights and shocking twists yet while drawing plenty of influence from 1989's "The Karate Kid Part III." While Johnny Lawrence and his estranged son Robby Keene travel to Mexico to locate Johnny's surrogate son Miguel Diaz, the manipulative Terry Silver tightens his control over Southern California's surprisingly vibrant karate scene.
While the show's detour south of the border starts off Season 5 on an awkward note, "Cobra Kai" quickly rebalances itself to deliver all the epic team-ups and nostalgic showdowns fans have come to expect and love. Series stars Ralph Macchio and William Zabka are as solid as ever as longtime frenemies Daniel LaRusso and Johnny Lawrence, while the young cast more than holds their own as their feuding protégés. A more focused and intense season than its immediate predecessor, "Cobra Kai" Season 5 proves there are plenty of new moves that the "Karate Kid" franchise can master.
The Dragon Prince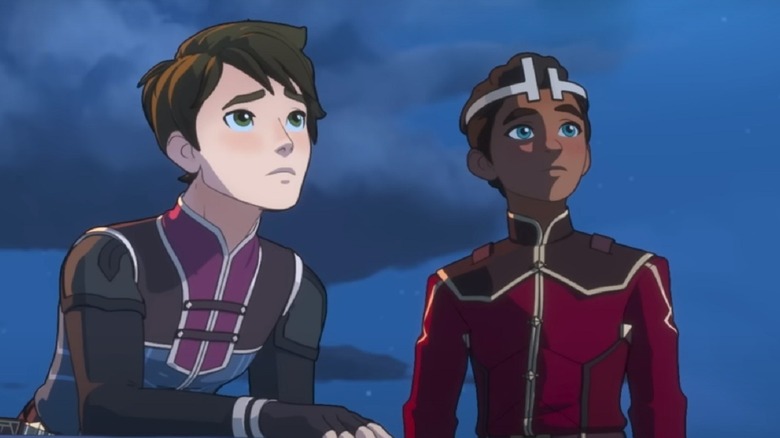 Netflix
After its successful third season debut in 2019, the Netflix original animated series "The Dragon Prince" received a whirlwind renewal order for four additional seasons. After a three-year hiatus to accommodate the ambitious production, the latest season has finally arrived, carrying the subtitle "The Mystery of Aaravos." Set two years after the cataclysmic Season 3 finale, "The Dragon Prince" returns with its main characters in new places in their lives before the fantasy world of Xadia comes under threat once again.
As the dark sorceress Claudia scrambles to permanently resurrect her father Viren, King Ezran and his brother Callum race with their friends to stop them from unleashing the imprisoned evil elf Aaravos. Packed with genuinely engaging characters and sweeping fantasy world-building, "The Dragon Prince" Season 4 serves as a new chapter in the ongoing saga. Created by Aaron Ehasz and Justin Richmond, "The Dragon Prince" leans into its storytelling strengths while hinting at darker things to come.
Inventing Anna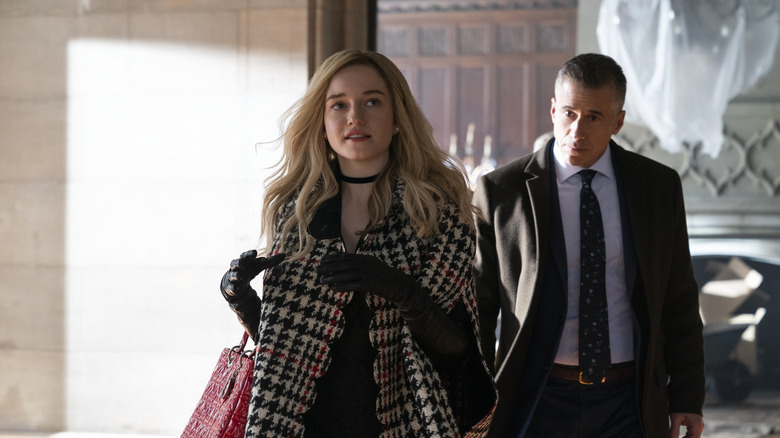 Netflix
For years, real-life con artist Anna Sorokin posed as a wealthy German heiress among New York City's rich and powerful to defraud individuals, businesses, and financial institutions for a small fortune before finally being caught in 2017. Sorokin's deceptive rise and fall are chronicled in the Netflix original true crime miniseries "Inventing Anna," with Julia Garner portraying the faux socialite and fraudster. Deliberately paced and anchored by a captivating performance from Garner, "Inventing Anna" provides a gripping portrait of Sorokin and her lucrative, long-lasting con.
Created by prolific television visionary Shonda Rhimes, "Inventing Anna" unfolds across eight episodes of opulence and carefully calculated manipulation. Garner's portrayal of Sorokin is an engrossing look at a woman on the edge, living two lives and personas for years as she gets lost in her own web of lies. A stark reminder that truth is often stranger than fiction, "Inventing Anna" deflates the pretensions of the super-elite with criminal aplomb.
The Watcher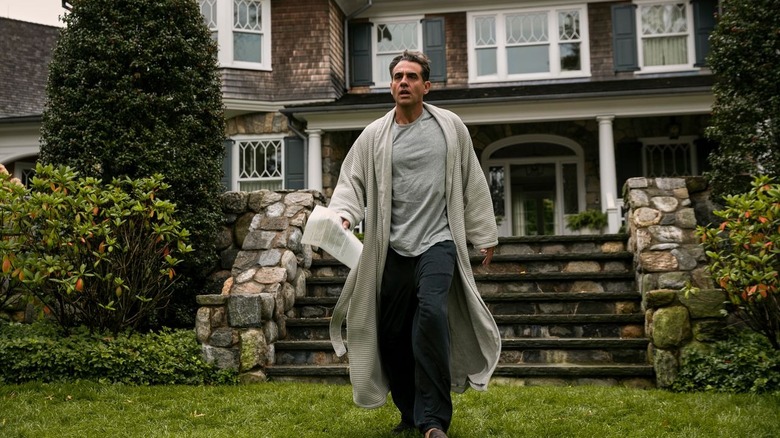 Netflix
Prolific television creator Ryan Murphy's latest Netflix original series "The Watcher" makes sleepy suburbia a living nightmare. It's based on a true story chronicled in a New Yorker article by Reeves Wiedeman. Bolstered by an all-star cast led by Naomi Watts and Bobby Cannavale, the series follows the Brannock family as they move into their presumed dream home in New Jersey. Shortly after making the move, the Brannocks begin receiving threatening messages from someone claiming to be watching their every move, referring to themselves simply as the Watcher.
Unabashedly over-the-top, "The Watcher" revels in the melodramatic camp that fuels much of Murphy's work with a considerably darker edge. More of a mystery-thriller than outright horror, "The Watcher" will keep audiences guessing who the intimidating stalker is right through the season finale. Although it was initially planned as a miniseries, its success has led to it being renewed for a second season in a strong vote of confidence from Netflix.
The Woman in the House Across the Street From the Girl in the Window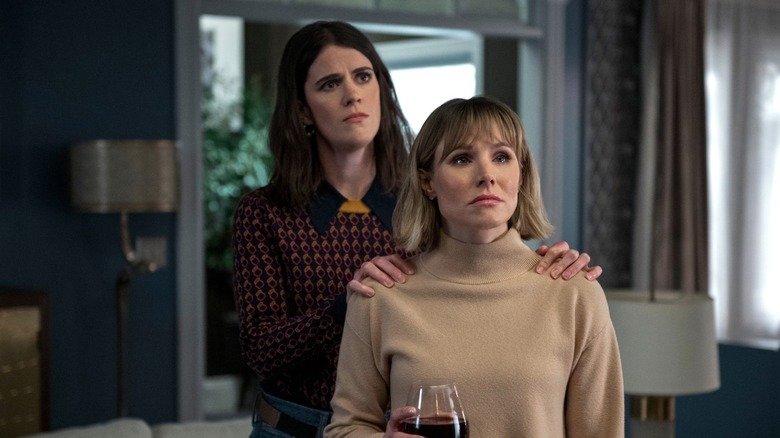 Netflix
Netflix's comedy series "The Woman in the House Across the Street From the Girl in the Window" sends up the thriller genre that shows like "The Watcher" take seriously. The intentionally extended and esoteric title skewers mystery thrillers like "The Girl on the Train," a distinction matched by an intentionally convoluted narrative of murder and intrigue in middle America. Comedy and mystery veteran actor Kristen Bell plays a woman experiencing a string of personal tragedies that are interrupted by a dark mystery involving her neighbors.
Taking potshots at true crime stories and popular murder mysteries in the vein of "Gone Girl," the comedy series delivers its laughs in a knowingly deadpan manner as a parody of the frequently self-serious genre. The joy here is not in the mystery itself but rather in watching Bell channel a very different, tragically self-absorbed crime-solver, far from the "Veronica Mars" mold. Hilariously twisted and murky, "The Woman in the House Across the Street From the Girl in the Window" is the perfect chaser for all of Netflix's somber crime programming.
1899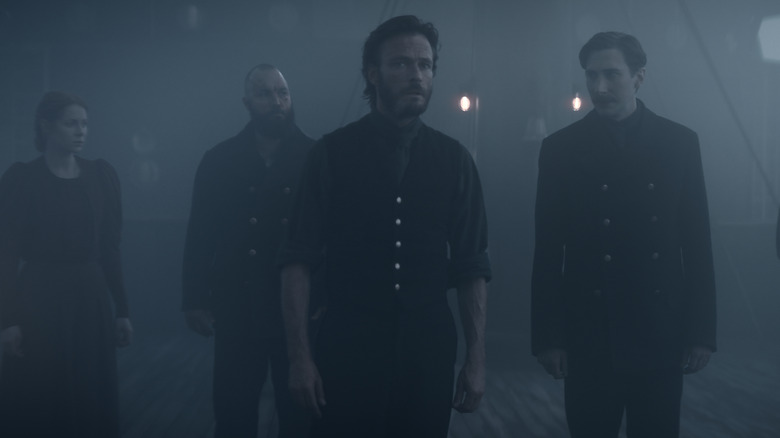 Netflix
Jantje Friese and Baran bo Odar, the creators of the German thriller series "Dark," have reunited for the new Netflix original series "1899," blending historical drama with supernatural horror. Set aboard a steamship full of migrants traveling from London to New York City in search of a fresh start, the passengers each have troubled histories they are looking to escape. After encountering an ominously abandoned steamer while crossing the Atlantic Ocean, paranormal occurrences, along with murder and mayhem, plague the migrants as they continue their journey.
Featuring an international ensemble cast, "1899" plays out like a locked-room whodunnit as dark secrets and tension between the passengers begin to escalate. Add in surreal paranormal elements with an atmospheric score and haunting cinematography, and "1899" draws audiences in for its sinister mystery. A slow burn that quickly accelerates into unrelenting dread, "1899" is the perfect grim thriller to balance out all that seasonal holiday cheer.
Vikings: Valhalla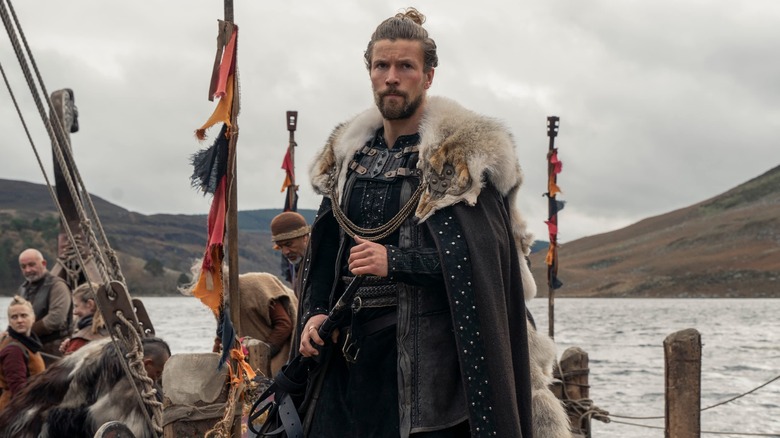 Netflix
While the popular historical drama "Vikings" may have concluded its original series run in 2020 on the History Channel, the spinoff series "Vikings: Valhalla" keeps the medieval epic going on Netflix. Set over a century after the events of the original series, "Valhalla" explores the end of the Viking Age in Great Britain as internal tensions and the conflict with the English reach a breaking point. Boasting all the bloody action as "Vikings," "Valhalla" doubles down on the ambitious scope and epic scale of the historical franchise.
Backed by a strong ensemble cast, "Valhalla" shows the Vikings at a harrowing crossroads, as their traditional pagan beliefs and ideals clash with the spread of Christianity throughout Britain and Northern Europe. As the Vikings' hold over Britain begins to subside, a new faction of the Normans makes their presence known, expanding the medieval intrigue and combatants into the war for the fate of Europe. Finding the perfect new home on Netflix, the "Vikings" franchise is able to truly swing for the fences through "Valhalla," with the spinoff's considerable success leading to a renewal order for two additional seasons.
Bridgerton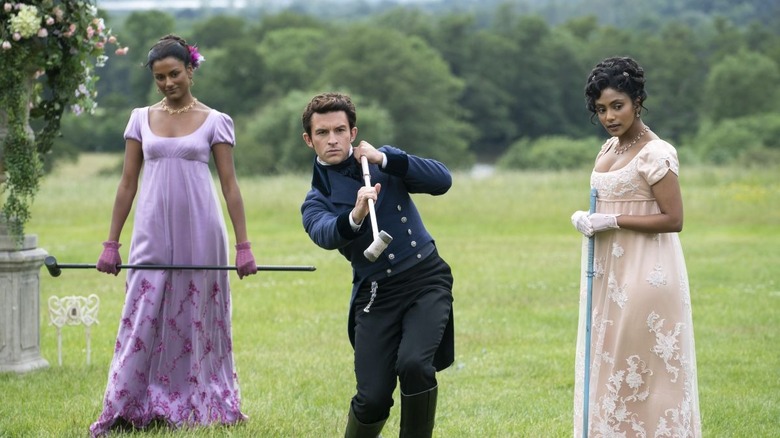 Netflix
Easily one of the sauciest original shows on Netflix, "Bridgerton" adapts the novel series of the same name by Julia Quinn focusing on the aristocratic Bridgerton family during Regency-era England. While Season 1 showcased the bodice-ripping romance between Daphne Bridgerton and Simon Basset, Season 2 puts the attention on Daphne's older brother Anthony's search for love. As Anthony looks for a potential wife in the aristocratic circles around his family, he meets the lovely Edwina Sharma, only for their courtship to be far more complicated than either anticipated.
While eschewing the level of on-screen eroticism from "Bridgerton" Season 1, the sophomore season still delivers plenty of period-piece sex appeal between its leads. More than just the sensually charged romance, "Bridgerton" breathes new life into historical drama with its modern storytelling sensibilities while fitting within its time period. As strong as ever after its change in protagonists, "Bridgerton" Season 2 is just as solid as its debut while tonally distinct from its predecessor.
The Umbrella Academy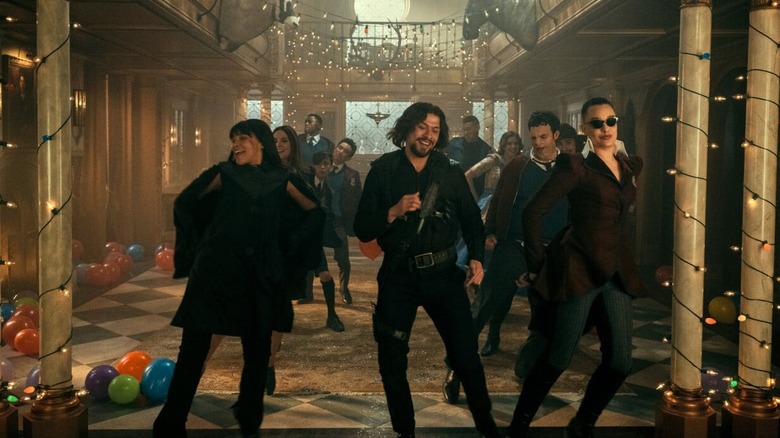 Netflix
"The Umbrella Academy" has consistently been one of the most wonderfully weird superhero shows on television and that reputation remains intact with its third season. Season 2 placed the quirky team of superhero siblings in the 1960s on a time-bending adventure to prevent the apocalypse. Season 3 explores the far-reaching fallout of this blast from the past as the Hargreeves siblings discover that their actions have resulted in the creation of an alternate timeline that could ultimately destroy reality.
Based on the comic book series of the same name by Gerard Way and Gabriel Bá, "The Umbrella Academy" subverts expectations of the superhero genre while embracing the misfit nature of its characters. All of the Hargreeves siblings are effectively cast and continue to find new emotional depths and directions for their respective characters, including star Elliot Page as Viktor, who gets a touching arc this season. With the series set to conclude with its upcoming fourth season, "The Umbrella Academy" is poised to go out on a high note as Season 3 ends on a heck of a cliffhanger.
Russian Doll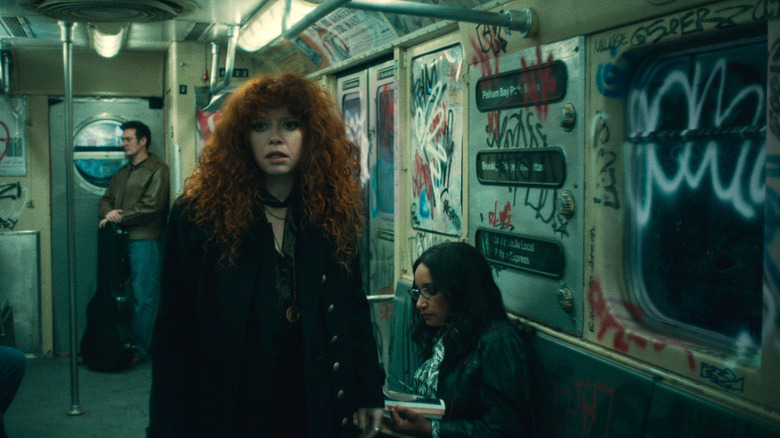 Netflix
2019's "Russian Doll" provided its own dark twist on the "Groundhog Day" premise, with game developer Nadia Vulvokov trapped in a constant time loop of dying and reliving the same fateful evening. The series returned for its eagerly anticipated second season this past April, expanding the scope with an even more daring time-travel adventure for Nadia as she travels back to 1982, shortly before her birth. With this new premise, "Russian Doll" not only retains the sharp wit through star Natasha Lyonne's standout performance as Nadia but redefines what the time-bending show can be.
Days away from her 40th birthday, Nadia is transported into her mother's womb while maintaining her sense of awareness through the temporal jump. Realizing what has occurred, Nadia decides to seize the opportunity to recover her family's lost gold and alter her own destiny despite risks to the timeline. A more ambitious and caustically comedic season than its predecessor, "Russian Doll" leans harder into its science fiction potential with solid results and continued stellar work from Lyonne.
Love Is Blind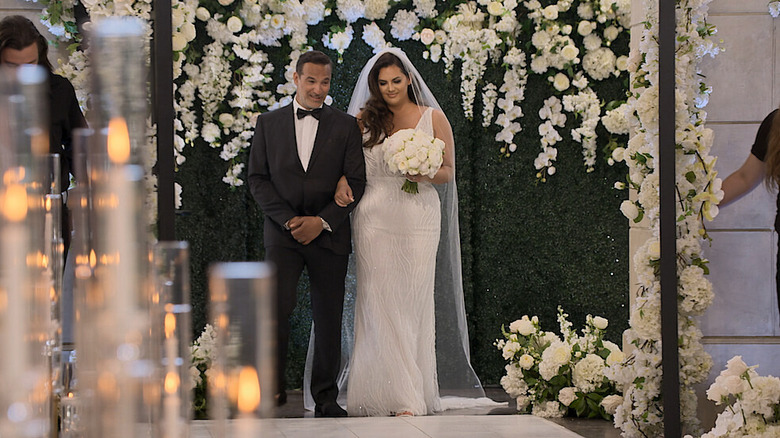 Netflix
Of all the trashy reality shows on Netflix, the best by a country mile is the dating series "Love Is Blind," with this year seeing the release of Seasons 2 and 3. The show takes place in different metropolitan areas each season, with a group of prospective couples communicating with each other for 10 days without seeing their partner. After being given the opportunity to bond, the couples can only meet face-to-face after a marriage proposal has been accepted, leaving them to decide if they want to follow through with the nuptials.
A bona fide hit for Netflix, "Love Is Blind" has led to a full-on franchise, including reunion specials and episodes examining how the resulting marriages have fared so far. With each season boasting a wide field of memorable contestants, the show's strong, accelerated premise has connected with audiences worldwide, leading to international spinoffs. Endlessly fascinating and with heightened stakes that will leave audiences rooting for their favorite couples, "Love Is Blind" provides a new twist on a well-worn reality genre.
The Midnight Club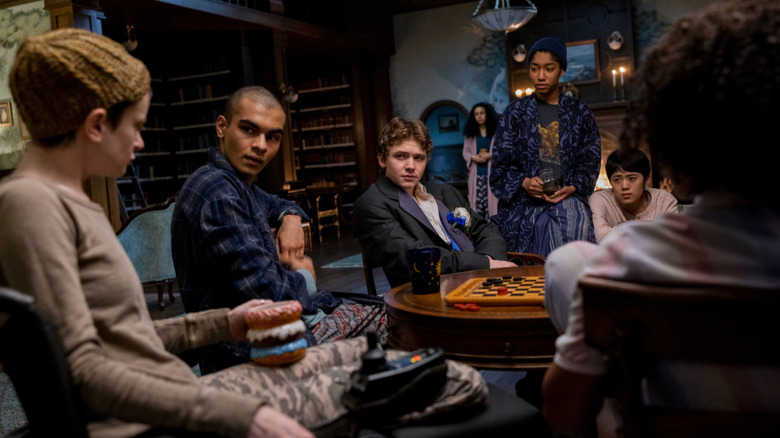 Netflix
Between feature films and television miniseries, celebrated horror filmmaker Mike Flanagan has carved a thriving niche for himself among Netflix's original programming. Flanagan's latest project for Netflix, with co-creator Leah Fong, is "The Midnight Club," an adaptation of the 1994 novel of the same name by Christopher Pike. Featuring a light anthology-style format with an overarching framing story across its 10 episodes, "The Midnight Club" is a meditation on mortality and solace one finds at the end of all things.
At a hospice care facility for terminally ill teenagers, a group of patients convenes each night to swap scary stories in their final days and weeks of palliative care. These stories are juxtaposed with the patients investigating the rumors and mystery surrounding the clinic, learning it holds a sinister legacy of its own. A solid addition to Flanagan's growing catalog on Netflix, "The Midnight Club" delivers plenty of frightening moments, including setting the record for most scripted jump scares in a single television episode.
Ozark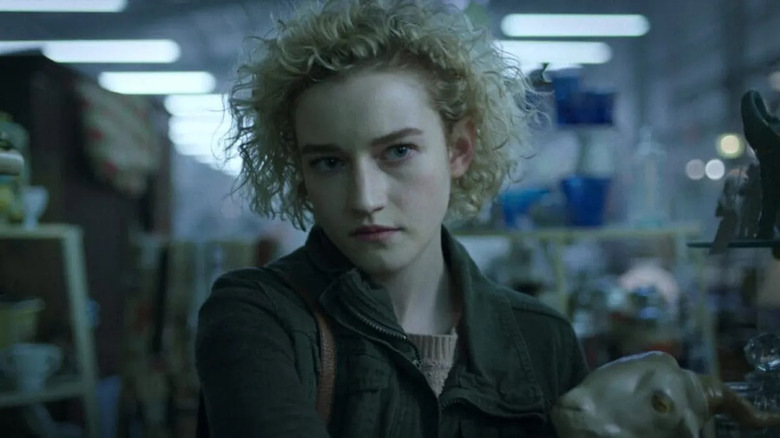 Netflix
Jason Bateman takes a break from comedy to deliver the performance of his career alongside equally effective co-star Laura Linney in the Netflix original crime series "Ozark." Following married couple Marty and Wendy Byrde and their illicit activities laundering money for drug cartels and crime syndicates, the series concluded with its fourth season this year. Tautly paced and with the ensemble cast remaining in top form, "Ozark" ends its run on a significant high note.
As the Byrdes contend with murderous attention from the cartels and a conflict with the local organized crime element, they consider seeking protection from the FBI. This plan is mired by betrayal, deception, and a trail of bodies long enough to leave audiences breathless as this crime saga comes to a bloody finish. Heightening the suspense and as superbly written as ever, "Ozark" has only increased in its already impressive quality across its entire series run.
Stranger Things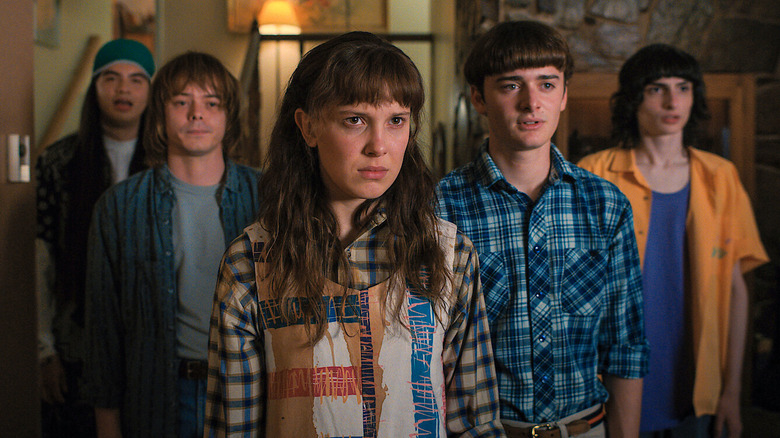 Netflix
After a three-year gap, "Stranger Things" returned this summer for its fourth season, reminding audiences why it's one of Netflix's most acclaimed powerhouses in original programming. While the show has always served as an intersection of coming-of-age drama, supernatural horror, and '80s nostalgia, the fourth season blended these elements together into the series' most ambitious season yet. Introducing Vecna, a villain from the Upside Down who lethally stalked and murdered victims telepathically, "Stranger Things" saved some of its biggest scares for Season 4 while giving musician Kate Bush a memorable shoutout.
As Joyce Byers and Murray Bauman infiltrate the Soviet Union to rescue their kidnapped friend Jim Hopper, Eleven is approached by a rogue government faction to reawaken her powers. While this occurs, the town of Hawkins is plagued by Vecna targeting its teens, with the sleepy community descending into hysteria. A masterclass in balancing multiple storylines and steadily raising the stakes through chilling set pieces, "Stranger Things" remains in top form as the series prepares for its fifth and final season.