How Kate Bush Really Feels About Stranger Things' Use Of Running Up That Hill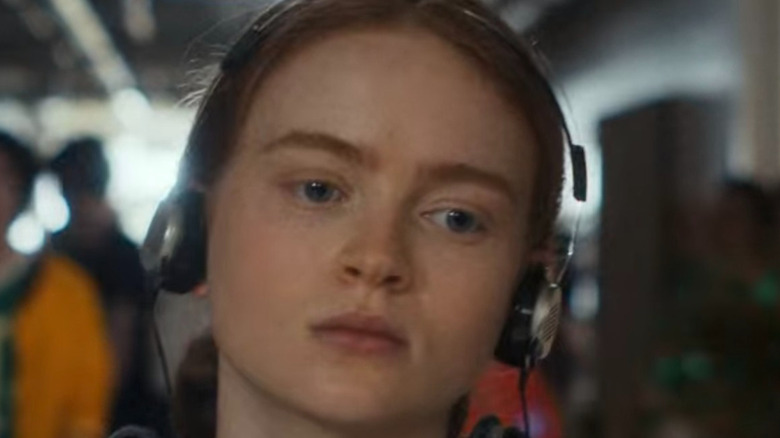 Netflix
Season 4 of Netflix's "Stranger Things" has, so far, been a streaming tour de force, with more minutes watched than Disney's "Obi-Wan Kenobi" and anything else that's come out over the past two years, according to a recent Deadline report. So, naturally, it should come as no surprise that the show's most prominent needle drop — "Running Up That Hill" by Kate Bush — has also seen a massive surge in popularity these past few weeks, especially considering it plays a pivotal role in the final moments of Episode 4, "Chapter Four: Dear Billy." 
According to a Variety report on the song's recent success, listeners have launched the 1985 track into the Top 10 in 34 countries, including the U.S., New Zealand, and Germany. Additionally, "Running Up That Hill" wound up peaking at No. 8 in the second week of June — a vast improvement on the No. 30 spot the song debuted at on the Hot 100 in 1985, per Billboard.
While it's obvious what listeners think about "Running Up That Hill" and its extensive use in "Stranger Things," fans may be wondering how Bush feels about the song's resurgence in pop culture and its subsequent boom in popularity. Because of this, the typically quiet artist has decided to release an extremely rare statement revealing her true feelings on the now-iconic "Stranger Things" connection.
Kate Bush loves her Stranger Things popularity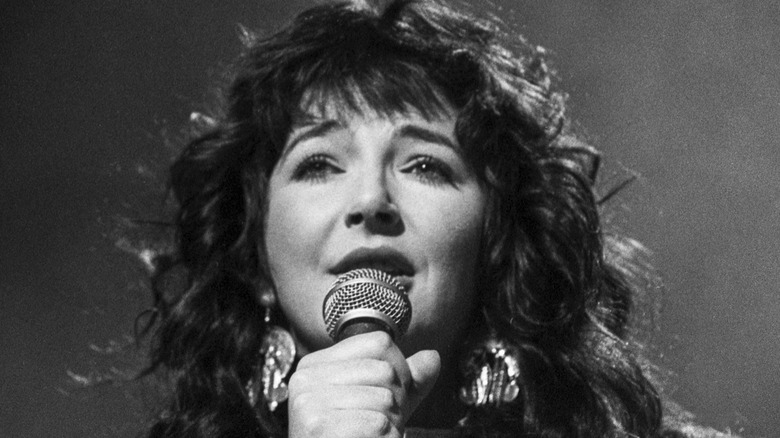 Dave Hogan/Getty Images
On "Stranger Things 4" Volume 1, Kate Bush's "Running Up That Hill" becomes a sort of theme for Max (Sadie Sink), who walks through the halls of Hawkins High listening to the catchy tune in "Chapter One: The Hellfire Club." Once Max realizes she is next on Vecna's (Jamie Campbell Bower) victim list, the clock is (quite literally) ticking away the minutes until the Upside Down creature comes for her. In Episode 4, "Chapter Four: Dear Billy," as Max falls prey to Vecna, Lucas (Caleb McLaughlin) believes the hit might be enough to help wake Max up and pull her out of the Upside Down because it's a something she loves. The gambit works, and the song, in addition to her happy memories of her friends, saves Max's life.
In a heartfelt statement on her official website, Bush talked about how grateful and appreciative she was for all the attention "Running Up That Hill" was getting from "Stranger Things" fans, revealing that she, too, is a devoted viewer. "You might've heard that the first part of the fantastic, gripping new series of 'Stranger Things' has recently been released on Netflix," she said. "It features the song, 'Running Up That Hill,' which is being given a whole new lease of life by the young fans who love the show — I love it too!" 
The singer added, "It's all really exciting! Thanks very much to everyone who has supported the song. I wait with bated breath for the rest of the series in July." Volume 2 of "Stranger Things" Season 4 is currently slated for a July 1 release date, and it will consist of the final two episodes of the season.