Brendan Fraser's 12 Best Movies Ranked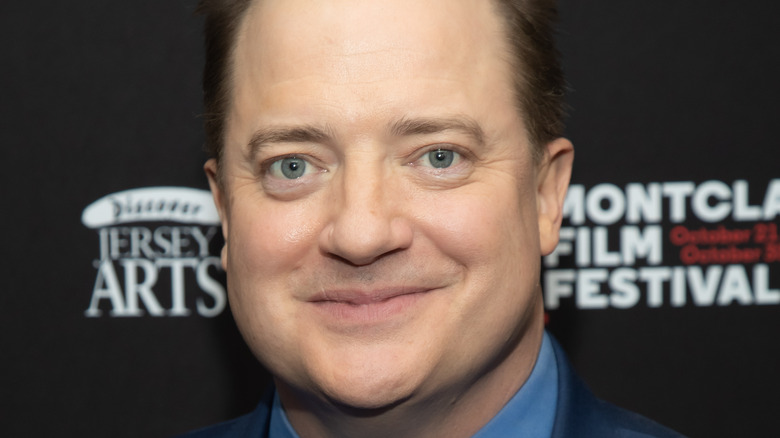 Manny Carabel/Getty Images
Let's all agree that Brendan Fraser is a national treasure that must be protected at all costs. This man has gone through some serious ups and downs throughout his life, yet somehow, he has managed to persevere. Whether you remember him as the Hollywood heartthrob from "The Mummy" franchise or as the goofy, loveable hunk in "George of The Jungle," Fraser's acting career is extensive. At his pinnacle of success, he was one of the highest-paid actors of the time (via SCMP). Unfortunately, tragedy struck the talented actor and derailed his career for a short time.
During the height of the #MeToo movement, Fraser shared the horrific story behind his disappearance from Hollywood, none of which was by his choice. According to his interview with GQ, Fraser details that he was sexually assaulted by the former president of the Hollywood Foreign Press Associate, Philip Berk. Fraser recalls that after the assault, he felt blacklisted from Hollywood. That is until the "Brenaissance" began, with Fraser taking on more roles, like his character Robotman in "Doom Patrol."
Since then, the world has come to appreciate Fraser in more ways than one. And with his recent role in "The Whale" that gave him a six-minute standing ovation and Oscar buzz, this is clearly his time to shine. In celebration of Fraser's talent, we've rounded up 12 of his best films, ranked from worst to best.
Gimme Shelter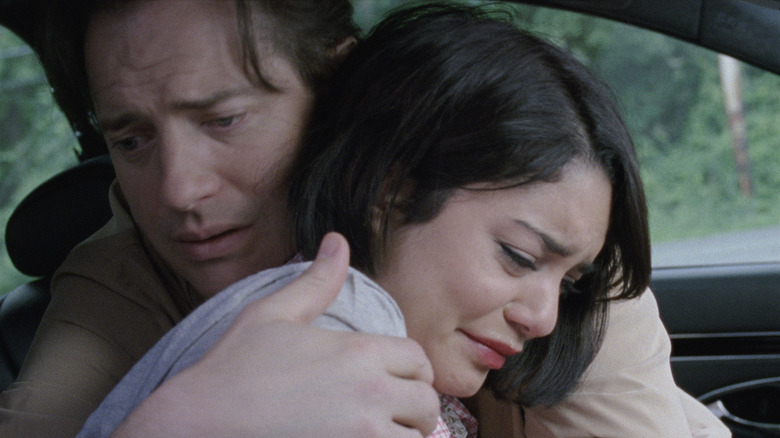 Roadside Attractions
Starting off this list is the 2013 drama "Gimme Shelter." Based on a true story, writer and director Ronald Krauss tells the tale of a runaway teenage girl who becomes pregnant. Portrayed by Vanessa Hudgens, the character Apple Bailey has experienced a difficult childhood as she's been tossed around from foster home to foster home. Fed up with her circumstances, she decides to look for her birth father, the wealthy Tom Fitzpatrick (Brendan Fraser). The film is a touching story, as Apple spends the entire time looking for a family, only to discover that her family is her daughter and the other pregnant women she meets along the way. 
Aside from Fraser and Hudgens, "Gimme Shelter" also stars Rosario Dawson, Dascha Polanco, and the legendary James Earl Jones. The film is an important project that Fraser worked on, as he found the true story it's based on to be incredibly touching. He was so touched, in fact, that the actor donated the salary he made from the film to the real-life shelter in New Jersey that "Gimme Shelter" is based on (via Yahoo Life).
The Air I Breathe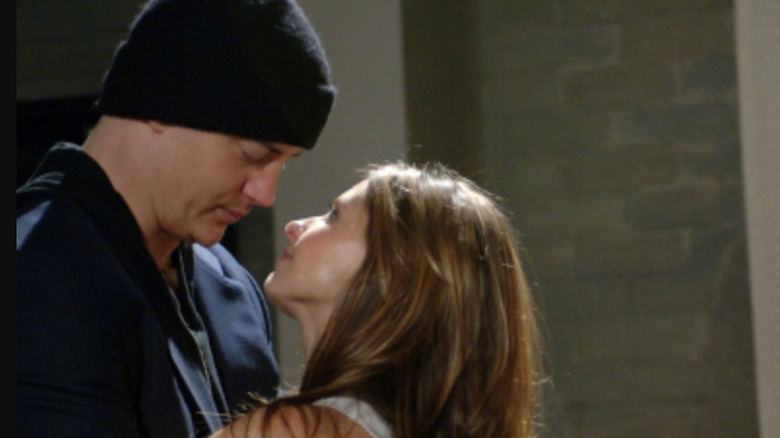 THINKFilm
"The Air I Breathe" is a 2007 crime drama that stars Brendan Fraser with Sarah Michelle Gellar, Kevin Bacon, and Forest Whitaker. This deeply poetic film acts as the directorial film debut of Korean-American filmmaker Jieho Lee. The story is beautifully told, as Lee divides life up into various emotions that people experience. For example, the elements of love, happiness, and sorrow are depicted as characters in the film. That being said, the film doesn't go quite how you would expect.
Fraser portrays the element of Pleasure. However, his name is ironic as he's unable to enjoy the simple pleasure of being surprised. This is due to the fact that his character has the ability to see the future of every person he has ever met. Pleasure also, ironically, has an incredibly unhappy life. He works as a mob enforcer who is haunted by the death of his younger brother. Throughout the film, he is often found experiencing flashbacks of the traumatic event that furthers his unhappy existence.
This film is an original experience that may not be for everyone, but it certainly holds as a standout performance for Fraser that brings audiences on an unexpected journey from start to finish.
Crash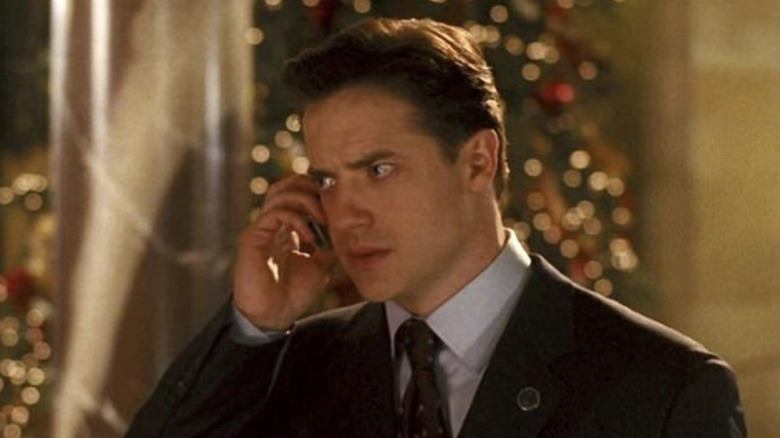 Lions Gate Films
Released in 2004 by director Paul Haggis, "Crash" won the Oscar for best picture at the Academy Awards (via IMDb). However, it was a divisive win at the time, with many arguing that the film wasn't as groundbreaking as it thought it was. According to the Independent, "Crash" suffers from unlikeable characters who are put in unbelievable situations. Critics suggest that these characters react in unrealistic ways, therefore forcing the audience to turn away from the film's intent. However, in today's climate where the discussion of race and injustice is a lot more prevalent, perhaps audiences can look at "Crash" in a new light.
This all-star cast includes Don Cheadle, Thandiwe Newton, Sandra Bullock, and Brendan Fraser, among many other talented actors. Fraser and Bullock play a married couple, District Attorney Rick Cabot and Jean Cabot. Rick spends the majority of the film trying to find the right platform to get behind in order to win his re-election. Fraser's performance is subtle in how he portrays a character who thinks he's in the right but is just as lost as everyone else in the film. But it's the slight nuances in Fraser's performance that are enough to elevate his character from being just one of many in such an ensemble cast of fantastic actors.
George of The Jungle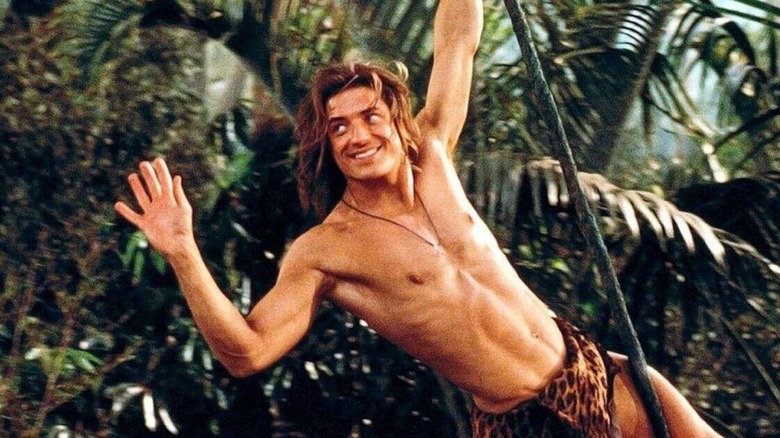 Walt Disney Pictures
The year is 1997 and audiences are blessed with Brendan Fraser having the time of his life filming "George of The Jungle." Is Fraser only wearing a loincloth? Yes. Is the film wacky? Also yes. But, the film has so much darn heart that we're willing to forgive it. Fraser portrays the loveable George, a man who was left in the jungle to be raised by talking apes. Think "Tarzan," but with more comedy.
George is hanging from the trees one day when he comes upon Ursula (Leslie Mann), the first woman he's ever seen. He saves her life from a lion and the two quickly fall in love. He leaves the jungle to join Ursula in her home in San Francisco, however, he eventually leaves her to return back home to the jungle where he must save his family from poachers. Luckily, Ursula realizes her feelings for him and follows him back to Africa, where they save the day and live happily ever after.
This movie has it all, an epic dance scene, an elephant that acts like a horse, and did we mention the talking ape? He's voiced by John Cleese, and he's amazing. Plus, as a fun fact, both Mann and Fraser admitted to having crushes on each other during filming (via LADbible). In all honesty, who could blame them?
No Sudden Move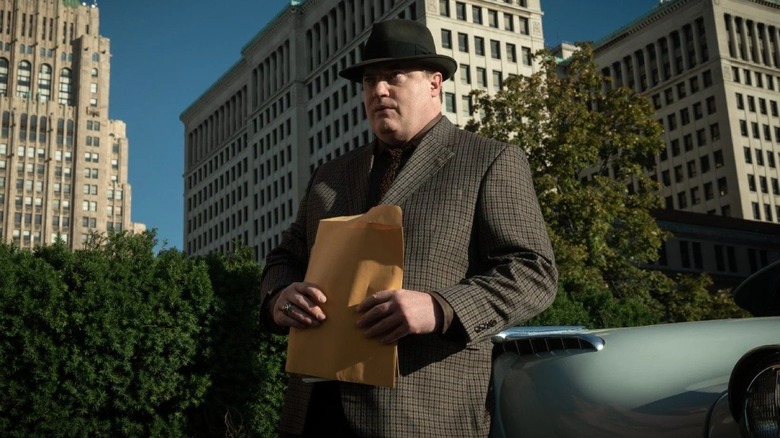 Warner Bros. Pictures
"No Sudden Move" was released in 2021, and absolutely confirms what we were all hoping — Brendan Fraser is back, baby! Directed by Steven Soderbergh, Fraser steps back into the crime drama genre with his portrayal of Doug Jones, a recruiter for gangsters. The film sees Doug hire a team of men to carry out a job that goes unbelievably wrong at every turn. The team discovers that they've been set up, and spend the film trying to uncover the mystery surrounding the setup. As the truth begins to unravel, audiences see that the team is also trying to stay alive, as they're being hunted down by cops and gangsters alike.
The film is visually stunning and demands attention as you dive deeper into this world of crime. However, it's the performances by the actors that are truly masterful to watch. This is especially the case for Fraser, who perfectly performs the role of a man with quite the trigger finger. Audiences will believe that his character is off the rails, which is a testament to how good an actor Fraser is in this film, especially as he's a secondary character.
"No Sudden Moves" sees Fraser reunite with his "Crash" co-star Don Cheadle. Together, they are joined by Benicio del Toro, David Harbour, Jon Hamm, and the late Ray Liotta.
School Ties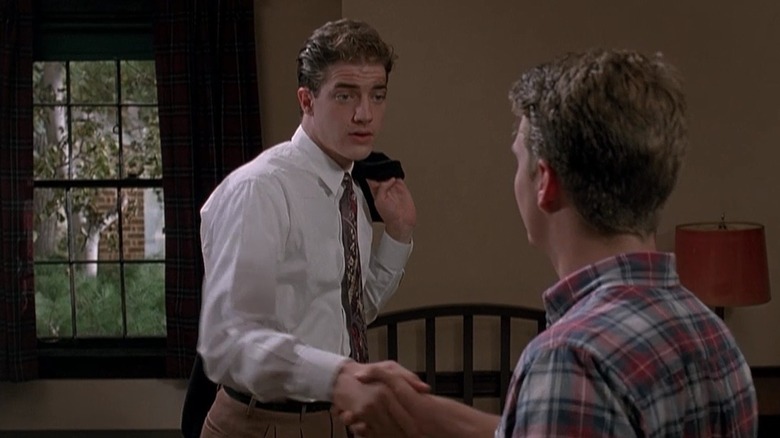 Paramount Pictures
Directed by Robert Mandel, "School Ties" is a 1992 drama that touches on heavy topics. As one of his earlier dramatic roles, Brendan Fraser portrays David Greene, a Jewish high school student that is gifted with a football scholarship to St. Matthew's, a prestigious Catholic boarding school. At first, David is excited about the opportunity. But that changes when he meets his new team and classmates and quickly learns that they all hold heavy prejudices against Jewish people.
David learns the hard way that most of the people he goes to school with are too antisemitic to stay his friend after discovering that he is Jewish. The film asks the question of what punishment could be fully justified for people with such prejudice and hatred in their hearts. The film ends with David rising above his peers, and the lead bully gets a taste of his own medicine with some moderate justice for his antisemitic actions.
The film stars Matt Damon, Ben Affleck, and Chris O'Donnell star alongside Fraser.
The Mummy Returns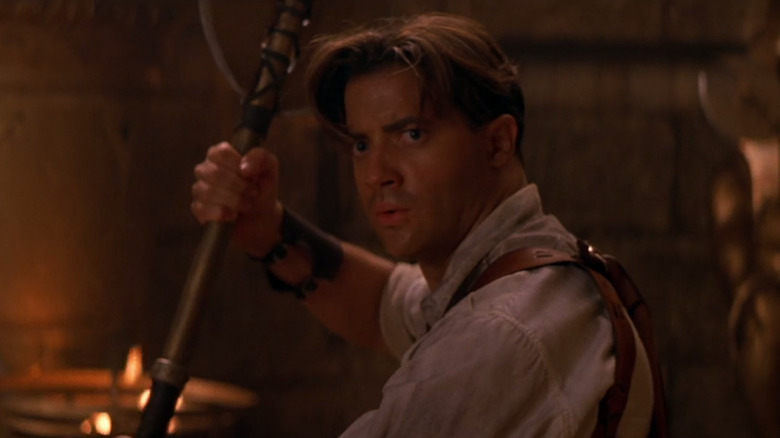 Universal Pictures
In 2001, Brendan Fraser reprised one of his most famous roles to date, Rick O'Connell from "The Mummy" franchise. "The Mummy Returns" is the second film in the trilogy that sees Rick and his wife Evelyn, otherwise known as Evie (Rachel Weisz), return for more pyramid adventures in the desert. The film takes place approximately 10 years after the first one, allowing audiences to see that Evie and Rick now have a son named Alex (Freddie Boath), who's an exact replica of his parents. Like his mother, Alex gets into mischief but has a knack for history and dead languages. However, like his father, Alex is always up for adventure and seems to attract trouble wherever he goes.
While this sequel is not as celebrated as its predecessor, it's still a fun ride to watch, as displayed by its notable box-office success. This action-packed comedy is a fun family ride that brings back the O'Connells to our screens, and we aren't mad at it.
The franchise was temporarily given a reboot with the 2017 Tom Cruise film "The Mummy." However, without Fraser's charm and quick wit, and a number of other reasons, the film just couldn't hold a candle to the original series. Fraser wasn't slated to be included in that spin-off, but maybe if he had, it would've been more successful! 
Blast from the Past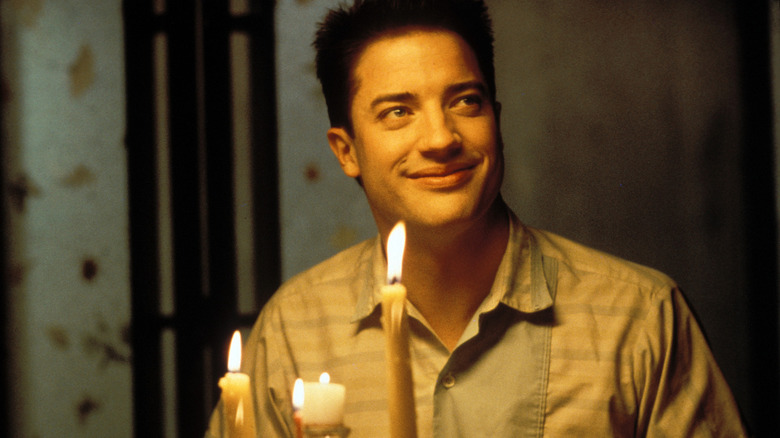 New Line Cinema
"Blast from the Past" is directed by Hugh Wilson and stars Brendan Fraser as Adam Webber. Adam's father is scientist Dr. Calvin Webber (Christopher Walken), who believes that nuclear war with the Soviet Union is coming. According to him, it's only a matter of when. The scientist builds an underground bunker for himself and his pregnant wife, and he locks them in one night when he mistakenly believes that they're under attack. While in the bunker, Adam is born. Since the bunker isn't set to open for 35 years, Adam spends his life being raised underground. He is surrounded by pop culture from the '60s with no clue about the rest of the world. Eventually, Adam leaves the bunker and experiences real life for the first time.
The film manages to be a heartfelt comedy with a fish-out-of-water premise for Adam, considering he's never truly experienced much of anything. If you don't look too deeply at the idea that Adam essentially lost most of his life to his father's paranoia, "Blast from the Past" is a good time with a happy ending. Fraser is completely relaxed in the role as he portrays the kindness and naivety of his character perfectly.
The Quiet American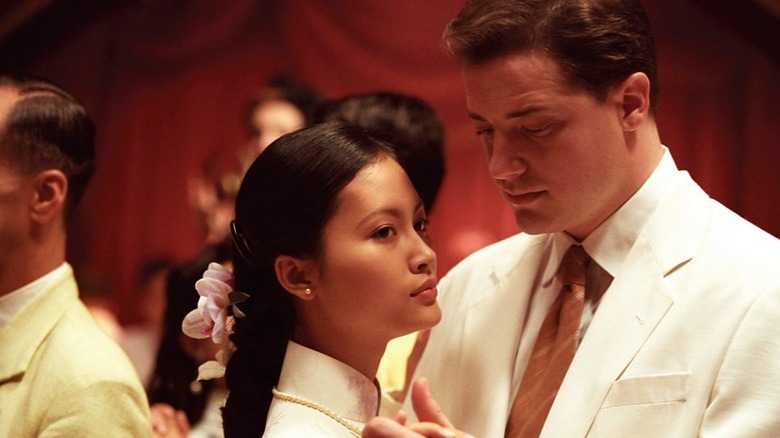 Miramax Films
A year after filming "The Mummy Returns," Fraser brought his A-game as he stepped into the role of Alden Pyle in 2002's "The Quiet American." Directed by Phillip Noyce, this film adapts the 1995 novel of the same name by Graham Greene. Fraser is joined by actress Thi Hai Yen Do and Sir Michael Caine to bring Greene's words to life.
"The Quiet American" takes place in Saigon during the Vietnam War of 1952. At first, the film feels like a love story, as audiences see a Vietnamese woman who is caught between two men. She has feelings for American aid worker, Alden Pyle, but she is also the mistress of British journalist Thomas Fowler (Michael Caine). And while the love story ends tragically, the true tragedy is what's happening to the country of Vietnam. Underneath the love story, "The Quiet American" is a political discussion on the war that plagued the country. The character Phuong (Do Thi Hai Yen) is being torn apart by the two outsiders in her country, with her having to pay the price for their affection and feelings of ownership toward her, mirroring what is happening to the country, as well. It's subtle, but not so subtle that audiences miss the deeper meaning behind the story.
Gods and Monsters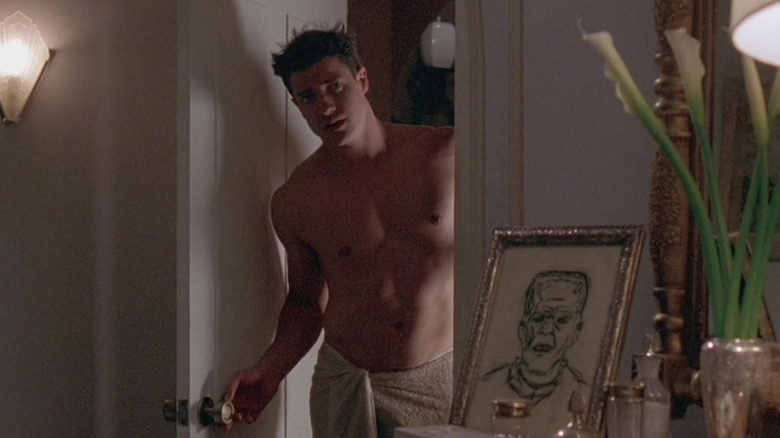 Lions Gate Films
"Gods and Monsters" stars Brendan Fraser as Clayton Boone, opposite Sir Ian McKellen as James Whale, the famous director behind films like 1931's "Frankenstein," 1933's "The Invisible Man," and 1935's "The Bride of Frankenstein." "Gods and Monsters" depicts a fictional account of the final years of James Whale's life. The director committed suicide in 1957, leaving behind the statement that his reasoning was the pain his body experienced from being sick and old (via Classic Monsters).
In "Gods and Monsters," Whale hires the young Clayton Boone to do some landscaping around the house. Upon seeing the handsome young man, Whale attempts some awkward forms of seduction that Clayton continues to refuse. The two form an uneasy friendship that takes a turn for the worse when Whale tries to get physical with Boone. However, it's revealed that he wants Boone to help put him out of his misery, as he suffers from various pains throughout the film. He begs Boone to kill him, but when he refuses to do so, Whale takes matters into his own hands.
While the film is fictional, it is incredibly powerful and gained critical praise at the Academy Awards (via SlashFilm).
If you or anyone you know has been a victim of sexual assault, help is available. Visit the Rape, Abuse & Incest National Network website or contact RAINN's National Helpline at 1-800-656-HOPE (4673).
The Mummy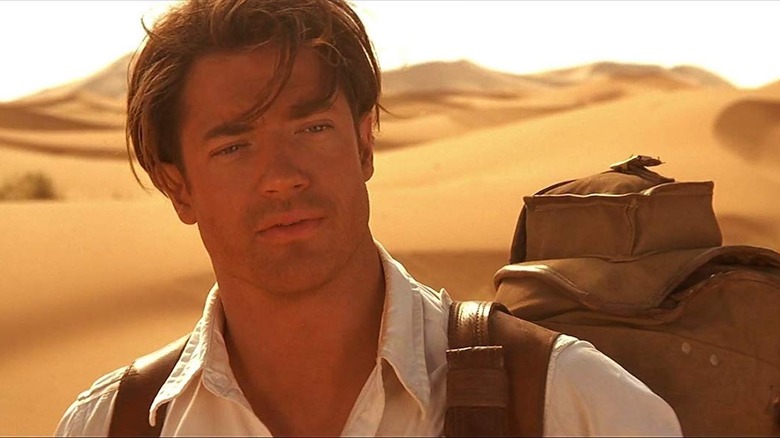 Universal Pictures
One of the top spots for this list has to go to the movie that launched Brendan Fraser into superstardom — "The Mummy." Admit it, when you think of Fraser, this is the movie that comes to mind. And how could it not? Fraser is charismatic, inviting and thrilling as Rick O'Connell.
The chemistry between the cast is off the charts in this film, especially between Fraser and leading lady Rachel Weisz as Evelyn Carnahan, also known as Evie. It's their ease with one another that makes the story so believable. And while some romances in action-adventure films feel forced, that's never the case between these two. It's a natural progression that helps drive the story, not deter from it.
"The Mummy" follows Rick and Evie as they attempt to stop a powerful and evil mummy from rising from the dead to take over the world. The film is pure fun and reminiscent of a time when Fraser was happy in Hollywood. Plus, it's a classic that will never get old. 
The Whale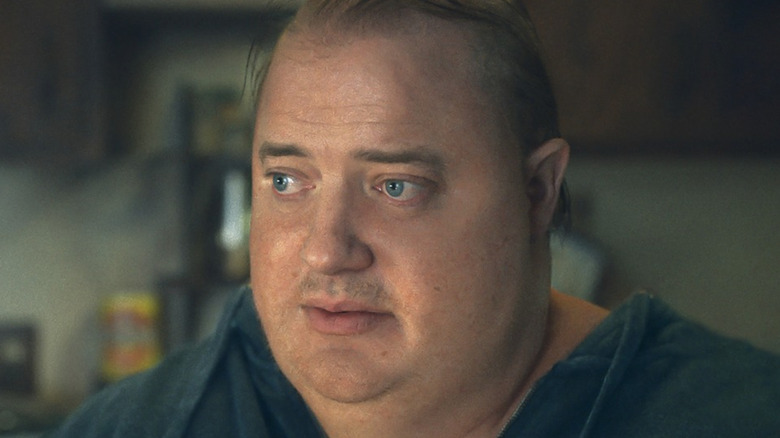 A24
"The Whale" has gained critical attention for Brendan Fraser, especially since he received a standing ovation from audiences during the Venice Film Festival for his work in the film. The crowd's reaction to his work caused the actor to have an emotional and touching response, as he was not anticipating such warm regards.
This Darren Aronofsky-directed project is something that Fraser has seemingly been waiting for his entire career. He shared at the Venice Film Festival that this role was "the biggest challenge I wanted" and his work certainly paid off, as this is sure to be one of his greatest roles to date (via ET Canada on YouTube). In fact, Fraser's name has been circling around as a top contender for an Oscar, and we truly couldn't be happier for him (via Collider).
"The Whale" is a psychological drama that follows the life of Charlie (Brendan Fraser), a 600-pound man who stopped taking care of himself after the death of his partner. However, he attempts to pick himself back up and reconnect with his estranged 17-year-old daughter Ellie (Sadie Sink). As it's an Aronofsky film, "The Whale" looks bleak and unsettling. But despite that, it is likely to be the perfect comeback for this outstanding actor.