No Sudden Move Review: An Exhilarating Noir Throwback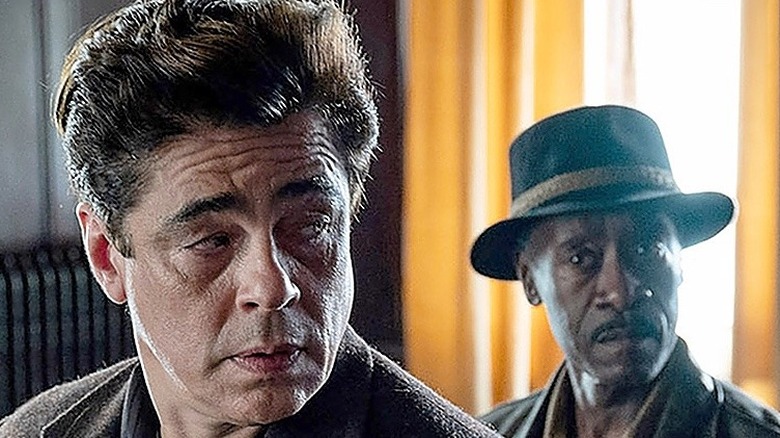 HBO Max
In the glory days of old Hollywood, the most revered directors were the ones with a distinctively workmanlike approach to their craft. That term is now used as an insult toward filmmakers without any distinct vision, when in classical terms, it described what every filmmaker should be aspire to be: a creative who can effortlessly hop from genre to genre, making effective work wherever they set their sights. Steven Soderbergh is the only working director who can be labeled with this moniker without it sounding like an insult, his incessant work rate (in spite of several high-profile attempts at retirement) and near-consistent critical hit rate making him one of the most reliable forces in modern Hollywood.
While watching "No Sudden Move," the director's mightily entertaining latest effort, it becomes clear that even this most restlessly inventive of filmmakers has a comfort zone he will always retreat to: the comic crime caper. From his ice-cool "Ocean's" trilogy to the madcap NASCAR heist of "Logan Lucky," he will always follow a period of experimentation with a more conventional, star-studded crime flick. Set in 1950s Detroit, "No Sudden Move" is a stylish take on the classic film noir, filled with all the conventions you've come to expect from the genre; double crosses, crooked detectives, the innocent man increasingly in over his head, and most importantly, a "Maltese Falcon"-style MacGuffin in the shape of a mysterious document desired by different players in the criminal underworld.
In classic Soderbergh style, what initially appears like a minor work in his filmography (returning to the same neo-noir wheelhouse as his earlier "Out of Sight") quickly reveals itself to be something far more substantial, its convoluted criminal plot merely a front for a more scathing social commentary — in this case, hiding a timely tale of gentrification and corporate collusion that slowly unravels beside the central narrative. It shows that the director can rejuvenate seemingly every genre he touches, without compromising on the classic Hollywood thrills that will pull audiences in.
Makes noir tropes thrilling all over again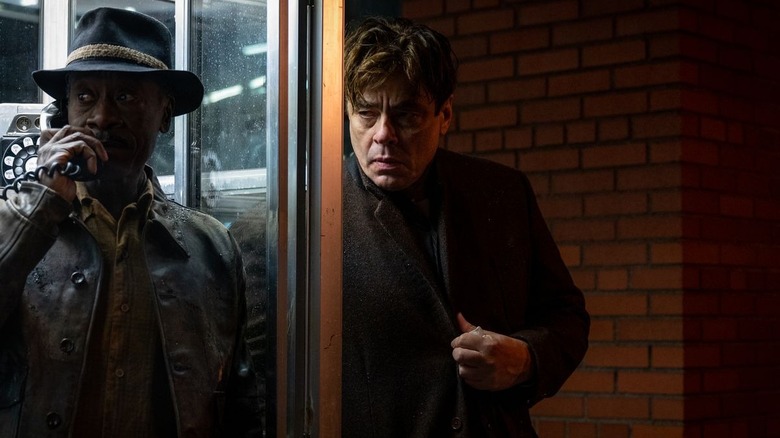 HBO Max
Newly released from prison, Curt Goynes (Don Cheadle) is in desperate need of money to buy back the land he believes was taken from him. He is recruited by Jones (an unrecognizable, genuinely intimidating Brendan Fraser) alongside Ronald (Benicio Del Toro) and Charley (Kieran Culkin) for a simple job: break into the family home of Matt Wertz (David Harbour) and at gunpoint, lead him to his office where he will then retrieve and hand over a top secret document being stored in a safe by his boss. If he doesn't do it, his family will be killed by the other two gunmen. Simple, right?
Of course not. When Matt arrives at his office at GM Motors, he finds that the top secret document has already been moved out of the safe, with the criminals starting a quest across the city to try and retrieve it, dragging the mild-mannered businessman along for the ride. Nobody knows whether or not this was a set up, and tensions between the men go from bad to worse, all of them seemingly aware of their own ulterior motives and general untrustworthiness. Matt is in the middle of a personal crisis as well as a professional one, as his wife (Amy Seimetz) has discovered his affair with his boss' secretary (Frankie Shaw), while the corrupt cop sent to his family home (Jon Hamm) adds further complications to the ties between this document and the criminal underworld.
Like Soderbergh's prior attempts at neo-noir, "No Sudden Move" is a surprisingly breezy watch, its dense plot machinations easier to digest thanks to the playful comic touches. These mostly come courtesy of Harbour, who channels William H. Macy's turn in "Fargo" as his desperation to retrieve the document and free himself from the gunmen turns increasingly frantic. A standout sequence where he breathlessly apologizes as he repeatedly punches his boss, desperate for the document to be handed over so he can be freed, is a masterclass in anxious comic acting, but also helps effectively ground the film. Screenwriter Ed Solomon (best known for "Bill & Ted" and "Men in Black," here firmly out of his sci-fi comedy comfort zone) utilizes so many noir tropes when fleshing out the plot that Matt briefly becomes the human center of it all — a realistic depiction of how any sane person would react when pushed into these unimaginable circumstances at gunpoint.
A not-so-hidden social commentary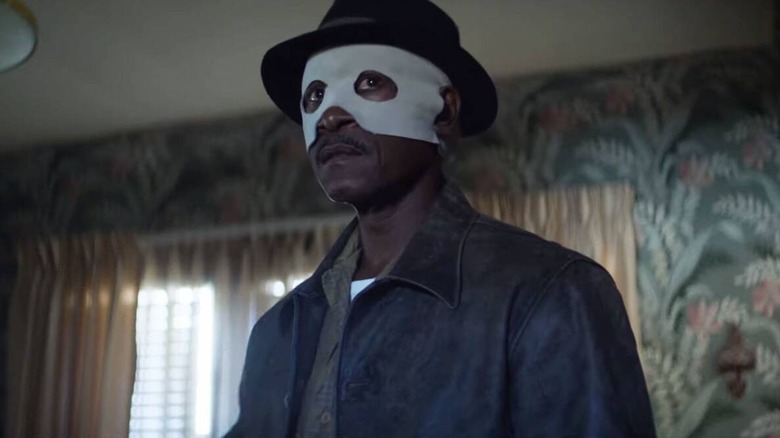 HBO Max
Solomon's screenplay subtly manages to break a few noir conventions along the way. The document at the center of the plot is initially treated as nothing more than a MacGuffin, a term used by Alfred Hitchcock to describe an object that exists only to move the plot forward, with no real relevance beyond that. It's assumed to be a document linked to corporate foul play, but the film's third act makes this nakedly clear with a development that transforms "No Sudden Move" into a pointed social criticism, the document linked to a largely overlooked scandal that would be unraveled decades later, the ramifications of which are still being felt today. It's the rare noir film where the MacGuffin is revealed to be the most crucial factor in the narrative, not just a forced reason for its existence — and despite the heavy-handed sequence boasting an uncredited cameo by a regular Soderbergh collaborator that spells this out, it still proves effective.
In a more subtle fashion, the film also grapples with the inherent racism of urban renewal measures, which have led Curt's land to be seized by the government. This is only briefly touched upon, but does illustrate one of the darker moments in the city's recent history, when African American-owned land was bought out to make middle-class apartments in inner-city areas, effectively restricting the Black community to one neighborhood in the hopes of stopping the "white flight" away from the city to the suburbs. The film holds greater weight when considering the historical context of its mid 1950's setting — but even divorced from this, it proves to be a thrilling and suitably intense addition to the modern noir canon.
Many noir films are allegories for the corrupting nature of capitalism, but "No Sudden Move" is a film that truly believes subtext is for cowards. Not since Andrew Dominik's "Killing Them Softly" has a crime film been so enjoyable in spite of its thematic heavy-handedness.