The Trailer For Doom Patrol Season 4 Is Just As Bonkers As You'd Expect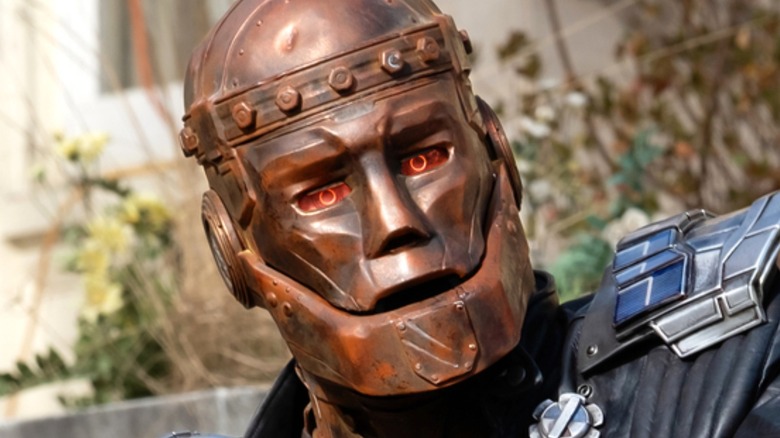 HBO Max
It's far from the end for "Doom Patrol." The HBO Max series is back for a fourth season — once again full of quirky, comedic, and surprisingly dramatic moments. These DC Comics creations have arguably become more famous than their source material, initially appearing as part of the 1963 anthology "My Greatest Adventure" (via CBR).
The upcoming season of "Doom Patrol" sees its central characters Robotman, Negative Man, Elasti-Woman, Crazy Jane, and Cyborg return. Notable among the cast is Brendan Fraser; his on-screen appearances may be limited to flashbacks, but the role represents another step in the welcome comeback.
A 2021 renewal gave fans a year to wait for the team's newest adventures. When last seen, these unlikely heroes found themselves contemplating a new title, "Doom Force." The title might prove to be more ominous than intended. The WarnerMedia, Discovery merger created chaos among established properties; "Patrol" is one of the DC series without a firm commitment to its future (via Forbes). Rumors continue to swirl about the possibilities as some fear an end to the project.
There's still a completed season waiting to enthrall and confuse. HBO Max is giving viewers a glimpse at what to expect.
Familiar villians return
There's a lot to unpack about the fourth season trailer for "Doom Patrol"; the new season sees the team facing a decidedly unique enemy. Using the phrase "Hold On To Your Butts" should be enough to explain the dilemma, but this is "Doom Patrol," and the series is going further. A horde of were-butts with hands and a penchant for musical theater offer a hilarious addition to the story. Anyone familiar with the series will recognize the characters from appearances in both the first and third seasons. This time, it appears the were-butts and the Bureau of Normalcy are both posing a threat to the team.
One thing remains the same about the series — expect the unexpected — the sci-fi element of time travel comes into play with the team facing their complicated fates. The network promises an "unexpected" jump into the future and a situation that forces each member to choose between "their own happiness or the fate of the world" (via WarnerMedia)
Madame Rouge is also coming back to join the team. After appearing in the third season, the character is gaining her place among those already established characters. Actress Michelle Gomez spoke to TVInsider about the series' innovative approach to the material. "I am never prepared for what is about to come from each episode to each — the absurdity of it and also the joy of it and also the unexpectedness of it," she said.
Expect more of that "absurdity" when the fourth season debuts on December 8, with subsequent episodes debuting into early January. The season's final six episodes have not received a premiere date, only set as 2023.