12 Shows Like Pitch Perfect: Bumper In Berlin For Fans To Check Out
In 2012, "Pitch Perfect" hit our screens in an "aca-perfect" way. Audiences jammed out to a cappella tunes performed by Anna Kendrick, Rebel Wilson, Skylar Astin, and Brittany Snow. The story from the original film follows Kendrick's Beca Mitchell as she joins an a cappella group in her freshman year of college. At first, she thinks the group is lame, but eventually Beca falls in love with music in a completely different way. She gains true friends and gives audiences some pretty epic songs — we're looking at you, "No Diggity."
The film became a franchise featuring plenty of other colorful characters, and Adam DeVine's Bumper is a standout. DeVine's energy makes the initially detestable character much more palatable as time goes on. So it should come as no surprise that his character is getting his very own spinoff series on Peacock's "Pitch Perfect: Bumper in Berlin." The trailer that dropped early in November reveals that Bumper is heading to Europe after some of his TikToks go viral in Germany.
This new series sees DeVine joined by his "Modern Family" co-star Sarah Hyland, which allows all of us to relieve the romance between their characters Andy and Hayley. "Pitch Perfect: Bumper in Berlin" also includes Jameela Jamil from "She-Hulk" and Flula Borg, who's reprising his role from "Pitch Perfect 2." If you can't get enough of the antics featured in "Pitch Perfect: Bumper in Berlin," here are 12 similar shows you can binge to satisfy your musical thirst!
Glee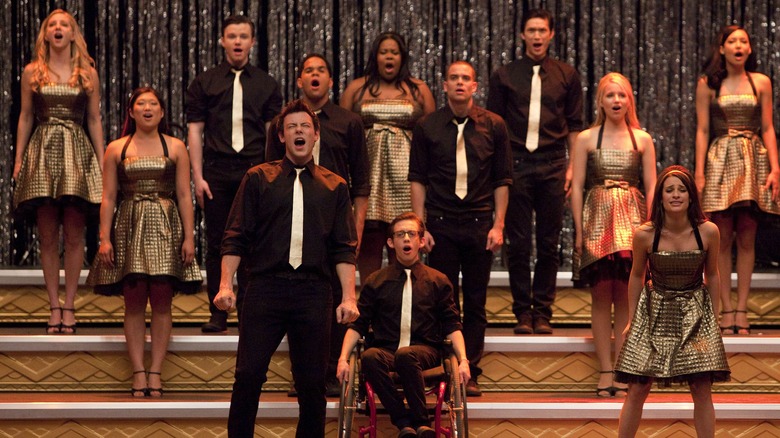 Fox
When "Glee" splashed onto our television screens it was met with critical acclaim for the unique approach it took to a musical high school series. Thanks to the series' talented actors and amazing vocal talents, songs were given a second wind that audiences couldn't get enough of. For example, who else can remember when "Don't Stop Believing" was playing everywhere after it appeared in the pilot episode of "Glee?"
The series is set in William McKinley High School, where the members of the glee club are bullied mercilessly. However, Mr. Schuester (Matthew Morrison), a former glee club member and current teacher at William McKinley, takes over the club and brings in football players and cheerleaders to help strengthen its image. The series brings emotional, comedic, and playful storylines that show how a club of misfit kids can come together through music and dance.
The first few seasons were nothing short of stellar, with storylines about teen pregnancy, emerging sexuality, and even plastic surgery. Although the show began to decline after a few seasons and the cast was seemingly cursed with tragic news following the end of the series, we can still hold onto the magic that "Glee" once was.
Smash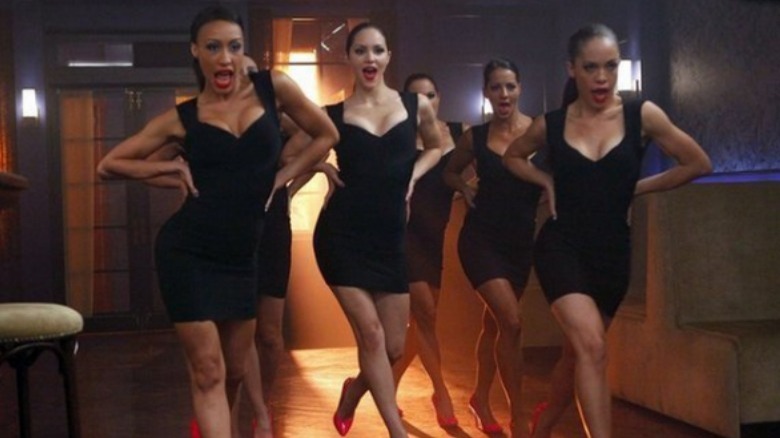 NBC
"Smash" is a musical drama that counted Steven Spielberg among its executive producers and ran for two seasons on NBC. The series has an ensemble cast of mega-talented actors who know a thing or two about having a major vocal range. "Smash" stars "American Idol" Season 5 runner-up Katharine McPhee as Karen Cartwright, Debra Messing as Julia Houston, and Jack Davenport as Derek Wills, just to name a few of its most prominent stars.
The series showcases the nuance it takes to balance the personal and professional lives of Broadway musical stars. The beginning of the series details the process the characters go through as they create a new musical, and we get to watch firsthand all the demands that come along with it. "Smash" highlights the pressure that being a star can have on a person and just what lengths some must go through to play that role.
The series has some stellar music as well! It includes original songs created just for the show. While audiences aren't likely to sing along as much as they would with Bumper in "Pitch Perfect: Bumper in Berlin," the songs in "Smash" are likely to hit an emotional chord with the powerhouse vocals behind each performance.
Dream High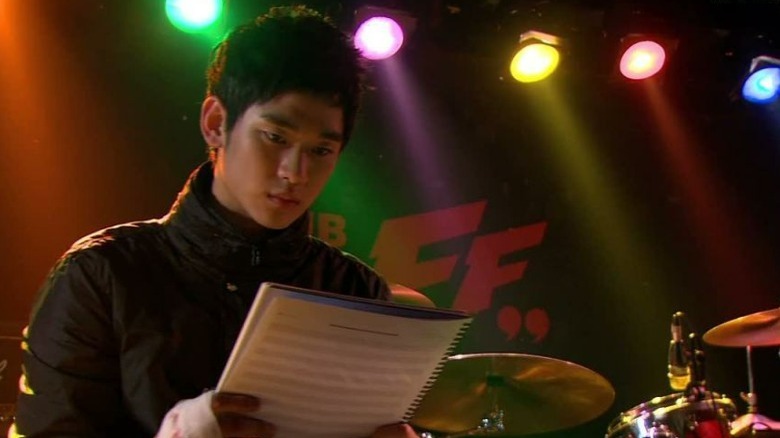 KBS2
"Dream High" is a South Korean drama that became so popular it was given another series called "Dream High 2." The majority of K-dramas only run for one season to complete their story, so the fact that this was given another one with a new cast says a lot about the popularity of the show.
"Dream High" takes place in the fictional Kirin High School — a school that produces stars. The first season follows six students as they seek to become K-pop idols. The school teaches the kids how to fulfill their dreams by fostering their singing and dancing abilities while working on their public image to become famous. Each character feels as though they must go through their journey alone, but over time develop strong bonds with each other that help them understand and manage the pressures of potential fame.
The series starts with a mystery that isn't solved until the very end of the show. Unlike most K-dramas, "Dream High" has an unexpecting ending that will keep viewers asking for more. With the fun songs, juicy drama, and fish-out-of-water story plots, "Dream High" is the perfect series to dig into after Bumper's adventures in "Pitch Perfect: Bumper in Berlin."
Empire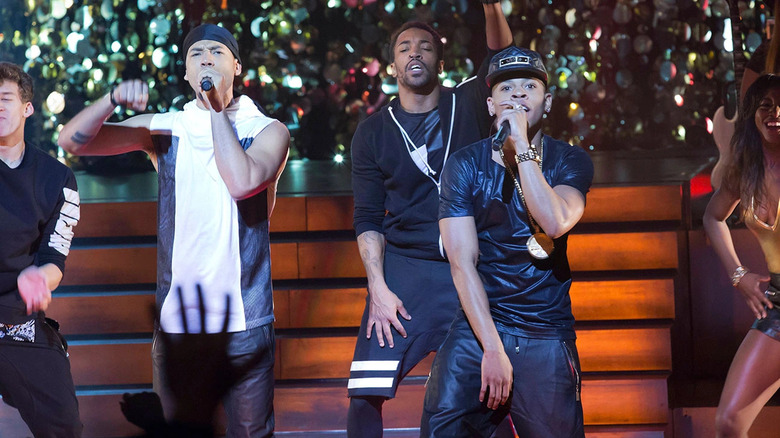 Fox
"Empire" is part musical, part family soap opera, and part mobster drama. The series follows the Lyon family, with the head of the table being Lucious Lyon (Terrence Howard), the CEO of Empire Entertainment, the largest hip-hop music label in America. He has three sons, a talented rapper Hakeem Lyon (Bryshere Y. Gray), the business savvy Andre Lyon (Trai Byers), and the megastar Jamal Lyon (Jussie Smollett). However, that empire was built on drug money, which Lucious' wife, Cookie Lyon (Taraji P. Henson), took the fall for.
The series begins with Cookie being released from prison and ready to take her place at the top of that empire with her family. Unfortunately for her, they've all seemed to move on from the tenacious Cookie, and she must claw her way back to get what's rightfully hers. Beyond that, Lucious had better watch his back — because Cookie knows where all the bodies are buried.
"Empire" is a musical haven, especially since Timbaland serves as an executive music producer (via Billboard). Unfortunately, the show has experienced its fair share of behind-the-scenes drama and was ultimately canceled. Still, "Empire" has six seasons of high-tension drama and amazing music that you can enjoy after you've traveled through Europe in "Pitch Perfect: Bumper in Berlin."
Nashville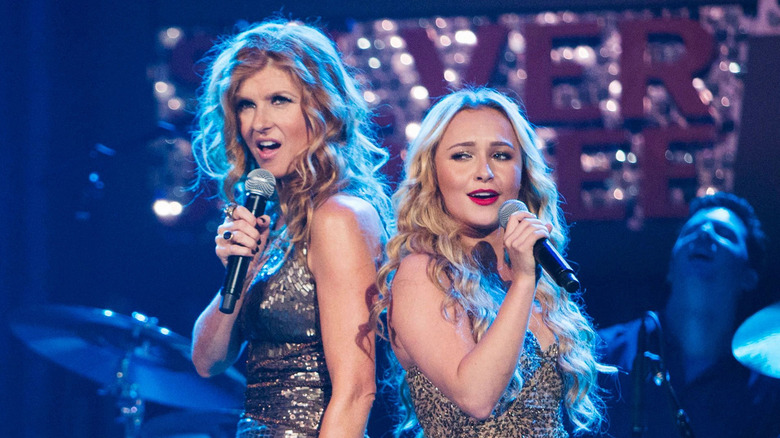 ABC
"Nashville" is a musical soap opera that brings country music to the forefront. The series follows a pretty vicious rivalry brewing between a fading superstar Rayna James (Connie Britton) and the rising star Juliette Barnes (Hayden Panettiere). However, as the six seasons of "Nashville" continue, audiences see that Rayna and Juliette may have slightly more in common than their powerhouse lungs, and the challenges they face together see them grow closer and closer.
In later seasons, the somewhat problematic Juliette sees herself in a new rivalry with Rayna's daughter Maddie (Lennon Stella). This time Juliette is the fading star while Maddie begins to take center stage.
If you're looking for a musical series that digs deep into love triangles, rivalry, and soap opera drama, then this is the series for you. For example, at one point a character in the series buys pig's blood to fake a miscarriage and blackmail her partner. We can't make this stuff up! However, at its core "Nashville" is a series that manages to look at sensitive issues such as addiction and its connection to the pressures of fame.
Star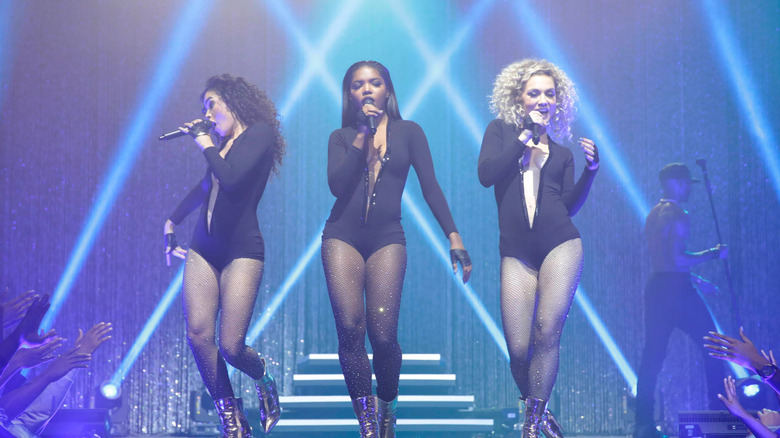 Fox
Running for three seasons, "Star" attempts to bring something a little different to the musical drama category. Featuring performers such as Queen Latifah, Benjamin Bratt, and Amiyah Scott, "Star" follows three talented singers as they attempt to navigate a career in the music industry. After all, there's no business like show business.
"Star" shares a co-creator, Lee Daniels, with the musical drama "Empire" and follows suit with strong musical performances and original songs from a talented cast of singers. The story follows a young girl named Star (Jude Demorest) who is hellbent on changing her circumstances. Growing up with a terrible foster family forces Star to look for a better life for herself and her sister Simone (Brittany O'Grady). Both are talented singers, so they naturally turn to the music industry. They're joined by Alexandra (Ryan Destiny) they embark on a journey to make their dreams of becoming stars a reality.
Aside from featuring plenty of musical drama, "Star" also finds itself wrapped up in a murder mystery with a "who-done-it" style plot that keeps audiences guessing. "Star" attempts to shine a light on the grittier side of the music industry that shows like "Pitch Perfect: Bumper in Berlin" don't dive deeply into. However, "Star" offers an engaging look at the music industry that will likely appeal to fans of "Pitch Perfect" and its spin-off.
You're Beautiful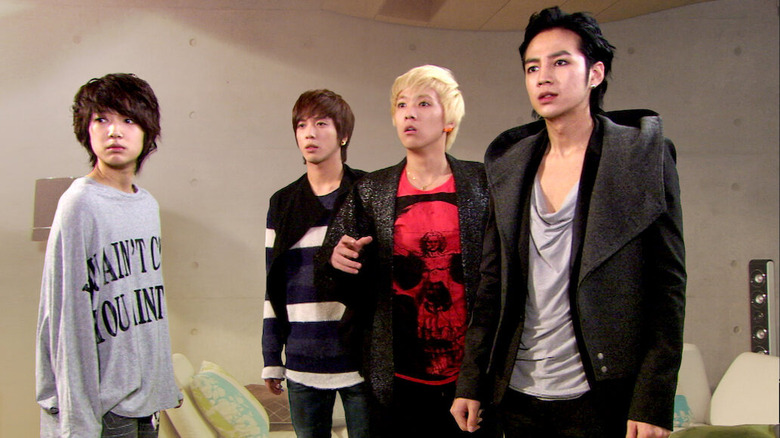 SBS
"You're Beautiful" is a popular Korean drama with an interesting plot, so bear with us as this may require some out-of-the-box thinking to connect it with "Pitch Perfect: Bumper in Berlin." 
This South Korean series stars Park Shin-hye as Ko Mi-nyeo, a young girl studying to become a nun. However, she discovers that her twin brother Ko Mi-nam plans on joining the successful K-pop band A.N.Jell. Unfortunately, just as Mi-nam is supposed to join the group, he's forced to go into hiding in the United States. Therefore, he asks his twin sister to join the band and pretend to be him for a while. Think of the plot of "She's The Man" – but with music. Mi-nyeo decides to leave the nunnery to help out her twin brother, which results in her joining the band. However, during her time with the other three members, they all fall for her, even though they think that she's her brother.
The whole thing is a fun story that features talented musicians portraying the band members of A.N.Jell. The chemistry between all the characters is perfectly blended as Mi-nyeo tries to keep her and her brother's identity a secret from everyone.This light-hearted series is the perfect escape to dig into after enjoying another fun adventure with Bumper.
Rebelde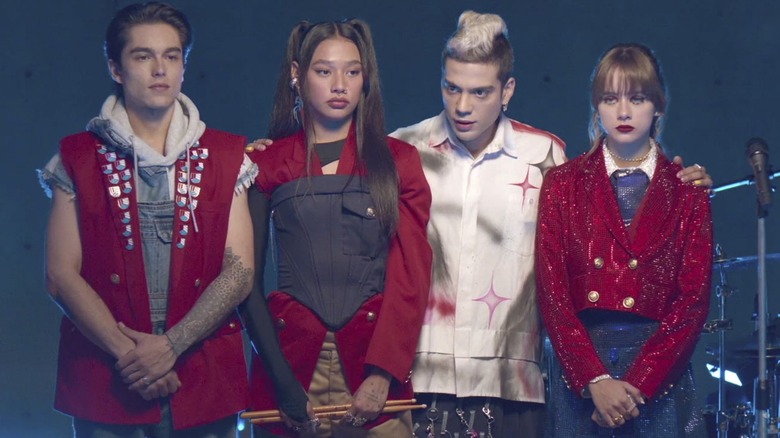 Netflix
2022's "Rebelde" is a Netflix remake of a popular Mexican telenovela of the same name that ran from 2004 to 2006. This Netflix adaptation manages to condense the expansive series — which produced over 400 episodes in three seasons — into a tight 16-episode arc that spans just two seasons.
The series takes place in the fictional Elite Way School, a prestigious academy for young musicians who want to become nothing short of spectacular. The protagonists of the series must fight against all odds in order to win the Battle of the Bands. Winning this coveted spot will allow them each a place in the Musical Excellence Program, which is a must for those who wish to become a star as only winners are allowed a seat at this prestigious table.
"Rebelde" includes a mysterious secret society called the Lodge, love triangles, and killer musical performances. The series even goes as far as to produce a music video in one of the episodes. Overall, "Rebelde" is an easy watch that will keep musical theatre fans happy long after "Pitch Perfect: Bumper in Berlin" has ended.
Girls5eva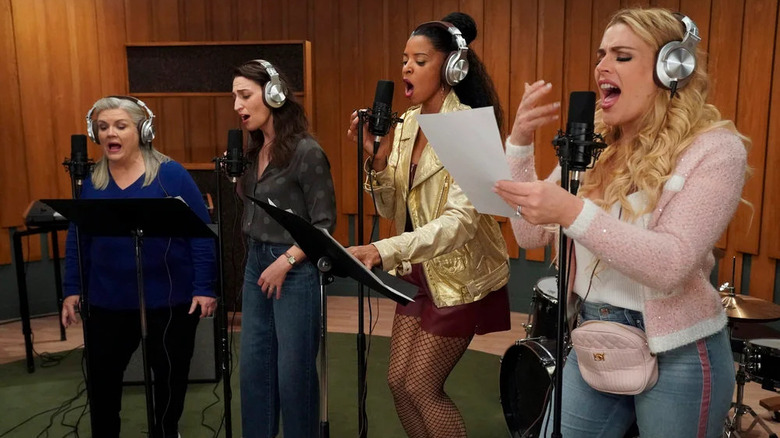 Heidi Gutman/Peacock
This short-lived show had a fun run during its time on Peacock. "Girls5eva" is a Tina Fey co-produced series that stars Sara Bareilles as Dawn, Busy Philipps as Summer, Paula Pell as Gloria, and Renée Elise Goldsberry as Wickie. These four women were part of a one-hit wonder girl band from the '90s, Girls5eva. The ladies reunite nearly 20 years later after one of their songs is sampled by rapper Lil Stinker (Jeremiah Craft) in his hit track.
The series details how these four women are thrust back into the spotlight. They're all dealing with the death of their fifth bandmate, who they considered the glue that held them all together. Unfortunately, none of the women are experiencing the life that they thought they'd have when they were young and first got together as a band. Luckily, fate has offered them another shot, and they aren't going to waste it.
This series is similar to the journey Bumper embarks on in "Pitch Perfect: Bumper in Berlin." After all, he was a character who enjoyed mild success before being forgotten by his fans. However, just like the women of "Girls5eva," Bumper is getting another shot at success. Let's see if he succeeds in getting what he wants.
Queens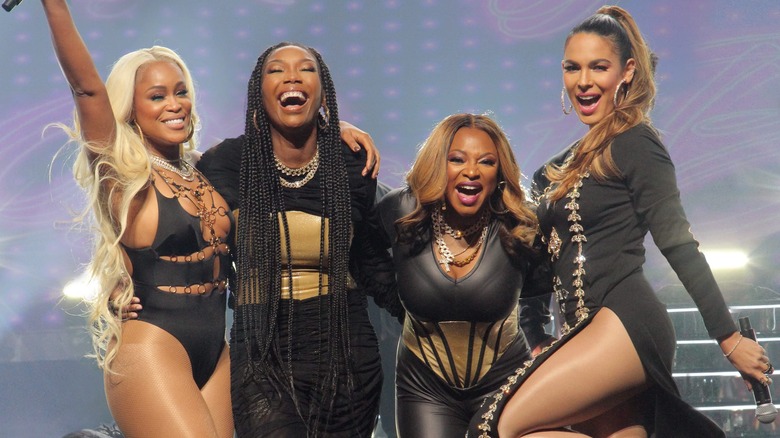 ABC
Running for just a single season composed of 13 episodes, "Queens" is an easy show to binge. With star power from actual queens of the music industry such as Brandy, Eve, Naturi Naughton, and Nadine Velazquez you know that the performances are going to be on point in this series. However, the show experienced a major setback halfway through filming when Eve took a step back from the show after she revealed that she was pregnant. After her departure, the series never fully recovered and was unfortunately canceled due to low viewership (via Essence). However, that doesn't mean the series isn't still enjoyable!
"Queens" follows four estranged friends that were once part of a hit '90s girl band. Years after the women found success, they decide to stage a comeback in order to reclaim the fame and fortune that has long since passed.
The music in "Queens" is outstanding as all of the music was overseen by producer Swizz Beatz. The show was also blessed with various famous guest stars who appear in the story, such as rappers Cam'ron, Remy Ma, and Fivio Foreign, who all add extra star power to "Queens."
Zoey's Extraordinary Playlist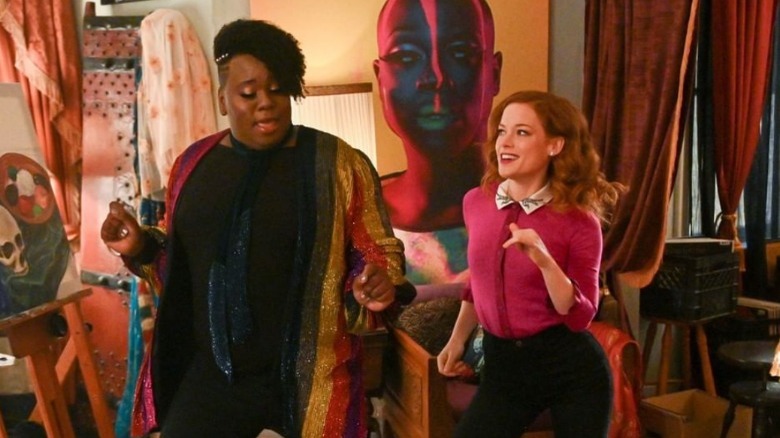 NBC
"Zoey's Extraordinary Playlist" is a musical drama with a pretty cool premise. The series stars Zoey Clarke (Jane Levy) as your average everyday girl who just so happens to have the ability to hear people's thoughts. Instead of this story transforming into a science fiction tale about mutants, Zoey's powers manifest in a musical way. When she hears people's thoughts, they're turned into a song. Not just any song, but a musical theater piece that often involves a full dance break.
The series has some major star power with a cast who gives it their all in each episode. With Alex Newell from "Glee," Peter Gallagher from "The O.C.," and Lauren Graham from "Gilmore Girls," each character brings something extra special to the series.
"Zoey's Extraordinary Playlist" has two seasons with 26 episodes that you can binge. It also includes "Pitch Perfect" alumni Skylar Astin in its cast!
School of Rock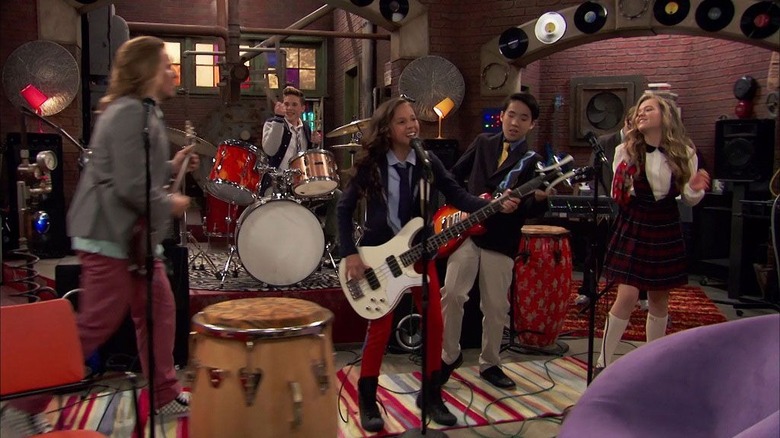 Nickelodeon
This may be a show on Nickelodeon, but trust us, it still works. "School of Rock" is based on the 2003 film of the same name that stars Jack Black as substitute teacher Dewey Finn who teaches his kids — you guessed it — how to rock. The series follows suit with its very own version of Dewey Finn, played by Tony Cavalero, who teaches a group of uptight kids how to let loose, have fun, and play rock music.
This version of Dewey Finn encourages his students to form a secret band to help express themselves creatively. The series follows them throughout the school year as they do exactly that. The five students who learn from Dewey develop a deep bond that sticks with them throughout the three-season run of "School of Rock." It's a feel-good tale of young musical talent that deserves to be recognized.
In fact, we daresay that Bumper would have had a great time jamming out with the kids from "School of Rock."