Where You've Seen The Cast Of Titans Before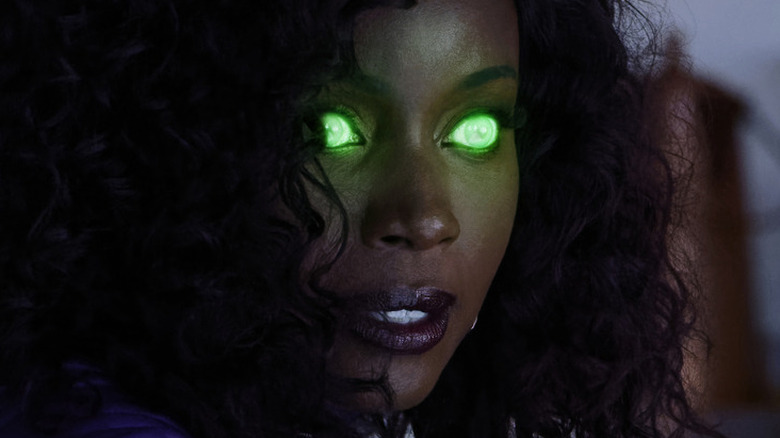 Ben Mark Holzberg/HBO Max
Based on the popular DC Comics superhero team created by Bob Haney and Bruno Premiani, "Titans" is a coming-of-age action drama which depicts the lives of young heroes trying to find their purpose and identity while fighting off powerful villains together. The Teen Titans have been adapted for television a handful of times before, but this version of the Titans is gritter and darker than any of the other on-screen incarnations. In this series, the team's core members include Nightwing, Starfire, Raven, and Beast Boy. Throughout its first three seasons, the show features great character development and strong storylines that benefit each character's growth.
Before its official debut in fall of 2018, the project had actually endured a series of setbacks during its four-year-development phase. These included securing the television rights to use the character Dick Grayson, aka Robin and aka Nightwing, who has been a vital part of the team since its conception (via Deadline). After premiering its first two seasons on the DC Universe app, the series has since moved to HBO Max where it can be viewed by a much larger audience.
Leading the cast are Brenton Thwaites, Teagan Croft, Anna Diop and Ryan Potter, who have been on the show since Season 1. They are joined by an ensemble cast consisting of long-time TV stars and newcomers. Let's get to know more about the cast of "Titans."
Brenton Thwaites as Nightwing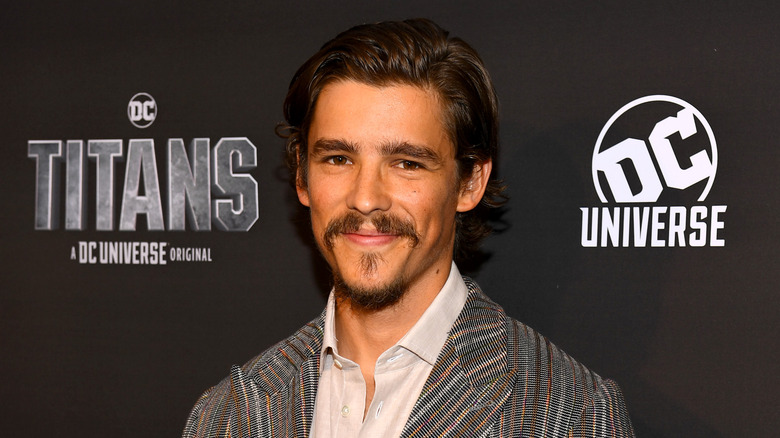 Dave Kotinsky/Getty Images
In "Titans," Brenton Thwaites stars as Dick Grayson, who is the first person to take on the mantle of Robin. When the audience meets him in Season 1, Dick has moved on from being Batman's sidekick to fighting crimes on his own away from Gotham City. After being Robin for a long time, he struggles to find his own identity and purpose. During the second season finale, Dick finally makes his long-awaited debut as Nightwing after defeating Deathstroke with the help of the Titans.
Thwaites started racking up IMDb credits in 2010 when he made his feature debut in the independent Australian drama thriller "Charge Over You." Not long after, Thwaites scored a recurring role on the long-running Australian soap opera "Home and Away," known for launching the careers of A-list stars like Naomi Watts, Heath Ledger, and Chris Hemsworth. In 2012, Thwaites got cast in his first Hollywood project in the form of Lifetime's TV film "Blue Lagoon: The Awakening." After that, he started securing major parts in films including the psychological horror "Oculus" in 2013 alongside Karen Gillan. He played the starring role in 2014's "The Giver," an adaption of the YA novel that also includes performances by Jeff Bridges, Meryl Streep, and Taylor Swift. He's also in 2014's "Maleficent" starring Angelina Jolie, the Helen Hunt-led drama "Ride," and the sci-fi thriller "The Signal."
By the mid-2010s, Thwaites nabbed leading roles in back-to-back high-profile features in the form of the action fantasies "Gods of Egypt" and "Pirates of the Caribbean: Dead Men Tell No Tales." The latter features the Australian actor playing Henry Turner, the son of Orlando Bloom and Keira Knightley's Will and Elizabeth. He followed that up with appearances in more independent films including the horror comedy "Office Uprising," the drama film "An Interview with God," and the crime drama "A Violent Separation."
Anna Diop as Starfire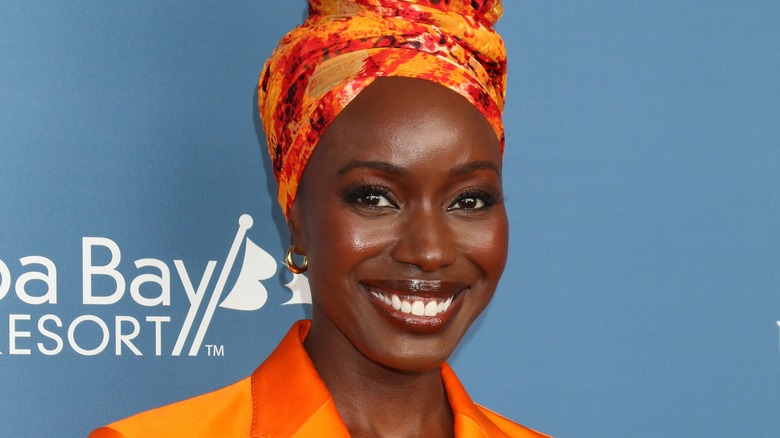 Kathy Hutchins/Shutterstock
Anna Diop portrays the role of Koriand'r, aka Kory Anders, aka Starfire, in "Titans." Originally created by Marv Wolfman and George Pérez, Starfire is the superpowered princess of the planet Tamaran who has been sent to Earth. She's a strong supporter of her teammates in both physical combat against evil and in social combat against threats to her friends' emotional well-being.
Way before landing a big break with "Titans," Diop nabbed a recurring role on the Chris Rock-inspired sitcom "Everybody Hates Chris" in 2006. She also made appearances on shows like "Lincoln Heights," "Whitney," "Southland," "Touch," and "Quantico." In 2015, Diop landed her first series regular role on the supernatural drama "The Messengers," which only ran for one season. Afterward, she joined Fox's short-lived spinoff "24: Legacy" as main cast member alongside Corey Hawkins. She also scored recurring appearances on shows like the Oprah Winfrey-produced soap opera "Greenleaf" and the police drama "Bosch."
As for film, Diop's early roles include a minor part in the psychological thriller film "The Moment" starring Jennifer Jason Leigh. In 2016, she portrayed a supporting character in the Chadwick Boseman-led revenge thriller "Message from the King." She followed that up with appearances in two horror films "The Keeping Hours" and Jordan Peele's "Us." Diop's upcoming projects include a leading role in Prime Video's psychological horror "Nanny."
Teagan Croft as Raven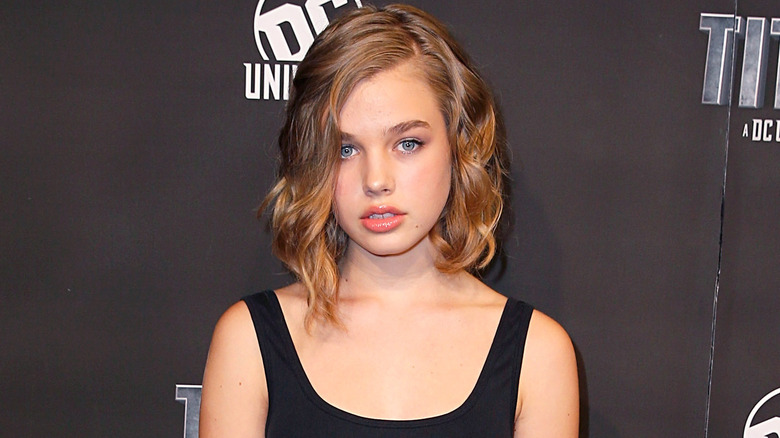 Dominik Bindl/Getty Images
Teagan Croft plays Rachel Roth, aka Raven, in "Titans." Raven is best known as the daughter of DC villain, the demonic Trigon. Because of her heritage, Raven is always fighting her inner darkness to keep it from fully taking control of her. Through the Titans, she wants to use her dark powers to help innocent people, rather than become the evil entity she was supposedly born to be.
Croft is an Australian actress who, following a leading performance in a stage adaptation of Harper Lee's classic novel "To Kill a Mockingbird," made her television debut in 2016 on the long-running soap opera "Home and Away." Croft successfully landed her first film project in the form of the sci-fi action endeavor "The Osiris Child" opposite "Twilight" vet Kellan Lutz. Croft was tapped to portray Raven in "Titans" at the age of 13 (via Deadline).
Croft also recently starred in and executive produced two short films — "Bella and Bernie" and "Woman of a Certain Sage." Her next major upcoming project is the biographical drama "True Spirit" starring Oscar winner Anna Paquin.
Ryan Potter as Beast Boy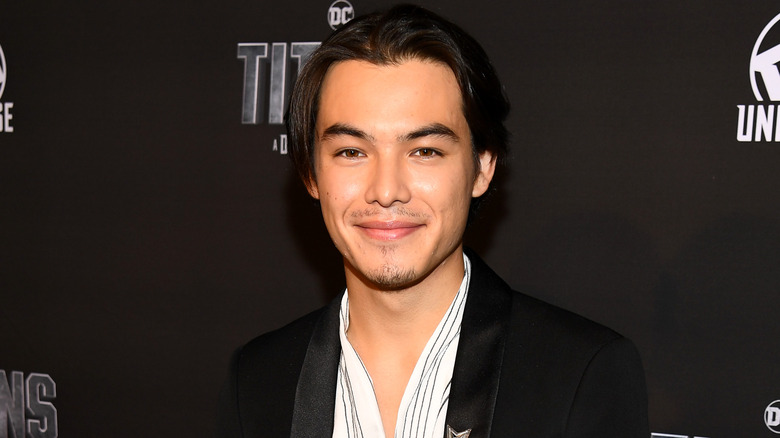 Dave Kotinsky/Getty Images
Ryan Potter takes on the role of Gar Logan, aka Beast Boy on "Titans." Beast Boy is a green-haired carefree teenager best known for his ability to shapeshift into any animal. He is often considered the team's comic relief thanks to his charm and humor.
Potter is a former Nickelodeon star who made his TV debut on the action-comedy series "Supah Ninjas" in 2011. Potter had already been training in martial arts since he was 8 years old, which couldn't have hurt his chances of getting cast in a show called "Supah Ninjas" (or on "Titans," for that matter). Potter worked with Nickelodeon on two other shows — the gameshow "Figure It Out" and the sitcom "Fred: The Show." Following the cancellation of "Supah Ninjas," he landed his first high-profile project in the form of Disney's animated film adaptation of "Big Hero 6," loosely based on the Marvel comic of the same name. In the Oscar-winning feature, Potter voiced kid inventor Hiro Hamada who forms a bond with his late brother's final robotics project, Baymax. Potter also voiced Hiro in the "Big Hero 6: The Series" and in the Disney+ miniseries "Baymax!"
Apart from the "Big Hero 6" franchise, audiences may have also heard Potter's voice on Netflix's popular animated adventure survival series "Jurassic World Camp Cretaceous." For five seasons, Potter played the confident and wealthy Kenji Kon.
Joshua Orpin as Superboy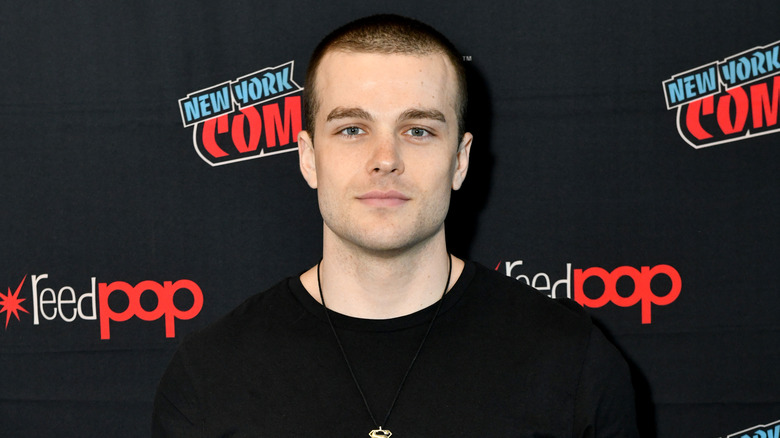 Craig Barritt/Getty Images
In "Titans," Joshua Orpin portrays Conner Kent, aka Superboy. Like in the comics, Conner is a Cadmus experiment made up of Superman and Lex Luthor's genetic materials. Orpin's version of the character is first introduced during the second season along with Krypto the Superdog. Since he's technically half-Kryptonian, he has most of Superman's powers, including strength, speed, and heat vision. Due to his complicated parentage, he's constantly questioning his identity with regards to his capacity to do good and evil.
Orpin is an Australian actor whose earlier on-screen appearances include two short films, "Dark Horses" and "You, Me & Karen," as well as the independent dramedy "The Neon Spectrum." The following year, he made his television debut with a one-episode appearance on "The Doctor Blake Mysteries." In 2019, he nabbed minor roles on FX's fantasy drama "Preacher" and the Australian comedy-drama "Upright" led by "House of the Dragon" breakout Milly Alcock. Around the same time, he also got cast in the leading role in the independent romantic drama film "Highest Point." Afterward, he made a brief appearance on the Australian limited drama "Love Me."
Orpin's big break came in 2019 when he successfully landed his first series regular role on "Titans." He is officially the second actor to portray Conner Kent in live-action media following Lucas Grabeel on "Smallville."
Curran Walters as Red Hood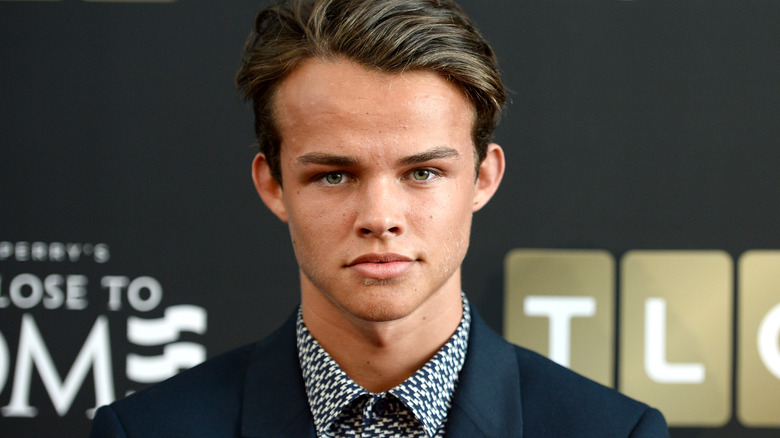 Handout/Getty Images
Curran Walters plays Jason Todd, who is first introduced in Season 1. In "Titans," DC fans meet the playful and brash Jason Todd as Batman's newest Robin, officially replacing Dick Grayson after he leaves Gotham. Later on in the series, he transforms into the villainous Red Hood after Jonathan Crane resurrects him from his death at the hands of The Joker.
Walters made his television debut in 2014 in the TV film "Growing Up and Down," which also starred eventual "To All the Boys I've Loved Before" breakout Noah Centineo. Walters followed that up with a one-episode appearance on "New Girl" as well as recurring roles on the crime drama "Game of Silence" and the Disney Channel sitcom "Girl Meets World." In 2016, he became a cast member on TLC's Tyler Perry-directed drama "Too Close to Home." During the same year, Walters landed his first feature film role as a supporting character in the acclaimed comedy-drama "20th Century Women" led by an all-star cast including Annette Bening and Greta Gerwig.
After making brief appearances on shows like "Speechless," "Alexa & Katie," and "Best. Worst. Weekend. Ever," Walters found his way onto "Titans." He was ultimately promoted to series regular status for the second and third seasons.
Conor Leslie as Wonder Girl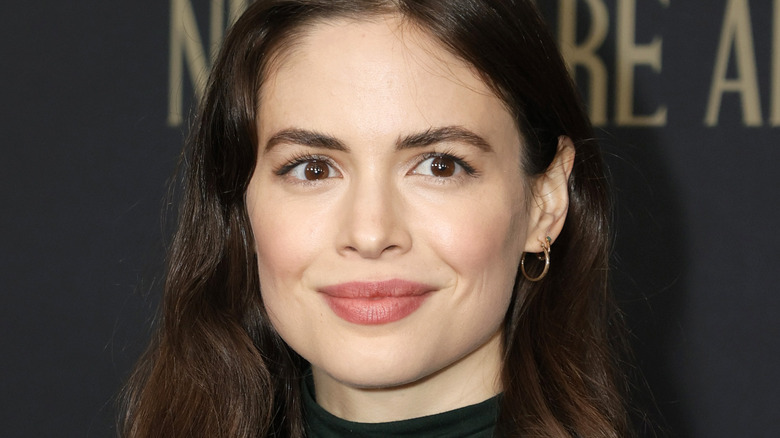 Michael Loccisano/Getty Images
Conor Leslie plays Donna Troy, aka Wonder Girl. Donna Troy is a half-human and half-Amazon who's best known as Wonder Woman's former sidekick. She is described as Dick Grayson's childhood best friend thanks to their shared experience of living in the shadows of their respective Justice League mentors. Like Dick, Dawn, and Hank, she has also been revealed to be an original member of the first Titans team.
Leslie's earlier roles include one-episode appearances on shows like "The Unusuals," "Law & Order," the 2008 "90210" relaunch, the sci-fi dramedy "No Ordinary Family," and crime drama "Rizzoli & Isles." She went on to secure larger roles on the ABC drama "Revenge," Prime Video's alternate history "The Man in the High Castle," the crime thriller "The Blacklist," and the comedy series "Graves." 
In 2014, she got cast in her first leading role as Sabine on the three-part miniseries for the Discovery Channel titled "Klondike," starring Richard Madden and Tim Blake Nelson. The following year, she nabbed another series regular on the sci-fi comedy series "Other Space" created by Paul Feig. After the show was canceled, Leslie became a main cast member on Fox's limited drama "Shots Fired."
Though her role on "Titans" started as a guest star appearance, Leslie has been a series regular since the beginning of Season 2.
Minka Kelly as Dove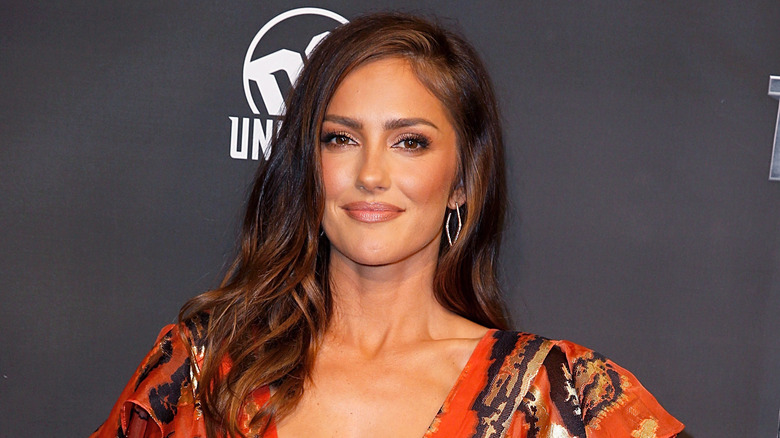 Dominik Bindl/Getty Images
In "Titans," Minka Kelly portrays Dawn Granger, aka Dove — a skilled vigilante recognized for her speed and agility. Like Starfire, Dove makes a point to look out for the team's younger members.
Certifiably famous well before she arrived on the set of "Titans," Kelly's 2006 breakout role came in the form of cheerleading captain Lyla Garrity during the first three seasons of the sports drama "Friday Night Lights." After leaving the hit series, she continued getting cast for key roles in TV shows like 2010's "Parenthood," 2011's "Charlie's Angels," "Almost Human," "The Path," and "Jane the Virgin."   
Around the same time as her regular appearances on "Titans," she also landed the role of Maddy's boss Samantha for three episodes of "Euphoria" Season 2. As for her film career, Kelly's resume includes leading the psychological thriller "The Roommate" alongside with Leighton Meester. She also appeared in "500 Days of Summer" with Joseph Gordon-Levitt, "Just Go with It" with Adam Sandler, "The Butler" with Forest Whitaker, "Night Hunter" with Henry Cavill, and "Lansky" with Sam Worthington
Alan Ritchson as Hawk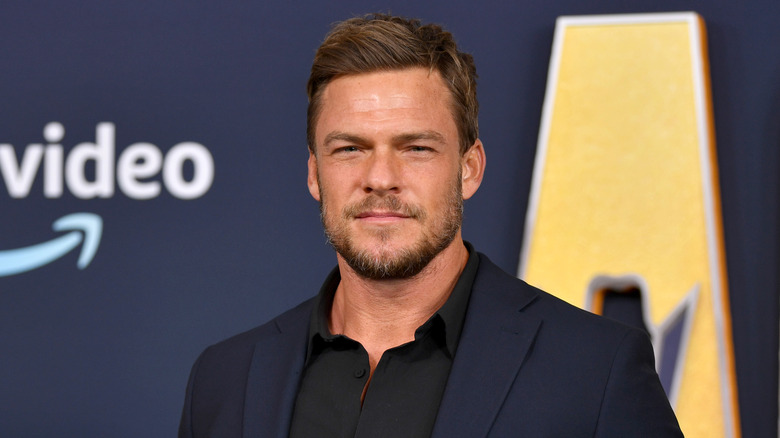 Denise Truscello/Getty Images
Alan Ritchson plays Hank Hall, aka Hawk, on "Titans." Hawk is known for his brute force and aggressive style of fighting. Despite being more prone to violence, he is one of the most reliable members of the team. He is the other half of a vigilante duo consisting of himself and girlfriend Dove.
Ritchson is no stranger to the DC Universe, as he made his television debut portraying Aquaman in four episodes of the Tom Welling-led superhero series "Smallville." In 2010, he scored a leading role on Spike TV's short-lived sitcom "Blue Mountain State." in which he played Kevin "Thad" Castle, a role he reprised in the 2016 sequel film "Blue Mountain State: The Rise of Thadland." In 2018, he once again returned to the superhero genre as Hawk on "Titans." After his time on the HBO Max series ended with the third season, Ritchson landed a starring role in "Reacher," Amazon Studios' TV adaptation of the "Jack Reacher" novels.
Ritchson's film credits include supporting roles in "The Hunger Games: Catching Fire," "The Wedding Ringer," and "Lazer Team." He has also worked with "Titans" co-star Brenton Thwaites in two films — "Office Uprising" and "Ghosts of War." Audiences may have also heard his voice in the Michael Bay-produced "Teenage Mutant Ninja Turtles" films as the voice of Raphael. In 2021, Ritchson made his feature directorial debut with the action-comedy-thriller "Dark Web: Cicada 3301," featuring his "Titans" co-star Conor Leslie and "Harley Quinn" standout Ron Funches. Ritchson will be seen next in the Vin Diesel-led penultimate sequel "Fast X."
Iain Glen as Bruce Wayne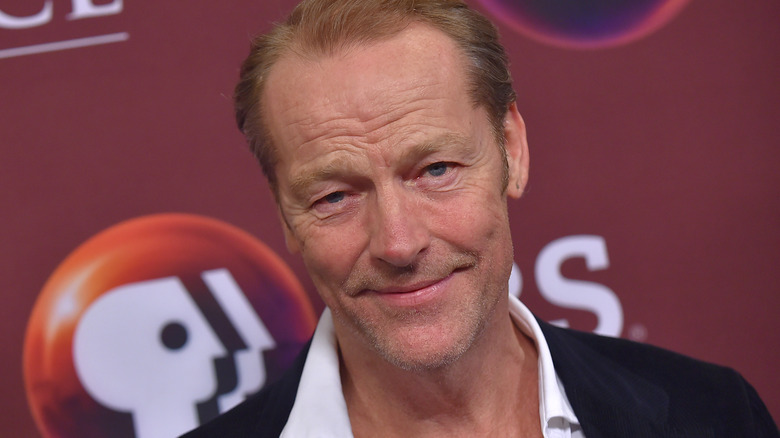 DFree/Shutterstock
In "Titans," Iain Glen portrays the foundational DC hero Bruce Wayne, who's introduced as Dick Grayson's adoptive father and former crime-fighting partner. Glen is an acclaimed Scottish actor who gained worldwide recognition for his role as Ser Jorah Mormont in HBO's Emmy-winning fantasy drama "Game of Thrones." For eight seasons, he played Daenerys Targaryen's most loyal ally.
Glen began his on-screen career in the late 1980s with supporting roles on drama shows like "Taggart," "Screen Two," and "The Fear." Before finding widespread recognition with "Game of Thrones," he mostly appeared on U.K. shows. Americans might recognize him from popular exports "Doctor Who" and "Downton Abbey," in which he played recurring roles in multiple episodes of each series. Following "Game of Thrones," he continued getting cast for key roles on TV shows such as "Prisoners Wives," "Cleverman," and "Delicious." In 2019, Glen debuted as Bruce Wayne on the second season of "Titans."
Glen has also made appearances in high-profile action features including "Lara Croft: Tomb Raider" with Angelina Jolie, "Kingdom of Heaven" with Orlando Bloom, "The Iron Lady" with Meryl Streep, and the live action "Resident Evil" films with Milla Jovovich.
Jay Lycurgo as Tim Drake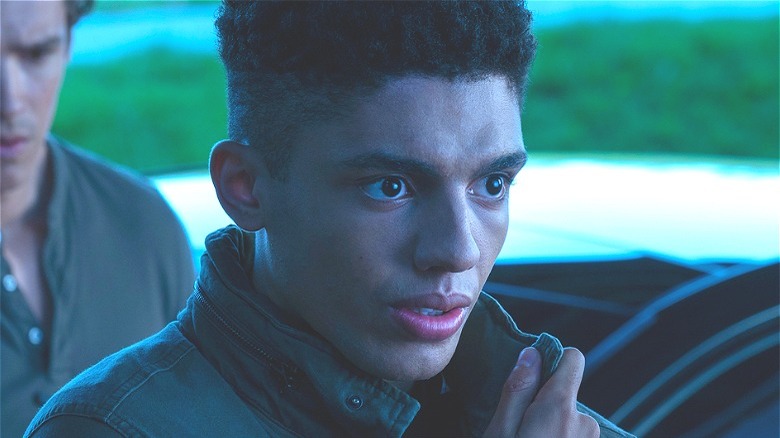 HBO Max
Up-and-coming British actor Jay Lycurgo plays the role of Tim Drake on "Titans." Tim Drake makes his debut during the third season when he's introduced as a Gotham City resident aspiring to become Batman's third Robin. He eventually becomes a member of the team towards the end of the season after he returns from the afterlife with Donna Troy.
Lycurgo made his on-screen debut in 2019 when he got cast for a one-episode appearance on the long-running medical drama "Doctors." The following year, he landed minor roles on Michaela Coel's acclaimed miniseries "I May Destroy You" and the TV film "Anthony." Lycurgo also appeared in a Season 2 episode of 2019's "War of the Worlds." A break came in 2021 when he scored the role of Tim Drake on "Titans," making him the first actor to portray the fan-favorite DC character in live-action. Afterward, he made his feature-length debut in another DC project — the Robert Pattinson-led film "The Batman," in which he briefly appears as a gang member.
Besides returning for the fourth season of "Titans," Lycurgo is also leading two new shows this year. The first one is a recurring appearance on the comedy drama "Cheaters," while the second one is playing the lead character on Netflix' supernatural series "The Bastard Son & The Devil Himself."
Joseph Morgan as Brother Blood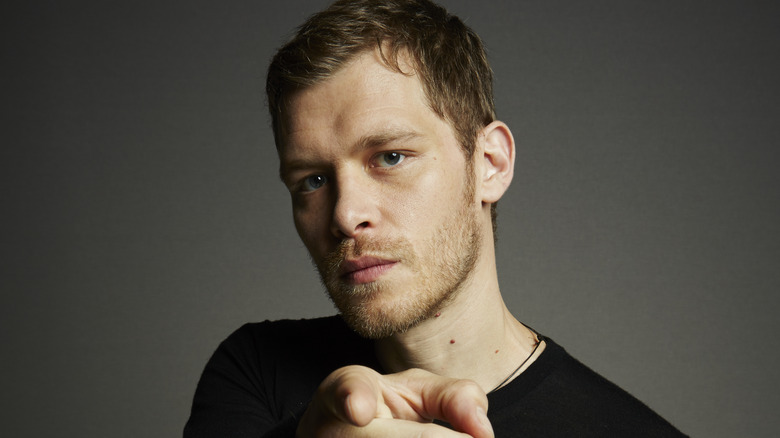 Mj Kim/retired/Getty Images
Joseph Morgan will be taking on the role of Sebastian Blood, aka Brother Blood, the primary antagonist for the fourth season of "Titans" (via THR). Morgan is not a stranger to playing villains, as he first gained recognition for his iconic portrayal of Klaus Mikaelson on "The Vampire Diaries." For five seasons of the main series, he appeared as the charming and ruthless original vampire whose fan-favorite status led to his transformation into an anti-hero. Due to fan's reception of his character, The CW ordered a "Vampire Diaries" spinoff titled "The Originals" centered around the Mikaelson family and Klaus' journey into becoming a father to his hybrid daughter, Hope. 
After the supernatural series ended its five-season run, Morgan landed major parts on "Animal Kingdom" Season 4 and the short-lived sci-fi drama "Brave New World." Following his appearance in "Titans," Morgan will next be seen in the live action "Halo" adaption for Paramount+ (via Deadline). Before finding fame with his "Vampire Diaries" role, Morgan made recurring appearances in a few British shows including "Hex," "Silent Witness," "Doc Martin," and "Casualty," as well as a leading performance on the limited drama adaptation of "Ben Hur." Morgan only has a few notable film credits. This includes the epic war drama "Master and Commander: The Far Side of the World," the comedy "Mister Lonely," and the fantasy action drama "Immortals" with Henry Cavill.
Titus Welliver as Lex Luthor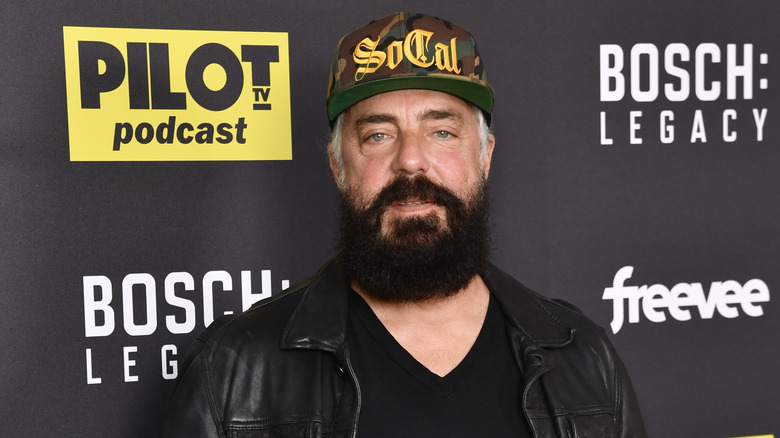 Gareth Cattermole/Getty Images
Titus Welliver is set to portray quintessential DC villain Lex Luthor on "Titans" Season 4. In the official trailer, Lex plans to officially introduce himself to Conner, who's technically his biological son.
Welliver began his career in the 1990s after he nabbed one-episode appearances on few shows like "L.A. Law," "Beverly Hills, 90210," "Tales from the Crypt," "The X-Files," and "New York Undercover." In 1995, he finally landed a recurring role on the police drama "NYPD Blue." He followed that up by landing his first series regular role on another police procedural "Brooklyn South." Welliver's acting breakthrough came in 2004, when he got cast to play the character of Silas Adams on HBO's western drama "Deadwood." In the acclaimed series, he first appeared as a recurring guest star, but was eventually upped as a main cast member for its last two seasons. Later on, he scored recurring appearances on multiple popular shows including "Prison Break," "Lost," "Sons of Anarchy," "Suits," "The Good Wife," "Agents of S.H.I.E.L.D.," and "The Mentalist." In 2015, Welliver signed on for his biggest role to date with the Prime Video series "Bosch," in which he played Detective Harry Bosch for seven seasons. 
As for his film career, Welliver's early film credits include minor roles in "The Doors," "Mobsters," "Zero Tolerance," "Born to Be Wild," and "Twisted." He also notably appeared in three Ben Affleck-directed films — "The Town," "Argo," and "Live by Night." Before he became the newest live-action version of Lex Luthor on "Titans," DC fans may have heard Welliver in the 2021 two-part animated film saga "Batman: The Long Halloween," in which he lent his voice to Carmine Falcone.