The White Lotus Season 2 Episode 1 Recap: Under The Sicilian Sun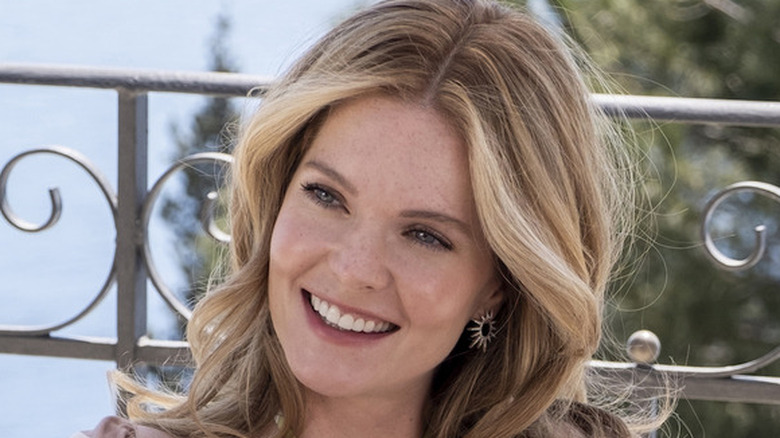 HBO
As a character in the second season of "The White Lotus" astutely points out, there's so much content these days, but that certainly hasn't diminished this series' popularity as its sophomore effort gets started. After the first season aired in the summer of 2021, written and crafted by writer, actor, director, and former "Survivor" contestant Mike White, "The White Lotus" was an immediate hit, setting a dark, messy murder mystery against the glossy, enviable world of a luxury resort in Hawaii.
Originally a limited series, "The White Lotus" became such an undeniable hit that White and HBO saw fit to keep the story going, transforming the original outing into an anthology series that visits different locations of the fictional, uber-expensive White Lotus resort chain. This time, we find our cast of undeniably weird and potentially suspicious characters in Sicily along the coast, transporting White's newest story to an entirely different continent.
In the premiere's opening, which takes place one week before the series really starts, Daphne (a delightful Meghann Fahy) tells two fellow resort goers — played by Kara Kay and Angelina Keeley, friends of White's from their season of "Survivor" — that the White Lotus is incredible, only to discover one floating body during her last swim at the resort. (According to a resort employee, it's not the only one.) Here's what happens with each set of characters in the season premiere of "The White Lotus," as well as where the show can go from here.
Two couples at odds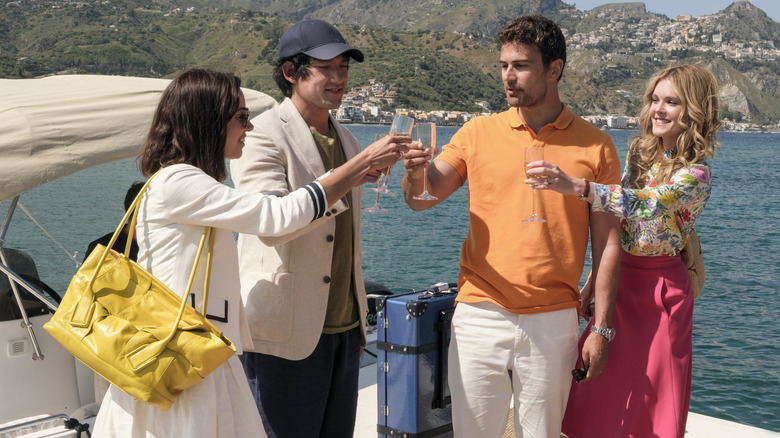 HBO
Speaking of Meghann Fahy, her Daphne forms one half of two couples who, despite traveling together to Sicily, could not possibly be more different. Daphne and her husband Cameron (Theo James), a wealthy couple who can't keep their hands off of one another, are joined by Cameron's college friend Ethan (Will Sharpe) and his sardonic wife Harper (Aubrey Plaza), and it's pretty clear that they're an oddly paired quartet. For starters, Harper doesn't exactly seem pleased to be here in the first place, and an instantly weird power dynamic comes into play when she mentions that Cameron basically made Ethan wealthy by buying his company.
As the couples spend more time together, things only get worse; Harper is fixated on the undeniably difficult state of the world around them, while Daphne freely says that she and Cameron never watch the news and just love "Ted Lasso." There's definitely a lot going on with and between these couples beyond their incompatibility, though. Daphne has a weirdly dark side, looking almost gleeful as she notes that "Dateline" always has stories about husbands murdering their wives, and while Cameron (whose luggage is lost) borrows a bathing suit from Harper and Ethan, he gets fully naked in front of a clearly freaked out Harper. Finally, there's Chekhov's door, a shared passageway between their two rooms that will undoubtedly come into play at some point.
A fraught family vacation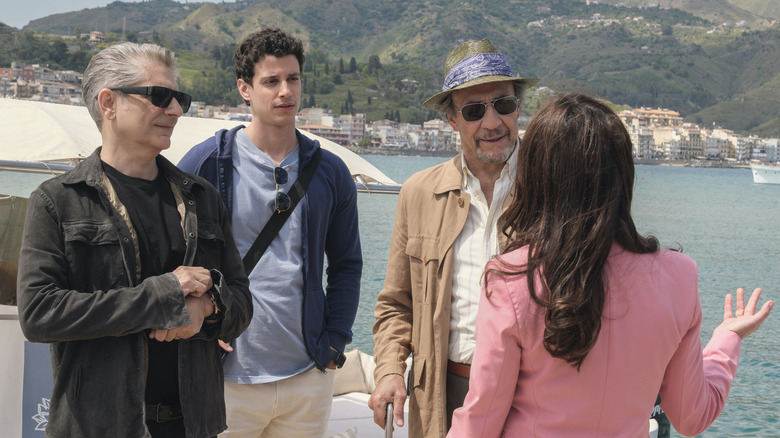 HBO
While the two couples are trying to enjoy romantic vacations, the men of the Di Grasso family are having anything but. Grandfather Bert (F. Murray Abraham), his son Dominic (Michael Imperioli), and his son Albie (Adam DiMarco) are traveling together, but missing some crucial relatives; apparently, Dominic's wife and daughter elected not to join the vacation, though we don't know why just yet. (A phone call to Dominic's wife, however, makes it clear that both she and their daughter are furious over something Dominic did, and there's definitely no shot at forgiveness.)
Bert, constantly flatulent and wildly inappropriate around every young woman in a five foot radius, is having the time of his life — never missing an opportunity to say that, with the last name Di Grasso, he's "Sicilian" and here to rediscover his heritage — while Dominic spends his time quietly irritated by his father or, understandably, drinking. As for Albie, he seems like he's clearly trying to walk a tightrope line in his family in the wake of his father's apparently bad behavior, leaving him in the lurch between his father and grandfather. These three have a lot to address with one another, but instead, they're distracting themselves in the resort, to varying degrees of success.
Tanya's ongoing troubles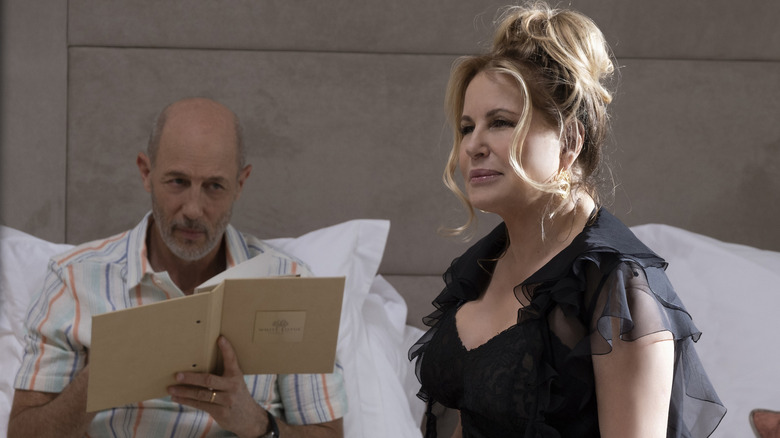 HBO
Jennifer Coolidge's Tanya McQuoid — a role that won the veteran performer her very first Emmy — was introduced in the first season to understandable acclaim, and thankfully, White saw fit to bring her back and make her character into an avid White Lotus client with elite status. (Here's hoping that continues as long as "The White Lotus" airs.) Flanked by Greg (Jon Gries), her love interest from the first season and who is now introduced as her husband, Tanya is thrilled to start her Italian adventure, surrounded by suitcases and shown into a plush top-level suite.
Tanya's life sure seems idyllic, but it is definitely not. From interrupting sex with her husband because she thinks she was "disassociating" to said husband criticizing how much she eats to her beleaguered assistant lurking around, Tanya is still a difficult, scared, and highly emotional woman with money that can't possibly fix all of her problems. Coolidge has fully inhabited this deliciously strange character for some time now, and there's no question she'll bring Tanya to bizarre new heights this season.
An assistant in need of assistance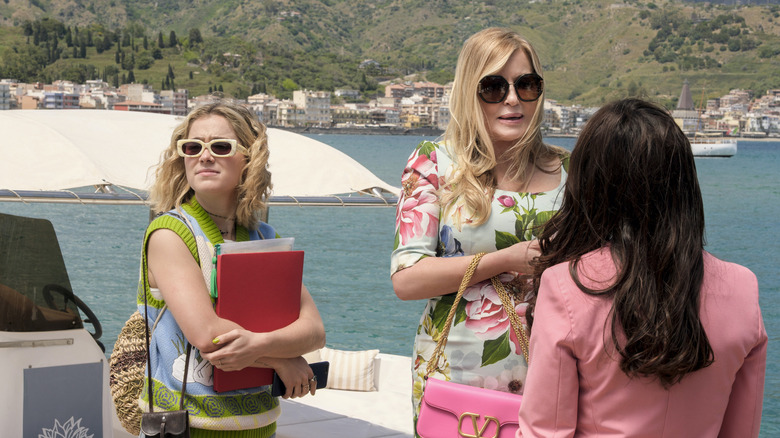 HBO
Let's circle back to Tanya's poor assistant, Portia (Haley Lu Richardson), who flies to Sicily with her presumably impossible and mercurial boss only to find herself completely unwelcome. When Greg gets mad at Tanya for bringing her assistant on vacation, Tanya tells Portia she needs to basically get lost, but it's not like she can just fly home, and so she's stuck at the resort, banished to her room.
Luckily, Portia has a chance run-in with Albie at the pool, who takes her under his wing; wandering the resort alone is pretty dangerous for her, considering that if Tanya spots Portia the former flies into a rage. Charming both Albie and Bert when the older man falls down by the pool, Portia's definitely on a better track by the end of the episode... even if she is stuck eating pasta alone in her room and stalking Albie on Instagram.
Two intruders looking for trouble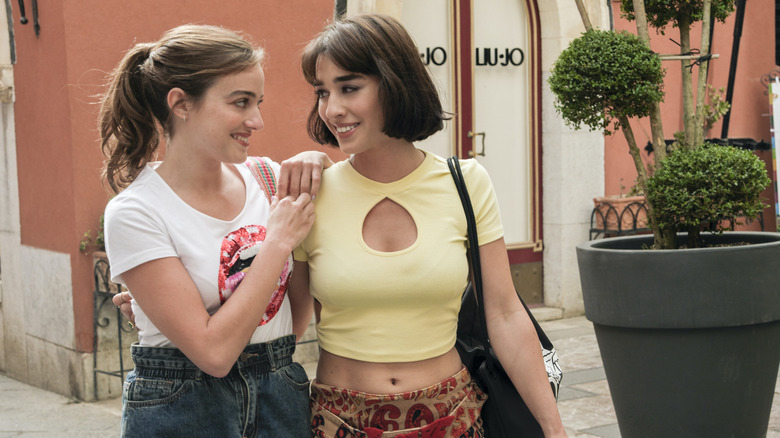 HBO
Pretty much all of the characters introduced in the premiere are filthy rich — which, apparently, you have to be to stay at this resort — which makes Lucia and Mia all the more interesting. Played by Simona Tabasco and Beatrice Grannò, respectively, the two loiter by the dock as the boat arrives filled with guests coming to stay at the White Lotus, checking out the... wares, as it were. Lucia cagily tells Mia that she's been corresponding with one of the new guests and is set to meet up with him later that night, making it clear that the girls intend to do business at the hotel.
Getting themselves physically into the hotel is their first hurdle, though. The eagle-eyed manager of the resort, Valentina (Sabrina Impacciatore) keeps spotting them, and knows exactly what they're up to, telling them that only guests are allowed on the premises. These girls are smart, though, and end up sneaking in right under Valentina's nose only to have two incredibly different nights. When the musician buys Mia a drink and asks what the going rate is for an evening, she throws a drink in her face, and we learn who Lucia was set to meet as she heads directly to Dominic's room.
When does The White Lotus Episode 2 air?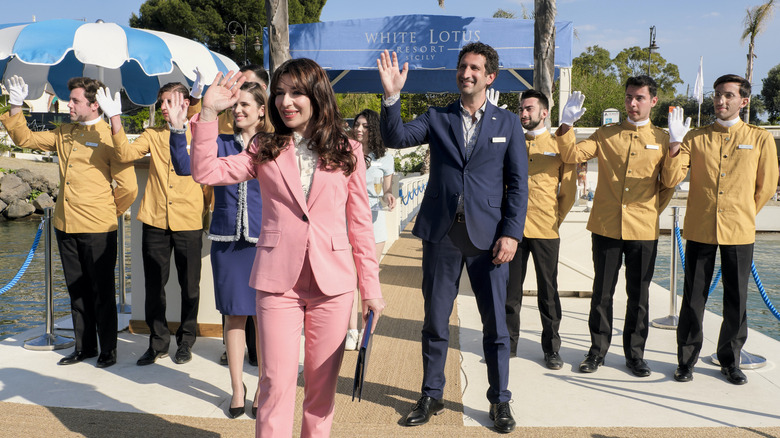 HBO
The second episode of "The White Lotus" airs on Sunday, November 6 at 9PM EST, airing on HBO and streaming on HBO Max. If the first season is any indication — as well as Mike White's skillful work on previous projects like "Enlightened" — there's still a lot yet to come on this season, especially now that we've met all of the characters and the chess pieces have populated the beautiful Sicilian board.
White proved, during the first season, that he's a master of character studies, and that's exactly what viewers can expect during the seven episode run this season. From Daphne's ominous comments about unplugging your spouse's scuba gear to Greg's barely masked hatred of his wife to Dominic's obvious marital problems and new companion, there's no shortage of directions this season can take. Really only one thing's for sure: at least one of these guests is turning up dead.