The Emmy-Winning Creator Of The White Lotus Is A Serial Reality TV Competitor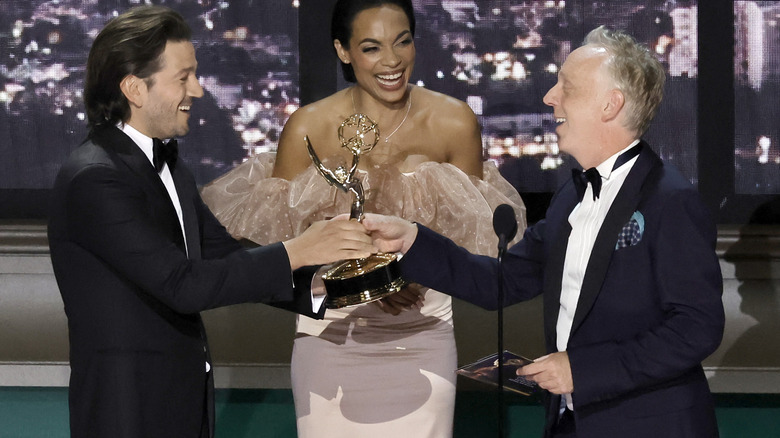 Kevin Winter/Getty Images
It's not an unusual thing for actors to have varied career histories. You start out your life pumping gas or scooping ice cream, then you land a few bit parts. Bit parts lead to supporting roles, which, if the person is lucky enough, leads to starring roles and some sort of role on the production side of things. One thing leads to another and success breeds success — it's a classic Hollywood tale, and it seems that hundreds of people have experienced it over time in one way or another.
But how about a series creator with an unusual background?
The 2022 edition of the Emmys happened to showcase someone who fits that bill. The creator of HBO's "The White Lotus," which picked up a win for outstanding writing for a limited or anthology series or movie, isn't just a talented multi-hyphenate. He's been on both sides of the camera — in a capacity you wouldn't expect at first glance. In fact, he's been on a few long-running and popular reality shows as a contestant.
Mike White has put in his time on reality television
Mike White has a very long resume that proves he's quite a versatile person. Per IMDb, he composed music for "School of Rock," which he also co-produced, and he's directed, produced, and written for numerous projects, including "Nacho Libre," "Freaks and Geeks," "Dawson's Creek" and Enlightened." But he's also shown up on two reality shows.
White first appeared on "Survivor" during the show's 37th season. He managed to make it all the way to the end, playing a friendly, low-key sort of game that kept him under the radar. During the final vote, he ended up losing to Nick Wilson, whose strategic game garnered stronger favor with their fellow competitors. 
In an interview with The New Yorker, White stressed that he joined "Survivor" not in an ironic way, but rather as a committed fan of the reality show. "'Survivor' is the only show I really devotedly watch, even though I get frustrated with it," he told the outlet. "Part of my job and my way of life is studying people and analyzing motivation and character. I still feel like, even on the most contrived reality show, the people are human and they're more interesting than some of the most well-scripted drama."
After his time on "Survivor," White was then eliminated in eighth place during Season 14 of "The Amazing Race." He competed as a team with his father, Mel White, on the program, and the duo became popular for their camaraderie and likable nature. From racing around the world to winning an Emmy, that's quite the career.