Where You've Seen The Cast Of The White Lotus Before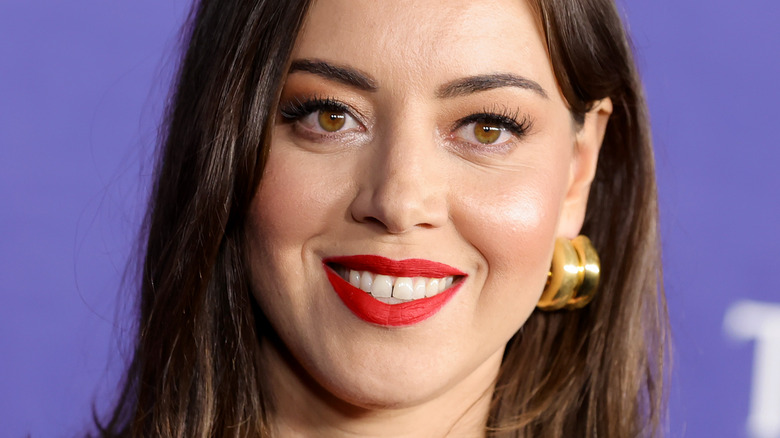 Amy Sussman/Getty Images
HBO's acclaimed series "The White Lotus" is returning for a second season. The plot of the first season revolved around obnoxious guests and frazzled employees of the fictional White Lotus resort in Hawaii and their intertwined misadventures. The show was a surprise hit, so much so that the network immediately renewed it for a second season just mere days before the Season 1 finale, turning what was originally intended as a limited series into an anthology series.
The show's writer and director Mike White received praise for his work in satirizing the dysfunctional, wealthy, and profoundly self-entitled customers of the resort. Critics highlighted the performance and chemistry between the ensemble cast of the show, which featured Jennifer Coolidge, Connie Britton, Alexandra Daddario, Jake Lacy, Sydney Sweeney, Steve Zahn, and Molly Shannon. But because the first season's events are self-contained and conclude the stories of the majority of its characters — some of which don't even survive the story — the second season features a mostly new cast of characters and a brand-new setting that on the opposite side of the planet from Hawaii — Sicily.
Among the new array of cast members, some of these faces may be familiar to viewers — the most notable being Aubrey Plaza of "Parks and Recreation" fame — while others may not be.  To help you refresh your memory and introduce you to the unfamiliar faces of the upcoming season, here's where you've seen the cast of the second season of "The White Lotus" before.
Jennifer Coolidge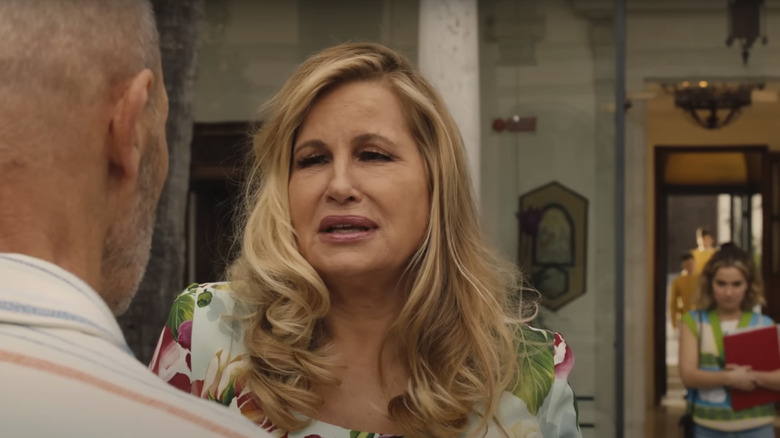 HBO
Jennifer Coolidge's portrayal of Tanya McQuoid, a wealthy and lonely woman grieving the loss of her mother in "The White Lotus," became a fan favorite among viewers and earned the actress her first Emmy award as best supporting actress. Despite Coolidge's initial attempt to ditch her role, the actress returns as Tanya in the show's second season. This time around, Tanya goes on a honeymoon to Sicily's White Lotus with Jon Gries' Greg, who she met in Hawaii and fell in love with during Season 1.
Coolidge made her debut on television in the 1993 "Seinfeld" episode "The Masseuse" and played with a few other supporting roles before landing her big break as Jeanine Stifler, or "Stifler's mom," in 1999's box-office smash "American Pie." She reprised the role in "American Pie 2," "American Wedding," and "American Reunion." She had a supporting role as the clueless but sweet manicurist Paulette in "Legally Blonde" and its 2003 sequel "Legally Blonde 2: Red, White & Blonde." She starred in an episode of "Friends" in its last season as Amanda, an annoying acquaintance Phoebe and Monica try to get rid of, before nabbing a recurring role on "Friends" spinoff series "Joey" as the title character's agent Bobbie Morganstern.
In addition to appearing in comedies like "A Cinderella Story," "Click," "Date Movie," and "Epic Movie," Coolidge began a recurring role on CBS's "2 Broke Girls" in 2011 as the pair's Polish neighbor Sophie before being promoted to the main cast in Season 2 until the show was canceled in 2017. She has also done voice work in "Gravity Falls," "American Dad," and "Rick and Morty."
Haley Lu Richardson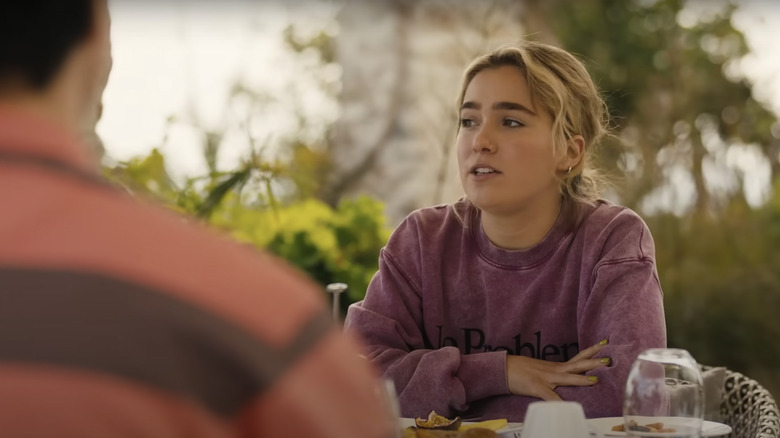 HBO
Haley Lu Richardson joins the cast of "The White Lotus" as Portia, the assistant to Jennifer Coolidge's Tanya, who accompanies her boss on her honeymoon trip to Sicily in the show's second season. Perhaps understandably, Portia's presence becomes an annoyance for Tanya's new husband.
Richardson's early television roles include the Disney Channel sitcom "Shake It Up" and the short-lived ABC Family supernatural drama "Ravenswood" with subsequent appearances in an episode of "Law & Order: Special Victims Unit" and two episodes of CBS's "Jane the Virgin." The actress received recognition for her supporting roles in the 2016 coming-of-age film "The Edge of Seventeen," in which she plays the best friend of Hailee Steinfeld's character, and in M. Night Shyamalan's 2017 psychological horror "Split" as Claire Benoit, a classmate of  Anya Taylor-Joy's character who is kidnapped and killed by Kevin Crumb (James McAvoy) as a sacrifice to "The Beast" (also McAvoy).
Richardson received her breakthrough role opposite John Cho in the critically acclaimed 2017 film "Columbus" in which she portrayed Casey, a librarian and aspiring architect who strikes up a friendship with Cho's Jin Lee as the two of them stroll around the city of Columbus. Critics lauded her performance and her pairing with Cho. She also earned critical praise for her roles in 'Support the Girls" as Maci, an upbeat and cheerful waitress at the Hooters-like restaurant Double Whammies, and in "Five Feet Apart" as Stella Grant, a cystic fibrosis patient who falls in love with Will (Cole Sprouse) who has the same disease. She reunited with "Columbus" director Kogonada in his sophomore effort, 2021's "After Yang".
Michael Imperioli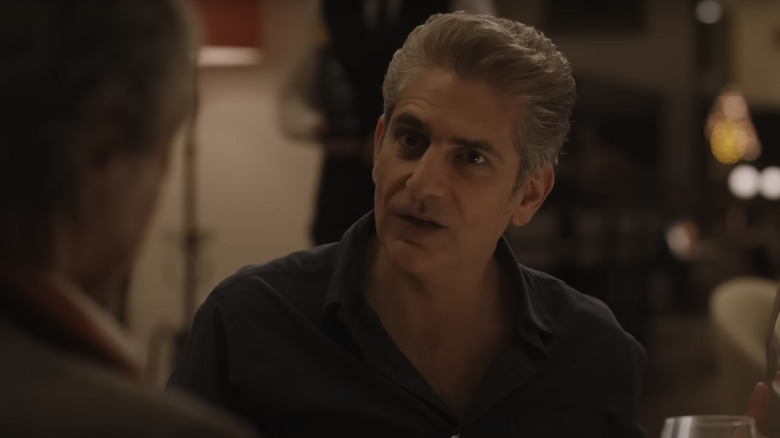 HBO
In the second season of "The White Lotus," Michael Imperioli plays Dominic Di Grasso, a Hollywood producer with impulse control issues on a family trip to Sicily with his elderly father Bert (F. Murray Abraham) and his teenage son Albie (Adam DiMarco).
Early in his career, Imperioli gained recognition for his brief but very memorable appearance as Spider in Martin Scorsese's "Goodfellas." However, the actor's best-known role by a mile is Christopher Moltisanti in the essential HBO crime drama "The Sopranos." Christopher is Tony Soprano's protégé and a member of the DiMeo crime family who rises through the ranks throughout the series. He received five Emmy nods and two Golden Globe nominations for the part, eventually taking home the Primetime Emmy for outstanding supporting actor in a drama series in 2004.
Imperioli's additional television appearances include "Law & Order," "The Simpsons," "The Office," "Blue Bloods," "Lucifer" and HBO's "Watchmen." He had supporting roles in films such as "Malcolm X," "Jungle Fever," "Bad Boys," "Shark Tale," and "The Lovely Bones." Imperioli is also accomplished presence behind the scenes, as the writer of five "Sopranos" episodes, co-writer of "Summer of Sam" directed by Spike Lee, and the writer-director of the 2009 feature film "The Hungry Ghosts."
In recent years, Imperioli has been actively involved with the legacy of "The Sopranos." From April 2020 to December 2021, Imperioli co-hosted a podcast with "Sopranos" co-star Steve Schirripa titled "Talking Sopranos," where the two shared inside information as they discussed each episode of "The Sopranos" and interviewed actors, writers, directors, and producers who work on the show. Imperioli and Schirripa also co-wrote a book titled "Woke Up This Morning: The Definitive Oral History of The Sopranos" which was released in November 2021. Imperioli had a narrator cameo in the 2021 "Sopranos" prequel film, "The Many Saints of Newark."
Aubrey Plaza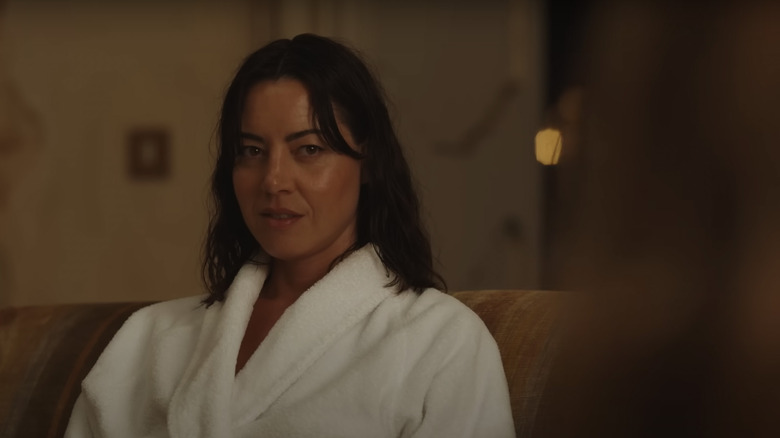 HBO
Aubrey Plaza checks into the second season of "The White Lotus" as Harper Spiller, a skeptic on vacation with her husband Ethan (Will Sharpe) and his friends Cameron (Theo James) and Daphne (Meghann Fahy). Plaza began her career performing improv and sketch comedy, before playing a minor role in Judd Apatow's "Funny People" in 2009. She appeared in "Scott Pilgrim vs. the World" as Julie Powers, a barista who warns Scott against dating Ramona.
Aubrey Plaza's performance as the apathetic intern April Ludgate in "Parks and Recreation" garnered universal acclaim throughout the show's run from 2009 to 2015, her character gaining popularity among audiences for her against-the-grain behavior and deadpan comedic delivery. She reprised her role in 2020 for the reunion episode taking place during the COVID-19 pandemic.
In 2012, Plaza got her first leading role in a major film in the sci-fi comedy, "Safety Not Guaranteed," with led to additional film roles in "Monsters University," "Playing It Cool," and "Dirty Grandpa." In addition to guest appearances on "30 Rock," "Criminal Minds," and "Drunk History," Plaza also provided voices for "The Legend of Korra" and "SpongeBob SquarePants" and appeared as multiple characters who are also the same character (it gets complicated) in the "X-Men"-adjacent FX series "Legion" from 2017 to 2019.
In 2022, the actress starred in "Emily the Criminal," which boasts a 94% on Rotten Tomatoes, and her performance as the protagonist was praised along with the film's social commentary. She co-stars with Jason Statham in the upcoming Guy Ritchie movie "Operation Fortune: Ruse de guerre" which has been indefinitely delayed although sounds likely to come out at some point down the road. 
Theo James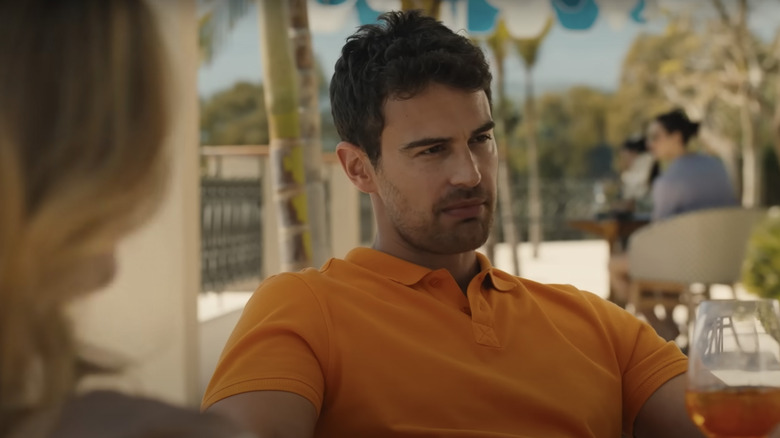 HBO
English actor Theo James plays Cameron, a very successful businessman from an affluent family who vacations at Sicily's White Lotus resort with his wife Daphne, his college roommate Ethan and Ethan's wife Harper. In 2010, James made his television debut in two episodes of the BBC series "A Passionate Woman" and appeared in an episode of the first season of "Downton Abbey" as Turkish diplomat Kemal Pamuk. After a few small roles in films like Woody Allen's "You Will Meet a Tall Dark Stranger," James played David opposite Kate Beckinsale in 2012's "Underworld: Awakening" and its 2016 sequel "Underworld: Blood Wars."
James' major break came in 2014's "Divergent" when he co-starred as Tobias "Four" Eaton. While the film received discouraging reviews, critics did highlight James' performance in the film. The actor reprised the role in the sequels, "The Divergent Series: Insurgent" and "Allegiant."
After the "Divergent" movies, James continued acting in small projects, lending his voice in the Netflix animated series "Castlevania," "The Dark Crystal: Age of Resistance," and a voice role in Netflix's live-action adaptation series "The Witcher." Most recently, he played Sidney in Season 1 of the British historical drama series "Sanditon," and starred in HBO's "The Time Traveler's Wife," which garnered poor reviews and was canceled after one season. 
Tom Hollander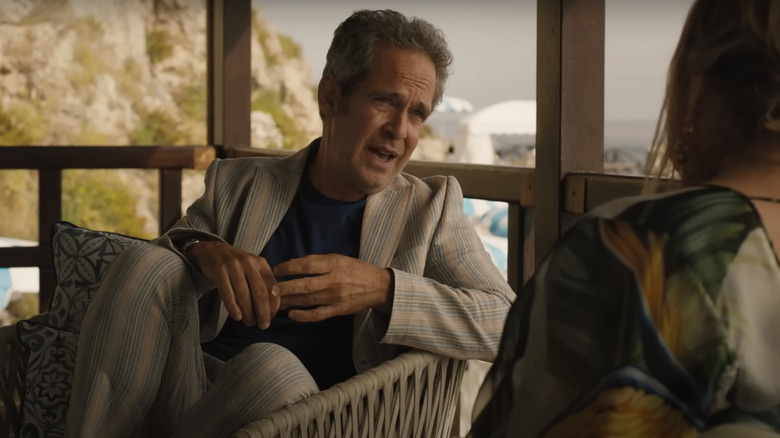 HBO
Tom Hollander plays Quentin, an English expat vacationing in Sicily's White Lotus resort with his friends and his nephew. Highly renowned as a character actor, Hollander is best known for his role as Lord Cutler Beckett, the cruel and ruthless leader of the East India Trading Company in "Pirates of the Caribbean: Dead Man's Chest" and "Pirates of the Caribbean: At World's End."
You might recognize the English actor for his roles in "Gosford Park," "Pride and Prejudice," "Valkyrie," and "Mission: Impossible — Rogue Nation." Hollander also played Queen's second manager Jim Beach in the Freddy Mercury biopic "Bohemian Rhapsody" and a hyena in Andy Serkis' 2018 "Jungle Book" adaptation "Mowgli: Legend of the Jungle." Most recently, the actor played a triple role in "The King's Man" as King George, Kaiser Wilhelm, and Tsar Nicholas.
In addition to his on-screen work, Hollander has earned commendations for his work on stage and has taken on a variety of voice roles for BBC radio, multiple audiobooks, and animated television series like "Robot Chicken," "Harley Quinn," "American Dad!" and "Family Guy."
F. Murray Abraham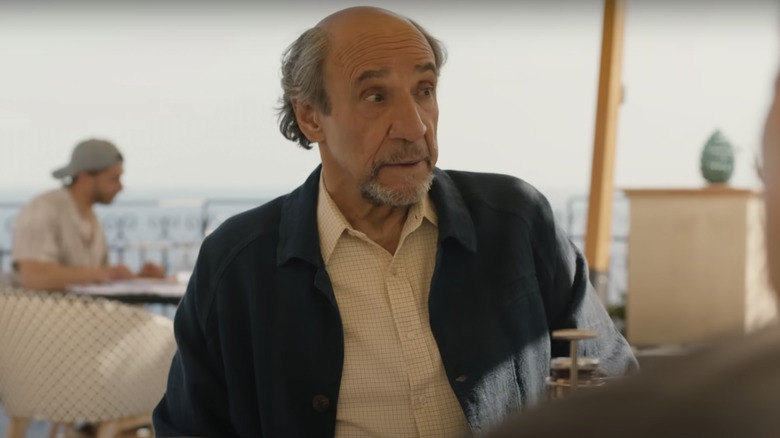 HBO
In "The White Lotus," F. Murray Abraham plays Bert Di Grasso, the elderly father of Michael Imperioli's Dominic Di Grasso who has come to Sicily with his family to "explore their Italian roots." Early in his career, Abraham played small, easy-to-miss roles like an undercover police officer working with Al Pacino in the 1973 biopic "Serpico," a cop in the 1976 classic "All the President's Men," and in television roles including two episodes of "Kojak."
Abraham first rose to notoriety in the 1980s when he played Omar Suárez in another Pacino vehicle, director Brian De Palma's "Scarface," before gaining greater prominence after earning an Academy Award for turn Antonio Salieri in 1984's "Amadeus."
After his Academy Award win, Abraham kept a relatively low-profile film career, concentrating mostly on classical theater. Since his guest appearance on a 2009 episode of "Saving Grace," the actor had become more prolific onscreen, subsequently appearing in guest roles on "Law & Order: Criminal Intent," "Louie" and "Curb Your Enthusiasm" as well as a recurring role on "The Good Wife." In 2015, Abraham earned his first Emmy nomination for portraying black ops specialist Dar Adal in the Showtime series "Homeland."
The actor also had prominent roles in two critically acclaimed films through the 2010s — music manager Bud Grossman in Coen brothers' "Inside Llewyn Davis," and as Mr. Moustafa in Wes Anderson's "The Grand Budapest Hotel." More recently, he has voiced roles in "Isle of Dogs" and "How to Train Your Dragon: The Hidden World," and played Tony in the 2019 live-action "Lady and the Tramp." In 2022, Abraham joined the Marvel Cinematic Universe, voicing Khonshu in "Moon Knight," one of Marvel's recent mini-series for Disney+. 
Sabrina Impacciatore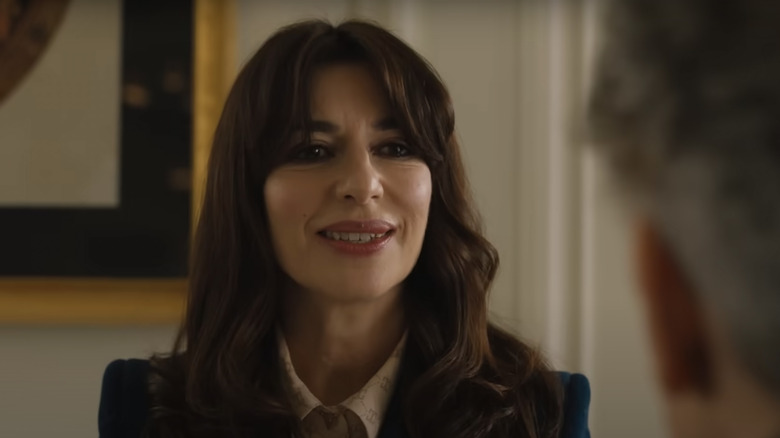 HBO
Sabrina Impacciatore plays Valentina, the passionate and devoted manager who takes on the difficult task of running the White Lotus resort in Sicily in the show's second season. Her character is a counterpart of Murray Bartlett's Armond, the high-strung manager of Hawaii's White Lotus who runs the resort with a rapidly withering degree of success in Season 1. Considering how important Armond and Barlett's performance was to the success of "The White Lotus" Season 1, the bar has been set pretty high for Impacciatore in Season 2. 
Luckily, it seems she's something a prolific and celebrated actor, although almost all of her work is in Italian films and TV shows that most American viewers have probably never seen. Apart from her prominent role in the upcoming second season of "The White Lotus," Impacciatore's one major Hollywood appearance is a single-scene role in Mel Gibson's 2004 biblical epic "The Passion of the Christ" where she portrayed a Catholic saint who wipes the bloody face of Christ with a towel before Roman soldiers forcibly remove him presence.
Meghann Fahy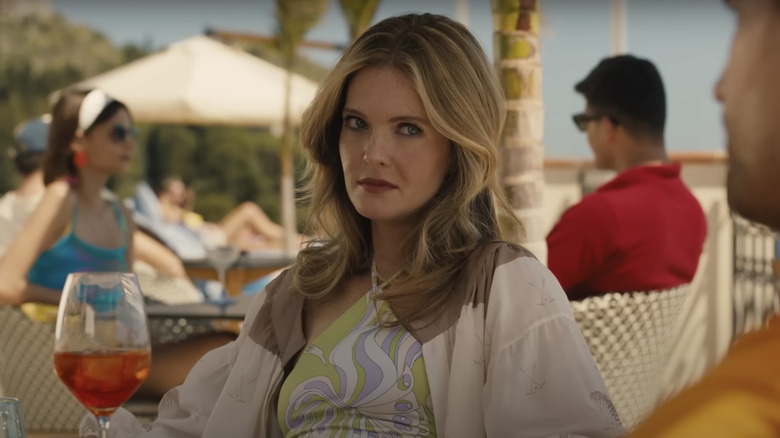 HBO
Meghann Fahy joins the ensemble of "The White Lotus" as Daphne, a woman vacationing in Sicily with her husband and his friends. Daphne and Harper are frenemies who are envious of each other's marriages and financial situations (via Vulture). 
Fahy started her acting career with a few stage productions before making her television debut in a 2009 episode of The CW's "Gossip Girl." She joined the cast of the ABC soap opera "One Life to Live" in 2010 as college student Hannah O'Connor, a recurring role that lasted more than 80 episodes. She guest-starred in a 2011 episode of "The Good Wife" with subsequent minor appearances in shows including "Political Animals," "Chicago Fire," "Law & Order: Special Victims Unit," and "Blue Bloods," before landing a main role in 2017 in the Freeform comedy series "The Bold Type."
On film, the actress had a supporting role as Clara Thompson in 2016's "Miss Sloane" starring Jessica Chastain, as well as a co-starring role in the upcoming film "The Unbreakable Boy" starring Zachary Levi (via Deadline).
Will Sharpe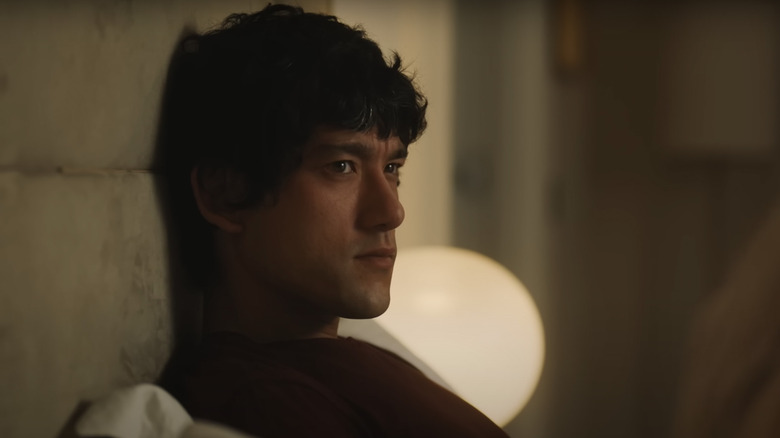 HBO
Will Sharpe portrays Ethan Spiller, a tech entrepreneur who has recently amassed an immense fortune that's making his wife Harper slightly uncomfortable (via GQ). Sharpe got his start as a Shakesperean actor, and his major television roles include Junior Doctor Yuki Reid in the BBC medical drama "Casualty," and Corporal Lyons in "The Hounds of Baskerville" episode of "Sherlock."
Sharpe is also a filmmaker. He co-wrote and co-directed "Black Pond," his first full-length movie, with his friend Tom Kingsley in 2011, for which he was nominated for a BAFTA Award for outstanding debut by a British writer, director, or producer. Sharpe's best-known work as writer, director, and actor is the Channel 4 dark comedy-drama series "Flowers," which also starred Olivia Colman, Julian Barratt, Daniel Rigby, and Sophia Di Martino. The show received widespread critical acclaim and a BAFTA nod for best scripted comedy.
Sharpe won a BAFTA Television Award in 2020 for his supporting role as charismatic sex worker and drug addict Rodney Yamaguchi in the BBC series "Giri/Haji."
Jon Gries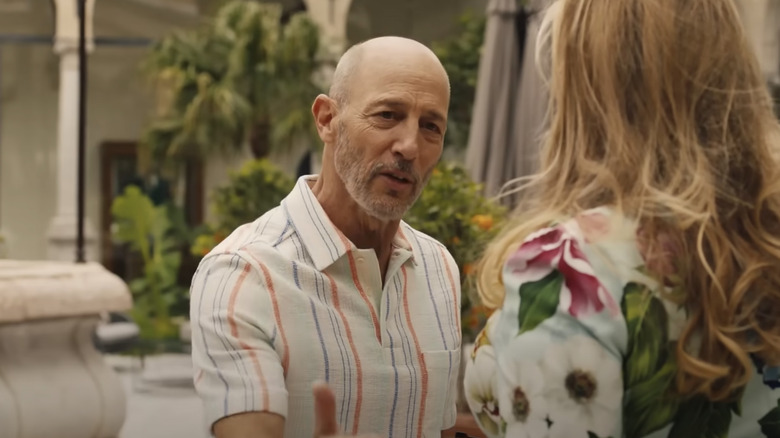 HBO
Jon Gries returns as Greg, Tanya's husband. The couple famously met at Hawaii's White Lotus resort in Season 1, and now are honeymooning at the White Lotus resort in Sicily with Tanya's assistant Portia, for reasons that make no sense to Greg and probably won't add up for most audience members, either.
The actor is best known for his role as Uncle Rico from "Napoleon Dynamite" in 2004. The uncle of the titular Napoleon and his brother Kip steps in to care for the brothers after their grandmother's health starts to fail. Gries was nominated for the Independent Spirit Award for the part and reprised his role for the short-lived Fox animated series in 2012.
Gries is also known for his recurring roles as Rusty the Bum in two episodes of "Seinfeld," as well as Roger Linus in ABC's "Lost," with minor roles in television shows such as "24," "The Twilight Zone," "The X-Files," "CSI: NY," "Nikita," and "Supernatural." Gries has appeared in movies such as "Men in Black" and the "Taken" series as Casey, a friend and former CIA colleague to Liam Neeson's Bryan Mills. He also lent his voice to the 2012 video game "Hitman: Absolution."