Biggest Unanswered Questions From The Fresh Prince Of Bel-Air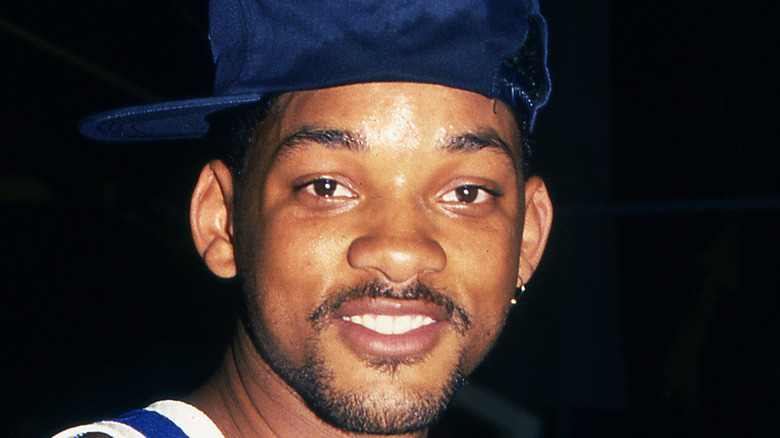 Vicki L. Miller/Shutterstock
"The Fresh Prince of Bel-Air" debuted on NBC in 1990 and ran for six successful seasons before audiences said goodbye to the lovable Banks family. The series skyrocketed Will Smith into fame, starting his successful career in Hollywood (his recent activities at the 2022 Oscars notwithstanding).
This '90s sitcom follows a fictional young Will Smith as he uproots his life from West Philadelphia (born and raised) to move in with his aunt and uncle in the well-to-do Los Angeles enclave of Bel-Air. This beloved show has such a strong following that Smith brought the series back with a rebooted version in 2022 called "Bel-Air." While the series features a grittier storyline, it still showcases the same characters and situations of a wealthy Black family living in Bel-Air whose nephew moves in with them. With this in mind, now is the perfect time to take a look back at the show that started it all and some of the storylines that seemingly disappeared during its 6-year run.
Now, this is a story all about how Will's life got flipped-turned upside down — but everything going topsy-turvy is no excuse for leaving plots unresolved or letting characters disappear. Here are the biggest unanswered questions from the show you may have forgotten about.
What happened to Jackie?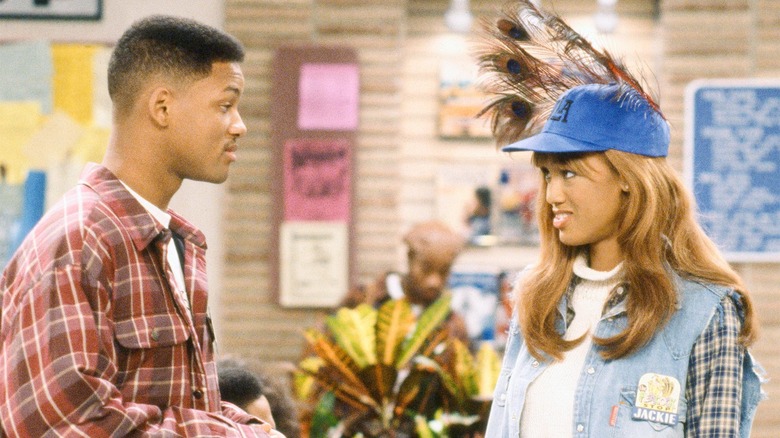 NBC
Jackie is introduced in the first episode of Season 4, "Where There's a Will, There's a Way (Part 1)." It first introduces Jackie as a potential love interest for Carlton Banks (Alfonso Ribeiro). Will and Carlton have just moved out of the Banks mansion and into their own apartment during their college years. Carlton decides to invite Jackie to a housewarming party he and Will are hosting and is excited to have a woman interested in him over his cousin Will. Unfortunately for Carlton, things don't go according to plan, as it turns out Jackie and Will know each other from their time living in Philadelphia and quickly rekindle their friendship.
Jackie is portrayed by "America's Next Top Model" herself, Tyra Banks. And according to her IMDb page, this role was Banks' first official acting credit. Banks and Smith have clear chemistry as Jackie and Will, with the writers stating that their friendship was more than platonic back in Philadelphia. Unfortunately, after just appearing in eight episodes, Jackie disappears and is never mentioned again. She's last seen in the 12th episode of Season 4, where it's revealed that she's dating someone new. She and Will get into a massive fight as he makes a fool of himself in front of her and her boyfriend. Will later regrets his actions, saying that he lost his dignity and a good friend.
All that sexual tension between them ultimately built up to nothing. So what was even the point?
Why does Kellogg disappear?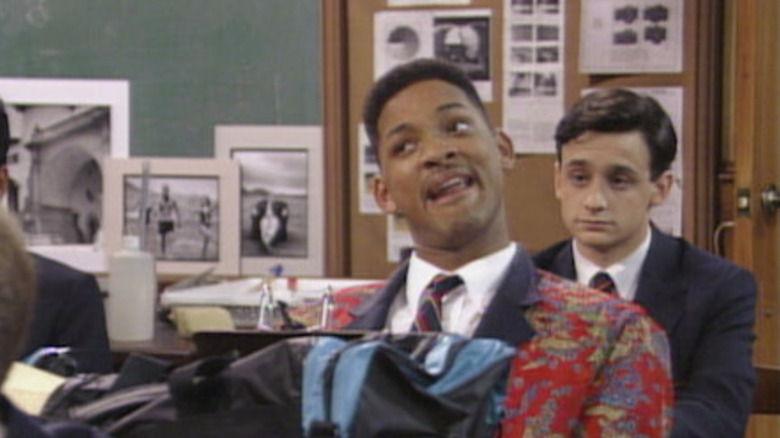 NBC
Portrayed by Michael Weiner, Kellogg (also known as Cornflake) befriends Will when he transfers to Carlton's prep school, Bel-Air Academy. He's a kind friend to Will and is often seen backing him up, even if he doesn't understand the full weight of what Will's doing. Often used as a form of comic relief to balance out Will's sarcasm, Kellogg is well known for being terrified of getting in trouble with the school board but wants to make a difference where he can.
He's seen in a total of six episodes throughout Seasons 1 and 2 of "The Fresh Prince of Bel-Air," with his last appearance in Season 2 Episode 20 "Those Were The Days." Kellogg joins Will in a sit-in at school over what Will sees as an unjustified firing of his favorite teacher. After that, Kellogg is never seen or heard from again.
Maybe protesting was just too much for him and he cut all ties with Will?
How did Lisa and Will feel about becoming step-siblings?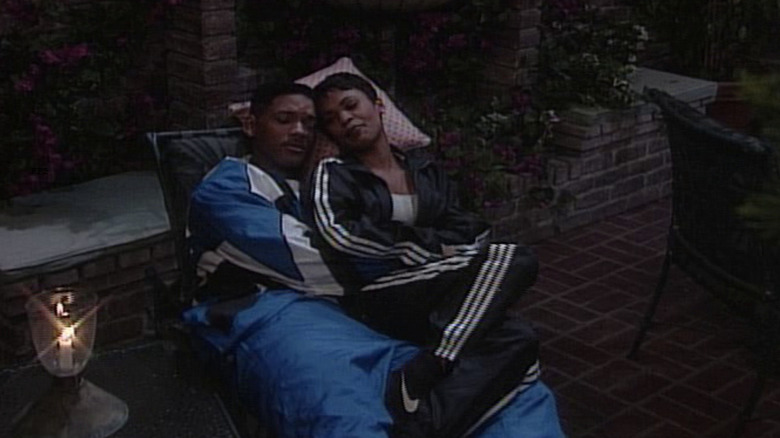 NBC
Throughout the series, Will has many romantic interests that come and go. However, Lisa is a character whom audiences saw as being the end game — that is, until she wasn't. Introduced in Season 5, Lisa is portrayed by actress Nia Long (fun fact: Smith's real-life wife Jada Pinkett-Smith auditioned for the role, ultimately losing out to Long as casting didn't think she and Smith had enough chemistry [via People]).
Lisa is introduced in Episode 6, "Will's Misery." Although Long was cast in a previous episode of "The Fresh Prince of Bel-Air" as a different character in Season 2, as Lisa she manages to steal Will's heart and put a stop to his womanizing ways. The two develop a deep bond, resulting in their engagement and eventual preparation of a wedding by the end of the season. However, they eventually decide not to go through with it. Their parents get married instead, making them step-siblings. Wild, right? 
Does this relationship ever get explored? Not even a little bit. In fact, Lisa is never seen again. Please. Make it make sense!
Why did Uncle Phil dismiss his jury member?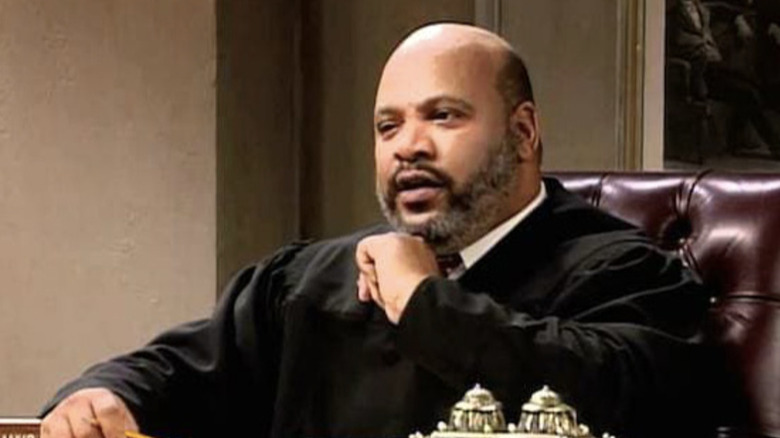 NBC
In Season 6, Episode 5, "The Script Formerly Known As," Will is working with his cousin Hilary Banks (Karyn Parsons) as a talent coordinator for her talk show. Things aren't going well for the show. Hilary warns Will that he'd better find her someone interesting to put on her show, otherwise, they'd both be in trouble. Simultaneously, Hilary's father and Will's Uncle Phil (portrayed by the late James Avery), a judge, is presiding over a high-profile court case. When he dismisses a juror from the trial, Will decides to get that juror on Hilary's show. Because that's a good idea.
The man's interview goes about as expected, with him publicly bashing Uncle Phil, leaving Hilary at a loss for words on live television. After the Banks family sees the show, both Hilary and Will are chastised for their foolish acts.  
But the question on everyone's mind after watching the episode is why did Uncle Phil dismiss the juror? What did he do that made him so unfit to stand trial? The show never lets us in on the secret.
Why did the Season 4 finale feel like the end?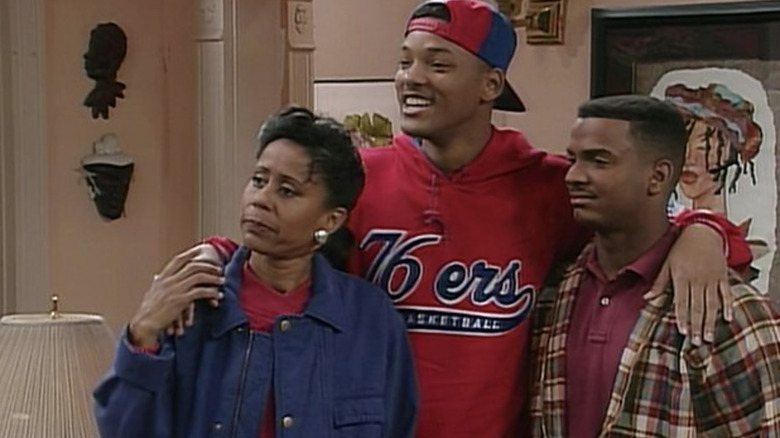 NBC
"The Fresh Prince of Bel-Air" ran for a total of 6 seasons. However, the sitcom was only supposed to run for 4, as NBC decided to cancel the show in its fourth season. According to CBR.com, the outcry from fans was loud and strong, forcing the network to change its mind. NBC greenlit the show for more seasons. Although "The Fresh Prince of Bel-Air" had its lowest viewership in the 6th and final season, it was still worth it for fans to have a heartfelt goodbye to the characters they'd grown to love.
As the final episode of Season 4, titled "The Philadelphia Story," was initially supposed to be the end, the writers gave audiences a neatly tied story. The episode sees Will and the Banks family taking a trip to Will's home in Philadelphia to visit his mother (Vernee Watson). Now that he's back, Will is determined to pick a fight with the gang leader who caused him to have to pack up and leave for Bel-Air, Omar. However, once he meets Omar again, he sees how much he's matured, prompting Will to decide to do the same. He tells the Banks family that he's going to stay in Philadelphia with his mom, bringing his time as the Prince of Bel-Air to an end.
Why did the show end after 6 seasons?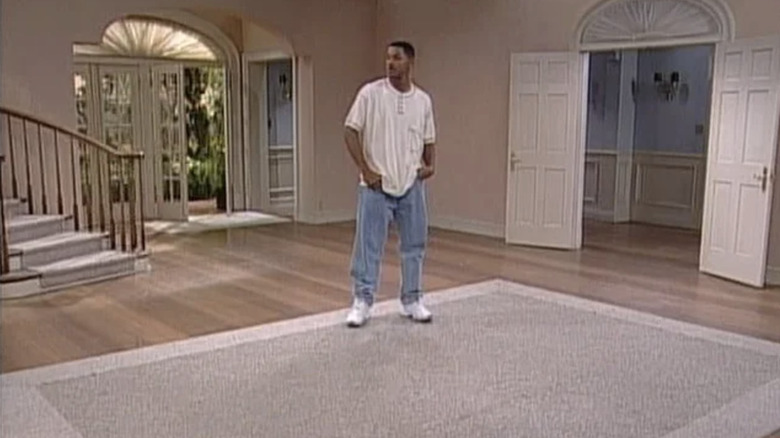 NBC
After fans saved the series from being canceled in Season 4, it must have come as quite a surprise to hear that the show was officially ending just two seasons later. Season 6 was the end of "The Fresh Prince of Bel-Air." But why?
This decision wasn't the result of studio interference, but rather due to the choice of one actor: Will Smith. According to CBR.com, Smith was excited to move on to bigger and better things. He felt ready to say goodbye to television, as he'd just landed a career-boosting role as Mike Lowrey in Michael Bay's hit franchise "Bad Boys." Smith told the LA Times that saying goodbye to the character was difficult but necessary, saying, "We've all grown as actors and as people, we had an incredibly talented cast, but the show is just limiting."
According to Smith, the character he portrays in the sitcom was an extension of himself, so he felt that, as an actor, he needed a different role to sink his teeth in. However, it's clear that the actors from the show have nothing but love for each other. During "The Fresh Prince of Bel-Air Reunion," the cast's chemistry is as strong as ever, with Smith even making amends with the first actress to portray Aunt Vivian, Janet Hubert.
What happened to Dee Dee and Will's romance?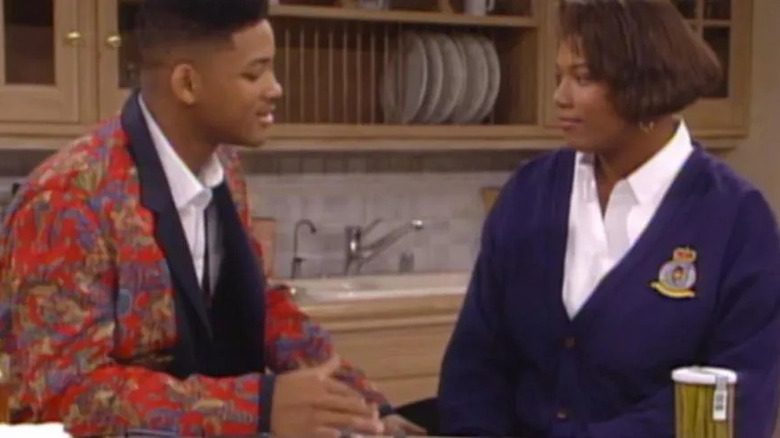 NBC
Queen Latifah portrays two separate characters in "The Fresh Prince of Bel-Air." She is seen portraying Hilary's tough-as-nails boss Marissa Redman for an episode in Season 1, "Working It Out." She's rude to Hilary and interested in a relationship with Will, who's terrified to go out with her. He only agrees if Hilary will go out with his friend Jazz, who's head-over-heels in love with her. Like Tyra Banks, this role is one of Latifah's first acting credits (via IMDb).
However, it's Latifah's character Dee Dee who holds our attention. Dee Dee is introduced in Season 2, Episode 8, "She Ain't Heavy." Dee Dee goes to school with Will and Carlton and has a good friendship with Will. The two seem to click perfectly; he even kisses her at one point. Unfortunately, he pretends he's not interested in her when he's with his friends as she's considered ever so slightly overweight. Will eventually realizes that her weight doesn't matter to him when the two reconnect at a school dance after having left their dates behind. The episode shows that Will isn't as shallow as he comes across and that he's found someone he can relate to at school.
And then, just like that, she's gone. Never to be seen again. Seems to be a recurring theme for important people in Will's life.
How does Nicky go from a baby to a toddler in mere months?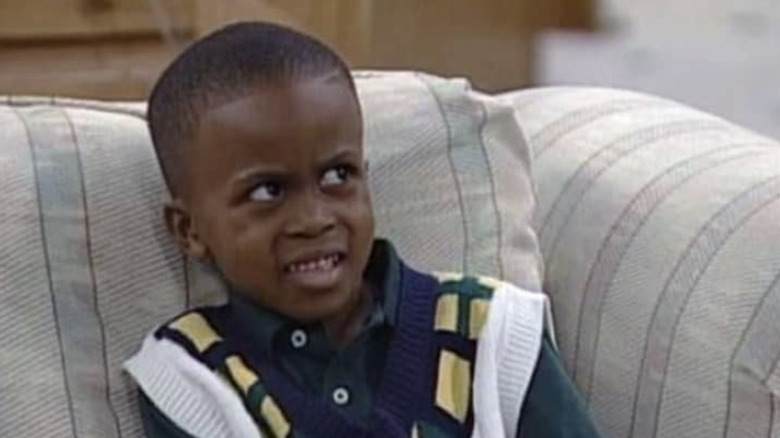 NBC
Season 3 throws the Banks family in for a loop when Aunt Vivian gets pregnant with her fourth child. The end of the seasons sees her give birth to her baby son, Nicky. Once Season 4 begins, Nicky spends the entire time as a baby, which is appropriate given that he was a newborn not too long ago. However, once Season 5 hits, Nicky turns into a full-blown toddler. He's rapidly aged and has a sarcastic personality. This is a big shock for someone supposed to be between the ages of 1-2 years old.
At the time of filming, actor Ross Bagley portrays baby Nicky when the actor himself was 6 years old. While it's easier to cast an older actor to portray a child for a variety of reasons, this age gap is extreme, especially since audiences were expected to just roll with it.
The series never brings up Nicky's unrealistic age jump or why he's incredibly advanced for being so young. He just is and that's that.
Why does the house suddenly change?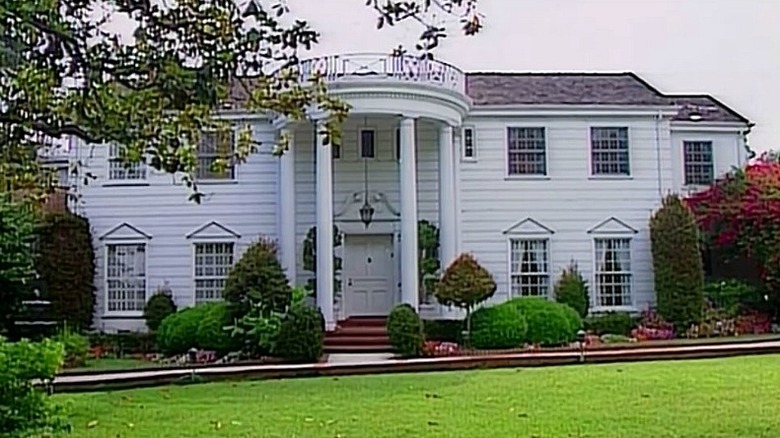 NBC
In Season 1 of "The Fresh Prince of Bel-Air," audiences are given the layout for the Banks family mansion. The outside is a large white home with pillars and freshly cut grass. Inside, viewers see a family room and kitchen with dark wood paneling. They even show the entry hallway on a few occasions.
Once Season 2 hits, the Banks home goes through a drastic renovation. The entire kitchen and family room are remodeled with more of a light, airy, and open-concept arrangement. Even the staircase to the second floor moves.
As with most of the unanswered questions on this list, the show never discusses the changes in the new family home. As the outside looks the same, we're left to assume that it must have been a summer remodel the Banks did...which somehow included moving the entire staircase to a different section of the house. Those contractors must have been amazing to do all that in record time.
How does Hilary manage?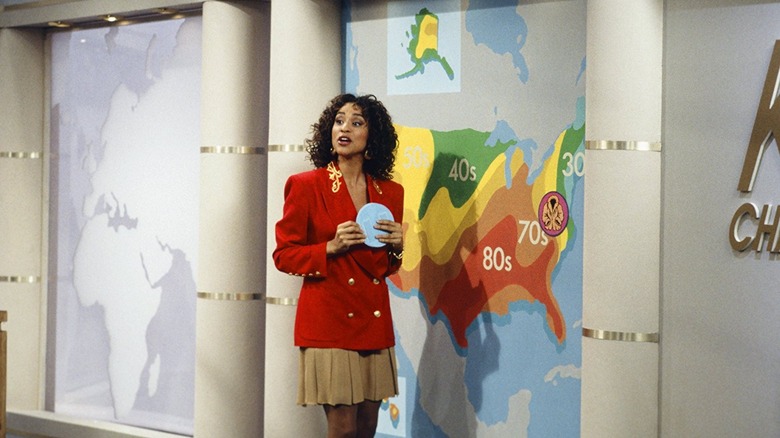 NBC
There's no doubt the Banks children enjoy financial privilege in their lives. Still, the various career paths the eldest Banks child Hilary pursues are confusing, to say the least. Even if her parents pulled strings to get her these jobs, her resume is baffling.
Hilary Banks is arguably the most spoiled and ditzy of her siblings (with Carlton as a close second). Hilary often whines when she doesn't get her way, runs to Daddy for financial help, and remains completely oblivious to the world around her. It makes sense that she's flighty and flits from job to job, but she lands competitive positions with unrealistic ease. Early episodes see Hilary as a college student who takes an interest in event planning and possibly catering. Then, out of nowhere, she becomes a weather person on the news, despite being incredibly underqualified for the role. 
While Hilary is shown to struggle from time to time with her career, it doesn't take long for her to bounce back. For example, once she gives up being a weather person, Hilary just gets her own talk show, which eventually becomes very popular. At one point in the show, she's in the running to host alongside the famous news presenter Regis Philbin.
Hilary, how are you doing this?
What's up with Aunt Vivian's drastic personality change?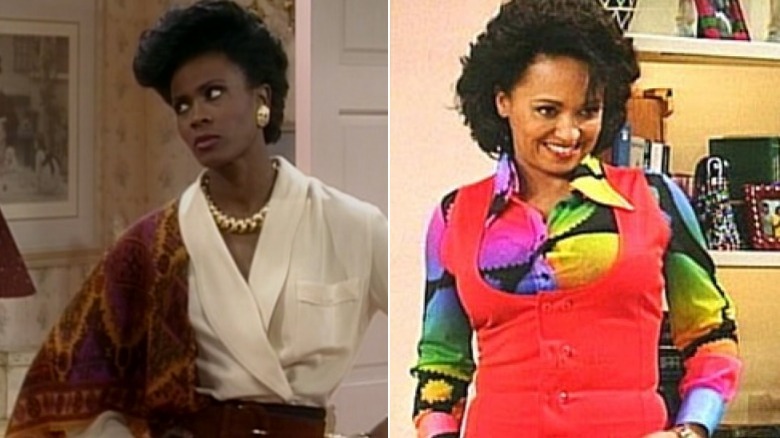 NBC
Janet Hubert portrays Aunt Vivian for Seasons 1-3 of "The Fresh Prince of Bel-Air." When Hubert became pregnant, the writers included the pregnancy in her character, resulting in the creation of baby Nicky. Once Season 4 began, Hubert was unceremoniously replaced by Daphne Maxwell Reid. While the show made a comedic nod to the casting swap, it never addressed the reason for Vivian's sudden personality change. Hubert portrays Vivian as headstrong and no-nonsense, while Reid's take on the character is softer and more nurturing. These two versions of Vivian have divided fans; they can't decide which they like better because Vivian feels like two separate characters (via Reddit).
Rumors swirled about a feud between Smith and Hubert resulting in her removal from the show. However, when "The Fresh Prince of Bel-Air Reunion" brought the two back together again, Hubert cleared the air, stating that she was having personal struggles at home at the time and the deal the show offered her to return wasn't enough to support her growing family. She claimed that she wasn't fired, but turned the role down (via CinemaBlend).
For his part, Smith took responsibility for how he made it difficult for Hubert to participate in the show. Luckily, their conversation allowed some old wounds to heal — just not the one we have about Vivian's massive personality change. Why didn't Reid play Vivian the same way Hubert did?