Queen Latifah Thinks Fans Can Thank Living Single For This Other Iconic Sitcom's Success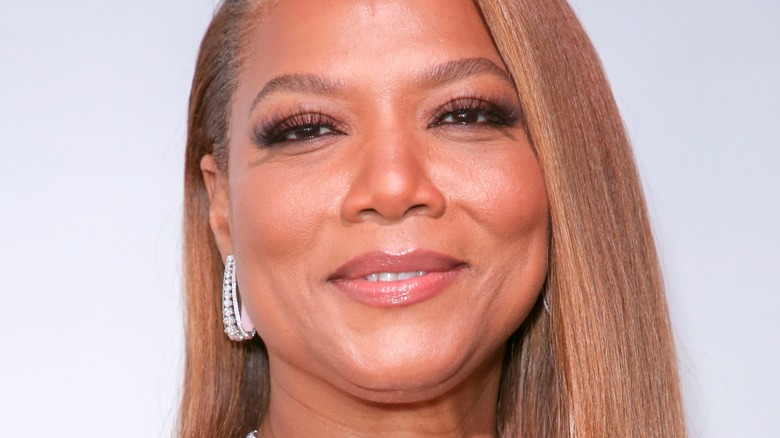 Ron Adar/Shutterstock
Queen Latifah launched her career as a musician in 1988 (per Britannica), and as her popularity, as a hip-hop artist grew, she set her sights on Hollywood, beginning her acting career not long after. In the mid-'90s Latifah was cast in a starring role on the FOX TV sitcom, "Living Single" — a show that followed the lives of six friends living in Brooklyn as they navigated their personal and professional lives. The show started off slow — but eventually hit its stride and became a Sunday night success for FOX by the end of its first season.
The show's claim to fame — according to its creator Yvette Lee Bowser — had to do with the characters themselves. "People say our characters remind them of themselves, their friends, or their relatives. They all know someone like one of the characters," Bowser said in an interview with Ebony Magazine in 1997.
According to Queen Latifah, the character-driven show may have ended up being an inspiration for another '90s sitcom that would end up being the biggest show on television by the time it completed its 10-season run — but which show was it?
Living Single and Friends have a lot in common
If you really think about it, the only answer could be "Friends" — what other sitcom in the mid-90s followed a group of young 20-somethings as they navigated single life in New York City? Both shows had six main characters that lived in the city — although in different boroughs — and both shows followed their characters as they found themselves through their personal and professional lives.
"Friends" premiered on NBC one year after "Living Single" was first broadcast on FOX, which apparently had caught a very important television executive's eye.
"It was interesting because when 'Living Single' came out, shortly thereafter, Warren Littlefield who was president of NBC, they asked him if he could have any show on television, any of the new shows, which one would it be? And he said 'Living Single,'" Queen Latifah said in an interview with James Corden in 2016. She went on to say that shortly after that, the show "Friends" came along, which Latifah gushed over for being a fantastic show.
There isn't any direct evidence that Littlefield asked for a version of "Living Single" for his network — but it isn't a stretch to think he was keeping his eyes open for a similar premise when listening to show pitches.