Bel-Air's Coco Jones Dishes On Turning Hilary Into An Influencer - Exclusive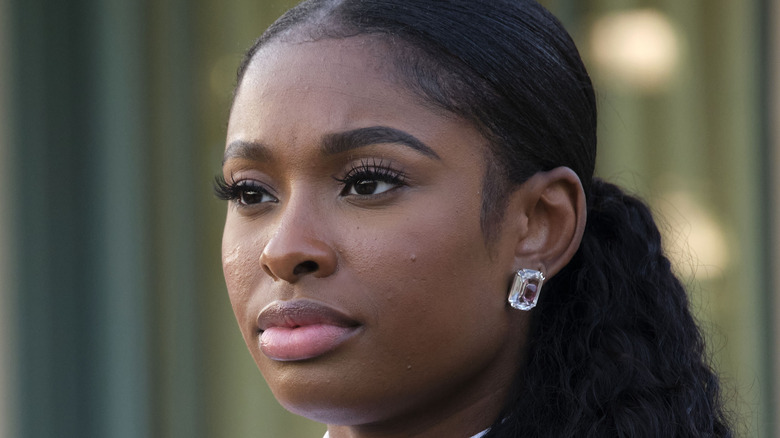 Adam Rose/Peacock
In the classic sitcom "The Fresh Prince of Bel-Air," we got to know Hilary Banks (Karyn Parsons) as lead character Will's entitled, shallow cousin. The eldest daughter of the wealthy Banks family, Hilary's most impressive skill was shopping. And to drive home just how dimwitted she was, she spoke with a Valley Girl accent even though she wouldn't have been caught dead in the San Fernando Valley.
That's all changed however with Peacock's dramatic reboot "Bel-Air." In the present-day reimagining of the sitcom, Hilary (played by Coco Jones) is no longer a flighty airhead. Though she still lives at home after dropping out of college two years prior, she has big dreams and the smarts and savvy to make them a reality. Not only is this Hilary a talented chef, she's also cultivated her brand by becoming a social media influencer. And even though she hasn't tasted success quite yet — and her modern approach to her career often leaves her at odds with her mother (Cassandra Freeman) — this Hilary is going places that her former sitcom counterpart would never have dreamed of.
In an exclusive interview with Looper, Jones discussed what she enjoyed most about making her version of Hilary a savvy social media influencer, and why her storyline in "Bel-Air" speaks to today.
Jones calls Hilary's ambitions 'a relevant career field'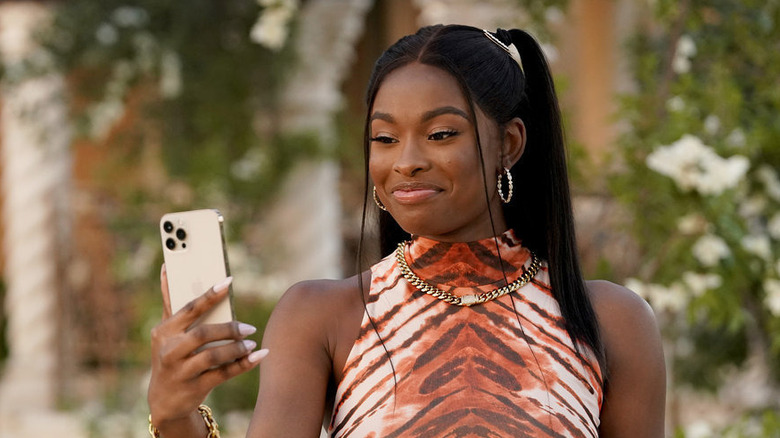 Greg Gayne/Peacock
The new Hilary we meet in the "Bel-Air" reboot has already built a loyal social media following by both sharing her talents in the kitchen and addressing her online fans honestly and openly. Of course, when the original sitcom aired in the 1990s, social media didn't exist, so the updated version of the character's position as an influencer provides an opportunity to tell some of the show's most of-the-moment stories.
"I definitely loved the fact that she is an influencer," Jones confessed in a recent interview, "because it is such a relevant career field in this day and age with all the social media platforms and all the efforts to go viral that are happening every day in our peers."
Jones was especially excited to explore the life of an influencer when she isn't broadcasting on social media, including what goes into creating viral moments and turning a social media following into a paying career. "I loved to tell that story from a different light of what happens when you turn the camera off and what goes on behind that screen, behind those pretty pictures, because it's really more than what people see," Jones observed. "I liked telling that relevant storyline, but being very transparent about the opportunities that are put in front of you and the cost to get them."
New episodes of "Bel-Air" are available on Thursdays on Peacock.