Will Smith Has An Eyebrow-Raising Explanation For That Oscars Slap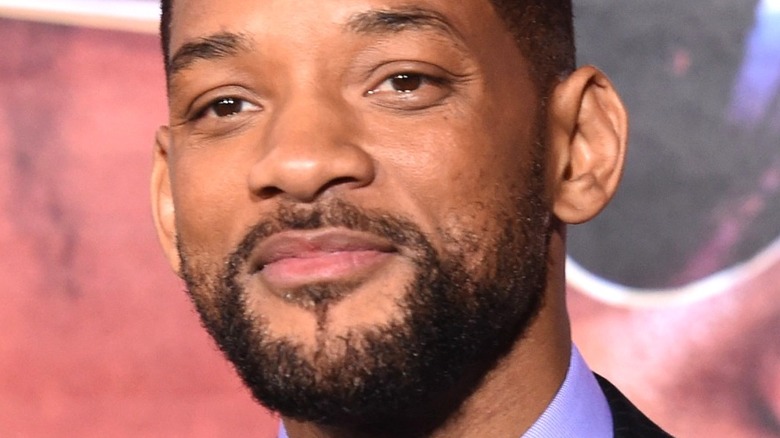 Jason Merritt/term/Getty
Earlier this year, fans were left in shock when "King Richard" star Will Smith smacked Chris Rock at the Oscars after the comedian made a joke at the expense of Smith's wife, Jada Pinkett-Smith, who was also in attendance. Although the actor finally earned an award after having been twice nominated before, his actions led to a 10-year ban from the ceremony. It was social media, however, that was far more critical of the incident, which has become one of the most-talked-about moments in the history of the Academy Awards.
Twitter erupted with millions chiming in with their perspectives on the incident. A common consensus was that Smith's actions were at his wife's request, who was shown in footage looking understandably upset at Rock's remarks. Now, after four months, the Oscar-winning actor has finally broken his silence following this outburst and has claimed that his striking Rock was of his own accord.
Will Smith stated in an apology video that 'Jada had nothing to do with it'
Will Smith recently uploaded a video to his YouTube account titled "It's been a minute..." in which he discussed his behavior at the Oscars and answered fans' questions about the event. After revealing that he has not yet spoken to Chris Rock at the latter's request, the actor made a direct apology, stating, "I will say to you, Chris, I apologize to you. My behavior was unacceptable, and I'm here whenever you're ready to talk."
Smith then answered the question "after Jada rolled her eyes, did she tell you to do something?" assuring viewers, "I made a choice on my own, from my own experiences, from my history with Chris. Jada had nothing to do with it." Smith then addressed his wife directly. "I'm sorry, babe. I want to say sorry to my kids and my family for the heat that I brought on all of us," the actor said before expressing his embarrassment over the whole event.
"To all my fellow nominees ... This is a community. I won because you voted for me, and it really breaks my heart to have stolen and tarnished your moment," Smith said. In regard to the nomination Smith interrupted, which saw Ahmir "Questlove" Thompson win the Oscar for documentary (feature) for "Summer of Soul (...Or, When the Revolution Could Not Be Televised)," he admitted, "I can still see Questlove's eyes. It happened on Questlove's award, and 'I'm sorry' really isn't sufficient."
Will Smith isn't the only party who's spoken out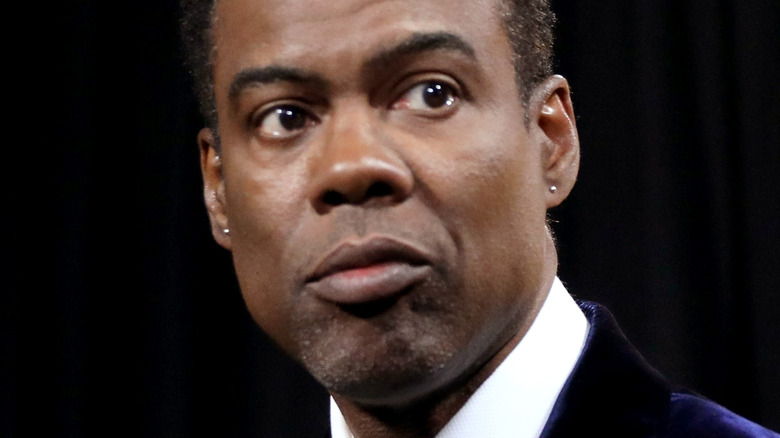 Handout/Getty Images
Will Smith may have broken his silence on what happened on Oscar night, but Chris Rock is also telling his side of the story. The comedian is currently touring the country with Kevin Hart, and during a performance in New Jersey, he spoke about how the slap impacted him and what he thought of the entire debacle. 
According to NBC News, Rock said that he wasn't a victim, and while it hurt, he still managed to go to work after the fact. He concluded by saying, "I don't go to the hospital for a paper cut." Rock actually performed shortly after the incident occurred, but he refrained from talking about the slap at the time. He only briefly alluded to it, saying how he would talk about it at a later time. 
Smith's wife, Jada Pinkett-Smith spoke about the incident back in June on "Red Table Talk" (via Today). She hoped the two could reach some sort of understanding, saying, "Now about Oscar night, my deepest hope is that these two intelligent, capable men have an opportunity to heal, talk this out and reconcile." Rock has yet to respond to Smith's latest apology, so this saga would appear to be ongoing.