Things That Happen In Every Tom Cruise Movie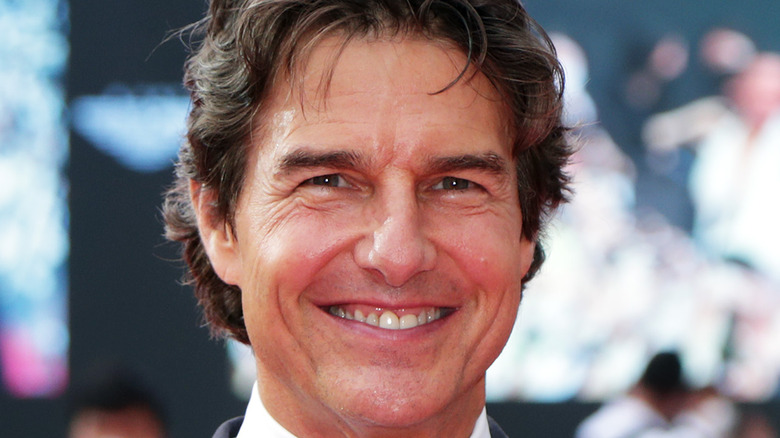 Han Myung-gu/Getty Images
Tom Cruise has graced the big screen for decades, dating all the way back to the early 1980s when he first struck gold with the hit comedies "Risky Business" and "All the Right Moves." Following that early success, his career ascended like a Boeing F/A-18 Super Hornet blasting into the sky at Mach 10 thanks to smash hits such as "Top Gun," "The Color of Money," "Cocktail," "Rain Man," "A Few Good Men," "The Firm," "Jerry Maguire," "Minority Report," and the "Mission: Impossible" franchise. He's worked with some of our finest directors — including Steven Spielberg, Michael Mann, Martin Scorsese, and Paul Thomas Anderson (among many others) — and enjoyed extraordinary financial success. Worldwide, the actor's vast catalog of films has amassed a stunning $11.6 billion, making Cruise one of the biggest Hollywood icons of all time.
After so many motion pictures, it's inevitable that audiences would notice certain characteristics that pop up in each of the actor's films. Ever the showman, Cruise has a tendency to cater to his rabid fan base, which is probably why he eschewed weightier fair like "Born on the Fourth of July" and "Magnolia" in favor of popcorn-driven spectacle like "War of the Worlds" and "Top Gun: Maverick" later in his career.
At any rate, no matter the genre, Tom always seems to give fans what they want, which makes it easier for us to hammer out a list of things — in no particular order — that tend to happen in every one of his movies. Read on to discover what you can expect to find in a Tom Cruise movie.
Tom runs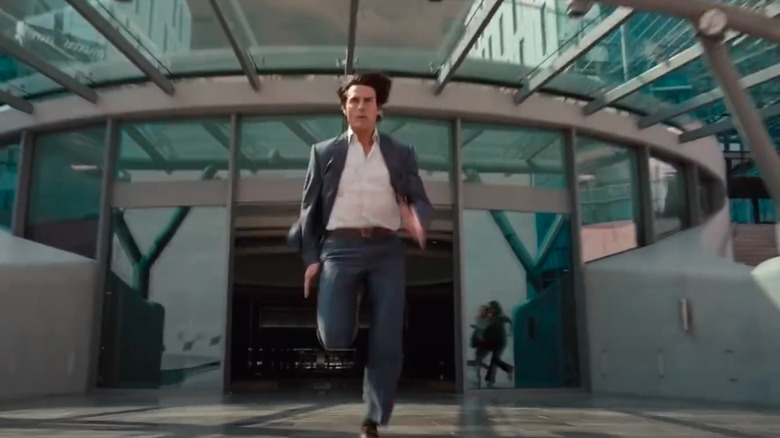 Paramount
Right out of the gate, we have to talk about Tom's tendency to run, because this particular trademark has reached levels of absurdity at this point. Dating all the way back to 1981's "TAPS," Tom has found a way to show off his incredible knack for sprinting in all but a handful of films. "The Firm" saw him outrunning good ole Wilford Brimley, "Far and Away" used the device as a means to flash forward into the future, and even Cameron Crowe figured out a way to slip a sequence of Tom's running technique into the tail end of the 1996 romantic comedy/drama "Jerry Maguire." 
Those were mere warmups. Nowadays, when Tom runs — he runs. One need only pop in any of the "Mission: Impossible" features to catch a glimpse of his fancy footwork. In fact, J.J. Abrams devotes nearly an entire minute of the climax of "Mission: Impossible 3" to Tom literally sprinting through Xitang, China in pursuit of the film's key villain. The latest trailer for "Mission: Impossible — Dead Reckoning Part One" teases viewers with a brief shot of the man, the myth, the legend running through a mysterious locale immediately following his name credit. 
So, yeah, at this point, it seems Tom is in on the — ahem – long-running joke.
Tom performs a cool stunt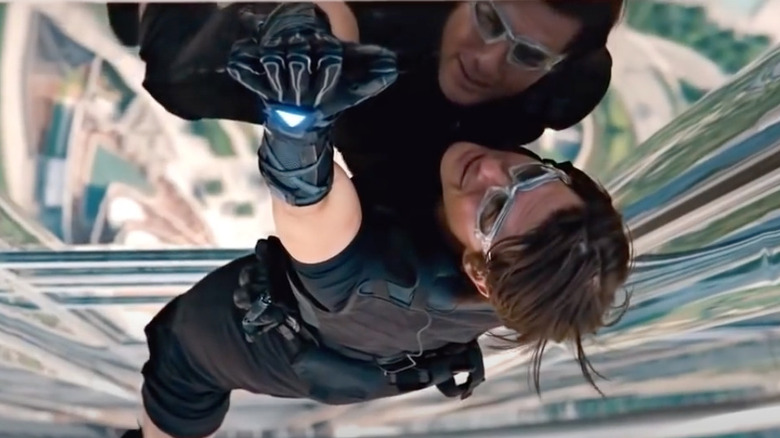 Paramount
Tom's wild stunts weren't always a staple in his films. There are no death-defying leaps off of high rises in "Rain Man" or vertigo-inducing jet battles in "Eyes Wide Shut," but the actor still managed to show off his need for adrenaline-fueled antics early in his career. Case in point: In "The Outsiders," Tom's character does a backflip for no apparent reason after running out of a house with his mates. According to actor Rob Lowe in an interview with Entertainment Tonight, director Francis Ford Coppola asked the cast to learn how to do a backflip and Tom was the only one capable of pulling off the difficult feat. 
To our astonishment, the actor also insisted on driving a real NASCAR racecar in "Days of Thunder" (via ESPN), and according to a profile in Rolling Stone, rode the fastest horse on set during the climactic land race scene in "Far and Away." It's small potatoes compared to the stunts he achieves in "The Mummy" and the "Mission: Impossible" and "Jack Reacher" franchises, but worth noting.  
So, why does he do it? During an appearance on The Graham Norton Show, Tom admitted it all comes down to the storytelling: "I feel that [when acting] you're bringing everything, you know, physically and emotionally, to a character in a story," he told Graham Norton. "I've trained for 30 years doing [stunts] and it allows us to put cameras in places where you are normally not able to."
Tom rides a motorcycle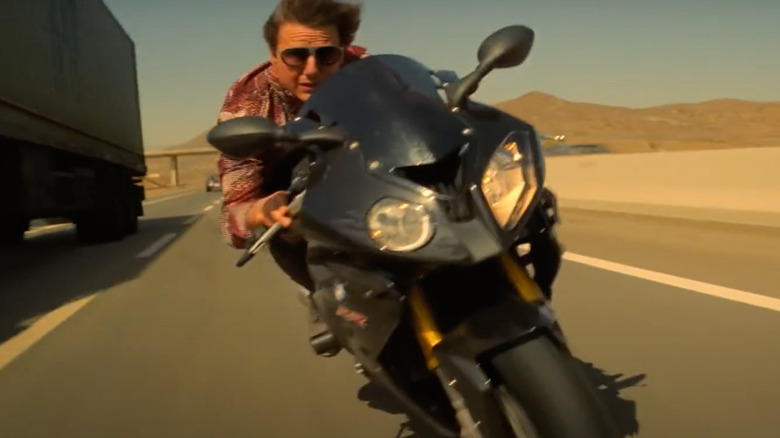 Paramount
Not only is Tom Cruise a thrill junkie, but he also loves himself a slick motorcycle — a fact made abundantly clear when the actor memorably rode his Kawasaki GPZ900R along an airport runway in 1986's "Top Gun." Over 35 years later, Tom once again hopped aboard a Kawasaki — the Ninja H2 to be exact a.k.a. the fastest motorcycle in the world — for the enormously successful sequel "Top Gun: Maverick." In the interim, Tom has thrilled audiences with his astonishing motorcycle skills in John Woo's "Mission: Impossible II" (in which he rode a Triumph Speed Triple), Joseph Kosinski's "Oblivion" (featuring a modified Honda CRF450X), and "Mission: Impossible — Fallout" (where he cruised around on a BMW R nineT).
Tom's love for motorcycles extends off-screen as well. Apparently, after wrapping a project, the actor will take home or purchase the motorcycle used in the film and add it to his vast collection, which is detailed by Hot Cars. According to Motorious, Tom has in his possession the BMW S1000 RR used in "Mission: Impossible — Rogue Nation," the Triumph Thruxton used in "Edge of Tomorrow," and yes, even that Kawasaki from "Top Gun" (among others). If that weren't enough, he occasionally purchases the latest popular model just for kicks, such as when he dropped $103,000 for a Vyrus 987 C3 4V that he then showed off at his 51st birthday party. Clearly, the man's need for speed is more than just a Hollywood myth. 
Tom goes solo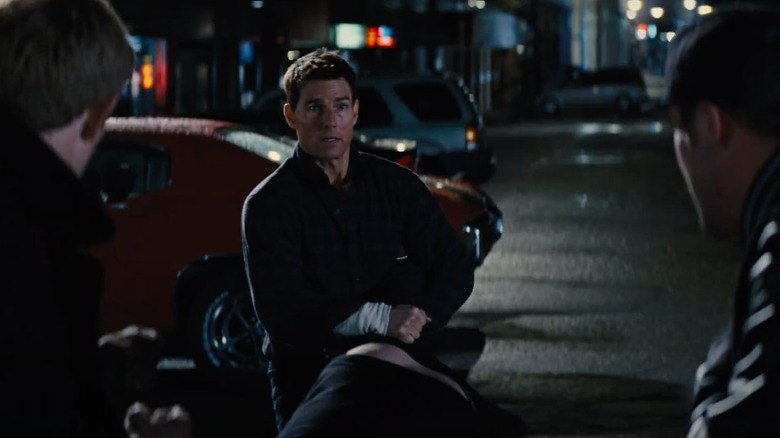 Paramount
While many of Tom's movies feature the box office star working alongside a group of notable co-stars, there always seems to be a moment where his character must cut the rip cord and go solo to save the day. We see this often in the "Mission: Impossible" franchise in which Tom's IMF Agent Ethan Hunt leaves his teammates in the dust to go one-on-one with the film's principal bad guy, but this trait also extends to some the actor's more dramatic ventures. Notably, in "A Few Good Men," Tom's cocky lawyer, Lieutenant Daniel Kaffee, ignores the advice of his team (consisting of Demi Moore and Kevin Pollack) and takes on Jack Nicholson's sharp-tongued Colonel Nathan Jessep all on his own, leading to that rather famous "I want the truth!" bit. 
Likewise, in 2008's "Valkyrie," Tom's one-armed, one-eyed Colonel Claus von Stauffenberg plots with an assortment of German officers to assassinate Adolf Hitler and ends up planting the bomb himself (this one is based on an actual historical incident, so we'll let it slide). Other Cruise vehicles such as Steven Spielberg's "Minority Report," Christopher McQuarrie's "Jack Reacher," Oliver Stone's "Born on the Fourth of July," and Sydney Pollack's "The Firm" position Tom against an evil/corrupt establishment that he must battle on his own.
Does the superstar actively look for such projects, or is Tom's massive portfolio of rogue action heroes merely a case of typecasting?    
Tom throws on the shades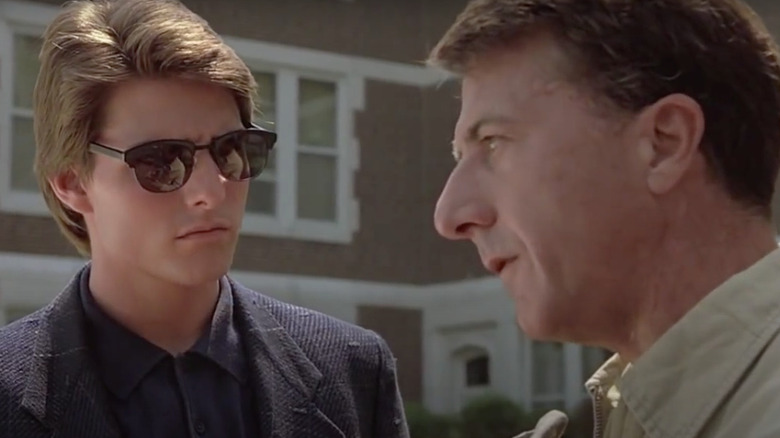 United Artists
You can't really discuss Tom Cruise without acknowledging his vast collection of shades. Whether shooting pool with Paul Newman in Martin Scorsese's "The Color of Money," counting cards in Las Vegas with his brother Raymond (Dustin Hoffman) in Barry Levinson's "Rain Man," or chasing Jamie Foxx around downtown Los Angeles in Michael Mann's thriller "Collateral," Tom has a knack for hiding his mug behind a pair of sunglasses that somehow make the cool actor even cooler — if that's even possible.
In "Risky Business" and "Top Gun," Tom slid on a pair of Ray-Bans and helped popularize the brand in the 1980s, according to Mental Floss. Some time later, in 2000's "Mission: Impossible II," Tom adorns Oakleys during the famous mountain climbing sequence, while "American Made" saw the star slip on a pair of Randolph Engineering Aviators with memorable results (via Ask Men). 
In his latest feature, "Top Gun: Maverick," Tom oozes cool behind a pair of Ray-Bans that were custom-made to fit his face, according to "Top Gun: Maverick" costume designer Marlene Stewart in an interview with The Daily Beast.
In other words: It ain't a Tom Cruise film unless it features Tom Cruise in sunglasses. 
Tom saves the day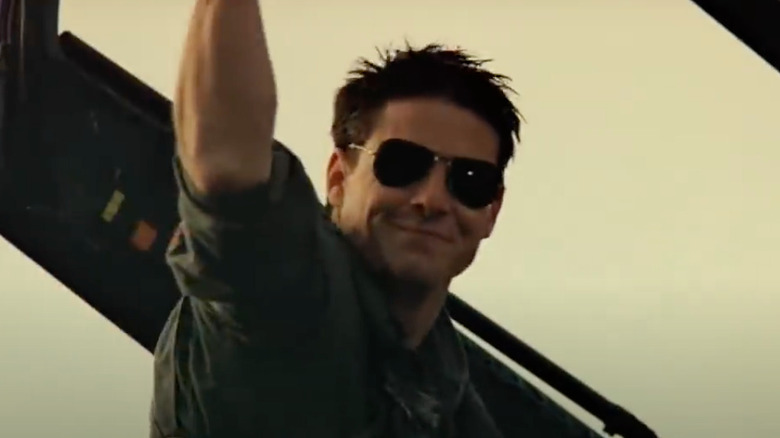 Paramount
Aside from a few exceptions, Tom is typically the de facto star of the films he appears in. As such, it makes sense that his character always ends up saving the day from the forces of evil. In fact, the only time he doesn't save the day in an epic action movie is Michael Mann's "Collateral." Even then, his cold-hearted assassin influences Jamie Foxx's world-weary cab driver enough to force a positive change in the young man's life, which can technically be seen as a win for Tom — without Vincent, it's doubtful Max ever finds the confidence needed to dump his crappy job and move on with his life.
Otherwise, Tom is typically the man of the hour by the final reel of any film. Whether its stopping dastardly terrorists or corrupt IMF operatives from destroying the world in the "Mission: Impossible" franchise, saving Iceman and Rooster in the "Top Gun" films, or taking down an alien tripod to save his daughter in "War of the Worlds," you can pretty much count on Tom to get the job done with nary a hindrance to his superstar good looks.
Even when Tom plays a jerk — as he does in Doug Liman's sci-fi epic "Edge of Tomorrow" — he finds a way to ditch the ego long enough to reset time and destroy an entire alien race (with a little help from Emily Blunt). It seems no mission is too impossible for Tom freaking Cruise.
Tom gets the girl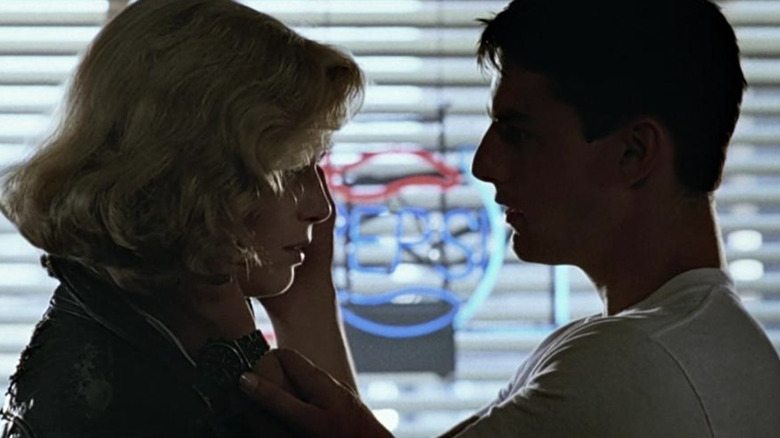 Universal
Tom enjoys plenty of perks thanks to his unflinching heroism. His characters typically earn the respect of their peers — and sometimes even the antagonist! — and then head off into the sunset with a newfound meaning on life, a pile of money, and, well, the girl.
No matter the circumstances, Tom Cruise always gets the girl. In "Risky Business," he ends up with Lana (Rebecca De Mornay), the sensitive sex worker. "Top Gun" sees our beleaguered hero ride off with Kelly McGillis, while "Top Gun: Maverick" pairs him with Jennifer Connelly — who happens to be a very rich, well-to-do single mother — and "Minority Report" rewards his efforts by fixing him up with his estranged wife.
Following his courtroom standoff with Jack Nicholson in "A Few Good Men," it's hinted that Demi Moore has eyes for Tom, while Michelle Monaghan and Rebecca Ferguson take turns locking lips with our main man in "Mission: Impossible — Fallout." In all likelihood, Tom probably could have run off with Vanessa Kirby!
In short, Tom can get any woman he wants. Now, whether they're attracted to his killer good looks, impeccable fashion sense, daredevil stunt-work, heroic swagger, or all of the above is a topic worth discussing.
Tom gets mad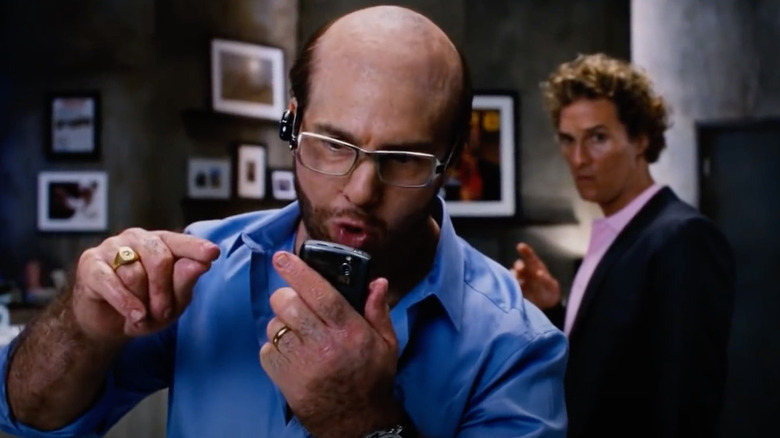 Dreamworks
Tom Cruise may be the king of cool, but even the most even-keeled action heroes lose their patience every now and again.
As it turns out, Tom's explosive temper rears its ugly head so often that it's practically a trademark. It's little wonder that Ben Stiller cast him as the foul-mouthed Les Grossman in the 2008 comedy "Tropic Thunder." Hidden under layers of prosthetics, Tom shouts, curses, and dances away with the film, revealing a darker side that somehow fits snugly amidst the comic antics of Stiller, Robert Downey Jr., and Jack Black. In one of the film's most memorable scenes, Les loses his cool at a Vietnamese soldier, whom he assumes is another movie producer trying to screw him over (it's a long story), resulting a prolonged tirade of profanity and insults that left audiences in stitches.
More dramatically, in "A Few Good Men," Tom rages against Demi Moore after she makes an egregious error and even does the "toss everything off the desk" bit for good measure. In "Mission: Impossible," he justifiably loses his cool after his entire team is killed during a mission gone wrong. And in "War of the Worlds," Tom tosses a slice of peanut butter-covered bread at a window, following a frustrating exchange with his children. These are but a few examples of Tom's ability to blow a gasket, but make no mistake, Tom loses his cool quite often throughout his filmography. 
Tom takes off his shirt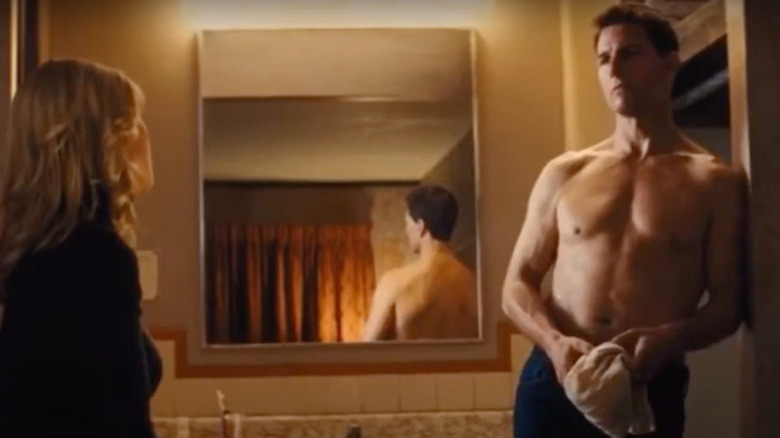 Paramount
Like all good movie stars, Tom is blessed with a superhuman-like body that he seems to keep in incredible shape at all times. Save for his overweight character Les Grossman, Tom typically carries an incredible physique that he's clearly not afraid to show off at every possible opportunity, sometimes with humorous results. 
In "Jack Reacher," for example, Tom sheds his shirt and attempts to carry a serious conversation with Rosamund Pike's Helen Rodin. At one point, she stops mid-sentence and implores him to cover his naked torso, which is an order he comically ignores. Likewise, in the action comedy "Knight and Day," Tom wows Cameron Diaz during a foray on a tropical island. And in "Mission: Impossible — Rogue Nation," he sheds his top for an exciting fight sequence during which he crunches up a pole to escape — an action so extraordinary, you can't help but chuckle. And who could forget the infamous scene in "Top Gun" that sees Tom and Val Kilmer (along with a handful of co-stars) engage in shirtless volleyball?
We're not judging! After all, we'd probably spend our entire life hanging out by the beach if our abs looked like Tom's. If you've got 'em, flaunt 'em! 
Tom is surrounded by incompetent supporting characters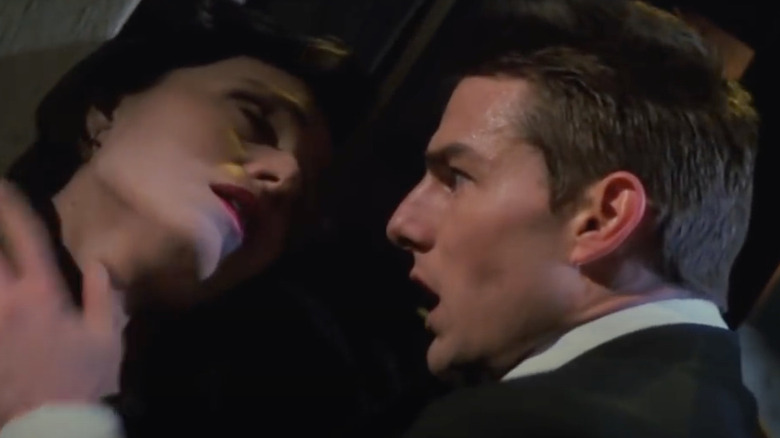 Paramount
Tom tends to steal the spotlight from his fellow co-stars mainly because, well, they aren't very good. There's Demi Moore's headstrong lawyer in "A Few Good Men," who makes a number of egregious errors that force Tom to fly solo. In the "Mission: Impossible" films, we're told Tom's IMF crew rank among the best of the best, but — aside from Rebecca Ferguson's scene-stealing Ilsa Faust — most of his team prove quite inadequate in the line of fire and contribute very little to the overall mission (besides pressing a button or two).
In Steven Spielberg's "Minority Report," Tom's John Anderton escapes the clutches of his co-workers mostly due to their incompetence, whilst the climax of "Top Gun: Maverick" pairs him alongside Miles Teller's inept Rooster and all but forces our leading man to take control of the precarious situation. The result? Tom commandeers an F-14 and engages in combat, while Rooster spectates from the co-pilot's seat.
Can you think of another character from, say, "Days of Thunder," or "Jack Reacher?" Neither can we. Tom has a tendency to hog the spotlight whilst his co-stars gawk at his coolness from a distance. Again, no judgment. We're not knocking Tom Cruise. In fact, we're too busy gawking at his awesomeness with everyone else.
Tom goes real fast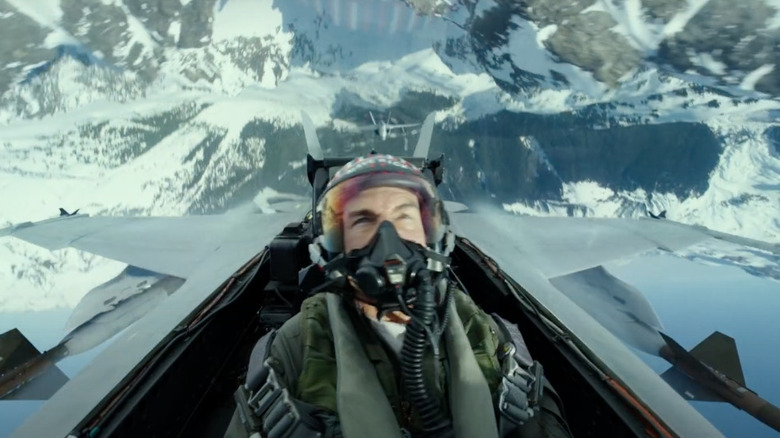 Paramount
We've already discussed Tom's obsession with motorcycles, but that's only part of the story. Nearly every Tom Cruise movie features the actor going really fast, either by running, driving, flying, or boating. "Top Gun" is the obvious choice here, but also consider Ron Howard's dramatic epic "Far and Away," in which Tom hops on a horse and outruns everyone to claim his piece of Oklahoma property. Or, how about "Minority Report," where he leaps on the back of a flying attacker and rockets up a building? One of the most memorable sequences in "War of the Worlds" involves Tom driving a minivan really fast down a highway while arguing with his son. And "Collateral's" climax literally takes place on a high-speeding subway train. 
So, yeah, when Tom Cruise says he feels the need for speed, he means it. 
In fact, Newsweek notes that in "Top Gun: Maverick," the actor took to the skies in an actual fighter jet and by the looks of it, hit some pretty astonishing speeds, while "Mission: Impossible — Fallout" gave him a chance to fly a helicopter through snow-covered mountains at an accelerate rate. Smithsonian Magazine details how "American Made" allowed the actor to put his pilot's license to use and perform intense flying sequences in a six-seat Piper Aerostar 600 and a Cessna 414.
Let's just say, Tom knows how to take our breath away.
Tom hangs on for dear life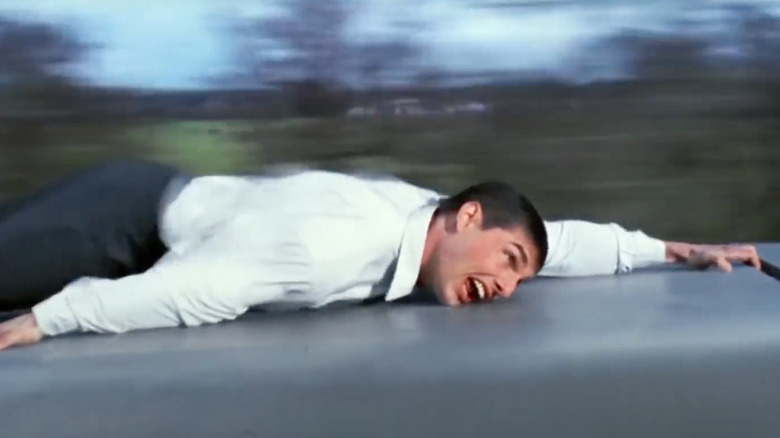 Paramount
In many of Tom's films, the actor is forced to hang onto something for dear life. You may remember that plane sequence at the beginning of "Mission: Impossible — Rogue Nation," but there are actually so many instances of the superstar clinging to the side of something or other in a desperate attempt to keep himself from falling, or (in this case) as a means to slide a key card into an underwater computer. In "Knight and Day," the action maestro hangs onto Cameron Diaz's car while battling bad guys; in "War of the Worlds" he hangs onto a group of strangers to avoid being sucked into an alien ship; and in "Rock of Ages," he clings to a pole while performing a shirtless musical ballad.
Perhaps most famously, Tom hung off of the side of the massive Burj Khalifa building for "Mission Impossible: Ghost Protocol." Stunt coordinator Greg Smrz explained to Yahoo! how Cruise managed to hang off this enormous skyscraper that extends 2,722 feet in the air (which Cruise later ascended to obtain this photo). Even "Edge of Tomorrow" featured the actor clinging to an object — a machine gun attached to a military aircraft — during the action-packed climax, which is set at the well-renowned Louvre in Paris, France. 
Considering his age, it's likely we won't get to see Tom hang around much longer, but we'll continue to enjoy his many death-defying feats for as long as he's willing to perform them.