Things That Happen In Every Adam Sandler Movie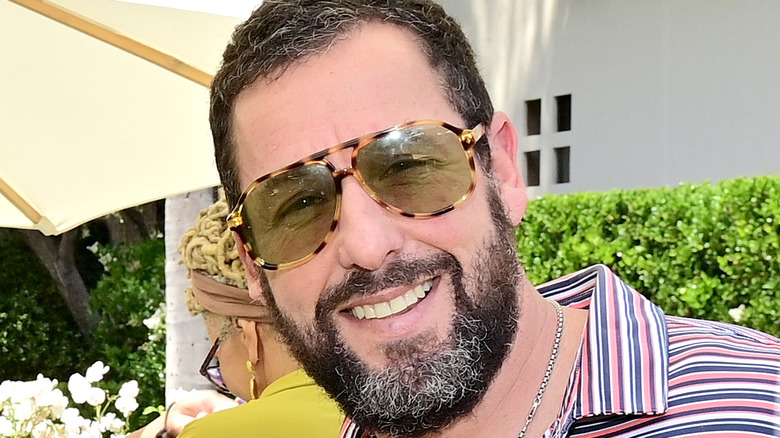 Stefanie Keenan/Getty Images
Adam Sandler is one the biggest stars in the world whose collection of films has accrued over $5 billion at the worldwide box office. Despite mixed reactions from critics, audiences always seem to enjoy the comedian's antics, whether he's performing opera on "Saturday Night Live" or playing basketball alongside Juancho Hernangomez in the Netflix drama "Hustle." 
Sandler's films provide easy-to-digest, predictable entertainment designed to appeal to the largest crowd possible. Moviegoers know what to expect when saddling up for the latest comedy from the funny man, right down to the basic, by-the-numbers plot, simplistic characters, low-brow humor, and quirky supporting cast. Films such as "The Wedding Singer" and "Click" may not break the mold in terms of originality, but they offer the kind of bite-sized fun casual movie watchers can enjoy without putting forth too much effort. 
That said, we thought it would be fun to examine these aforementioned "Sandler traits" and list the ones that stand out the most. Here are the things that happen in every Adam Sandler movie, for better or worse. 
Pairs him with a beautiful woman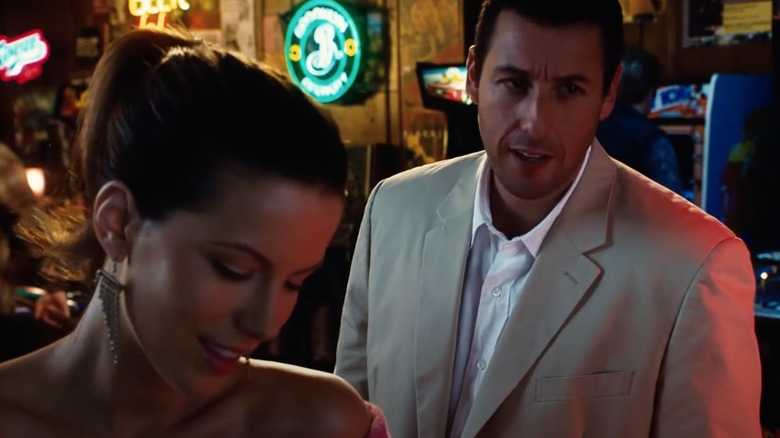 Sony Pictures
Despite playing a dimwitted goofball in a majority of his films, Adam Sandler always seems to share the screen alongside beautiful women. Whether it's an element of his contract or part of a larger joke, the comedian's penchant for lovely leading ladies has no equal amongst the Hollywood elite. His first headlining gig, 1995's "Billy Madison," features the star chasing Bridgette Wilson, while 1996's "Happy Gilmore" so-stars Julie Bowen from "Modern Family" in one of her earliest roles (they later appeared together in "Hubie Halloween"). Sandler then teamed up with Drew Barrymore in the 1998 hit "The Wedding Singer," and appeared alongside the "E.T." star two more times — in 2004's "50 First Dates" and 2014's "Blended." More recently, he's taken a liking to Jennifer Aniston and joined the former "Friends" actor in the 2011 hit comedy "Just Go With It," and the 2019 Netflix caper "Murder Mystery," which already announced a sequel.   
Surprisingly, Sandler's wife is on board with his numerous theatrical flings. In an interview with W Magazine, the actor revealed, "My wife loves the women I work with, so she's very like, 'Come on! Make sure you (do) the best you can. Give it up. It looks crazy when you don't kiss good enough.'"
Other lovely co-stars include Jessica Biel, Kate Beckinsale, Michelle Monaghan, Winona Ryder, and Salma Hayek, among others. Clearly, Sandler is the luckiest man alive.
Co-stars the same actors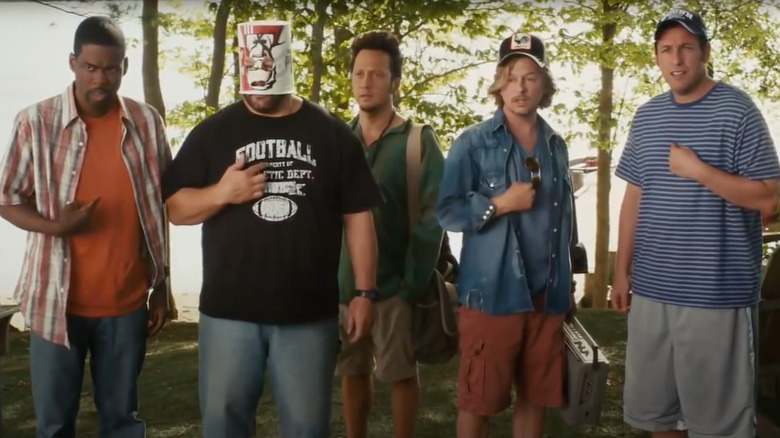 Sony Pictures
When you pop in an Adam Sandler movie, you can almost guarantee an appearance from Rob Schneider. The popular comedian has teamed up with Sandler for over a dozen projects often with hilarious results. Whether it be a minor cameo as part of a village mob who shouts "You can do it!" in "The Water Boy," or a much larger role as Sandler's belly-flopping friend in "50 First Dates," Schneider can always be counted upon for a few laughs in a majority of Happy Madison productions.
Of course, Sandler doesn't stop there when it comes to casting friends in his pictures. In most cases, long-time pals of the funny man — namely, David Spade, Kevin Spade, Chris Rock, Maya Rudolph, Nick Swardson, Steve Buscemi, Tim Meadows, former NBA superstar Shaquille O'Neal, and of course Allen Covert — get in on the fun via well-timed cameos or larger supporting parts. In fact, a majority of them lent their voices to the hugely successful "Hotel Transylvania" franchise.
Features a quirky old person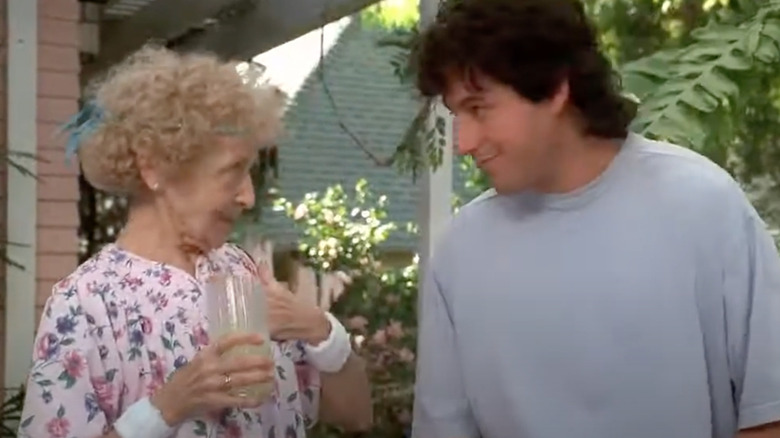 New Line Cinema
Adam Sandler may not have invented the quirky old character trope, but his films certainly lean on the bit for silly comedy. More often than not, the results are quite hilarious, as evidenced by Ellen Albertini Dow's "nipple-twisting" hip-hop singing old neighbor in "The Wedding Singer," and June Squibb's foul-mouthed, adult t-shirt sporting mother in Netflix's "Hubie Halloween."
Other examples of this trope include "The Price is Right" host Bob Barker's cameo in "Happy Gilmore," during which he famously beat the snot out of Sandler's titular hockey player turned golf pro; and actor Joe Nakashima's goofy Old Hawaiian Man in "50 First Dates," who found himself caught in the middle of Sandler's fixations on Drew Barrymore and quipped, "Are you looking at me or her? 'Cause you're starting to freak me out."
Sometimes, Sandler will employ an older actor to portray a stereotypical wise character, replete with pipe and polished suit, as was the case with Erick Avari in 2002's "Mr. Deeds" and Larry Hankins' kindhearted Carl in "Billy Madison." 
Relishes crude humor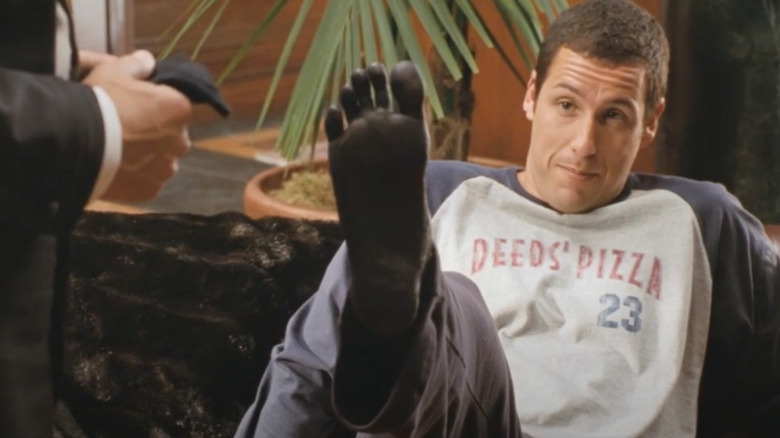 Columbia Pictures
Aside from the "Hotel Transylvania" series, a majority of Sandler's films receive a PG-13 rating due to strong language and an abundance of crude humor. Dating all the way back to his days on "Saturday Night Live," it's clear the actor relishes sex jokes and anything that has to do with farting and/or immoral human behavior. Sometimes he goes a little too far in this regard, as was the case with "That's My Boy," one of the actor's bigger flops, but when Sandler strikes the right balance between low-brow comedy and sweet humor — like, say, "The Wedding Singer" and "Big Daddy" — audiences turn up in droves to deliver box office success.
Again, we can debate whether the world needs the gross-out gags found in Sandler's films, but most will likely agree that the man's shotgun approach to comedy does deliver on occasion. When the laughs hit, as they do in "Happy Gilmore," the aforementioned "Wedding Singer," and "50 First Dates," they hit hard. Thus, misguided failures such as "Little Nicky" and "You Don't Mess with the Zohan" are ultimately worth enduring in order to reach the high notes.
Let's him sing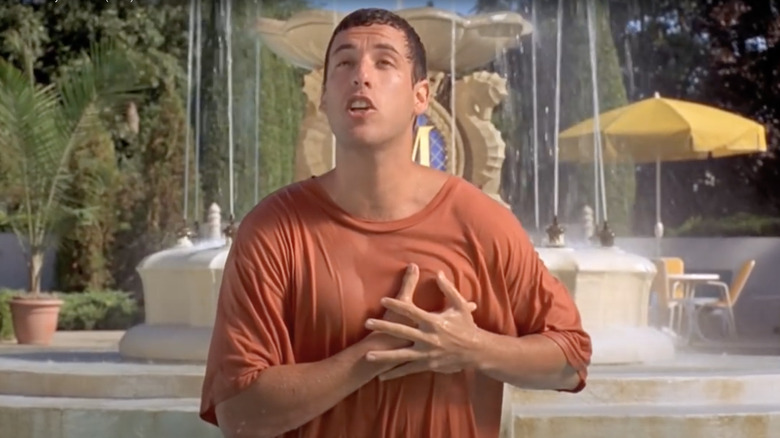 Universal Pictures
Adam Sandler loves to sing. Everyone knows this. He sang on "SNL," he sings on his comedy albums ("The Chanukah Song" remains an all-time classic), and, yes, he sings in his films. We're not knocking the man's talents. Sandler clearly has a powerful singing voice and a gift for assembling humorous melodies. Who can forget the moment Billy Madison suddenly leaped from the pool to sing "Billy's Victory Song?" Or when his character snuck into the back of a plane to deliver the ballad "I Wanna Grow Old with You" to Drew Barrymore in "The Wedding Singer?" Indeed, Sandler's musical talent is one of the aspects that sets him apart from other comedians.
Still, with over 33 credits as a soundtrack performer and/or writer to his name, including songs in films like "Eight Crazy Nights," "Hotel Transylvania," "Funny People," and "Grown Ups," the musical schtick at times feels a little overused. Case in point: in "50 First Dates," Sandler again tries to woo Barrymore with a ukulele ballad "Lucy's Song." Sure, the scene is cute, but far too reminiscent of "Wedding Singer." As such, the moment feels more like an overt callback to the pair's previous outing than a necessary plot beat. 
Honestly, as enamored as we are with Sandler's singing talents, we'd like him to tackle more roles like "Hustle" and "Uncut Gems" and leave the singing to his comedy specials.  
Gives him the best one liners/comebacks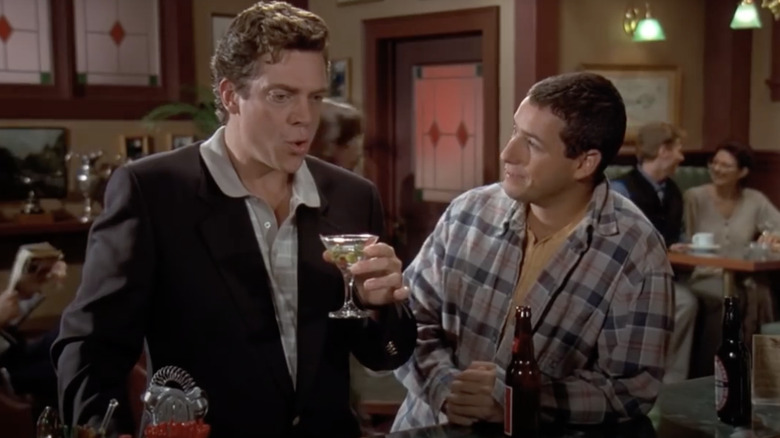 Universal Pictures
Have you ever noticed how none of the bad guys in an Adam Sandler comedy have the brains to piece together a solid comeback? Whether it be Peter Gallagher's conspiring Chuck Cedar in "Mr. Deeds," or Matthew Glave's violent Glenn Guglia in "The Wedding Singer," none of Sandler's co-stars gets a chance to outshine our leading man. Bradley Whitford's villainous Eric Gordon endures plenty of insults in "Billy Madison," but never seems to find a snappy retort — he can't even come up with a solid counter to a rant about a puppy dog! Even the greatest Sandler villain of them all, Shooter McGavin (played by Christopher McDonald in "Happy Gilmore") has nothing to offer in response to any of his Happy's perfectly timed verbal assaults.
In fact, at one point in the 1996 sports comedy, Shooter proclaims, "Stay out of my way, or you'll pay. Listen to what I say!" Almost immediately, Sandler's Happy Gilmore mocks him by rhyming, "How about I just go eat some hay? I can make things out of clay, I can lay by the bay — I just may. What do you say?" Naturally, Shooter has no clever retort of his own. Instead, his face contorts into a confused expression and he silently wanders out of the room. 
Would it kill Sandler to go against someone with as quick a wit as himself? 
Gives him an easy job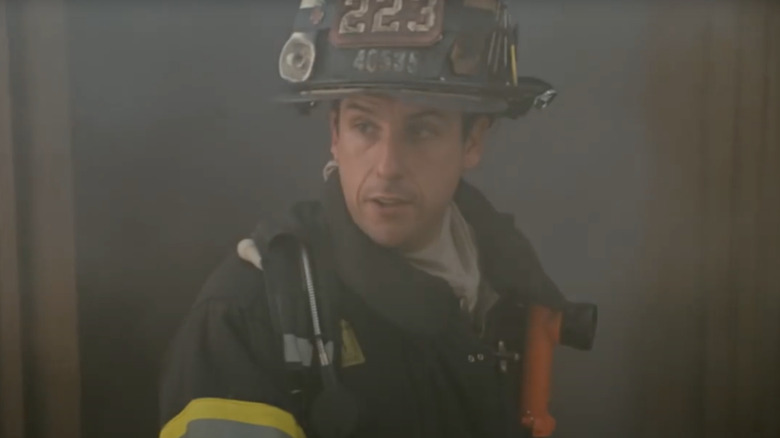 Universal Pictures
One of the biggest running gags in any Adam Sandler comedy is the jobs afforded the funnyman. While some of his quirky characters slug through the typical 9-5 lifestyle, most seem to enjoy laid-back jobs that require very little in the way of skill. In "Big Daddy," for example, Sonny Koufax works one day a week as a toll booth operator. In "The Wedding Singer," Robbie Hart, well, sings at weddings; and "50 First Dates" has Henry Roth working at a Sea World-like resort in Hawaii where he mostly goofs around with the animals and makes fun of his silly co-workers. 
In most cases, these jobs fit the men they're prescribed to. However, in "Just Go With It," Sandler's character Danny somehow works as a plastic surgeon, while "I Now Pronounce You Chuck & Larry" sees the comedian serve as a heroic fireman alongside his pal Kevin James. We're all for suspending disbelief, but seeing Sandler as a super-smart doctor or a selfless hero who willingly rushes into fires is a bit of a stretch. 
Comparatively, "Blended" sees Sandler's character working at Dick's Sporting Goods, which is a little easier to stomach. 
Makes his character rich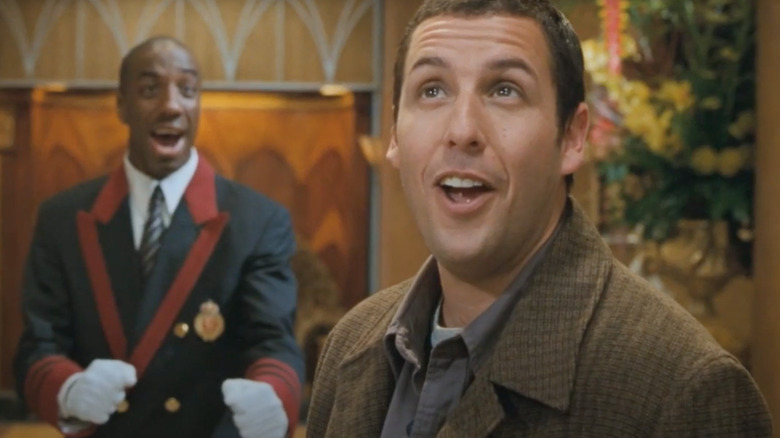 Universal Pictures
Despite his aforementioned job situation, Adam Sandler has a tendency to play characters who are flat out rich, or end up rich by film's end. Obviously, the first character who comes to mind is Longfellow Deeds in "Mr. Deeds," who suddenly inherits a fortune from a distant relative and spends the remainder of the film enjoying the luxury afforded by wealth. Likewise, the entire plot of "Billy Madison" revolves around Sandler's titular protagonist repeating school in order to prove to his father that he's mature enough to handle a lucrative hotel business. In "Big Daddy," Sandler's Sonny Koufax works as a toll both operator but can somehow afford a luxury apartment in New York City. Why? Because he lives off a $200,000 insurance compensation earned from a minor accident. 
Need more? How about "Grown Ups," which posits Sandler as an incredibly wealthy and successful Hollywood talent agent who has enough cash to whisk his family and friends away to a lake house over the Fourth of July holiday. Or "Just Go With It," which sees Sandler's well-to-do plastic surgeon drop an absurd amount of money on a Hawaiian vacation for his family and co-worker (played by Jennifer Aniston). Heck, he's even rich when he's animated! In all four "Hotel Transylvania" films, Dracula is the successful owner of a fancy monster hotel.   
Has lots of product placement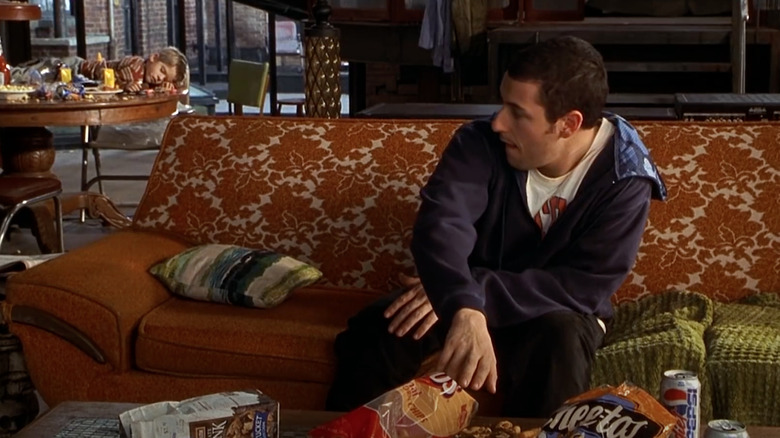 Columbia Pictures
Product placement is part and parcel of the whole film experience, but sometimes studios can go a little too far hawking a specific piece of merchandise on unsuspecting audiences. Such is the case with many of Adam Sandler's comedies, which tend to feel more like advertising vehicles for name brands than actual films. 
"Big Daddy," in particular, references Hooters so often it becomes distracting. To say nothing of the main character's appetite for the likes of Pepsi, Cheetos, and Fritos. Billy Madison literally screams, "Where's my Snack Pack," before heading off to school in the popular comedy, and promotes the pudding treat to other characters in the film. "50 First Dates" features a ridiculous amount of Spam shout outs, with the Hawaiian product snuck into the background of several shots. An abundant amount of Sony tech is used in everything from "Click" to "You Don't Mess with the Zohan."
More cleverly, in "Happy Gilmore," Sandler's titular hockey-turned-golf pro stars in a Subway ad, which is basically the studio's way of killing two birds with one stone. On the opposite end of the spectrum lies "That's My Boy," which comes across like an ad for Budweiser. Sandler's character seems to carry the alcoholic beverage in his hand at all times; you can practically hear the cha-ching of a cash drawer every time the actor pops up on the screen.   
Let's him play a nice guy surrounded by jerks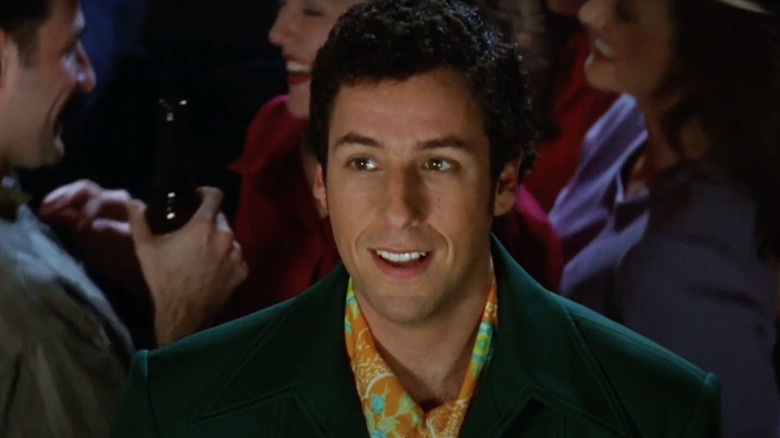 Touchstone Pictures
Adam Sandler has made a career playing lovable losers just itching for an opportunity to show what they're made of. That seems to be one of the main reasons audiences flock to his various films, as characters such as Robbie Hart in "The Wedding Singer" and Bobby Boucher in "The Waterboy" are instantly relatable despite their outlandish circumstances. Even Sonny Koufax — the lazy, immature protagonist of "Big Daddy" — somehow feels like the Everyman despite his vast fortune and carefree lifestyle. His journey to maturity (via fatherhood) earns our approval, or, at the very least, somehow makes us care for a loser who has successfully dodged responsibility throughout much of his life.
More dramatic fare like "Uncut Gems" features Sandler as a slime ball con artist whose allegiance to the thrills of gambling has all but destroyed the lives of everyone he has ever known. Yet, we still root for the man because, like us, his selfish antics stem from a desire to achieve otherworldly success. We accept the negatives because, well, like us, Howard Ratner is just a man trying to catch a dream, no matter how foolhardy said dream may be.
Perhaps the best example of the atypical Sandler character is found in James L. Brooks' comedy/drama "Spanglish," which features the funny man as a wealthy cook who falls for his world-weary housekeeper (Paz Vega). Sandler's character may be well to do, but we still root for him to get the girl because, well, he's a nice guy. What's more important than that?  
Features a former star in a cameo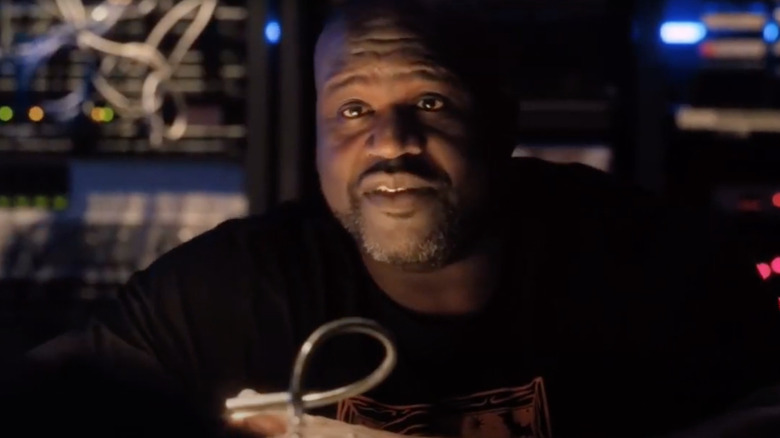 Netflix
Finally, nearly every Adam Sandler film features a former star and/or celebrity in a minor role. The most obvious example of this is Henry Winkler's turn as the beleaguered Coach Klein in "The Waterboy," a character prone to anxiety attacks, temper tantrums, and removing his pants to show off a hidden Roy Orbison tattoo on his right butt cheek. While not exactly washed up in 1998, Winkler's time at the top had passed long ago following the end of the TV series "Happy Days" (in which he starred as Fonzie), and his appearance in "The Waterboy" paved the way for roles in future Sandler projects that gave his career a much needed facelift. 
Similarly, legendary comedian Dan Aykroyd appears in a short but pivotal role in "50 First Dates," and would later feature in "I Now Pronounce You Chuck & Larry" and "Pixels." Christopher Walken and former "Baywatch" star David Hasselhoff both figure prominently in "Click," while legendary NBA star Shaquille O'Neil has enjoyed a second life on the big screen next to Sandler in everything from "Jack and Jill" to "Hubie Halloween" and "Hustle." 
Sandler even co-starred alongside Jack Nicholson ("Anger Management"), Al Pacino ("Jack and Jill"), and Mel Brooks ("Hotel Transylvania 2"), which is really saying something considering the quality of those particular films.