Actors Who Appeared In Both Game Of Thrones And Harry Potter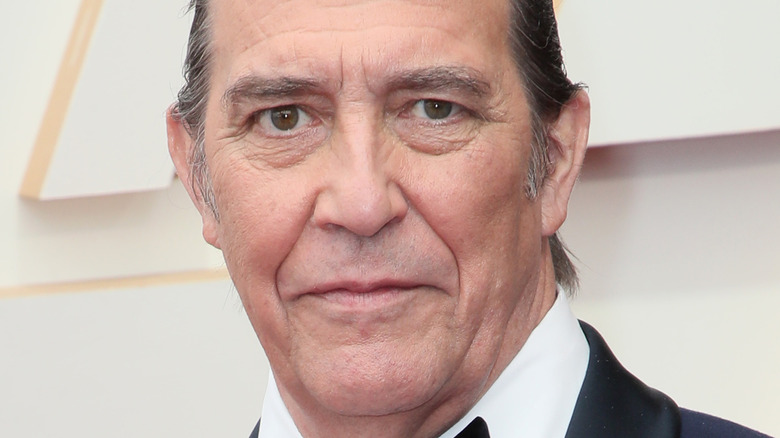 David Livingston/Getty Images
"Game of Thrones" and "Harry Potter" rank amongst the most storied franchises in pop culture history. Critically praised and loved by audiences around the world, these very different fantasy tales feature their own unique blend of fascinating characters, enormous battles, stunning special effects and some of the best storytelling you're likely to see on the big or small screen. 
"Thrones," based on the popular book series by George R.R. Martin, broke new ground when the show premiered on HBO back in 2011, spawning eight seasons and paving the way for spin-offs such as "House of the Dragon." The fantasy epic featured Emilia Clarke, Kit Harington, Sophie Turner, Maisie Williams, Lena Headey, Peter Dinklage and Nikolaj Coster-Waldau.
Likewise, "Harry Potter" started out as a series of books written by J.K. Rowling before erupting into a box office behemoth via eight films (11, if you include the "Fantastic Beasts" spin-offs) that totaled over $7 billion at the worldwide box office. Starring Daniel Radcliffe, Emma Watson and Rupert Grint, along with an assortment of British actors, "Potter" continues to entertain to this day through a variety of platforms, including a Universal Studios attraction built in 2010. 
These series made stars out of their largely unknown lead actors, but also paved the way for a number of supporting players who, if they were lucky, managed to dip their toes in the worlds of both "Thrones" and "Potter" during their career. Here's a list of actors who have appeared in both franchises — often in very different roles. 
David Bradley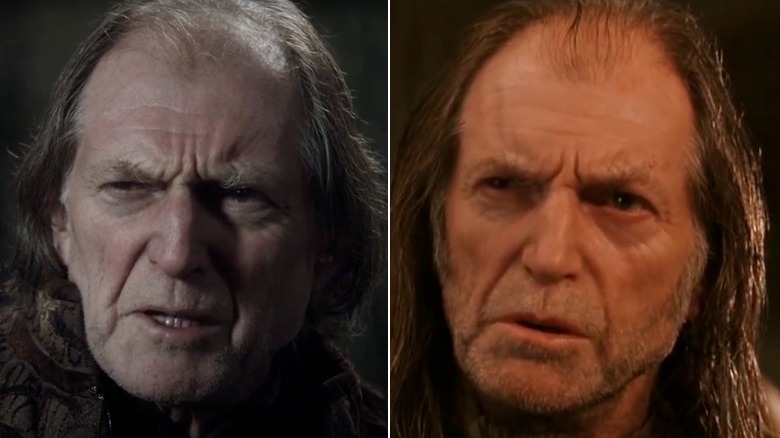 HBO/Warner Bros.
We'll start with the worst of the worst. Not in terms of the actor, of course, but anyone who has watched "Game of Thrones" and/or "Harry Potter" knows that David Bradley's character in each franchise is utterly despicable. In the former, the veteran actor played Lord Walder Frey, a bitter old coot best remembered for one horrible event: the Red Wedding. 
For those unaware, the Red Wedding is the moment in which a family known as the Freys betray and murder heroic leader Robb Stark (Richard Madden) during his campaign against the Lannisters. During the shocking sequence, Robb's pregnant wife is stabbed to death while he is plastered with arrows and beheaded, his corpse displayed for all to see. All of Robb's men are killed and even his mother, Catelyn Stark (Michelle Fairley), incurs a gruesome death while screaming at the top of her lungs. All the while, Walder Frey watches from his table with amusement. 
Naturally, "Thrones" being "Thrones," old Frey eventually gets his comeuppance, but fans had to wait until Season 8 to enjoy the payoff.
Bradley's "Harry Potter" character, Argus Filch, isn't quite as grotesque, but he does goes out of his way to invent new forms of punishment for the children of Hogwarts. Otherwise, he's a perfectly harmless old man, skulking around the castle with his cat, Mrs. Norris, and whose cantankerous persona often results in humorous interactions with his costars.
Natalia Tena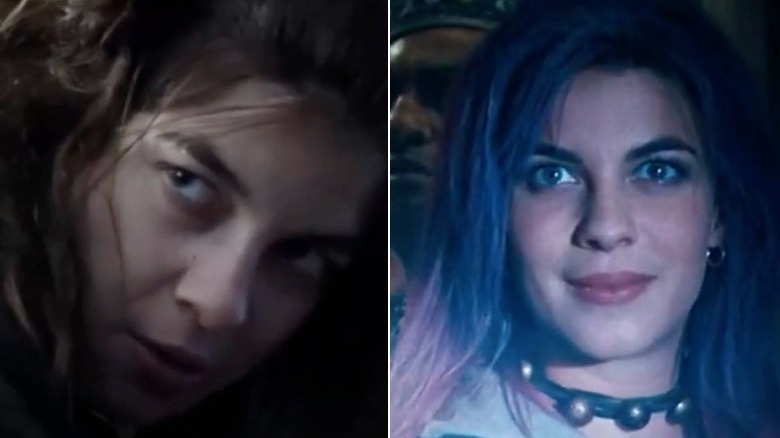 HBO/Warner Bros.
Natalia Tena appears in "Harry Potter" as "Nymphadora" Tonks, a purple-haired member of the Order of the Phoenix and a powerful witch who resides in Hufflepuff during her time at Hogwarts. While the character doesn't figure as prominently in the films as she does in the books, Tonks still makes an impact during her brief screen time, mostly as a result of her relationship with Remus Lupin (David Thewlis). Tragically, the star-crossed lovers meet their end during the Battle of Hogwarts in one of the more tragic moments of the entire "Potter" series. 
Similarly, Tena's character in "Game of Thrones," a member of the Free Folk called Osha, meets a dark fate in Season 6 of the popular fantasy series after enjoying quite the transformation. When we first meet Osha, she's a bitter wildling who attempts to steal Bran Stark's (Isaac Hempstead Wright) horse. Luckily, Robb intervenes and hauls Osha back to Winterfell where she works as a servant. Following the death of Ned Stark (Sean Bean), and a short stint as Theon Greyjoy's (Alfie Allen) captive, Osha takes Bran, his younger brother Rickon (Art Parkinson) and the slow-witted Hodor (Kristian Nairn) to find the mystical Three-Eyed Raven.
Following this perilous journey, Osha dies in Season 6 at the hands of the evil Ramsay Bolton (Iwan Rheon).
Michelle Fairley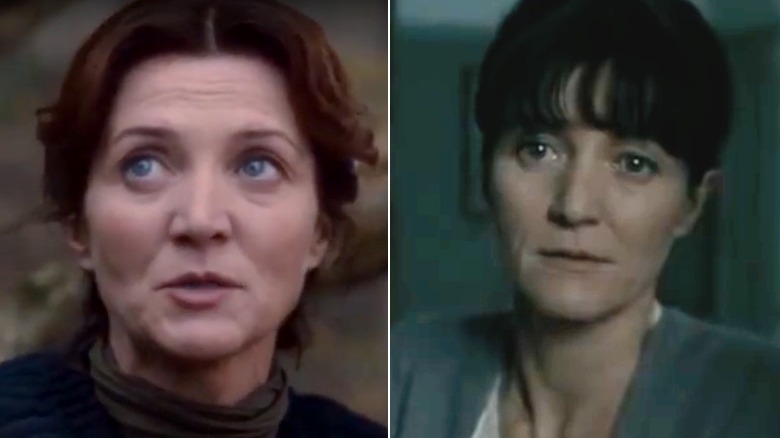 HBO/Warner Bros.
"Game of Thrones" fans obviously remember Catelyn Stark (Michelle Fairley), wife of Ned Stark and mother to Robb, Sansa, Arya, Bran, Rickon and the "illegitimate" Jon Snow. After Ned's death, Catelyn aids Robb's campaign against the Lannister family and comes close to achieving victory with her son. Unfortunately, as previously mentioned, Catelyn and Robb are brutally murdered at the Red Wedding — a consequence of breaching their pact with House Frey. Our last image of Catelyn is horrific: she screams in agony after witnessing the death of her son and kills one of Frey's young wives before her throat is slit by Roose Bolton (Michael McElhatton). 
By contrast, Fairley also appeared in the "Harry Potter" franchise as Hermione's mom in "Harry Potter and the Deathly Hallows Part 1." It's a blink-and-you'll-miss-it role with no dialogue — Fairley sits very still while Hermione casts a memory charm ("Obliviate") that removes her daughter from her memory. 
Interestingly, "Deathly Hallows: Part 1" hit theaters in November 2010, mere months before "Game of Thrones" began its run in April 2011.
As a side note, Hermione's parents were played by Tom Knight and Heather Bleasdale in "Harry Potter and the Chamber of Secrets." No mention as to why the producers decided to change actors for "Deathly Hallows," but at least it gives us a reason to write about Michelle Fairley. 
Julian Glover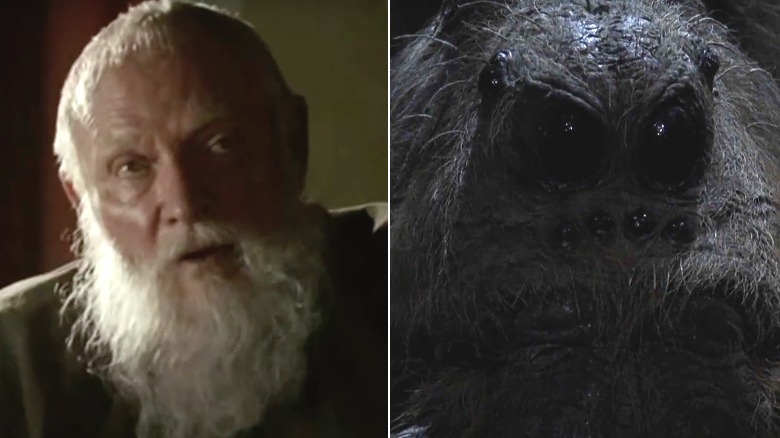 HBO/Warner Bros.
This was a genuinely shocking surprise. We've seen "Harry Potter and the Chamber of Secrets" countless times, but had no idea that Hagrid's (Robbie Coltrane) monstrous pet spider, Aragog, was voiced by Julian Glover, aka Grand Maester Pycelle in "Game of Thrones." (We didn't even know the "Indiana Jones and the Last Crusade" villain starred alongside Brad Pitt in "Troy" either, but that's a fact best left for another article.) 
To tell you the truth, we're not sure which of these characters is worse. Aragog tries to eat Harry and Ron when they convene with the creature (following Hagrid's advice) to discuss the mysterious Chamber of Secrets, but the eight-legged arachnid at least imparts some necessary information for our heroes to utilize during their adventure. Also, Harry and Ron manage to escape their predicament unscathed. So, no harm, no foul, right?
Grand Maester Pycelle, on the other hand, is one of the most cunning, deceptive and outright loathsome characters on "Game of Thrones." Loyal to House Lannister, Pycelle plays an enormous role in the death of Jon Arryn, an action that kicks off the show's central conflict between the Lannisters and Starks and indirectly leads to the death of Ned Stark. What's more, Pycelle moves and behaves like an old man in public, but is actually a very limber, agile fellow. This deception leads many to overlook him, allowing Pycelle to carry out his devious actions (ironically, to maintain peace) while hidden in plain sight. 
Ciarán Hinds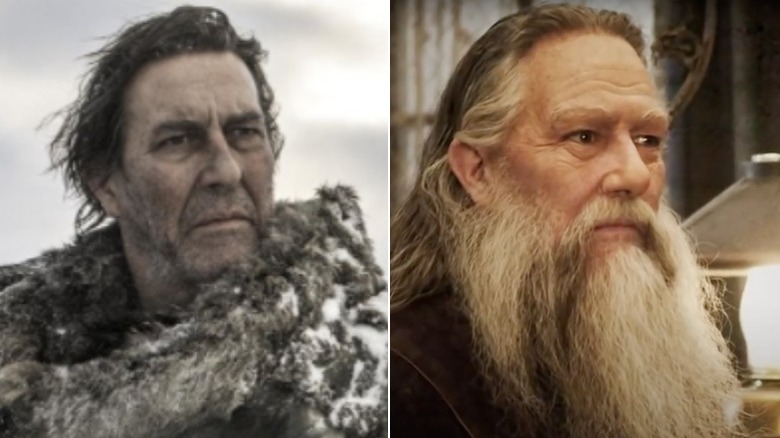 HBO/Warner Bros.
As Mance Rayder, self-anointed King Beyond the Wall in "Game of Thrones," Ciarán Hinds commands practically every scene he is in. The veteran actor has appeared in a number of acclaimed films, including "Road to Perdition," "Munich," and Kenneth Branagh's "Belfast," but will always be known as the pragmatic leader of the Free Folk. 
Alas, like all good "Game of Thrones" characters, Mance meets an untimely end after refusing to bend the knee to Stannis Baratheon (Stephen Dillane). His punishment? Why, death by fire, of course. Except, rather than watch the man suffer, Jon Snow shoots an arrow through Mance's heart, thereby asserting his loyalty to the Wildings. 
Around the same time as his first appearance in "Game of Thrones," Hinds also appeared in "Harry Potter and the Deathly Hallows: Part II" as Dumbledore's bitter brother Aberforth. The character first showed up in "Harry Potter and the Order of the Phoenix," where he was played by Jim McManus in a brief shot many likely disregarded. Hinds took over the reins of Aberforth in the final "Potter" film, where he reveals his brother's tragic backstory and eventually steps in to aid the good guys during the Battle of Hogwarts.
Ian Whyte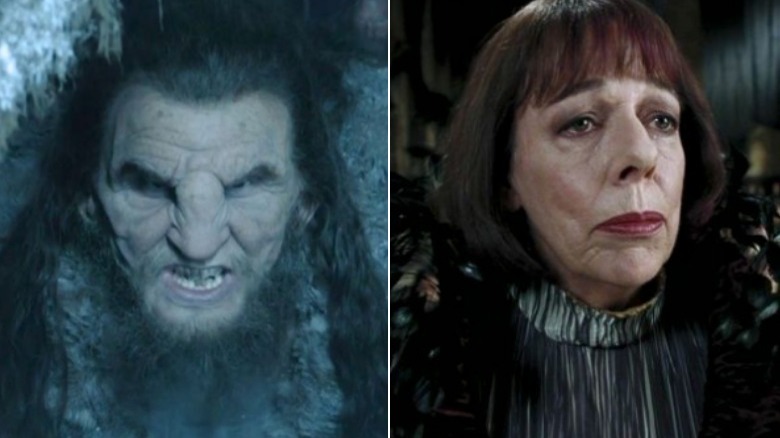 HBO/Warner Bros.
Ian Whyte's roles in "Game of Thrones" and "Harry Potter" are a little, ah, complicated. In the latter franchise, the 7-foot-1-inch stuntman-actor-former basketball player appeared as the French half-giant Madame Olympe Maxime in "Harry Potter and the Goblet of Fire." Well, kind of: while the character was played by Frances de la Tour in closeups, Whyte performed the character's actions in wide shots in order to make her appear as an 8-foot-6-inch half-giant that towered over love interest Hagrid. 
"Every time you see her in full length, that's me," the actor said in an interview with Issuu.com.  
"Thrones," meanwhile, utilized Whyte in a variety of ways, leading him to appear in every season. "I played White Walker in Season 1, very briefly in Season 2 (don't look out for me though, it's almost impossible)," he said. "In Season 2 I played The Mountain, and in Season 3 I started playing the Giant." In fact, he played several giants on the popular show, namely Dongo the Giant in Season 3, Wun Wun the Giant in Seasons 5 and 6, and the giant Wight in Seasons 7 and 8. 
If that weren't enough to make you jealous, Whyte also portrayed the Predator in "Aliens vs. Predator: Requiem" and the Engineer in "Prometheus." 
Jim Broadbent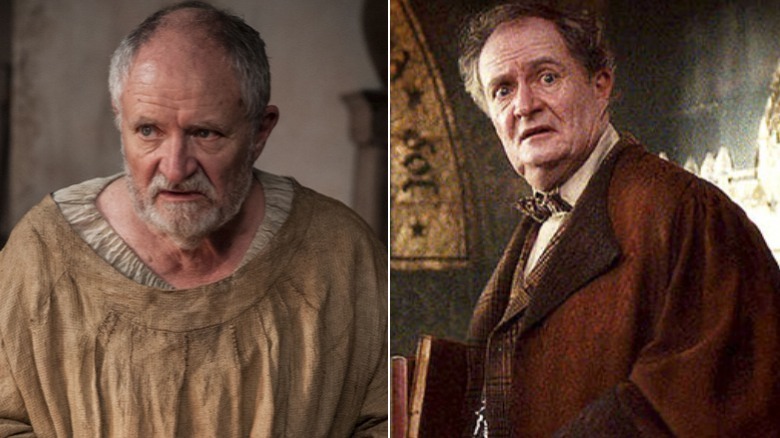 HBO/Warner Bros.
Veteran actor Jim Broadbent is no stranger to fantasy and action fare, having appeared throughout his distinguished career in "Superman IV: the Quest for Peace" (no, really!), "Moulin Rouge!," 1998's "The Avengers," "Gangs of New York" and "Indiana Jones and the Kingdom of the Crystal Skull," among countless others. That's why it only made sense that he would appear in both "Harry Potter" and "Game of Thrones," as he fits perfectly within the realm of magic and fantasy. 
However, out of the two properties, only "Harry Potter" gave Broadbent much to do. As the lovable, albeit self-absorbed, Professor Horace Slughorn in "Harry Potter and the Half-Blood Prince," Broadbent prances about in a delightfully bumbling, jovial manner and lights up nearly every scene he appears in. While the character serves as little more than a plot device from which important exposition leaks at just the right time, Slughorn remains one of the more complex individuals to emerge from the mind of J.K. Rowling — a self-serving man who doesn't care about the state of the world so long as it doesn't impact his person.
In "Game of Thrones," Broadbent appears as stern, but knowledgable, Archmaester Ebrose in Season 7, who likewise serves more as a walking bit of exposition than an out-and-out character. Considering his brief screen time — he mostly interacts with Samwell Tarly (John Bradley) — there's a chance you may have forgotten the actor appeared in the series altogether.  
Freddie Stroma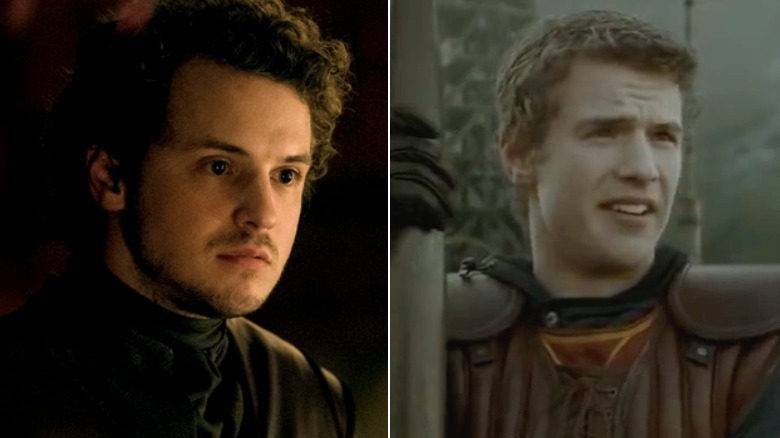 HBO/Warner Bros.
Many of our remaining actors lack the familiarity or star power of previous entries on this list. Still, since appearing in both "Game of Thrones" and "Harry Potter" is a feat accomplished by little more than a dozen people on the planet, such creative artists are worth mentioning, no matter how small their performance.
Case in point: Freddie Stroma, who had the unfortunate task of playing Cormac McLaggen, the charismatic chap you rooted against in "Harry Potter and the Half-Blood Prince." Stroma figures quite prominently in the opening portion of the film, serving as Ron Weasley's main competition during Quidditch tryouts. McLaggen handles his broomstick with aplomb, but his chance to make the team (and win Hermione's affections) is undone when Hermione — in an act to aid Ron — vexes him with a spell that prevents the young man from performing up to his usual standards.
Stroma appears in Season 6 of "Game of Thrones" as Dickon Tarly, brother — and source of contention — to Jon Snow's best mate, Samwell Tarly. Like Ron, Samwell is an underdog the audience enjoys rooting for, a largely unremarkable individual who discovers important talents that ultimately aid the plot substantially. Dickon stands as his polar opposite, a talented man full of confidence, loved by his parents and distinguished for his numerous skills, but lacking in humility. Evidently, Stroma fits such roles like a glove. Who cares if he was replaced by Tom Hopper in Season 7?  
Ralph Ineson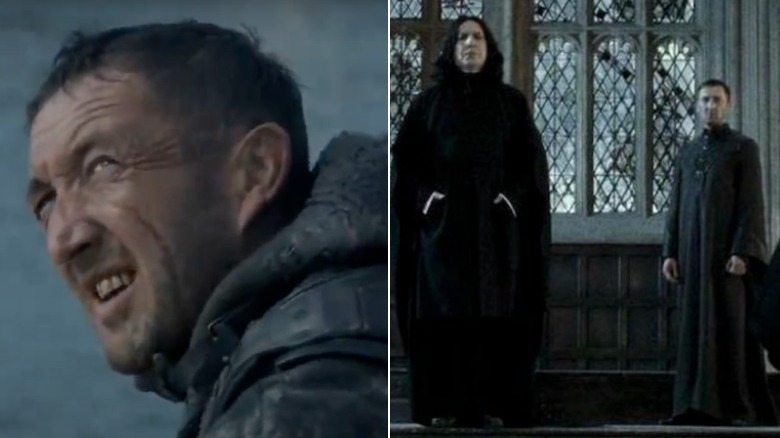 HBO/Warner Bros.
One of the more confounding moments in "Harry Potter and the Deathly Hallows: Part II" was the lack of screen time for the much hyped Carrows, Amycus and Alecto. Considering the pair's importance in the book — they present an interesting challenge for Harry and company — one would think that the final film would give the characters an opportunity to show off some of their magical abilities. 
Alas, Amycus and Alecto make but a brief cameo in the final "Potter" film and are rendered unconscious almost immediately, following Snape (Alan Rickman) and McGonagall's (Maggie Smith) intense standoff. So it's perfectly understandable if you didn't realize that the actor portraying Amycus was Ralph Ineson, the same man who portrayed Dagmer Cleftjaw in Season 2 of "Game of Thrones." 
Today, Ineson's profile has risen somewhat thanks to sturdy performances in films such as "The Witch," "The Green Knight" and "The Northman." He will also appear in the Disney+ sequel series "Willow" (alongside "Thrones" alumni Rosabell Laurenti Sellers) and perhaps come to be known as more than just "that guy from that one movie" sometime in the near future.
Bronson Webb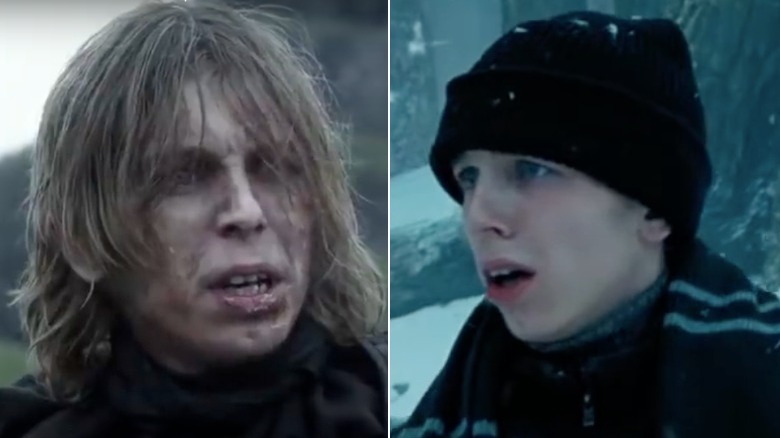 HBO/Warner Bros.
"Game of Thrones" fans may recall Bronson Webb as Will, the ill-fated ranger from the Night's Watch who encounters a group of White Walkers beyond the Wall, deserts his position and ends up in the hands of the Starks in Season 1. More simply, he's that poor chap who gets his head lopped off by Ned Stark. 
However, fans may not remember Webb's brief role in Alfonso Cuarón's "Harry Potter and the Prisoner of Azkaban," in which he played "Slytherin Boy" for a few brief moments. He's most distinguishable in the snowball fight sequence as one of Malfoy's goons — he literally gets the wool pulled over his eyes and shrieks in terror as an invisible Harry yanks on his scarf — but pops up throughout the film intermittently to provide a few humorous reactions. 
On top of these juicy supporting roles, Webb has also been featured in "Pirates of the Caribbean: On Stranger Tides" (as "Cook"), the popular TV series "Ted Lasso," and Matt Reeves' recent "The Batman," in which he plays "Hooded Gunman," aka the Riddler follower that Batman nearly pummels to death during the grand finale. 
Sally Mortemore and Daniel Tuite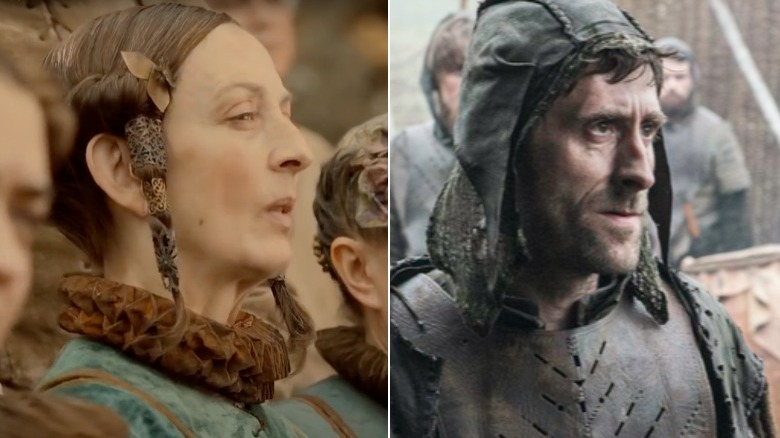 HBO/Warner Bros.
In Sally Mortemore and Daniel Tuite, we have a pair of actors who can boast about appearing in both "Game of Thrones" and "Harry Potter," albeit via incredibly bite-sized roles. 
To start, Mortemore made her appearance in "Thrones" as "Bravoosi Woman #2," in the famous Season 6 episode "The Door." She doesn't do much but gawk with a crowd of people during a rather peculiar reenactment of the events that took place during the first season of the show. In a similar vein, Mortemore doesn't do much as Madam Irma Pince during her extremely limited screen time in "Harry Potter and the Chamber of Secrets" — she sits next to Snape during the emotional finale — but did get a chance to reprise the role in the 2018 video game, "Harry Potter: Hogwarts Mystery."  
Tuite, on the other hand, enjoyed a recurring role on "Game of Thrones" as Lothar Frey, one of Walder Frey's sons. Lothar, in case you didn't know, is the one who stabs Talisa Stark's (Oona Chaplin) pregnant belly during the famed Red Wedding sequence. He also hires the musician assassins that serenade the massacre. Lothar is eventually killed by Arya Stark in Season 6, who then bakes his corpse into a pie that is subsequently served to his father. 
The actor also appears as "Skinny Ministry Wizard" in "Harry Potter and the Deathly Hallows: Part 1," the goofy character that initially spots Harry, Ron and Hermione during their escape from the Ministry of Magic.
Nicholas Blane and Edward Tudor-Pole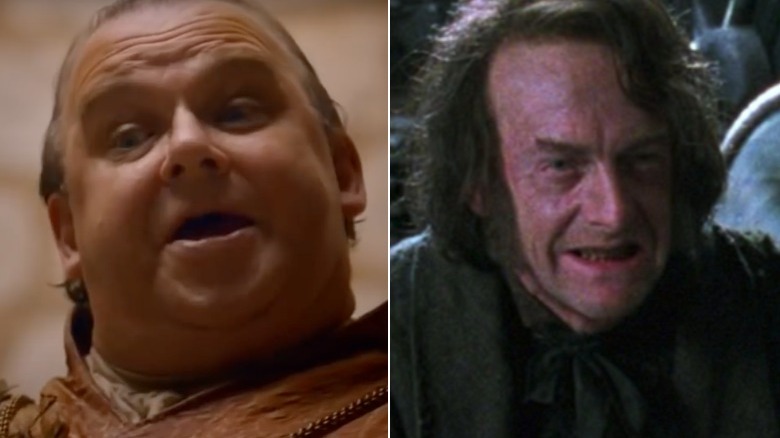 HBO/Warner Bros.
Nicholas Blane and Edward Tudor-Pole are our last actors to appear in both "Game of Thrones" and "Harry Potter." Blane enjoys a nice chunk of screen time in "Game of Thrones" as the Spice King, a character who appears in three episodes throughout Season 2. The Spice King resides in Qarth as a member of the Thirteen. He briefly makes life miserable for Daenerys, but is later killed by ultimate creeper Pyat Pree in the episode "Garden of Bones."
Blane's role in "Harry Potter" wasn't as substantial. The actor pops up as Bob in "Harry Potter and the Order of the Phoenix." He's the one standing next to Harry in the elevator, holding what appears to be a burning box during the boy wizard's journey to the Ministry of Magic. 
Tudor-Pole appears in Season 2 of "Game of Thrones" as a "Protester" in the episode "The Ghost of Harrenhal," and also enjoyed a gig as Mr. Borgin (the shopkeeper of Borgin and Burkes) in "Harry Potter and the Chamber of Secrets." Unfortunately, his role in the latter ended up on the cutting room floor, but you can check out his big scene here.