Background Actors Who Wound Up Becoming Noteworthy Stars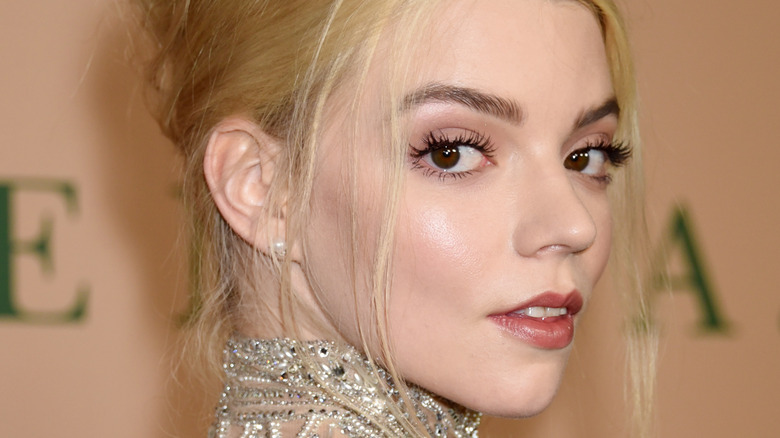 Ga Fullner/Shutterstock
Hollywood is a fickle place. One moment an actor can be at the top of the A-list, and then a couple of flop movies can bring them crashing down to the bottom of the heap. But this also works the other way around — an actor can start out doing bit parts and background work until one day they rocket to the A-list in leading roles. 
This latter phenomenon has given us some of the biggest movie stars of all time, who worked their way up the ladder for years, putting in the time playing small, walk-on roles before getting the big break that launched their careers. It's the stuff that dreams are made of, cementing Hollywood's reputation as a place where you can become rich and famous if you're just talented and hard-working enough.
Aside from serving as aspirational stories, the early minor roles of superstars can also make for amusing anecdotes, shared on talk shows after they hit the big time as a way to recall their humble beginnings. Let's take a look at some of the top actors in the film industry who started out as background players before becoming the darlings of the masses.   
Renee Zellweger in Dazed and Confused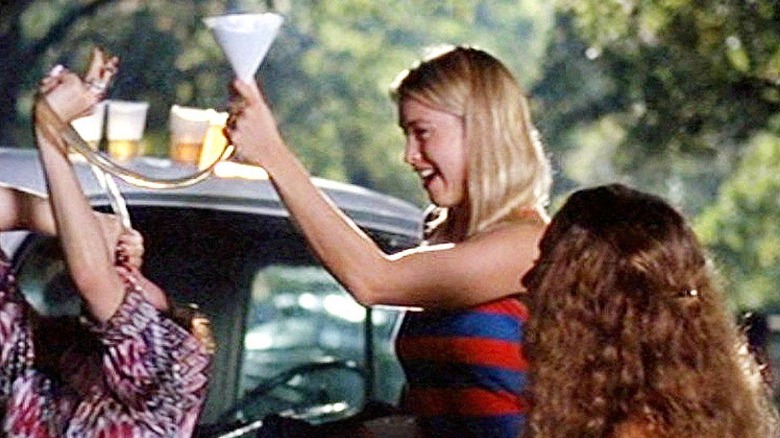 Gramercy Pictures
The 1993 coming-of-age comedy "Dazed and Confused" features a number of notable actors in their early roles, including Ben Affleck, Milla Jovovich, and Matthew McConaughey. All three actors would go on to headline major movies in their later years, but you might be surprised to learn that another future A-lister is hiding in the background of the Richard Linklater classic.
A young Renee Zellweger has a non-speaking role in the film, playing a student in the background of some scenes at the school which the main characters attend. As Linklater told Mashable, the actress originally auditioned for the role of Darla. When the part went to Parker Posey, Zellweger had to settle for a background gig. "Renée doesn't have a single line, but she's everywhere," the director said.
While "Dazed and Confused" didn't help Zellweger find a foothold in Hollywood the way it did the film's main cast, the actress made more of an impact the next year with a major role in "Texas Chainsaw Massacre: The Next Generation," where once again Zellweger found herself working with Matthew McConaughey. Finally it was 1996's "Jerry Maguire" that established the actress as a major new presence on the silver screen, and someone worth looking out for.
Sylvester Stallone in Bananas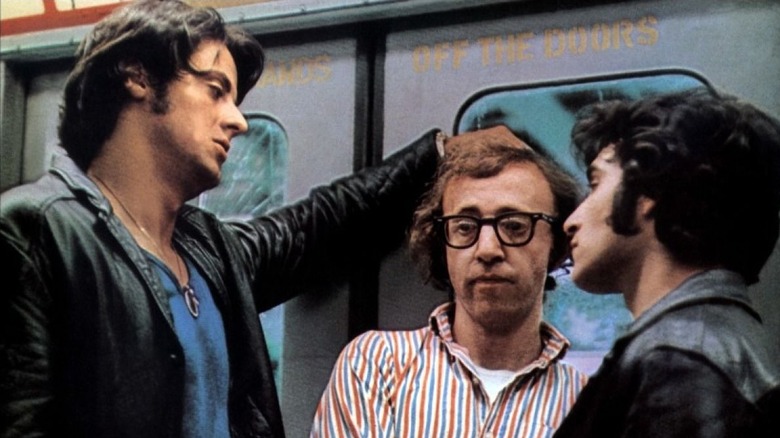 United Artists
On the surface, it might be hard to think of a more unlikely pairing than Sylvester Stallone and Woody Allen. While the former represents larger-than-life Hollywood action blockbusters at their most macho, the latter represents the kind of neurotic intellectualism and bourgeois comedy that typifies a certain kind of small-scale arthouse cinema.
But the duo did meet early in Stallone's career, when Allen was already an established star and Stallone was on the rise. Stallone has a role as a menacing figure on a subway in Allen's 1971 comedy "Bananas." This was far from the only tough-guy-type role Stallone played at the time, as he had similar minor appearances in "Pigeons" (1970), "MASH" (1970), and "The Prisoner of Second Avenue" (1975).
In fact, the actor himself told ABC News, it was partly Stallone's frustration with only being offered minor tough guy roles with little in the way of nuance or emotion that inspired him to come up with his own screenplay for a drama in which he could play the lead part. Thus, the actor wrote "Rocky" and managed to get it made with himself playing the main character. The rest is action movie history — no longer would Stallone have to take up bit parts, or do softcore adult films to make ends meet. 
Evangeline Lilly in Freddy vs. Jason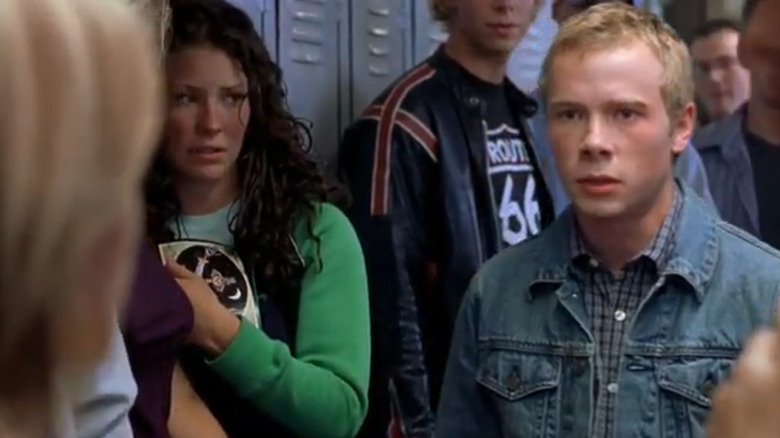 New Line Cinema
In 2003, the world of horror movies was rocked with the arrival of "Freddy vs. Jason," a film which promised to pit the two greatest icons of slasher cinema in a no-holds barred match to decide the true alpha villain. But while Freddy Krueger (Robert Englund) and Jason Voorhees (Ken Kirzinger) were battling each other for supremacy, a future superhero was watching the whole thing from the crowd.
"Freddy vs. Jason" follows a group of high school students who must deal with not just one but two titans of terror looking to kill any person who gets in their way. In one of the scenes at the heroes' school, actress Evangeline Lilly briefly appears in the background as one of the many unnamed students milling around the hallway near one of the main characters. 
Things changed quickly for Lilly after that. In 2004 she was cast in the central role of Kate Austen on "Lost," her status rising as the show became a massive hit. Other major parts soon followed, capped off with a recurring role in the Marvel Cinematic Universe as Hope van Dyne, aka The Wasp. Debuting in 2015's "Ant-Man," the character went on to play a key part in "Ant-Man and the Wasp" and "Avengers: Endgame." That's a much better career path than waiting around for the sequel to "Freddy vs. Jason."
Clint Eastwood was a frequent extra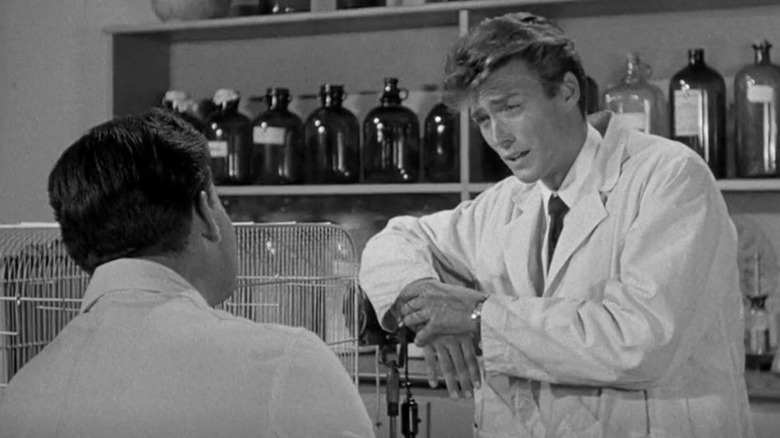 Universal Pictures
There are action movie stars, and then are action movie icons. The latter list is much more select, but one name which definitely belongs on it is Clint Eastwood. The man who would go on to become a highly decorated writer and director started out as one of the biggest movie stars in the history of Hollywood, and the face of modern cowboy cinema. 
Well, "started" may not quite be the right word. Before starring in such films as Sergio Leone's "Dollars Trilogy" and the "Dirty Harry" movies, Eastwood was a young hopeful looking for any kind of a break in the entertainment industry. 1955's "Revenge of the Creature" (a sequel to "Creature from the Black Lagoon") became the first movie to feature Eastwood in a minor role as a lab assistant. A bunch of similarly minor or uncredited roles followed throughout the mid-'50s in "Francis in the Navy," "Tarantula," and "Star in the Dust."
A string of supporting roles came next, until Eastwood landed the lead role on the CBS western series "Rawhide," which began to get the tall, tough-looking actor noticed in the entertainment industry. Finally, in 1964 came "A Fistful of Dollars," and Eastwood's onscreen persona as the ultimate gruff cowboy was cemented forever in the role of "The Man with No Name." 
Kristen Stewart in The Flintstones in Viva Rock Vegas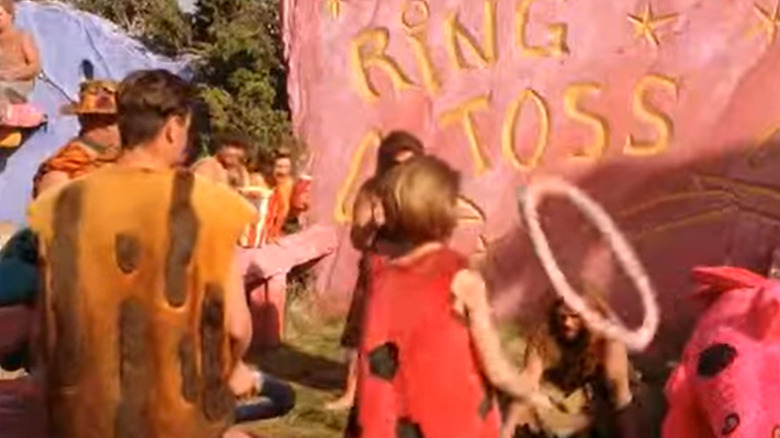 Hanna-Barbera Productions
Kristen Stewart has already had one of the most interesting careers among Hollywood's modern leading ladies. She first rose to prominence on the indie scene, and got noted for her acting ability at a young age in films like 2002's "Panic Room" and 2004's "Speak." Then came the blockbuster whirlwind of the "Twilight" franchise, turning her into an overnight star.
But before all the indie films and blockbuster roles, Stewart was a tween actor looking for any kind of work in the entertainment industry. This led to a small part in "The Thirteenth Year," a 1999 made-for-TV movie about a boy who's half-mermaid. Stewart can be seen in the background of one of the scenes as a student at the school waiting to use a water fountain. 
After that, Stewart made the jump a mainstream movie with the 2000 sequel "The Flintstones in Viva Rock Vegas." Unfortunately you can't see the tween actress' face, as she plays a girl doing a ring toss at a fair. The next year, Stewart got her first major role in the independent film "The Safety of Objects," officially starting her career as a member of the lead cast rather than a background jobber.  
Arnold Schwarzenegger in The Long Goodbye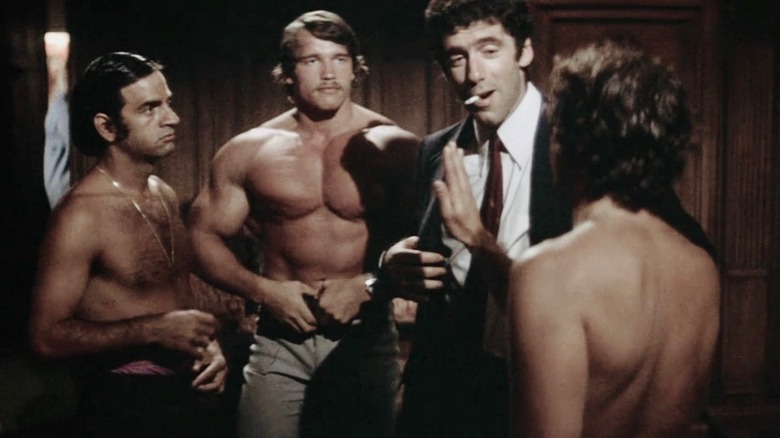 United Artists
Few actors have had a more difficult road to Hollywood superstardom than Arnold Schwarzenegger. The actor started out his career as a bodybuilder in his native land of Austria. By the time he reached America as a young adult, Schwarzenegger had established a reputation for his massive physique and his thick Austrian accent, both of which prevented him from playing regular roles in film or television.
Still, Schwarzenegger was determined to make a go of it in Hollywood, even if meant working his way up from the bottom of the acting ladder. Thanks to his looks, the budding thespian landed a lead role in 1970's "Hercules in New York." This cheaply produced B-movie failed to make an impact on audiences, and it didn't help that Schwarzenegger's shortcomings as an untrained and inexperienced actor are painfully on display.
Despite not making the impression he had hoped with "Hercules in New York," Schwarzenegger continued auditioning for roles. Then, in 1973, he was then cast in a minor part as a deaf-mute mob hitman in "The Long Goodbye." It was only three years later, thanks to a significant role in "Stay Hungry" that earned him the Golden Globe Award for New Star of the Year – Actor, that Schwarzenegger proved he has what it takes to be a serious actor instead of just playing the silent muscleman.
Bruce Willis in The Verdict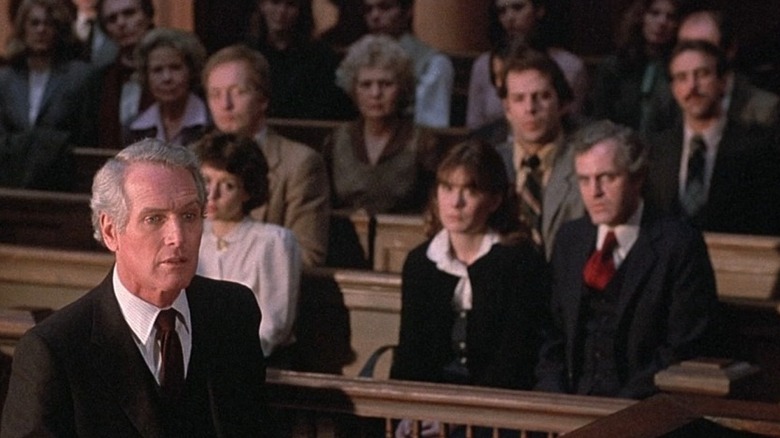 20th Century Studios
Today the world knows Bruce Willis as that rare Hollywood A-lister who's run the gamut in memorable horror, action, comedy, and drama films. Whether he's kicking butt as John McClane or looking after a kid who can see dead people, Willis has experienced enduring popularity as a movie star for an impressive number of decades. 
But what modern general audiences might not know is that Willis started out as a television actor first. From 1985 to '89, Willis played the lead on the series "Moonlighting" opposite Cybill Shepherd. The role helped boost Willis' profile in Hollywood as a comedic actor. He was able to leverage that popularity to land his first lead role in the 1987 film "Blind Date." The next year saw the release of the iconic "Die Hard," and Willis' career as an A-lister was set.
But before all the TV success and Hollywood stardom, a young Bruce Willis can be seen as an extra in the 1982 legal drama "The Verdict." Dealing with the struggles of an alcoholic lawyer, much of the movie takes place inside a courtroom, and Willis can be seen among the crowd of spectators as an observer in an uncredited appearance.   
Jean-Claude Van Damme in Breakin'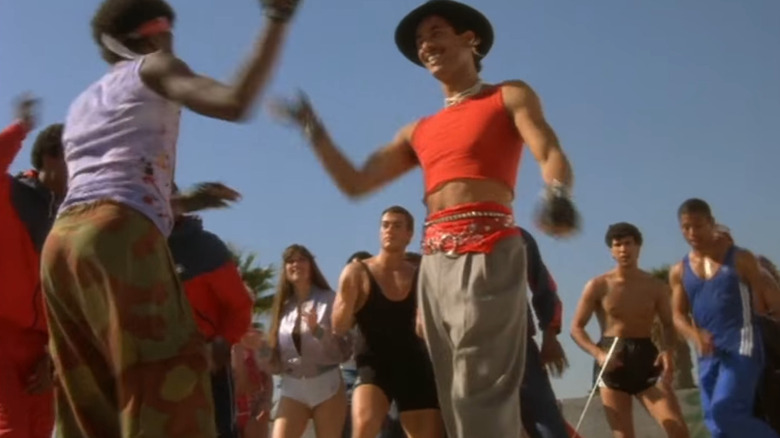 MGM/UA Entertainment Company
After decades of lanky cowboys wielding huge revolvers, action movie audiences were ready for something different. A new kind of action hero arose in the '80s and '90s — one with bulging biceps and six pack abs who was capable of mowing down armies of henchmen via punching and kicking. Jean-Claude Van Damme was one of the vanguards of the action hero movement of this era.
A real-life martial artist, "The Muscles from Brussels" (as Van Damme was popularly known) arrived in Hollywood in his early 20s in search of acting work. The pickings were slim at first, partly due to Van Damme's thick Belgian accent. But the young martial artist cut a striking figure on a physical level, and had the moves to back up his physique not just in fighting but also dancing. 
In fact, the action superstar's first Hollywood role was as a dancer. In 1984's "Breakin'," Van Damme can be seen grooving in the background during a dance demonstration sequence. The actor is so proud of his moves that he did another dance routine in "Kickboxer," the film that (along with 1988's "Bloodsport") put him on the action map. He even recreated the routine decades later in front of Conan O'Brien.   
Cuba Gooding Jr. in Coming to America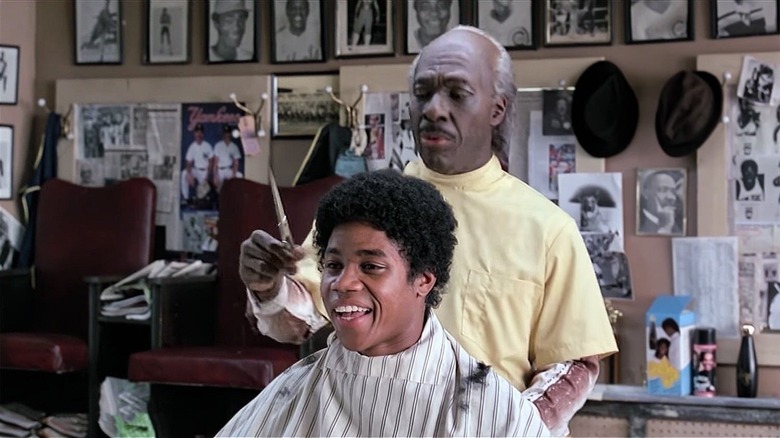 Paramount Pictures
The '80s were a difficult time for Black actors looking for mainstream roles in Hollywood films. A rare few performers like Denzel Washington and Eddie Murphy were able to get projects launched based on the strength of their popularity alone. Eddie Murphy's movies in particular featured many talented Black actors who went on to have distinguished careers in the industry, like Cuba Gooding Jr. 
In 1988's "Coming to America," Murphy plays Akeem, an African prince who comes to America looking for a wife. In his travels, Akeem comes across a number of memorable characters. In one scene at a hair salon, Cuba Gooding Jr. can be seen getting a haircut. At the time the actor had done a few roles on television, but this was his first appearance in a major Hollywood film. 
Gooding achieved his first major breakthrough three years later as the lead in "Boyz n the Hood," which became a surprise box-office and commercial hit, and won the actor plaudits from critics and general audiences alike. Then came other major roles in films like "A Few Good Men" and "Jerry Maguire," proving that Gooding was here to stay in Hollywood.  
Daniel Day-Lewis in Sunday Bloody Sunday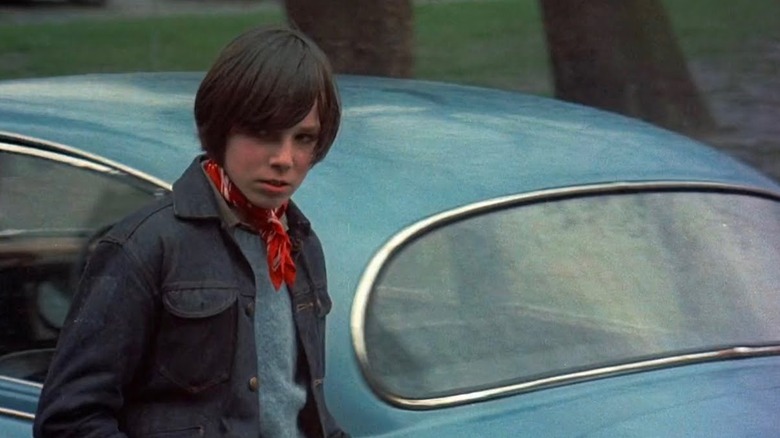 United Artists
If there is such a thing as acting royalty, Daniel Day-Lewis would definitely qualify for the lit. Often hailed as one of, if not the greatest actor of all time, Day-Lewis' mountain of awards stands as a testament to his artistic talent. In fact, Day-Lewis is considered an actor of such stature that it's hard to even imagine him working on anything but the most distinguished projects. 
But all that happened later in his career, after he showed Hollywood what he could do in films like "My Left Foot" and "In the Name of the Father." In his youth, Day-Lewis was much like any other actor, taking just about whatever work came his way. One such project was the 1971 British film "Sunday Bloody Sunday," in which a 14-year-old Day-Lewis makes a brief appearance. 
The future multi-Oscar winner plays the role of a young vandal who defaces a set of parked cars. The role didn't require much in the way of a grueling acting process, and Day-Lewis' memory of the part is merely a feeling of satisfaction for getting paid to vandalize cars. "'Sunday, Bloody Sunday' played no part in [my desire to become an actor]," Day-Lewis stated in a 1988 CBC interview. "That was just wrecking cars, you know. Got an extra pound for that."
Megan Fox in Bad Boys II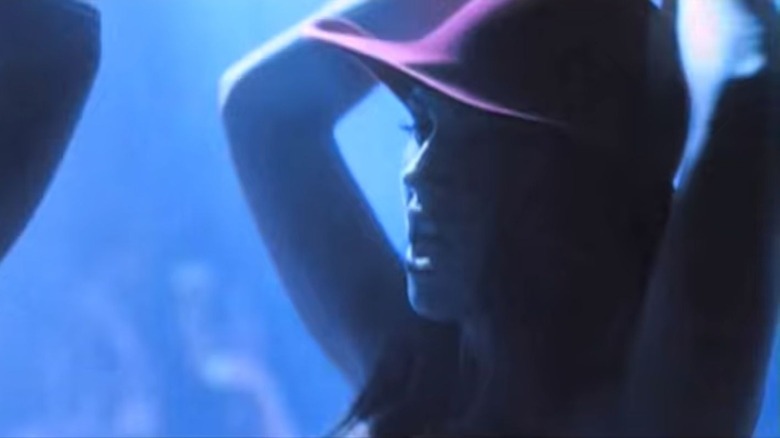 Sony Pictures Releasing
When director Michael Bay's live-action "Transformers" movie arrived in 2007, audiences worldwide were thrilled by the cutting edge special effects that brought the Autobots and Decepticons to life. But amidst all the CGI, another storm of publicity was brewing around the film's young starlet Megan Fox. She became a media sensation overnight, to such an extent that several entertainment sites announced "A Day Without Megan Fox" to give audiences a rest from constant reports on the actress (via Entertainment Weekly).  
But while "Transformers" was her big break, Fox had been working steadily in film and television for years before the blockbuster film put her on the map. The actress first started getting traction with a number of roles on hit shows like "Two and a Half Men" and "What I Like About You." Then came the 2003 Michael Bay hit "Bad Boys II," in which Fox had a minor role as a dancer when she herself was a minor. In 2009, Fox recalled the experience of shooting this sexualized scene at age 15 during an interview with Jimmy Kimmel. Over a decade later, the clip would resurface on Twitter and kickstart a conversation about the film industry's mistreatment of young women (per The Washington Post).
Heath Ledger in Clowning Around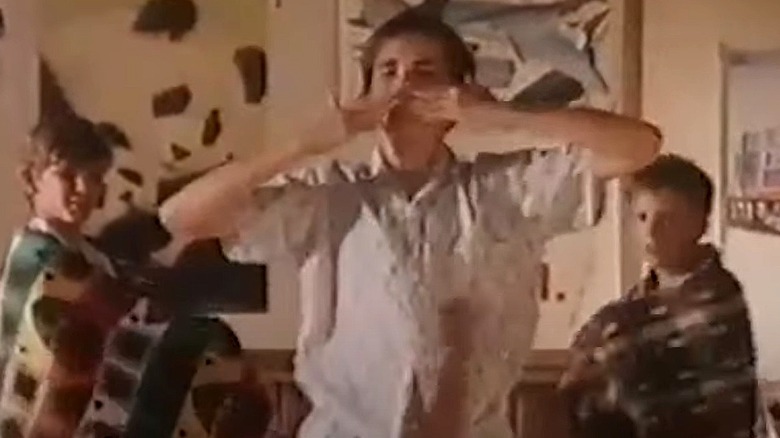 Australian Broadcasting Corporation
In 2008, Heath Ledger won an Oscar for Best Supporting Actor for his mesmerizing turn as the psychopathic Joker in director Christopher Nolan's "The Dark Knight." Unfortunately, the triumph of the moment was bittersweet, as Ledger had died shortly after completing work on the film.
In the months and years following his death, many rumors grew that Ledger had done such an intense deep dive into the mind of the Joker that the mental toll the role took on him had played a direct role in his death. This urban legend has been debunked many times (via Us Magazine). But there's no doubt the role of a clown had a special significance in the late actor's life, since he got his start as an actor in a movie about clowns as well. 
As a fresh-faced teenager, Ledger made his acting debut in the 1992 film "Clowning Around," which tells the story of Simon, a kid who dreams of becoming a proper clown one day. The young Ledger can be briefly seen along with a crowd of other boys standing next to Simon with a makeshift cape draped around his shoulders. 
Jackie Chan in Fist of Fury and Enter the Dragon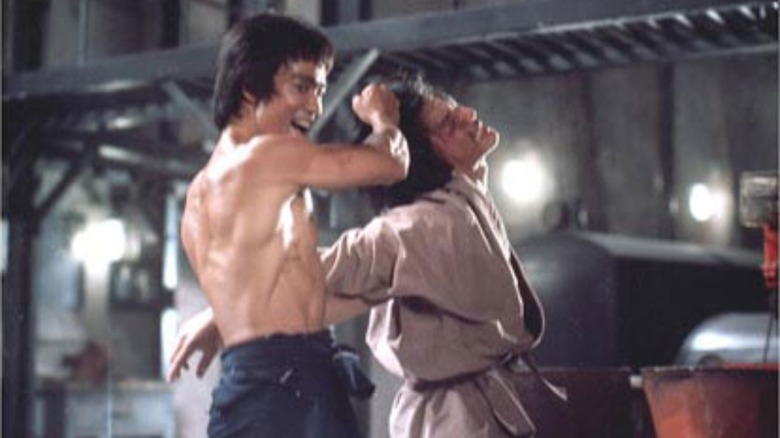 Warner Bros.
Jackie Chan has made a name for himself as one of the greatest action stars of all time. Chan's blend of comedy and action puts him in a class of his own within the genre, and his penchant for doing his own stunts make his films all the more impressive in the modern CGI-heavy blockbuster landscape. 
But Chan's popularity also has a lot to do with the groundwork laid before him by another action movie icon, Bruce Lee. So great was Lee's impact on the martial arts genre that every actor aspiring to break into martial arts movies felt compelled to measure up to Lee's stature in the genre. Not only did Chan prove he could follow in Lee's footsteps without copying him, but Chan also appeared in Lee's films as a minor character before making it big on his own.
Before becoming a leading actor, Chan had already made a name for himself as a talented stuntman in Hong Kong cinema. In this capacity, Chan appears as a henchman who gets disposed by Bruce Lee in both 1972's "Fist of Fury" and 1973's "Enter the Dragon." Chan has spoken appreciatively of how considerate Lee was about the safety of his stuntmen during filming, and he even inquired about Chan's health after accidentally hitting him too hard during a fight scene (per The Hollywood Reporter).  
Anya Taylor-Joy in Vampire Academy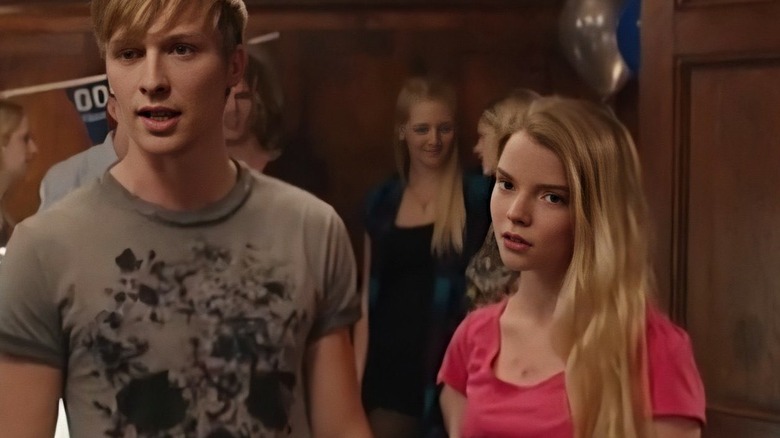 The Weinstein Company
In 2015, Anya Taylor-Joy burst onto the indie scene with a star-making lead role in Robert Eggers' "The Witch." From there, the actress' star continued to climb rapidly with a string of well-received roles in "Split," "Thoroughbreds," and "Emma," before being launched into mainstream pop culture consciousness with Netflix's chess drama series "The Queen's Gambit."
Beginning early on in her career, Taylor-Joy garnered a reputation for being a serious actress who takes on dark and disturbed roles in dark and disturbing films. But the actress got her start in the world of acting in a very different capacity. The first role Taylor-Joy ever landed was as a "Feeder Girl" in the 2014 fantasy comedy horror "Vampire Academy." The actress shows up in a brief scene waiting patiently to have her neck drained of blood by a bunch of hot vampires. 
Unfortunately, the scene got cut from the movie before its release (though it can be seen in the movie's deleted scenes reel, via YouTube user ShadowOfLove), and Taylor-Joy's screen debut got delayed. Of course, considering how "Vampire Academy" has faded into obscurity while "The Witch" has gone down as an instant horror classic, maybe it's a good thing she got to mark her debut with the latter film.