The Character Everyone Forgets Cuba Gooding Jr. Played In Coming To America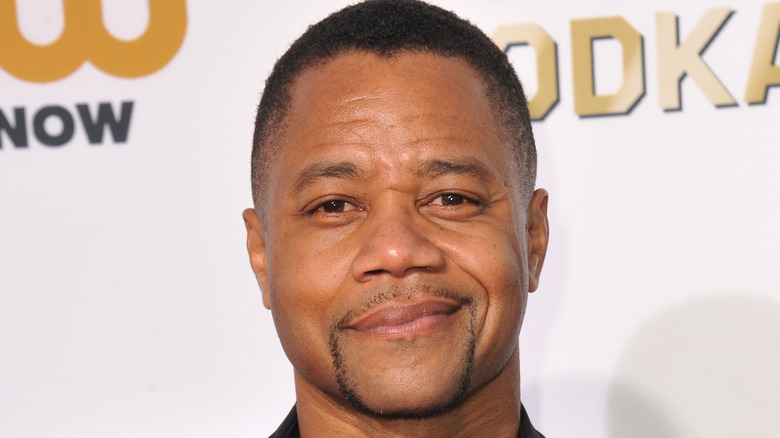 Featureflash Photo Agency/Shutterstock
Though Cuba Gooding Jr.'s career has been the very definition of "rollercoaster ride," even a brief look at the actor's credits on IMDb is enough to confirm he's seen more peaks than valleys over his three decades and counting tenure in Hollywood. Of the peaks, Gooding Jr. scored a stretch of hits during the 1990s that would be the envy of any actor, breaking out in "Boyz n the Hood," netting an Oscar for his scene-stealing work in "Jerry Maguire," and going toe-to-toe with Jack Nicholson in "As Good As It Gets," while he's also gained recognition for more recent work like "The People v. O. J. Simpson: American Crime Story." Regarding the lows, well, critical misfires from the early aughts like "Snow Dogs" and "Boat Trip" are obvious candidates.
Highs and lows aside, Gooding Jr. continues to be as well-liked and in-demand as any actor in showbiz. Still, with so many film and television projects to his credit, it's easy to forget even some of the more high-profile projects the actor appeared in before his breakout. That includes a brief cameo in one of the best comedies of the 1980s, the Eddie Murphy classic "Coming to America." Here's who Gooding Jr. played in the film.
Gooding Jr. got his hair done in one of Coming to America's funniest scenes
"Coming to America" is, of course, renowned for featuring stars Eddie Murphy and Arsenio Hall in numerous roles thanks to a little make-up effects magic from the legendary Rick Baker (via IMDb), and it just so happens that Cuba Gooding Jr. made his big screen debut in a scene featuring Murphy and Hall working behind loads of make-up.
Said scene comes early in the action and finds Murphy's recently-transplanted Prince Akeem hoping to blend in to New York with a new haircut. He seeks a fresh cut in the cozy confines of the local Queens haunt, My-T-Sharp Barbershop, where the in-house scissor-man and his pals (mostly played by Murphy and Hall) are jabbing back and forth about the greatest boxers of all time. As they hilariously ramble, a young man sits in the chair quietly getting his own hair cut, and yes, that is a baby-faced Gooding Jr.
As for Gooding Jr.'s role, he doesn't have a single line of dialogue in "Coming to America" and was credited only as "Boy Getting Haircut." But as far as first big screen gigs go, you could obviously do a lot worse than getting a paycheck for sitting quietly and listening to comic legends like Murphy and Hall toss side-splitting one-liners off like confetti. The joy of bearing witness to this was surely not lost on Gooding Jr., who's clearly eating up every single moment.