Martin Scorsese Shares A Tearjerking Tribute To 'Irreplaceable Artist' Paul Sorvino
It's been a rough year for the countless fans of the 1990 classic "Goodfellas," as they have had to say goodbye to cast members Ray Liotta and Paul Sorvino. Liotta died in May at the age of 67, and Sorvino followed just three months later, passing away at age 83 in late July. While Liotta played "Goodfellas" lead Henry Hill, numerous supporting actors shined in Martin Scorsese's picture, including Sorvino. 
The late actor portrayed mob boss Paul Cicero, an unforgettable performance that comes equipped with its own set of signature lines describing Sorvino's one-of-a-kind leader. "Paulie may have moved slow, but it was only because Paulie didn't have to move for anybody," Liotta's Hill says of his boss early on in the mobster pic. Unfortunately, Liotta and Sorvino are among the legends of the mafia cinematic canon who have left us in 2022, including "The Godfather" star James Caan and Tony Sirico, better known as Paulie "Walnuts" Gualtieri on "The Sopranos" and even had a small role in "Goodfellas" himself.
Plenty of loving remembrances poured out in the wake of Sorvino's passing, including a touching tribute from his daughter, actress Mira Sorvino. Now, Scorsese has joined the chorus of voices celebrating the artist's life, and he revealed what it was like working with Sorvino on their signature film.
Scorsese was a fan of Sorvino long before Goodfellas
In a statement addressing Paul Sorvino's passing (via The Wrap), Martin Scorsese praised his work not only in "Goodfellas" but also in Warren Beatty's "Reds" and Carl Reiner's "Oh God," the latter of which convinced the director to cast his in his mob epic. Of Sorvino's turn in "Reds," Scorsese noted, "He found a wonderfully expressive voice for his character, and quite a unique body language: urgent, fervent, and impassioned," and continued, "Watch it back to back with his performance as the televangelist in 'Oh God' by Carl Reiner." At first glance, it seems like a broad comic turn, a send-up of Jimmy Swaggart and Jerry Falwell. But when you really pay attention, you see that Paul is inhabiting the character completely."
Scorsese also expressed how difficult it was losing Sorvino only months after Liotta. "I was really saddened to hear the news of his passing, in part because it was so close to losing Ray Liotta. But it was also the loss of a great, generous soul and an irreplaceable artist," the director said. His statement also provided some great behind-the-scenes details from "Goodfellas," specifically about working with Sorvino. The director revealed he actually learned an important lesson about working with actors from Sorvino, despite having already directed Robert De Niro to the 1981 best actor Oscar win for "Raging Bull" (via YouTube).
Scorsese learned to watch performances better from Sorvino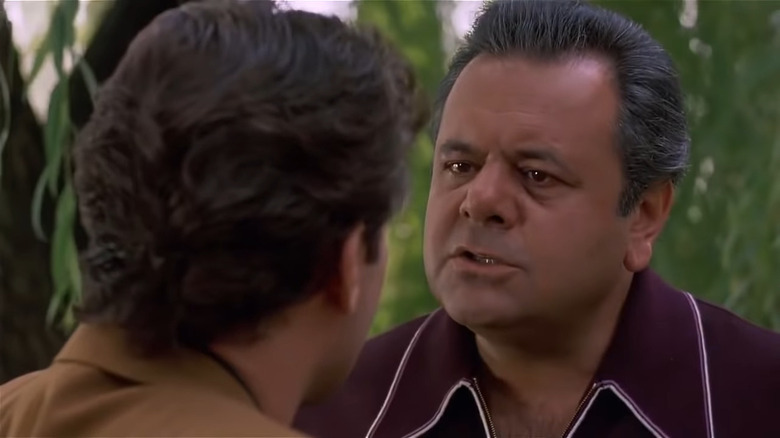 Warner Bros.
Martin Scorsese said he loved working with Paul Sorvino on "Goodfellas" but admitted it wasn't always an easy time without going into detail on those difficulties, recalling, "Paul was tireless — he never settled for less than a deeper emotional truth. I learned a lot from him." He further recalled working with Sorvino one day during production, and after multiple takes, the Paulie Cicero actor requested Scorsese move from behind the camera and pay closer attention to his performance. "On about the third or fourth take, he said to me, 'Come away from the monitor and watch me.' That's what I did, and I could see it right away. It was a great lesson," he wrote.
The admiration was mutual between director and actor, too. When Scorsese received the AFI Lifetime Achievement Award in 2010, Sorvino honored his director, referring to him as one of the greatest actor-friendly filmmakers around and saying he'd brought the best work out — perhaps the finest work — of his career from the veteran actor (via AFI). "I thank you from the bottom of my heart," he told the director 20 years after they collaborated on "Goodfellas."