The R-Rated Movie You Likely Forgot Starred Vanessa Hudgens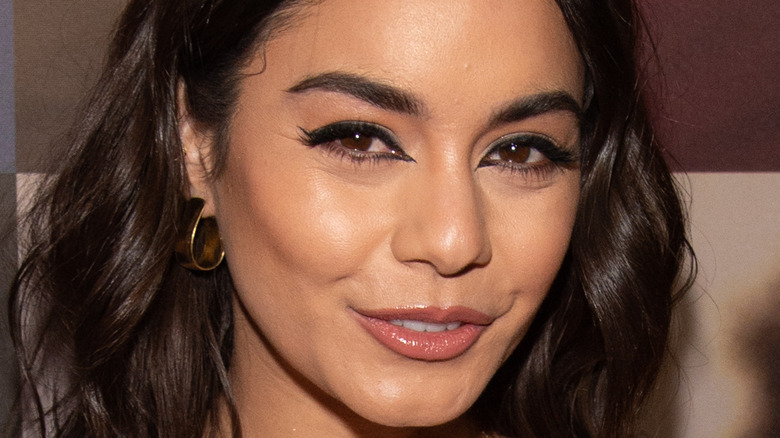 Ron Adar/Shutterstock
Vanessa Hudgens is most certainly a recognizable name in Hollywood. The multi-talented actress and singer began working in the industry in 2002 with a guest spot on the television series "Still Standing" (via IMDb). Not long after, she would continue to get guest spots on "Robbery Homicide Division" and "The Brothers Garcia." During that time, Hudgens would get supporting roles in two movies as well with "Thirteen" and also "Thunderbirds," where she acted alongside Bill Paxton, Anthony Edwards, and Ben Kingsley. However, fans who had their childhood in the early 2000s will likely recognize Hudgens first and foremost from her role in 2006's "High School Musical" as Gabriella Montez alongside Zac Efron's Troy Bolton. The Disney TV movie shot both Hudgens and Efron to massive fame seemingly overnight.
Over the mid-2000s, not only would two "High School Musical" sequels follow in 2007 and 2008, but Hudgens also participated in many commercials referencing the series along with recording her own music with songs like "Say Ok," which still has over 180 million views on YouTube. Beginning in the 2010s, Hudgens seemingly started to gravitate more toward films. She would take on a fantasy drama in 2011's "Beastly" alongside Alex Pettyfer, while also appearing as Blondie in Zack Snyder's "Sucker Punch" in the same year.
However, not long after starring alongside Dwayne 'The Rock' Johnson and Josh Hutcherson in 2012's "Journey 2: The Mysterious Island," the blockbuster sequel to "Journey to the Center of the Earth," Hudgens also starred in an R-rated A24 movie that you likely forgot about.
Vanessa Hudgens is Candy in Spring Breakers
"Spring Breakers" is a 2013 crime drama that follows four college women, Faith (Selena Gomez), Brit (Ashley Benson), Cotty (Rachel Corine), and Candy (Vanessa Hudgens), as they struggle to find money to head out on a wild spring break. Out of desperation and high on cocaine, Candy, Cotty, and Brit decide to rob a restaurant to get the funds. They then head out to St. Petersburg, Florida, for their trip only to get arrested for possession of narcotics. A man who calls himself Alien (James Franco) bails them out suspiciously, ultimately getting all of the girls except Faith involved in drug dealing and a minor gang war. By the end of the film, after Cotty goes home due to injuries suffered in a drive-by shooting, Candy and Brit kill Alien's rival gang after he is shot and killed. They then drive home as well in Alien's Lamborghini.
It was certainly a very serious and dramatic turn for Hudgens after her previous roles in PG to PG-13 blockbusters and her time as a Disney star. Since that time, not only has Hudgens appeared in "Gigi" on Broadway, but she recently had a supporting role alongside Will Smith and Martin Lawrence in "Bad Boys for Life" and Andrew Garfield in "tick, tick...BOOM!" It looks as though more musical theater might be in store for Hudgens as well, as she told Jimmy Fallon on The Tonight Show during press for "tick, tick...BOOM!" that musical theater is what makes her happiest.