Why The Ginny & Georgia Cast Looks So Familiar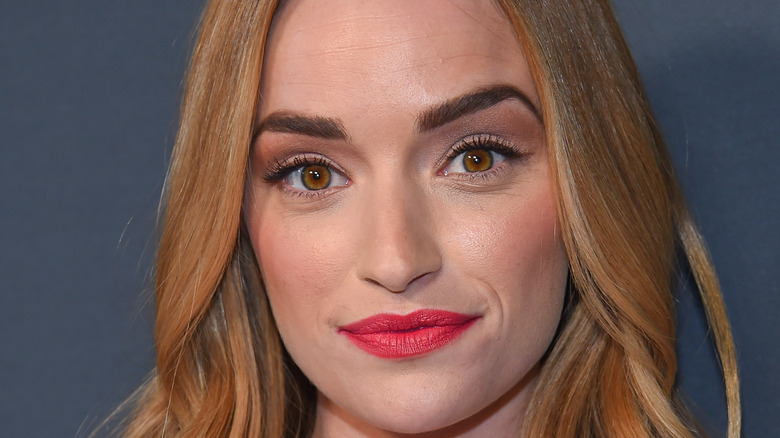 DFree/Shutterstock
"Ginny & Georgia" is gearing up to return for another season on Netflix. The comedy-drama series follows Georgia Miller (Brianne Howey) and her children Ginny (Antonia Gentry) and Austin (Diesel La Torraca) who move to Massachusetts after a family death. What they don't expect is to make friends, find a community, and in the real world, completely infuriate Taylor Swift. As Georgia makes a name for herself in their new home, her children deal with their own issues of integrating into new schools and friend groups. The end of "Ginny & Georgia" Season 1 brings about some interesting revelations and gives viewers a whole new outlook on fireworks.
The cast previously appeared on all types of television, from popular comedies like "Schitt's Creek" to teen dramas like "Degrassi: The Next Generation." Some "Ginny & Georgia" actors even starred in the same series at the same time. From guest roles on hit dramas to main roles in big-name streaming shows, the cast of "Ginny & Georgia" has done it all. Here's why this Netflix series might give you a sense of déjà vu. 
Brianne Howey as Georgia Miller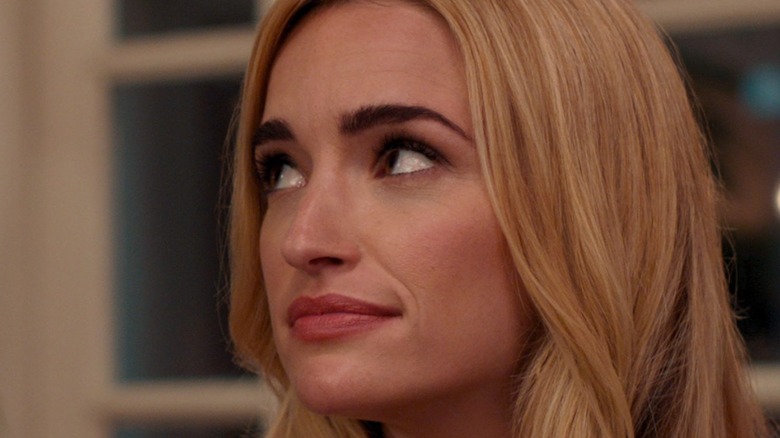 Netflix
Georgia Miller is the heart of the show, and we're not saying that just because her name is in the title. She suggests new fundraisers to support the schools, convinces restaurant owners to make their children healthy lunches, and does whatever she can to help around the office of Mayor Paul Randolph (Scott Porter). Is she always the greatest role model? Probably not, but she cares fiercely for her kids and wants to give them a better, more stable life than she's had. Georgia's positives definitely outweigh her negatives.    
Before she was spiking shakes as Georgia, Howey appeared in shows like "NCIS," "Hart of Dixie," and "90210" in the first half of the 2010s. One of her first multi-episode roles was as Whitney Taylor in the 2014 ABC Family series "Twisted." That show follows teen Danny (Avan Jogia) after he is released from a juvenile detention center where he served time for his involvement with the death of his aunt. Howey's character on "Twisted" and Georgia have one thing in common — they're both free spirits. 
Viewers might recall the 2016 Fox show "The Exorcist," meant as a sequel to the original 1973 film. Howey played Kat Rance, a young woman whose parents believe she's being possessed. More recently, audiences may recognize the actress from her recurring roles as Reagan in The CW's "Batwoman" or as Alison B. in Hulu's "Dollface."
Antonia Gentry as Ginny Miller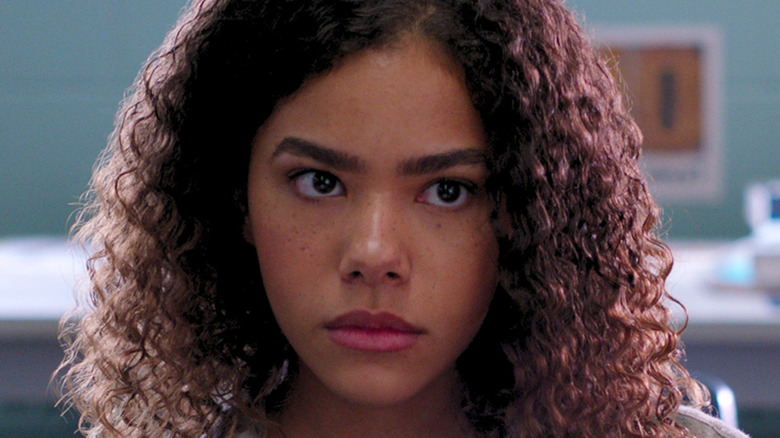 Netflix
The Ginny of "Ginny & Georgia" is a firecracker. She's willing to stand up for what she believes in and call out problematic teachers but is still trying to find her place in this world. Throughout Season 1, she experiences all the drama that comes with moving to a new town, making new friends, and dating. 
Antonia Gentry started with shorts before booking her first full-length project. She was in the TV short "PSA Don't Text and Drive Pay Attention" in 2014 and the short "Lone Wolf Mason" in 2015. It's funny that her first acting credit is a texting and driving public service announcement, because her first full-length feature is about a team of driver's education instructors. "Driver's Ed: Tales from the Street" was released in 2015 and used the crowdfunding platform Indiegogo to finance itself. 
But if you recognize Gentry, it's probably from her next film. She played Jasmine in the 2018 Netflix film "Candy Jar." The film received positive reviews, with Decider telling readers to stream it and Junkee calling it "one of the loveliest teen films you're not watching" in their 2020 review. The film was the first of multiple Netflix projects for Gentry. Just a year later she had a guest role in "Raising Dion," a superhero series from the streamer, before landing her starring role in "Ginny & Georgia." 
Diesel La Torraca as Austin Miller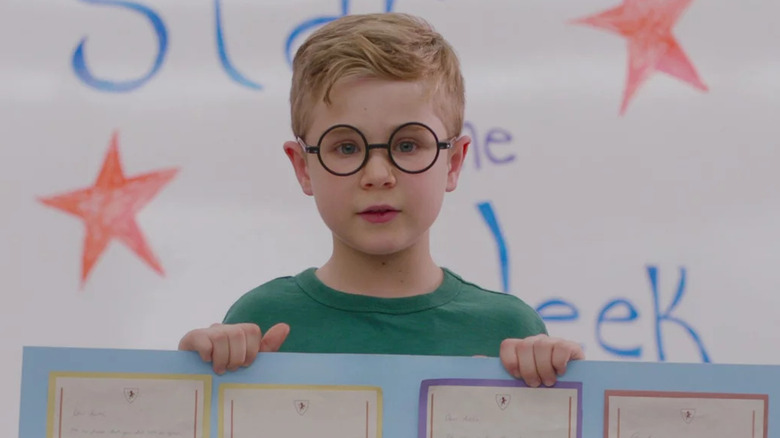 Netflix
Diesel La Torraca is only 10, and his "Georgia & Ginny" co-stars aren't even the biggest celebrities he's worked with. Before playing the "Harry Potter"-loving Austin Miller, La Torraca was in a film with Lupita Nyong'o – the 2019 zombie film "Little Monsters," which is also his first acting credit. In the Hulu horror-comedy, La Torraca portrayed Felix, lover of all things Darth Vader. As it turns out, he came to "Ginny & Georgia" with some experience playing a character who's fixated on a sci-fi-fantasy franchise.
La Torraca went on to have a three-episode arc in the Australian drama "Lambs of God," and guest roles in "The Secrets She Keeps" and "Black Comedy" in 2020 before he landed the role American viewers are most likely to recognize him from. He was in five episodes of NBC's "La Brea" in 2021. The sci-fi series follows the aftermath of people getting sucked into a sinkhole that opens in the La Brea Tar Pits and entering a time in the past they aren't equipped to deal with.
The young actor's work with Netflix started that same year with "Ginny and & Georgia." He also contributed the voice of Chazzie the zookeeper's son in the animated film "Back to the Outback." Other voice actors in the film include Isla Fisher and Keith Urban. 
Jennifer Robertson as Ellen Baker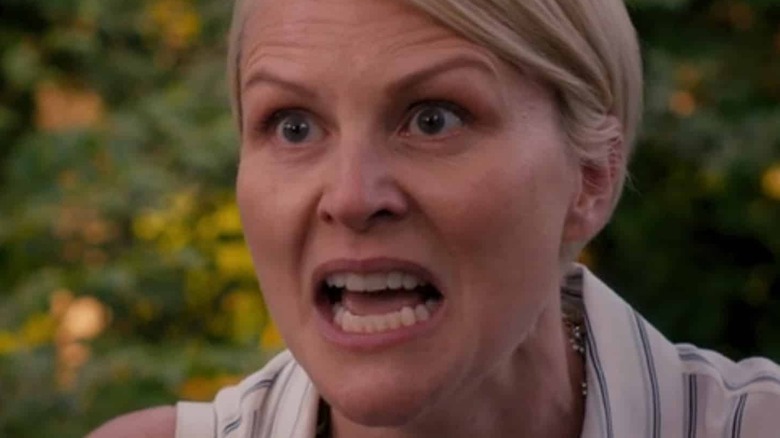 Netflix
As the worried and anxious mother trying to plan the perfect school sleepovers on "Ginny & Georgia," Jennifer Robertson makes audiences laugh with her one-liners and opinions. Creating laughs is nothing new for the actress. She's been in a variety of comedy series including "The ½ Hour News Hour" and "Comedy Inc." She also wrote for the latter show as well as "This Hour Has 22 Minutes" and a few other projects. 
Robertson, like many cast members of the Netflix series, previously appeared on the Canadian series "Degrassi: The Next Generation." She played Eli's (Munro Chambers) "cool" mom Cece, who lets his girlfriend stay the night and is chill with whatever her son does. Cece is incredibly different from Ellen, from the way they discipline their children to how they style their hair. 
But many viewers likely recognize Robertson from her performance on the smash comedy hit "Schitt's Creek," a job she landed shortly after applying at Petco. She played Jocelyn Schitt throughout the show's six-season run from 2015 to 2020. Her character's husband Roland (Chris Elliott) runs the town while Jocelyn teaches at the local high school. Not only is she educating the youth; she's the leader of the women's choir, director of the town musical, and even runs for town council. By the end of the series, Jocelyn has had a baby and she and Moira (Catherine O'Hara) are almost-friends, against all odds and Moira's protests. 
Sara Waisglass as Max Baker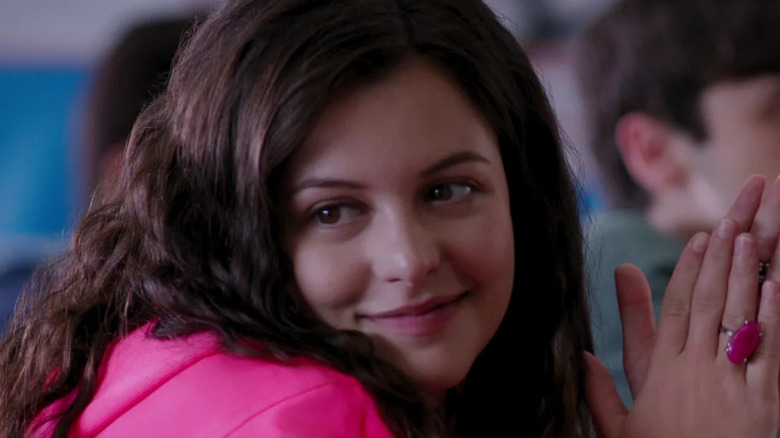 Netflix
Ellen's daughter Maxine, who goes by Max, provides LGBT representation in addition to an element of delightful chaos to "Georgia & Ginny." Played by Sara Waisglass, the character is a wild ride from the start of the first episode to the end of Season 1. Max has a lot in common with Frankie Hollingsworth, Waisglass' character in "Degrassi: The Next Generation" and "Degrassi: Next Class." Waisglass portrayed the character from 2013 to 2017 in more than 80 episodes. If you recognize her face, it's almost certainly because of "Degrassi."
Waisglass is also on Hulu-BYUtv's "Holly Hobbie," where she has appeared in 16 episodes since 2018. Movie-wise, the young actress appeared alongside Alan Van Sprang and John Rhys-Davies in the 2020 movie "Tainted" as an aspiring musician who talks to the wrong person at the wrong time. Her other film credits include "Mary Goes Round," "Holiday Joy" which also features Jennifer Robertson, "Afterwards," and "An Assortment of Christmas Tales in No Particular Order." 
"Degrassi: Next Class" and "Ginny & Georgia" aren't the only Netflix projects Waisglass has worked on. She played Madison St. Claire in the supernatural drama series "October Faction," which followed a monster-hunting couple and their twins.
Felix Mallard as Marcus Baker
Felix Mallard is no novice to working in television. His first project was a role on the insanely long-running Australian soap opera "Neighbours," which means he got his start on the exact same show that introduced the world to Harley Quinn actress Margot Robbie. Mallard is credited as playing the character Ben Kirk from 2014 to 2019 in more than 850 episodes in the main series, and he also appeared in spin-offs including "Xanthe Hearts Ben," "Summer Stories," and "Pipe Up," which all aired in 2016. 
His next series was the sitcom "Happy Together," marking his entrance into American television. In "Happy Together," Mallad played popstar Cooper James, a very different role than the brooding Marcus audiences see in "Ginny & Georgia." Mallard continued with American television, landing a recurring role in the second season of NBC's "Zoey's Extraordinary Playlist." 
Around this time, the up-and-coming actor began working with Netflix on adaptations, which might be where "Ginny & Georgia" viewers recognize him from. He appeared in "All the Bright Places," a Netflix film based on the book of the same name, alongside Elle Fanning and Justice Smith. He also played a recurring character on "Locke & Key," adapted from the comic book series of the same name.
Scott Porter as Mayor Paul Randolph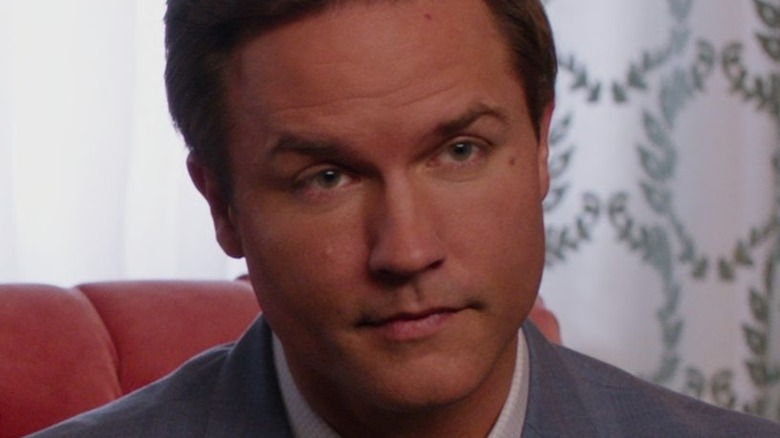 Netflix
Before he was mayor of a town in Massachusetts, Scott Porter was playing football in Texas. He is well-known for his role as Jason Street on "Friday Night Lights," the iconic NBC sports drama where the actor also met his wife. Jason Street wasn't his first role, of course. Soap opera fans might recognize him from "As the World Turns," where he played Casey Hughes for four episodes. He also appeared in a few movies during downtime from "Friday Night Lights," including 2010's "Dear John," 2008's "Speed Racer," 2009's "The Good Guy," and 2008's "Prom Night."
Then the actor dipped his toes back into television, taking on the roles of Blake Calamar in "The Good Wife" and George Tucker in "Hart of Dixie." He also utilized his voice talents, taking on roles in video games like "Madden NFL 18: Longshot" and "Minecraft: Story Mode – A Telltale Games Series," while contributing parts to superhero animation and video games for both Marvel and DC.
"Ginny & Georgia" viewers who haven't seen "Friday Night Lights" might recognize Porter from his more recent roles in "Lucifer" as Carol Corbett and Ralph Vlasin in "Why Women Kill." The last three seasons of "Lucifer" were released by Netflix after the streamer revived the erstwhile Fox series, which means "Ginny & Georgia" is technically the actor's second project with the streaming service.
Raymond Ablack as Joe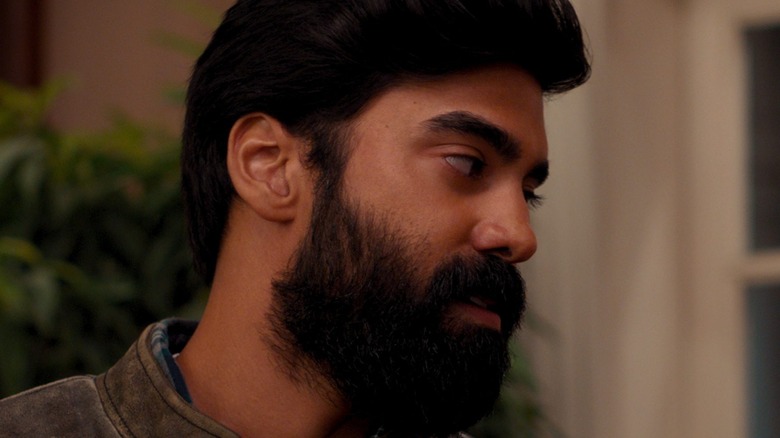 Netflix
Joe, owner of the Blue Farm Café, may be someone from Georgia's past, but it seems like he also wants to be a part of her future. Though he might not always follow labor laws, he cares about his town and the people in it, helping the school lunch program and donating his time to the community.
Like some of his castmates, Raymond Ablack was part of the cast of "Degrassi: Next Generation" from 2007 to 2011. He played Sav Bhandari, a guitar-playing student who struggled to balance his family's expectations and his personal life. He later reprised the role in "Degrassi: Next Class." While many may know him from his times at Degrassi Community School, the actor has been in several other popular series of the last decade that have a bit more edge than the popular teen drama. 
He had a guest role in the Canadian sci-fi show "Orphan Black" as Raj Singh, an IT employee with the police department. His also played DEA Agent Stoddard on "Narcos," another Netflix endeavor. The actor was also on other American television shows, like "Shadowhunters," while continuing to work in Canadian media. He joined "Burden of Truth" in its second season as lawyer Sunil Doshi and took on a reuccuring role in the medical drama "Nurses." Hallmark fans may recognize the actor from "Boyfriends of Christmas Past," a holiday film from 2021.
Katie Douglas as Abby
The second letter of "MANG," Abby has her own struggles to deal with. From her parents' divorce to her body image, she goes through the wringer on "Ginny & Georgia." Abby isn't the only character Katie Douglas has portrayed that contends with stressful scenarios. In the film "Level 16," Douglas plays Vivien, a girl trapped in a boarding school that sells its students to the highest bidder. Audiences may recognize the film even if they haven't seen it, because clips from "Level 16" garner hundreds of thousands of views on TikTok.
"Ginny & Georgia" is not the only television series Douglas has on her resume. She's been in the police comedy-drama "Pretty Hard Cases," the sci-fi Western "Defiance," the almost-medical drama "Mary Kills People," the action-adventure "Spooksville," and the family show "Raising Expectations." Even at this relatively early point in her career, according to our estimate, she's been in pretty much all of the genres.
Douglas has appeared in plenty of films too. She played Megan in the 2018 romance "Every Day" — a story about a spirit that wakes up in a new body every day. Lifetime movie fans may recognize her as Lisa McVey in "Believe Me: The Abduction of Lisa McVey" and Addie Decker in "Thicker Than Water."
Chelsea Clark as Norah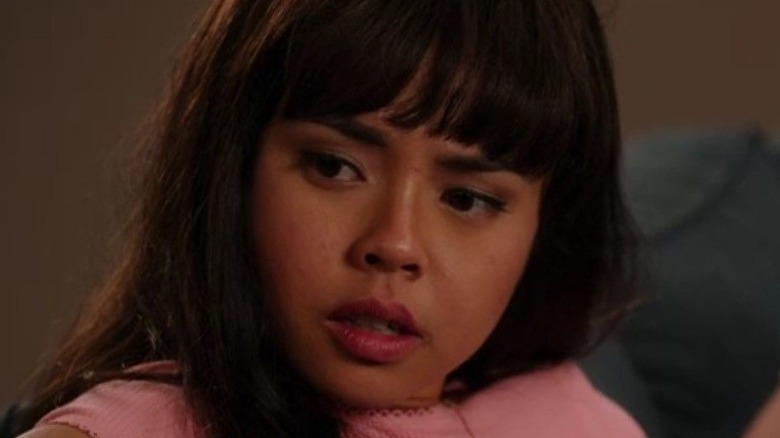 Netflix
"Ginny & Georgia" reunites former "Degrassi: Next Class" cast members Chelsea Clark and Sara Waisglass, which means viewers who recognize one may very well also recognize the other. Clark, who once told MUD Magazine that everyone should unapologetically be themselves, started her career with a guest part in "Rookie Blue" in 2010. Soon after, Clark booked her first recurring television role on the Canadian sitcom "Life with Boys." While she was only on the series for three episodes, her next series role was a bit longer. She played a character who also happened to be named Chelsea for five episodes on "The Stanley Dynamic" in 2015. 
Her next project, "Degrassi: Next Class" is her biggest claim to fame apart from "Ginny & Georgia." On "Degrassi," Clark played Esme Song, a smart girl dealt a pretty difficult hand in life. Her inner demons come back to her haunt towards the end of the series, and with the show's cancellation, fans never got to see how her story ended. In between "Degrassi" and "Ginny & Georgia," Clark had a guest role on the Hallmark show "Good Witch" and has been in a handful of episodes of the Canadian web series "Tokens" as a character named Roxy. 
Nathan Mitchell as Zion Miller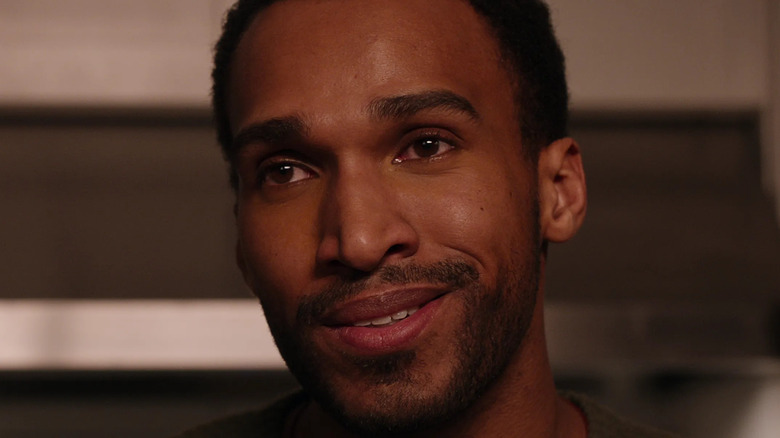 Netflix
Ginny's father Zion is a photographer traveling the world, and Nathan Mitchell has a track record of playing adventurous characters. Audiences may recognize him from his recurring role in The CW supernatural crime drama "iZombie." In fact, he has done a lot of work with The CW, including guest roles in the dark fantasy "Supernatural," the superhero series "Arrow," and the sci-fi series "The Tomorrow People." The actor has also had guest roles on "Flashpoint" and the Canadian series "Motive."
Arguably, Mitchell's most popular series is "The Boys," which started airing on Amazon Prime in 2019. On "The Boys," Mitchell portrays Earving, aka Black Noir, a member of the Seven who doesn't speak and whose face is usually hidden by a mask that covers his entire head. If "Ginny & Goergia" viewers find themselves trying to remember where they've seen Mitchell before, ironically, it's might very well not be from his most famous role.  
Mitchell's resume also boasts quite a few television films. He worked on USA Network's "Psych: The Movie," Lifetime's "The Real MVP: The Wanda Durant Story," and "Newlywed and Dead."
Dan Beirne as Nick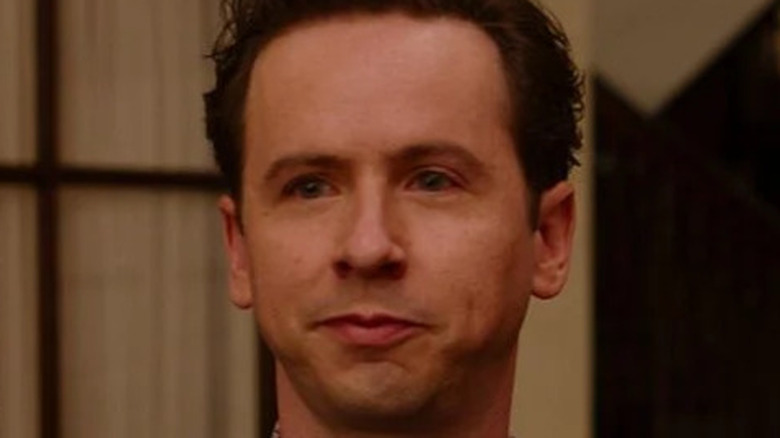 Netflix
Nick works in the mayor's office, helping Paul with his campaign and giving Georgia a hard time once she starts working there. However, he and Georgia become fast friends. Will he catch on to what's bubbling underneath the surface? Will the guy he's dating, who happens to be a private investigator looking into Georgia, clue him in?
Dan Beirne has had guest roles on some of television's most popular shows, from "Flashpoint" to "The Handmaid's Tale" to "The Bold Type." He's also had recurring roles in shows like "Fargo" as Sonny Greer and "Workin' Moms" as Gary. The latter is a Canadian sitcom that's had widespread success, with Decider saying it "handles its often-serious subject matter with a refreshing sense of humor and empathy." If audiences don't recognize him from "Workin' Moms," they may remember his roles as Tommy in Season 2 of TBS's "The Guest Book," or the 2019 thriller film "American Hangman," or the 2017 drama "Great Great Great," or the 2017 Slamdance Film Festival entry "Suck It Up."
Sabrina Grdevich as Cynthia Fuller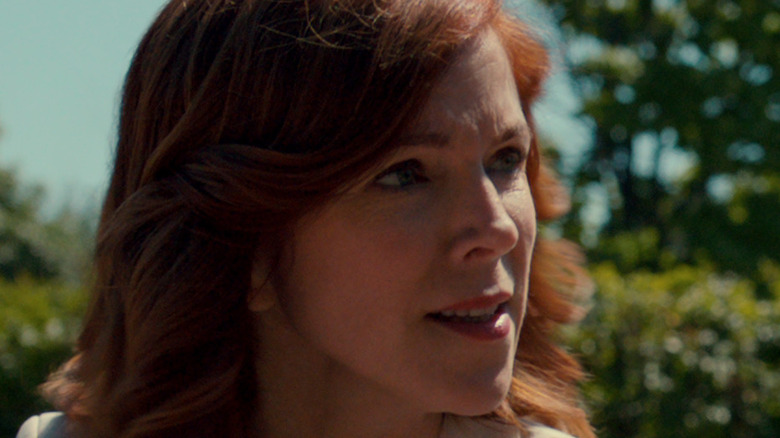 Netflix
Cynthia Fuller is the common enemy of almost everyone on "Ginny & Georgia." She circumvents rules to suit her own needs and insists on everything being her way. When Georgia's suggestions are welcomed by the town, Cynthia decides to run for mayor against Paul and creates a huge divide in the community. The apple doesn't fall far from the tree, either; her son Zach (Connor Laidman) is also a bit of a bully to Austin.
Sabrina Grdevich's movie career began with the television film "Little Criminals" in 1995. Since then, she's been in over a dozen other movies, from "Ultimate Deception" in 1999 to "When Love Is Not Enough: The Lois Wilson Story" in 2010. She's also had guest spots in shows like "Flashpoint," "Saving Hope," and "Designated Survivor." That isn't to say she hasn't had recurring or main roles. She was a main voice actor on "Sailor Moon" from 1995 through 2000 and has had recurring roles in the anthology series "Slasher."
While she's appeared in widely seen movies including Steven Spielberg's "A.I. Artificial Intelligence" and "Secretary" starring Maggie Gyllenhaal and James Spader, the role "Ginny & Georgia" viewers may know her from is Ms. Murray in Netflix's "Kim's Convenience." The two shows share a streaming platform and Ms. Murray and Cynthia have similarly irksome personalities.