The Ending Of Ginny & Georgia Season 1 Explained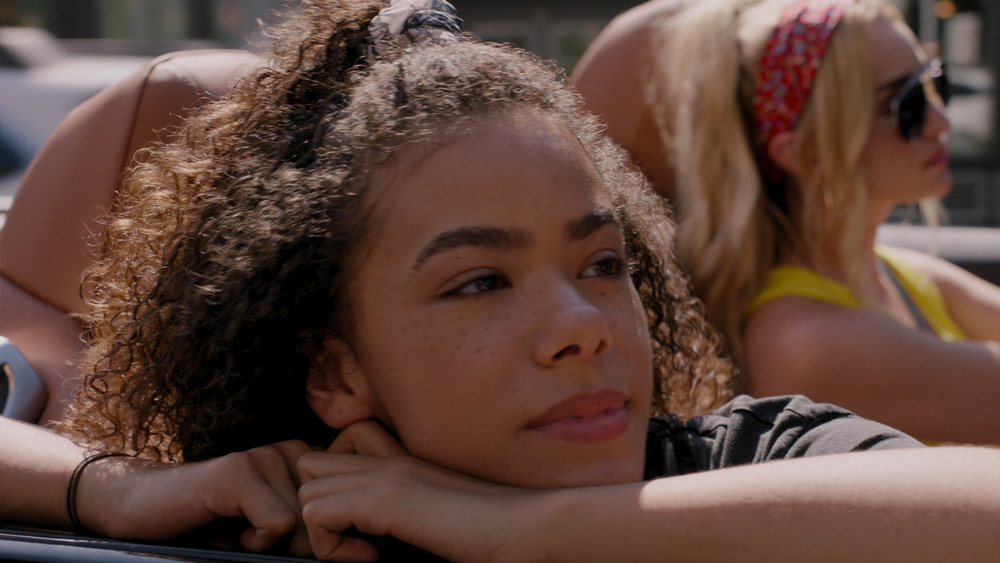 Netflix
It wouldn't be "Gilmore Girls" without murder — wait, no, that's not right. But if you ever wished that "Gilmore Girls" had the excitement and intrigue of a little murder, look no further than Netflix's series "Ginny & Georgia."
"Ginny & Georgia" compares itself to "Gilmore Girls" within its very trailer. There's the hip, young mom and her teenage daughter, a small town where everyone knows everyone, and even a father who isn't in the picture, but when he is, the picture gets awfully steamy. Yet, "Ginny & Georgia" isn't interested so much in the heartwarming, coziness of Stars Hollow, but rather in the messiness that only extra soap can fix.
The series begins with 30-year-old mom Georgia (Brianne Howey) moving to Wellsbury, Massachusetts with her daughter, Ginny (Antonia Gentry), and younger son, Austin (Diesel La Torraca), after the death of her husband and their stepfather, Kenny (Darryl Scheelar). They're starting new — as they often do — but Georgia has more than a few things in her past that she's running from. As Ginny integrates into her new school, she gets caught in a love triangle that only serves to strain her friendships. Georgia, meanwhile, goes to work on getting the mayor re-elected, but must also deal with an investigation into Kenny's death. What starts as a close relationship between Ginny and Georgia — albeit, one still full of teenage eye-rolling — gets strained, and ends the season in tatters.
There's a lot going on in this first season, as each 50+ minute episode makes full use of its runtime with Ginny's teenage drama and Georgia's shady side. For all that happened, Netflix clearly set it up for a Season 2. Let's break it down.
Ginny leaves the love triangle behind when her family problems become too much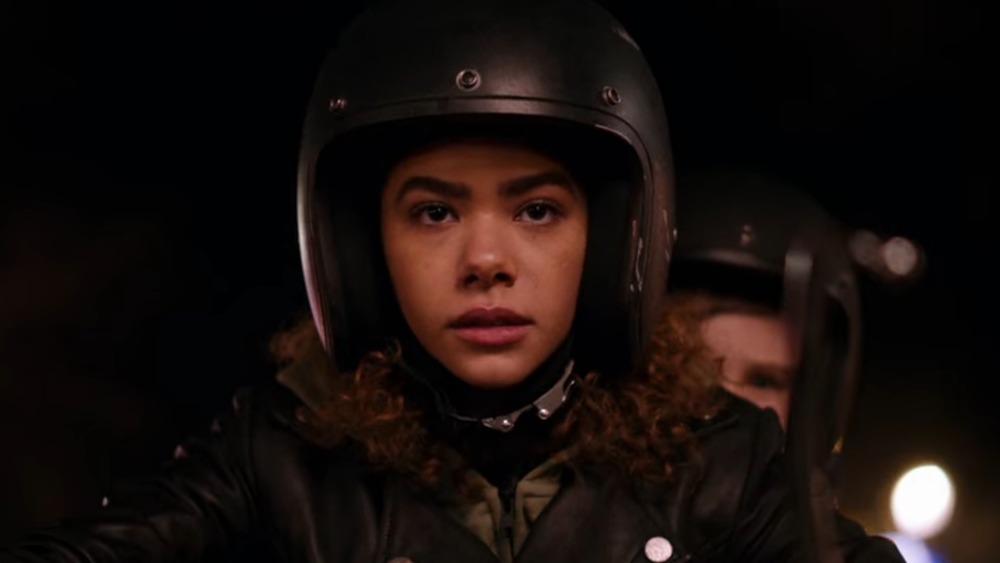 Netflix
Ginny has sex on the mind. Sure, plenty of teenagers do, but she's keenly aware of the fact that she's the same age her mother was when she got pregnant. Up until now, Ginny hasn't kissed anyone, but once she gets to Wellsbury, that all changes — quickly. She spends much of the season exploring sex and love with her best friend's twin brother, bad boy Marcus (Felix Mallard), and her official boyfriend, sweet guy Hunter (Mason Temple). By the end, she finally admits to herself that she wants to be with Marcus, but their secret relationship comes out and creates a rift between her, her friends, and the two boys. On top of this, she struggles with her own identity, whether it's her mixed race background or in comparing herself to her mother.
In the end, however, her problems are bigger than the classic teenage drama she's been dealing with. She knows her mother has been hiding things from her — it's been driving them apart — but the last straw comes when she discovers that Georgia killed Kenny. At this point, nothing in Ginny's life is right: She's isolated from everyone she knows and cares about. So what does she do? Well, she takes a page from her mom's book and runs away. She and her brother, Austin, drive away on Georgia's motorcycle. Ginny started the series saying she was nothing like her mother, but ends it in a similar place to where her mom was at 16 — on her own, with a kid to look after.
In voiceover, Ginny says, "Knowing some things about a person, you can't come back from that," making it pretty obvious that she has no intention of keeping Georgia in her life. She didn't say where she's going, but the motorcycle could be a clue that she's headed to her dad, Zion ("The Boys" star Nathan Mitchell), who made a brief visit a few episodes back on his own bike.
Georgia thinks she has it all, but is in for a surprise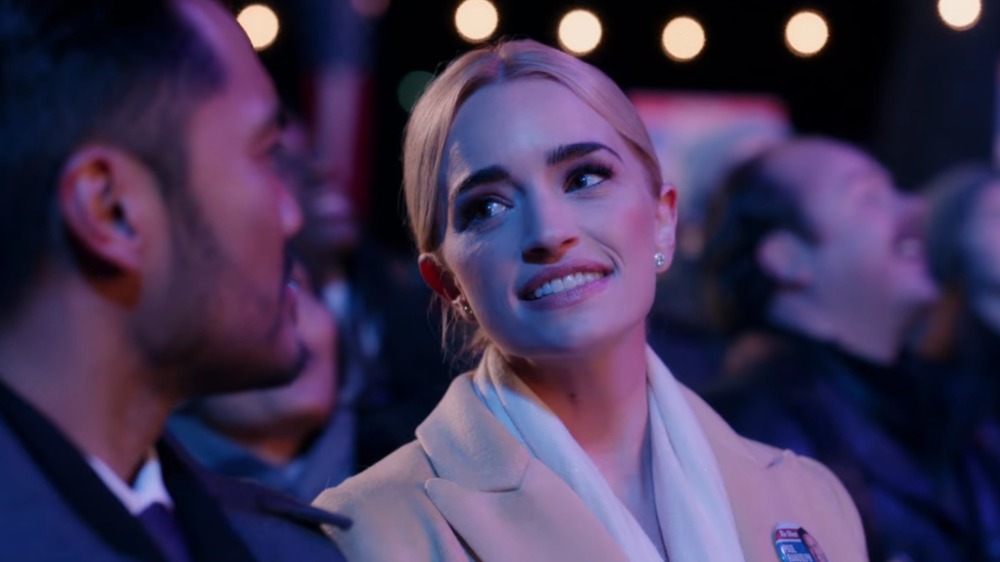 Netflix
Georgia may present herself as a sweet peach, but she's got some serious bruises. She's the type to casually shoot a rabbit in her yard (silencer attached) while snuggled up in a bathrobe. Ginny may be the star of her own teen drama, but Georgia brings the soap. Flashbacks show her troubled past: She was abused as a child and has been on her own since she was 14. However, she's also done armed robbery, run an underground poker ring, framed Austin's dad for embezzlement, and killed multiple people in an effort to survive and protect herself and her children. She murdered Kenny because he sexually abused Ginny.
Georgia would like to leave all that in the past, though, so she goes to work on getting Mayor Paul Randolph (Scott Porter) re-elected. As they fall for each other, Ginny's father, Zion, comes back to add some extra drama. He and Georgia almost make an effort to have a life together, but Zion feels he can't give her what she wants and leaves. So instead, she accepts Paul's proposal.
In Georgia's final moments of the season, she's confident that she has everything she wants. Paul wins the election and she believes she thwarted the Kenny murder investigation by cremating his body. Sure, she worries Ginny is turning into her, but she's also certain that she gave her daughter a better starting point. "[Ginny] will never have to know the fear and desperation that I did," Georgia says in voiceover as Ginny and Austin flee in fear and desperation.
What's in store for Season 2?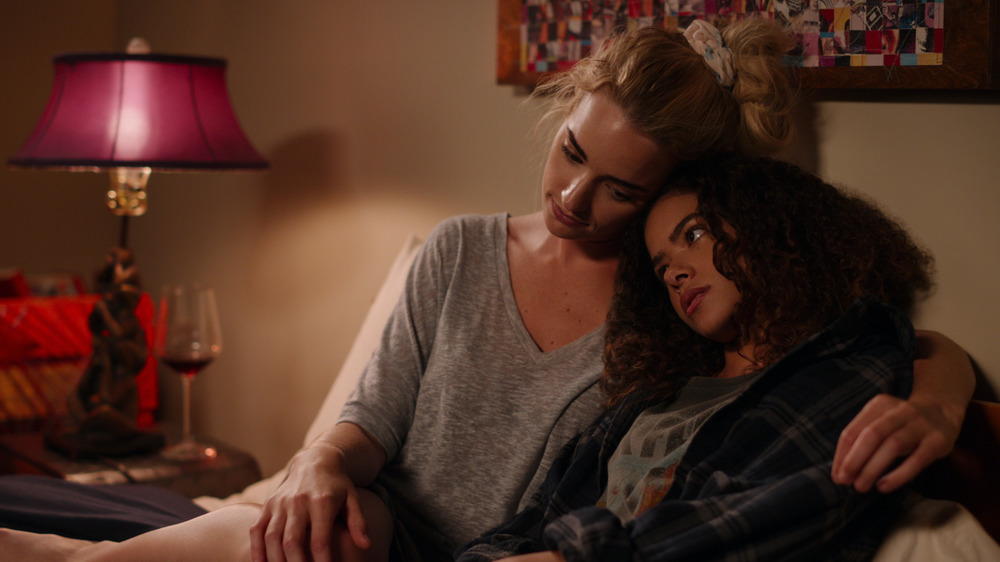 Netflix
While Georgia has momentarily foiled the Kenny murder investigation, the last scenes of the season finale show the investigator learning about another ex-husband of hers — missing person Anthony Greene. A flashback in a previous episode shows Georgia killing him, which seems to be the mysterious bad thing she did in New Orleans. In the second season, Georgia will have to contend with the discovery that her children are gone while being investigated for a different murder.
Ginny, meanwhile, will have to learn how to fend for herself, and possibly get into some criminally bad situations like her mother did. Perhaps she'll link up with her dad, though he's sure to have his own brand of drama. In any case, the revelation about her mother being a murderer is only going to add further difficulty to her uncertain sense of self. However, she should keep an eye on her brother, who has his own violent streak.