Why Adelaide From Us Looks So Familiar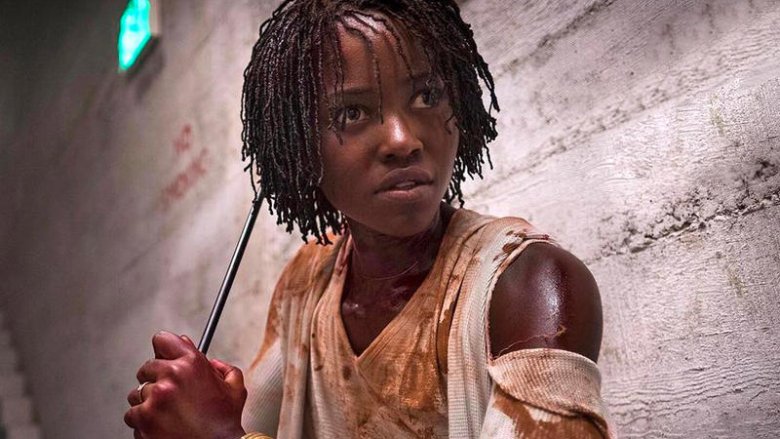 It's been two years since Jordan Peele (one half of the iconic sketch comedy duo Key and Peele) shocked the world by writing, directing, and producing not just one of the best movies of 2017, but one of the best horror films ever produced. He even became the first African American to win an Oscar for Best Original Screenplay in the process. The meteoric success of Get Out — Peele's directorial debut, no less — immediately had fans clamoring to know what the director would do for his second.
Needless to say, those fans were more than a little bit excited when Peele announced he'd follow Get Out with another bit of genre fiction. Peele unleashed the first trailer for Us — about a family encountering their own evil doppelgängers while on vacation — back in December, to the delight of horror fans the world over. If you've yet to experience that trailer, well, you need to get on that, because Us looks all kinds of creepy in all the right ways. If you have seen that trailer, then you probably noticed a familiar face or two in the mix — particularly the family's matriarch, Adelaide. In case you didn't know, her name is Lupita Nyong'o, and there's good reason she looks so familiar.  
She got a taste of the sweet life with Shuga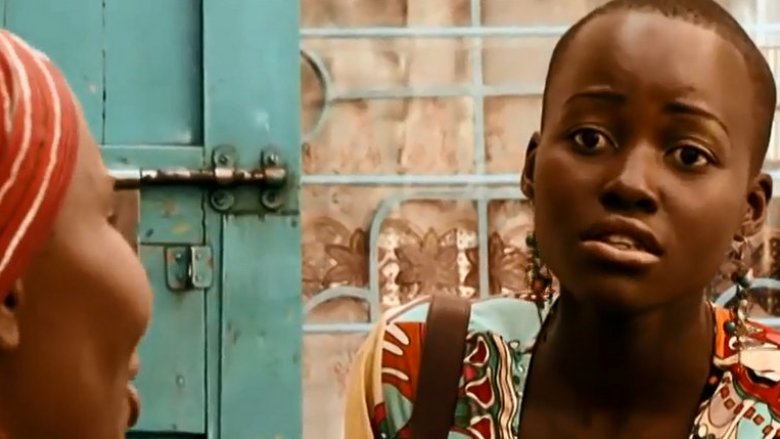 Like so many big screen successes before her, Lupita Nyong'o actually got her start in television — specifically, music television. Though Nyong'o had already appeared in a couple of short films (2008's "East River" is well worth a look, by the way) she got her first real break when she was cast as Ayira in the Kenya-set, politically aware MTV drama series Shuga.
Never heard of it? You are not alone. The show — a daring and explicit (if sometimes soapy) series designed to promote safe sex, awareness, and tolerance — has yet to air on MTV Stateside. It has, however, become a modest hit and a minor source of controversy overseas, particularly in its native country. While Nyong'o is no longer appearing in the series, she was the star of the show in Shuga's first season. That exposure helped propel the young actor into the Hollywood limelight, and into the role that made her an awards season darling.  
She took home an Oscar for 12 Years' work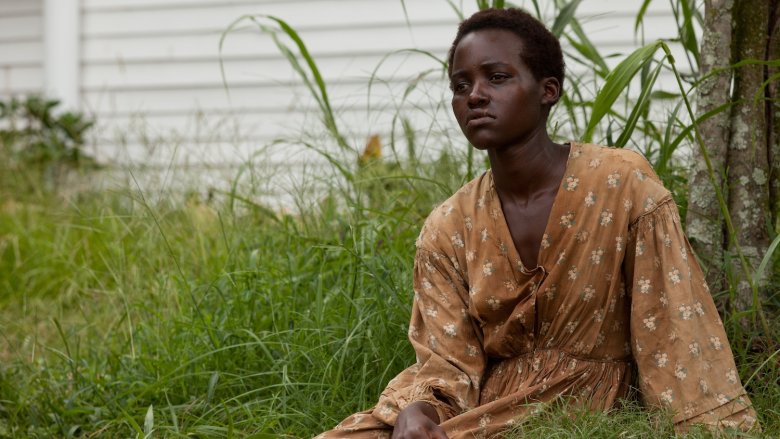 A couple of years would pass before Nyong'o's breakthrough role finally presented itself, and proved a career-altering experience for the actor. If you've seen her heartrending performance in 2013's 12 Years A Slave, then you know why. Though Nyong'o is a supporting player in the film — based on the harrowing, real-life tale of Solomon Northrup, a free black man kidnapped and sold into slavery — her work as the tragically tormented slave Patsey is as transcendent as it is heartbreaking. 
The role found the young Nyong'o not only holding her own with big screen heavyweights like Michael Fassbender, Chiwetel Ejiofor, and Sarah Paulson, but often stealing scenes from them every step of the way. Nyong'o's powerful work did not go unnoticed, with the actor earning raves from critics and audiences alike, and netting statues from virtually every major awards body. That includes taking home an Oscar for Best Supporting Actress at the 2014 Academy Awards; a particularly impressive honor for a feature film debut.
She was the face of Lancôme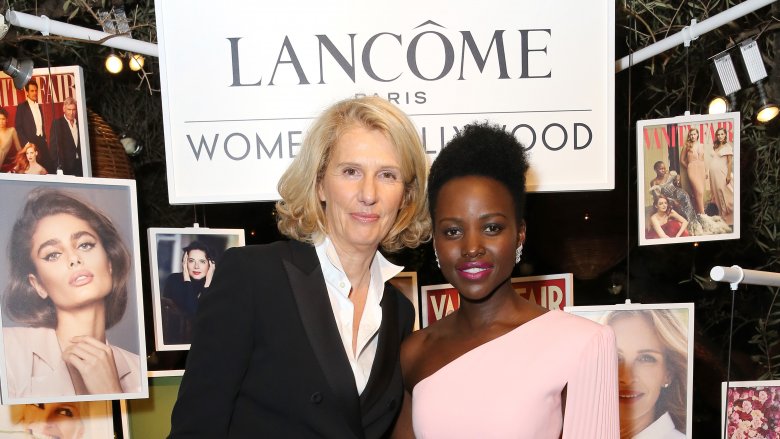 Getty Images
A first-timer taking home a statue on Hollywood's biggest night is the sort of achievement that is bound to open a few doors in the movie biz. Indeed, Nyong'o became one of the most in-demand stars in town almost overnight. Unlike most up-and-comers, Nyong'o was a bit more choosy in the wake of her triumph. In fact, one of her biggest roles after 12 Years A Slave wasn't in a movie at all, but in an ad campaign for iconic French luxury cosmetics and perfume company Lancôme. 
The Academy Award-winning actress signed on to be Lancôme's ambassadress in 2014, and spent the next couple of years gracing the cosmetics giant's commercials and print ads with her own luminous presence. That she did so opposite fellow award-winning beauties like Kate Winslet and Penélope Cruz — not to mention fellow rising star Lilly Collins — was proof that Nyong'o had, in fact, arrived.
She took Broadway by storm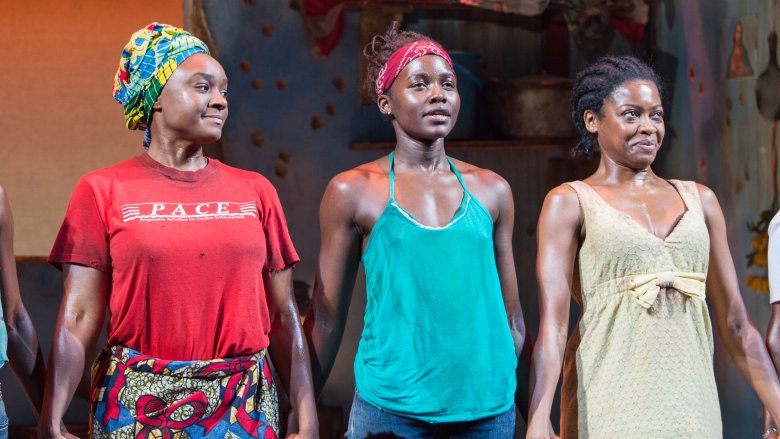 Getty Images
Unlike many actors, Lupita Nyong'o did not first discover her passion for performing in theater. She actually got her start in showbiz by serving as a production assistant on award-winning films like The Constant Gardener and The Namesake (the latter directed by Mira Nair, who would later cast Nyong'o in a key role for Queen of Katwe). As it happens, it was an encounter with Ralph Fiennes on The Constant Gardener that led Nyong'o to pursue a career as an actor. Nyong'o would go on to appear in the short film "East River" and Shuga before finally enrolling in the Yale School of Drama in 2009, earning raves for her work in several of the school's stage productions.
After breaking through with her Oscar winning turn in 12 Years a Slave, Nyong'o won more accolades when she took to the Broadway stage in 2015's production of Eclipsed. Set during the Second Liberian Civil War, the play found Nyong'o starring as an unnamed captive wife of a rebel officer. The play — written by The Walking Dead's Danai Gurira — made history by becoming the first to premiere on Broadway with an all-black, all-female cast and creative team. It also won critical raves for everyone involved, and netted Nyong'o a well deserved Tony nomination for Best Actress.
She flew Non-Stop with Neeson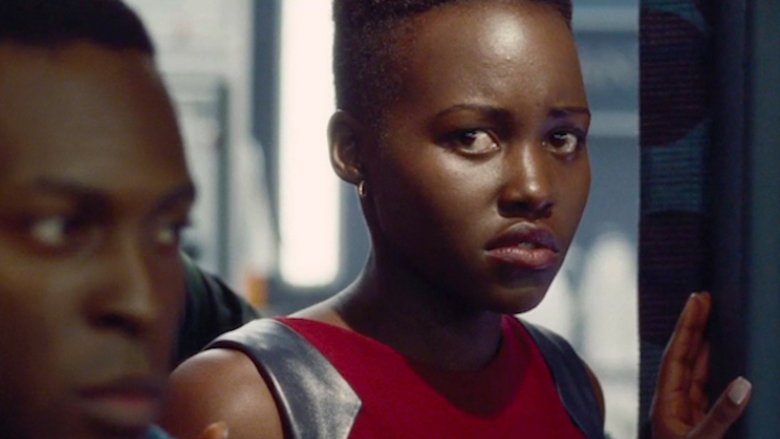 Unfortunately, Nyong'o's first big screen venture after 12 Years A Slave was less than memorable. Still, one could hardly blame the actor for signing on to appear in 2014's action thriller Non-Stop. The film did, after all, star the likes of Liam Neeson (in full-on tough guy mode), Julianne Moore, Scoot McNairy, and Corey Stoll. It was also being directed by Jaume Collet Serra, fresh off a couple of minor hits in genre creepers House of Wax and Orphan, not to mention Neeson's own actioner Unknown.
Please don't misunderstand that "less than memorable" description. As far as pulpy, action-packed, hijacking-at-30,000-feet thrillers go, you can do a lot worse than Non-Stop, and audiences didn't exactly ignore the film upon its release. But it's a bombastic, often baffling piece of work that makes little use of its talented cast. That includes Nyong'o, whose brief turn as a flight attendant in transit barely registers among all the action movie bluster.
The Maz Kanata effect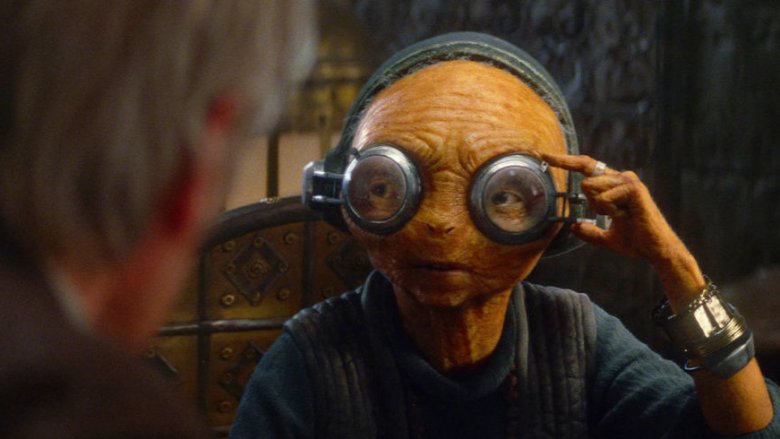 If Non-Stop proved a fun if unfortunate side step in Nyong'o's resume, her career got a light-speed boost when she traveled to a galaxy far, far away and joined the cast of a little sci-fi flick called Star Wars: The Force Awakens. For those of you wondering how you missed (or somehow overlooked) Nyong'o's appearance in The Force Awakens, we can assure you that you didn't. Whether you noticed her or not, Nyong'o played Han Solo's tough-as-nails former smuggler pal/current interstellar tavern owner Maz Kanata; you know, the little creature with the big eyes who sees something special in Rey.
That clearly CGI character doesn't really look anything like Lupita Nyong'o, but we can assure you that the performance is all her. Per J.J. Abrams, though motion capture was used to bring Kanata to life, Nyong'o actually played the role opposite her costars on set, and fine-tuned things via further post production mo-cap sessions (with a little extra coaching from mo-cap icon and Force Awakens co-star Andy Serkis). All that work helped make Maz Kanata one of the more intriguing new faces in the current Star Wars trilogy.
She mothered the Queen of Katwe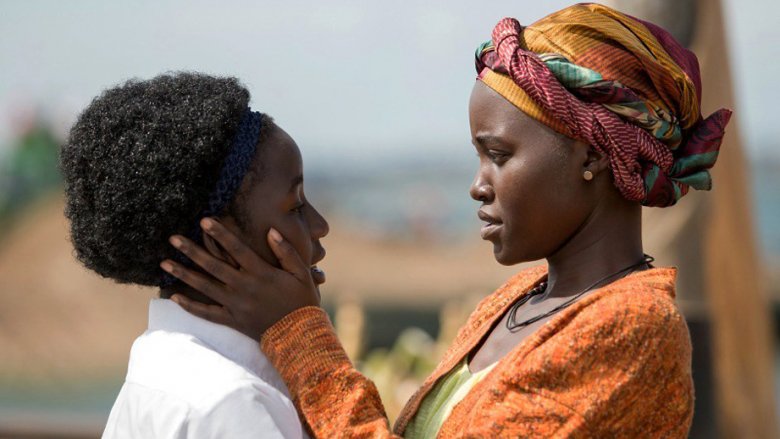 After finding underwhelming results with a minor role in Non-Stop and going mo-cap to join the popcorn-friendly Star Wars universe, Nyong'o found herself once again in the realm of prestige cinema with 2016's Ugandan-set biographical drama Queen of Katwe. Directed by Mira Nair — one of cinema's more criminally overlooked filmmakers — and based on an article from ESPN The Magazine, Queen of Katwe tells the uplifting story of a ten-year-old girl from a Ugandan slum whose life changes dramatically upon discovering the game of chess.
Yes, Queen of Katwe is every bit the heartwarming tear-jerker that synopsis makes it out to be, with Nair bolstering the underlying tensions throughout by presenting the tale in the construct of a sports drama. Nyong'o is at the center of much of that drama, helping to soften the film's inherent Disney-fied edges with a warm, grounded performance as young girl's loving mother. Though Queen of Katwe scored big with critics, the film never quite found the audience it deserved. Now's as good a time as any to right that wrong, and discover this gorgeous little movie.
She broke it down with Jay-Z and James Blake
You may not know this about Lupita Nyong'o, but music has always played a big part in her life. Not only has she been name-dropped in tracks from a handful of hip hops top artists, she was actually nominated for an MTV Africa Music Award in 2009 for directing the music video for fellow Kenyan Wahu's song "The Little Things You Do."
That wasn't Nyong'o's last brush with the music video scene. In 2017, she stepped out from behind the camera to star in a video from one of the artists who'd actually name-dropped her in a track a couple of years prior. That artist was the one and only Jay-Z, who was putting together a new video for his James Blake collaboration "MaNyfaCedGod." The video finds Nyong'o beautifully photographed in glorious black and white, delivering a fiery performance as a woman on the brink.
She lip-sync battled Regina Hall
One of the best parts about watching Lupita Nyong'o's star continue to rise is that the multi-talented actor just looks like she's having so much fun along the way. Case in point, Nyong'o made an appearance on Lip-Sync Battle in 2016 and ripped up the stage in a sultry performance of Salt-N-Peppa's mid-90s classic "Whatta Man" that found her flanked by a troop of hard bodied, hose-wielding firefighters.
As it happens, the competition on this particular episode of Lip Sync Battle was quite fierce, with Regina Hall donning full The Weeknd regalia for a fiery take on the enigmatic R&B guru's Fifty Shades of Grey anthem, "Earned It (Fifty Shades of Grey)." Those of you who tuned in to see Nyong'o and Hall duke it out on the Lip-Sync stage know full well who won the battle that night. To those who have yet to experience their performances, well, we'll leave it for you decide for yourself. But seriously, Nyong'o totally won.
She defended Wakanda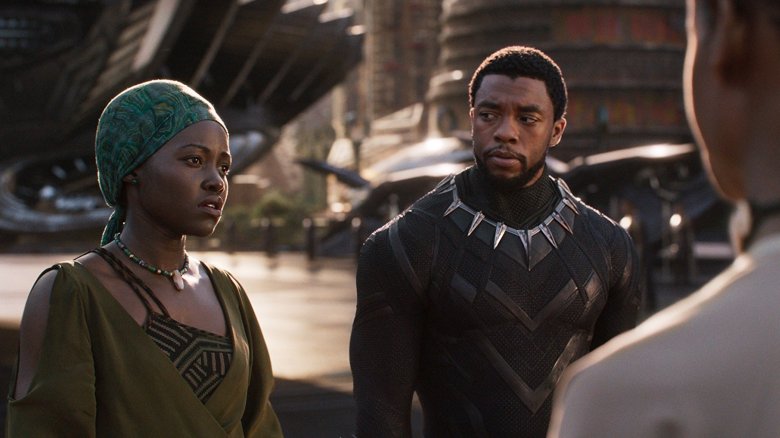 As if joining the Star Wars franchise wasn't high profile enough, Nyong'o went even bigger in 2018 when she suited up to join the Marvel Cinematic Universe for Black Panther. Just in case you've been living in a cave for the past year and have yet to catch up with Black Panther, the film picks up just after the events of Captain America: Civil War, and finds Prince T'Challa returning home to claim the throne of the technologically-advanced nation of Wakanda, only to be challenged for said throne by a merciless outsider.
In terms of story, style, and action-packed set pieces, Black Panther may well be the best film Team Marvel has released to date. It also finds Nyong'o — who appears in the vital supporting role of T'Challa's ass-kicking paramour Nakia — sharing the screen with a couple of familiar faces in her Star Wars co-star Andy Serkis, her Eclipse playwright Danai Gurira, and future Us co-star Winston Duke; not to mention screen legends like Angela Bassett and Forest Whitaker, along with bright young stars in Chadwick Boseman, Michael B. Jordan, Letitia Wright, and Daniel Kaluuya. In such blessed company, Nyong'o still manages to stand out, delivering a performance as physically imposing as it is emotionally arresting, and leaving little reason to wonder why a badass like Black Panther might actually freeze up in her presence.