13 Actresses Who Could Play Harley Quinn In Joker: Folie à Deux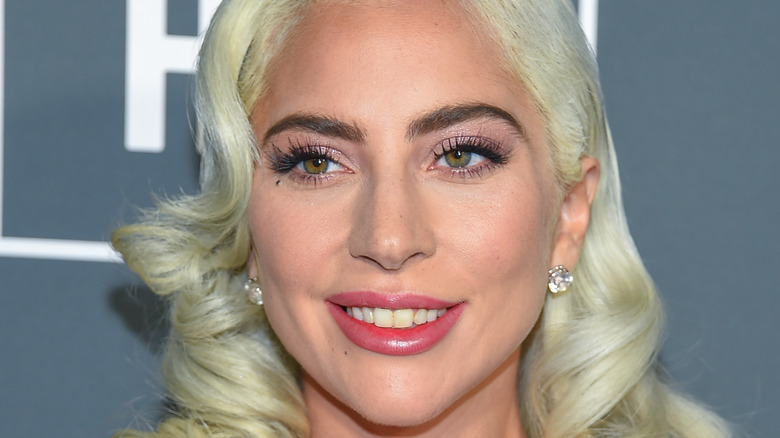 DFree/Shutterstock
With DC and Warner Bros. recently announcing a sequel to their 2019 hit "Joker," a tidal wave of speculation has begun. Considering the self-contained "Elseworlds" style of the first film, for many, a sequel of any kind didn't seem very likely. That is, until recently, when director Todd Phillips posted a picture on Instagram of the now-finished screenplay for the musical "Joker" sequel, "Joker: Folie à Deux" (per The Hollywood Reporter). Following the announcement, fans and online analysts began reading into the English translation of the film's subtitle, "Folie à Deux" — a shared psychosis, or "Madness for Two."
Also, considering the red-and-black color scheme of the screenplay's cover, many have taken this to mean a new version of Harley Quinn. Whether or not this will be the case has yet to be confirmed by Phillips or Warner Bros. However, we still think it's fair to speculate and be prepared for whether or not they go in that direction creatively. These are 13 actresses that could play varying versions of Harleen Quinzel aka Harley Quinn in "Joker: Folie à Deux."
Lady Gaga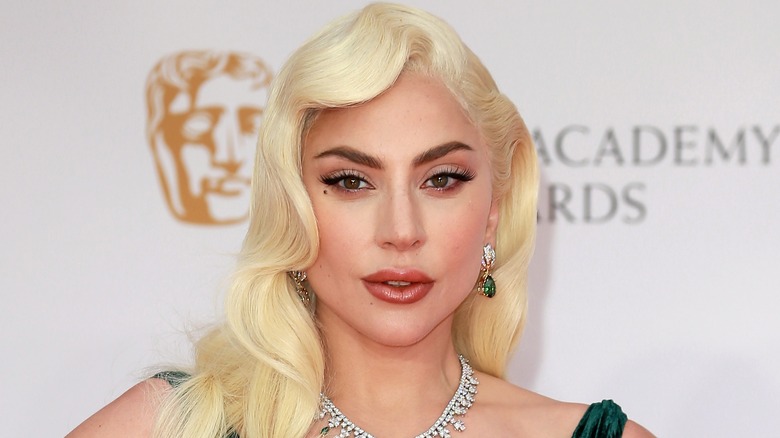 Cubankite/Shutterstock
Along with the announcement that "Joker: Folie à Deux" would be a musical, there have also reportedly been talks with Lady Gaga to play the film's co-lead, and Todd Phillips and Warner Bros. have all but officially announced she's being scouted for Harley Quinn (per The Hollywood Reporter). Anyone who hasn't been living under a rock since the late 2000s has more than likely heard her music. From hits like "Poker Face" to "Born This Way" and "Applause," Gaga has wowed audiences with her voice and eccentric attire. Amidst her wildly successful pop music career, Gaga has also transitioned into acting as well. She has appeared in shows like "American Horror Story" and dazzled audiences in films like "A Star is Born" as well. She also brought life to the dramatized version of Patrizia Reggiani in RIdley Scott's 2021 film "House of Gucci."
With an immense discography, legitimate acting chops, and a genuinely charismatic demeanor, Gaga is definitely an intriguing choice for Harley. Given the film's musical angle, it would be a true treat to see Gaga doing a big-budget Harley Quinn musical number. While not set in stone yet, Gaga might very well be close to donning the red-and-black attire of Gotham's favorite psychiatrist-turned-psycho.
Margot Robbie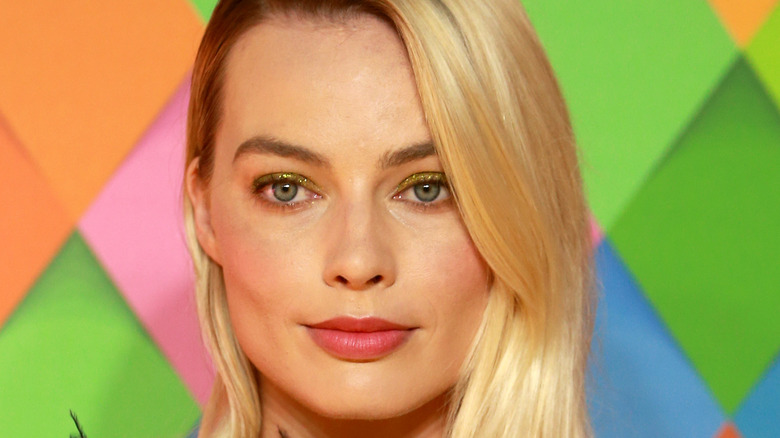 Cubankite/Shutterstock
If it ain't broke, don't fix it, so perhaps the best choice to play Harley is the woman who's been nailing it since 2016. The character of Harley Quinn is one that comic fans had wanted to see brought to life on the big screen for years. So when it was announced that Margot Robbie was going to be playing her in "Suicide Squad," fans began speculating. Although David Ayer's "Suicide Squad" received fairly negative reviews, Robbie's portrayal was one of the few highlights for many.
Her performance as Harley was so well-received that she reprised the role in Cathy Yan's "Birds of Prey." This second outing really allowed Robbie to flesh out her portrayal, imbuing it with a healthy mix of sass and self-deprecation. She followed this up with her third, and most recent, outing as the character in James Gunn's recent 2021 film "The Suicide Squad." Acting as a soft reboot, the film shares loose continuity with the character's previous two appearances, altered ever so slightly. Regardless of the fluctuating creative direction or the varying costume designs, Robbie has most definitely become synonymous with the role. Perhaps a grim and gritty reinterpretation helmed by Todd Phillips is exactly what the doctor ordered.
Kaley Cuoco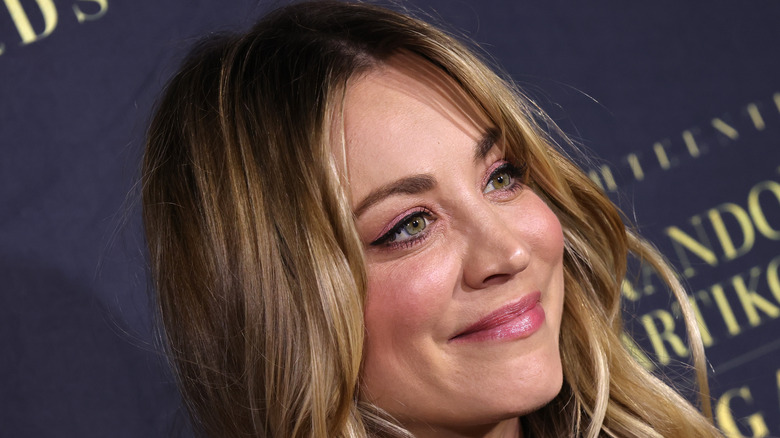 David Livingston/Getty Images
Regardless of how the filmmakers choose to present this version of Harley, a sense of humor should always be at the core of the character. One actor who definitely has that aspect of the character down to a science is Kaley Cuoco. Best known as Penny from the long-running sitcom "The Big Bang Theory," Cuoco has always shown a proficiency for snappy dialogue. She recently gained a whole slew of new fans due to her portrayal of Harley in the "Harley Quinn" animated series. While Margot Robbie's portrayal is most definitely beloved in the eyes of current fans, this version might just stand as a close second.
Cuoco's bubbly yet snarky demeanor is pitch-perfect in the role, standing shoulder to shoulder with Arleen Sorkin's debut of the character in Batman: The Animated Series in terms of quality. Given the positive response to Cuoco's portrayal, it's worth wondering if she could handle the role in live-action. Given the grittier nature of the world seen in "Joker," it's doubtful the tone would be very madcap. However, if "The Flight Attendant" has shown anything, it's that Cuoco has a superb handle on both comedy and drama. Regardless of what direction "Joker: Folie à Deux" takes, it would still be amazing to see Cuoco don Harley's costume in real life.
Storm Reid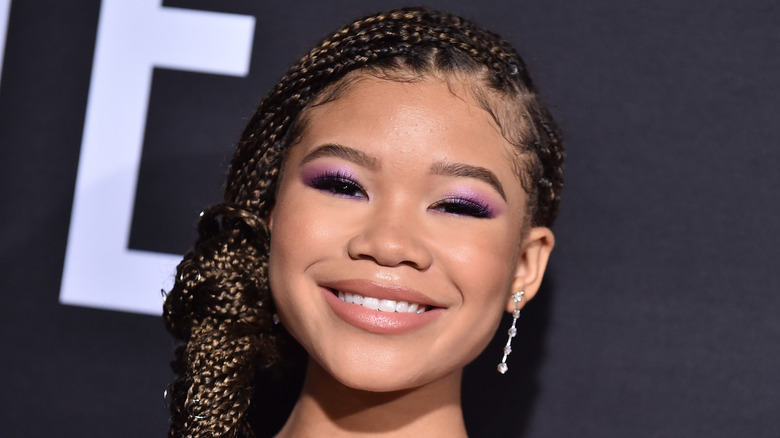 DFree/Shutterstock
Storm Reid is definitely one of the younger talents on this list but is certainly one who could leave a unique mark on the role. One direction that "Joker: Folie à Deux" could take with Harley is presenting her not as Joker's girlfriend, but as his apprentice. It'd most certainly be a welcome change after years of the duo being presented as, more often than not, a toxic couple. For an interpretation like this, you'd likely need a younger actor who can handle both drama and dark comedy. If this is the direction they choose to take, we might recommend Reid, whose star has definitely been on the rise lately.
Reid has quickly made a name for herself in the Netflix series "When They See Us" and the HBO phenomenon "Euphoria." Additionally, Reid has already established herself on the big screen through Disney's "A Wrinkle In Time" and her bit part in "The Suicide Squad." We'll likely be seeing a lot more of her in the years to come. With that in mind, it might be in Warner Bros.'s best interest to not let this rising talent slip through its fingers.
Florence Pugh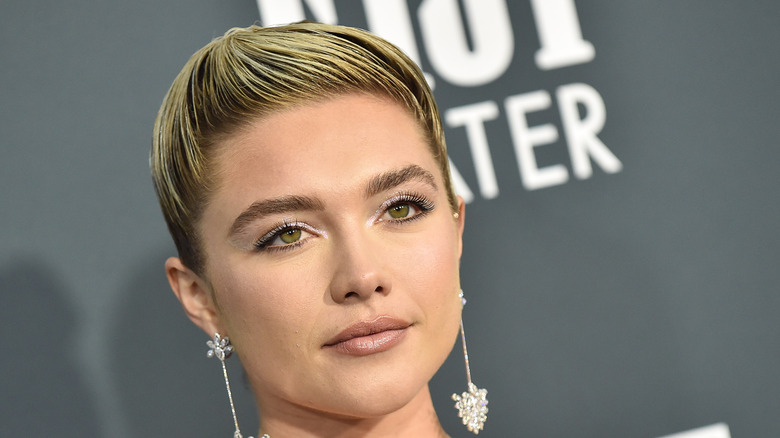 DFree/Shutterstock
Florence Pugh's rise to prominence in cinema in recent years can be described as nothing less than meteoric. From her debut in the 2014 film "The Falling" alongside Maisie Williams to joining the Marvel Cinematic Universe, Pugh has appeared in a lot of films. After steadily building a name for herself in the early 2010s with indie films like "Lady Macbeth," she would truly break through in 2019. She graced the silver screen in a trifecta of knockout performances — including "Fighting with My Family, "Midsommar," and "Little Women." Following her rise to worldwide prominence, Pugh raised her stock to new heights as Yelena Belova in Marvel Studios' "Black Widow." Several critics (including the BBC) and online analysts praised Pugh's performance as one of the film's highlights, gaining her a plethora of new fans.
From bleak drama to horror to high-budget popcorn flicks, Pugh seems to be the whole cinematic package. With a resume and range this widespread, a jaunt in the shoes of Harleen Quinzel should be a cakewalk. Whether the performance requires a sympathetic touch or a jovial sense of sadism, we think she'd be more than up to the challenge.
Anya Taylor-Joy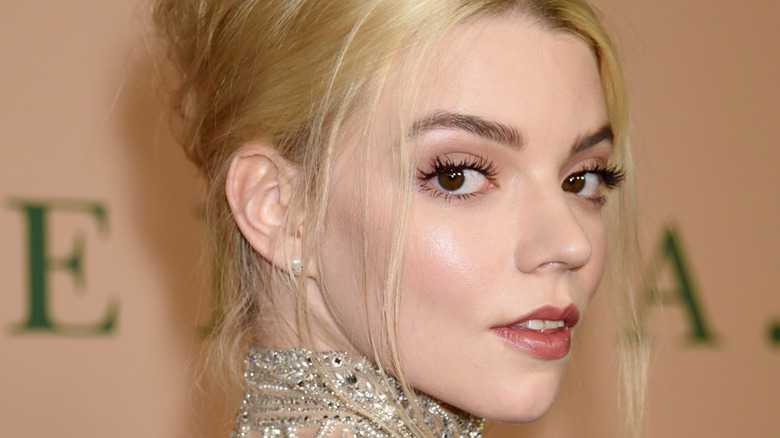 Ga Fullner/Shutterstock
The character of Harley Quinn, amongst many other qualities, is the perfect blend of charm and fluctuating mental psychosis. If there's an actor who's been making a name as of late with those two prerequisites, it'd be Anya Taylor-Joy. Taylor-Joy's first breakthrough performance would come via the 2015 supernatural period film "The Witch," directed by Robert Eggers. The film fared well both critically and financially, resulting in more work for both Eggers and Taylor-Joy. From there, Taylor-Joy was off to the races with increasingly more high-profile roles in major productions in television and film.
Following leading roles in films like "Split" and "Emma," Taylor-Joy found her biggest success to date as chess prodigy Beth Harmon in "The Queen's Gambit." She also played antagonistic or anti-hero roles in "Morgan," "Thoroughbreds," "Peaky Blinders" Seasons 5 and 6, and "The New Mutants." With a resume like that, Taylor-Joy definitely possesses the skills needed to portray any reinterpretation of Harley. Any character bordering on unstable or unhinged would most definitely benefit visually from Taylor-Joy's now-signature big eyes. If Todd Phillips goes the route of a younger Harley and truly wants to portray this new version as being equally unhinged as Joaquin Phoenix's Joker, Taylor-Joy would be a great choice.
Peyton List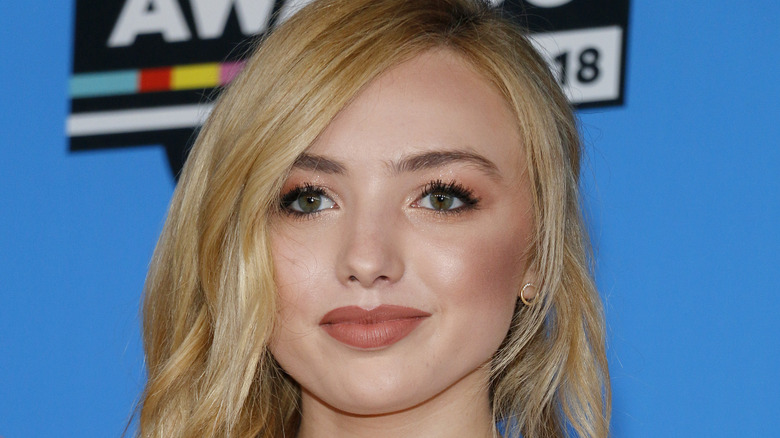 Tinseltown/Shutterstock
Very few actors have showcased as much instant on-screen charm and charisma in as short a time as Peyton List. List would get her start in a manner similar to many rising young talents — through roles on Disney television shows. She first started to shine as Emma in the series "Jessie" and its subsequent spin-off show "Bunk'd." Following these performances on relatively long-running Disney Channel TV shows, List appeared in the YouTube film series "The Thinning." She even ventured into the world of DC Comics, voicing Batgirl in the 2019 "Batman: Hush" animated movie. But her biggest claim to fame beyond Disney Channel would arrive that same year when she made her debut as Tory on "Cobra Kai."
From her arrival in Season 2 onward, Tory quickly became one of the show's more complex and endearing characters. In a show packed to the brim with great performances, both serious and comical, List has eclipsed many of her peers. Every season, List has only increased her natural intensity and her ability to elicit genuine sympathy through her performance. With that in mind, List's natural proclivity towards sassy and tough-as-nails characters might just be perfect for a younger protégé Harley Quinn.
Jenna Ortega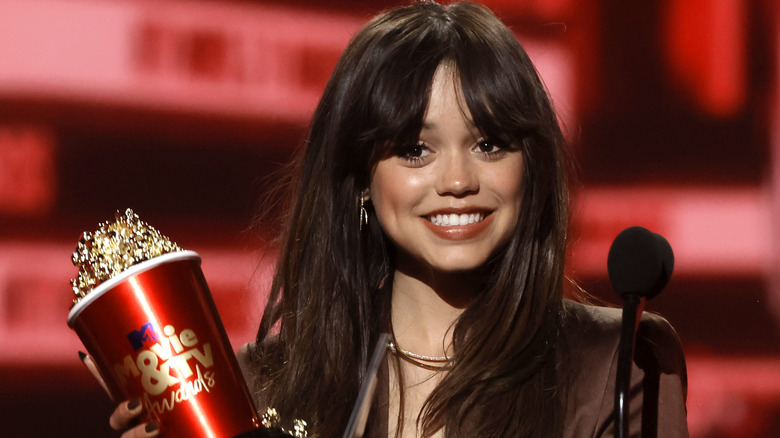 Kevin Winter/Getty Images
Another young gun who, if given the chance, could most definitely excel in the role of a young Harleen Quinzel is Jenna Ortega. After some bit roles in films and a breakout role in "Jane the Virgin," much like Peyton List, Ortega's first major lead role came via Disney Channel. She starred in "Stuck in the Middle" as aspiring inventor middle-child Harley Diaz. Following this uptick in notoriety, Ortega would transition into content for older audiences through shows like "You" and films like "The Babysitter: Killer Queen." Both these projects would allow Ortega to develop her natural panache for charming yet precocious characters, especially in psychological thrillers or horror films.
Since then, she has been landing increasingly bigger roles, such as the lead in the critically acclaimed drama "The Fallout." She's made further waves within the horror genre in films like "X" and 2020's "Scream" sequel. Given this recent streak of high-profile horror releases, many media outlets have dubbed her a "Scream Queen" of the modern era (per MovieMaker). She also stars as Wednesday Addams in the eponymously titled Netflix series, set to debut later in 2022. Given her recent hot streak, casting such a promising young talent in a marquee role like Harley Quinn would be a recipe for success.
Samara Weaving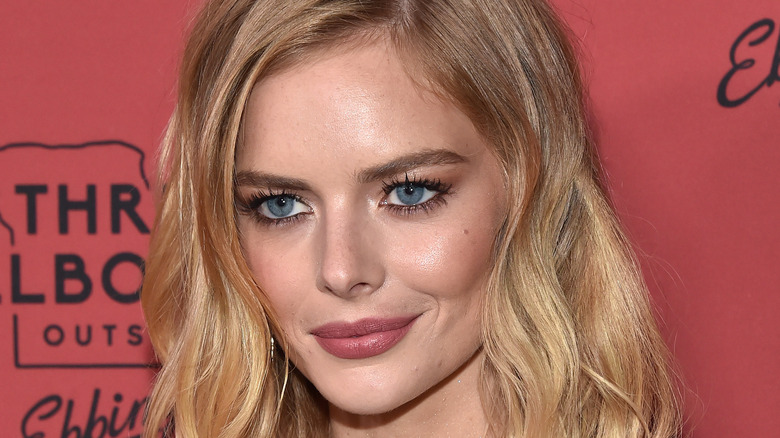 DFree/Shutterstock
The Australian-born actress Samara Weaving has carved out a sizable niche for herself since 2015, especially within the horror and action genres. She has been crowned one of the newest "Scream Queens" in the current era of horror cinema (per USA Today). From a recurring role in "Ash vs Evil Dead" to starring roles in films like "The Babysitter," its sequel, and "Ready or Not," Weaving doesn't seem to mind getting her hands bloody. She definitely showed that during her role as the deadly Nix Degraves in Jason Lei Howden's 2019 film "Guns Akimbo." It's always clear that, regardless of the role, Weaving understands the assignment and often relishes every moment of it.
Weaving displays an impressive ability to weave back and forth between being a normal person and a complete psycho. Given those specific credentials, it wouldn't be at all difficult to imagine Weaving swinging a bedazzled baseball bat at someone's head. If Todd Phillips needs someone who can match Joaquin Phoenix's on-screen mania tit-for-tat, Weaving would be a perfect choice.
Mia Goth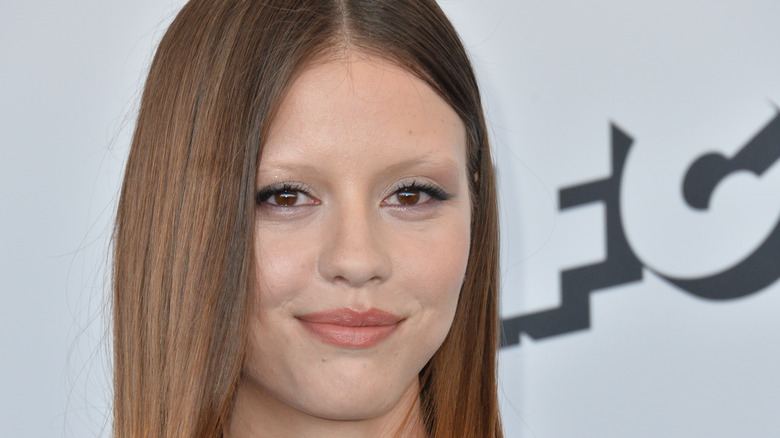 Featureflash Photo Agency/Shutterstock
Given the old-school vibe of the previous "Joker," it wouldn't be a bad move to recruit an actor comfortable with stylistic homage. Mia Goth is another young actress who has done some truly impressive arthouse and horror work. Despite only being in her 20s, Goth has already worked with some of cinema's most interesting artists. Her first major role came courtesy of the prolific, incredibly controversial, Lars Von Trier and his 2013 film "Nymphomaniac." In the following years, she collaborated with Gore Verbinski in 2016's "A Cure for Wellness," as well as Luca Guadagnino in "Suspiria" and Claire Denis in "High Life," both in 2018.
She later starred in Ti West's horror film "X" as both the heroine Maxine Minx and the antagonist Pearl. Playing one role is tough enough, but to pull double duty, sometimes both in the same scene, is quite the feat (per Screen Rant). Given Goth's career in horror and psychological thrillers and her recent jaunt into on-screen duality, the role of Harley Quinn would be a natural fit for her.
Tessa Thompson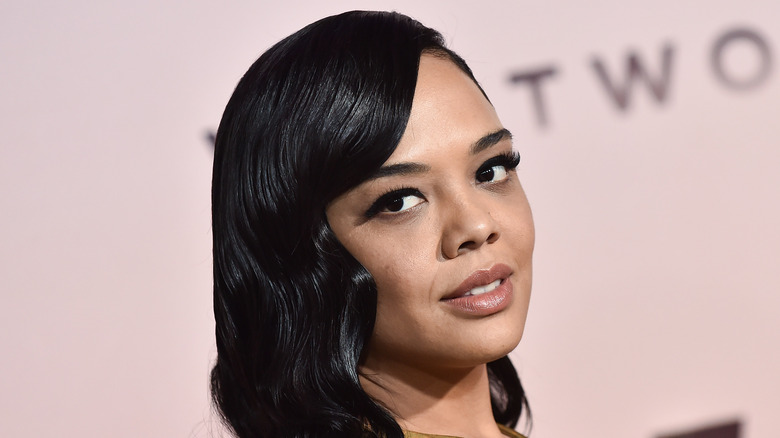 DFree/Shutterstock
Just as eccentric on-screen as she is off, very few modern performers dazzle like Tessa Thompson. When she isn't professing her affinity for goats on social media, she's delivering one charismatic performance after another. Thompson's first major role came from her main role in Season 2 of the drama-mystery series "Veronica Mars." Her cinematic debut was in the 2006 horror remake "When a Stranger Calls," and her star soon rose with roles in 2014's "Dear White People" and "Selma" and 2015's "Creed."
Her biggest role to date would be in "Thor: Ragnarok" as the feisty Valkyrie, one of the film's main heroes. The film received ample praise with a sizable percentage being directed at Thompson and her memorable performance (as in Vulture). Thompson has now become a mainstay of the Marvel Cinematic Universe, reprising the role in "Thor: Love And Thunder." She's also amassed indie cred with roles in 2018's surrealist comedy "Sorry to Bother You" and the sci-fi chiller "Annihilation," as well as a lauded turn in the 2021 Netflix drama "Passing." With a command of serious drama, madcap superheroism, and avant-garde mania, perhaps Thompson is ready to portray another beloved comic book character.
Victoria Pedretti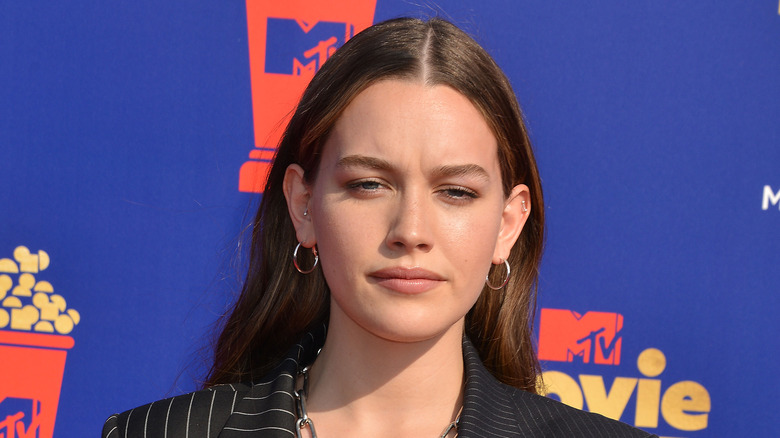 Tsuni-USA/Shutterstock
Is this choice admittedly a bit on the nose? Oh, most certainly — but do we still want to see it? That would be a resounding "yes," and for those not in the know, let's discuss Love Quinn. Victoria Pedretti first gained attention for her role in Mike Flanagan's Netflix horror series "The Haunting of Hill House" as the grown-up Nell. The show, as well as her performance, received ample praise, as did the second season, in which she also had a lead role. The thriller series "You" brought her biggest role to date as Love Quinn in Seasons 2 and 3.
Anyone who's seen "You" knows that Love is able to match the show's protagonist, Joe Goldberg, a serial killer, in terms of brutality and obsession. It's almost unfair how good she is in the role. With Pedretti's star still on the rise and her penchant for playing a psycho, perhaps it's time for her to transition her murderous charm from Love Quinn to Harley Quinn.
Kirby Howell-Baptiste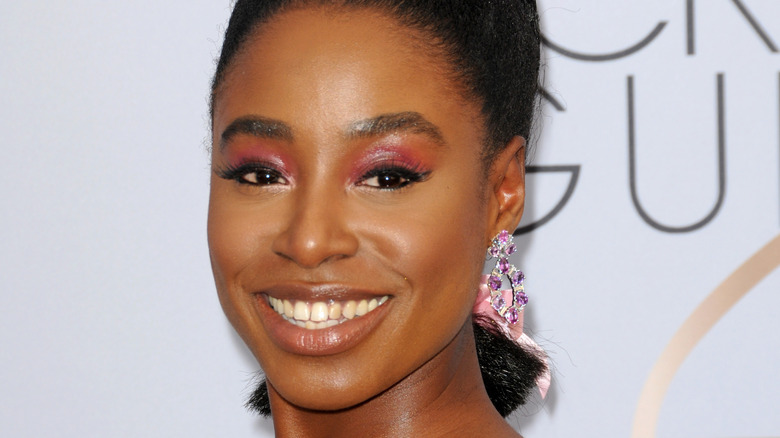 Kathy Hutchins/Shutterstock
Kirby Howell-Baptiste is a performer who has made some major strides in the last few years in a wide variety of projects. She began her career with appearances in shows like the popular sketch comedy series "Comedy Bang! Bang!" and "House of Lies." Later, she was cast as Elena in the first season of the BBC spy thriller series "Killing Eve." In films, she starred opposite Emma Stone in "Cruella" and in the Blumhouse horror "New Year, New You." Many might also recognize her for her recurring roles in "Barry" and "The Good Place," or for her voice role as Grace Monroe in the second and third seasons of the animated series "Infinity Train."
Her first foray into the world of comic book media came via her voice work in "Catwoman: Hunted" as the villainous Cheetah. This won't be her final jaunt in the world of comic adaptations: She's slated to portray Death in "The Sandman" on Netflix. With a command of comedy, drama, horror, and action, it would certainly be a treat to see Howell-Baptiste take on the role of Harley Quinn.