Netflix's Wednesday Addams Series - Everything You Need To Know
"Wednesday" has finally arrived, landing on Netflix on November 23. The story centers around the titular Addams family member, whose dryness viewers should be familiar with if they've caught any project centered around the kooky clan over the years. 
"The Addams Family" has a long history. First created in 1938 by cartoonist Charles Addams for The New Yorker, they became his most enduring characters, appearing in a television show starting in 1964, followed over the years by multiple animated series and the fondly-remembered '90s feature films "The Addams Family" and "Addams Family Values." But that's not all, as Gomez, Morticia, Thing, Uncle Fester, Lurch, Pugsley, and Wednesday have also appeared in more movies and series, the most recent being 2021's animated sequel.
This new project tweaks the formula quite a bit. Here's everything you need to know about "Wednesday" if you're considering giving it a watch.
What's the plot of Wednesday?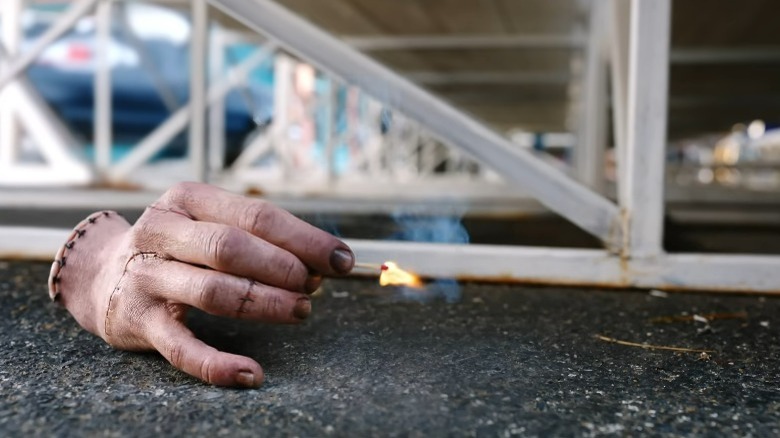 Netflix/YouTube
The series is meant to be an offshoot of "The Addams Family." Netflix describes it as a "sleuthing, supernaturally infused mystery that follows Wednesday as a student at Nevermore Academy." The story involves Wednesday developing psychic powers and attempting to control them. In the meantime, the town surrounding the school setting is terrorized by a killing spree, so there's also a mystery to solve. The mystery involves events from the past, and has a connection to her parents, meaning Morticia and Gomez will show up quite frequently.
Wednesday has to navigate all this while juggling student life at Nevermore Academy, complete with new relationships and the idiosyncrasies of her fellow students. She has a harder time whipping her new classmates into shape than those campers at Camp Chippewa in "Addams Family Values," when she staged a revolt that eventually led to the destruction of the camp. 
Who is starring in Wednesday?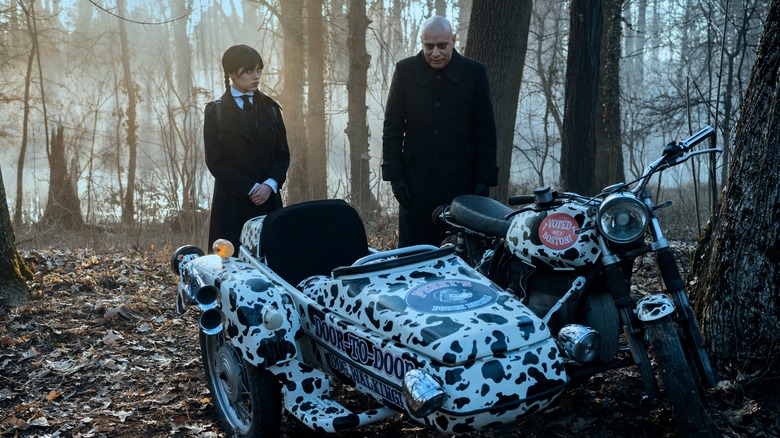 Vlad Cioplea/Netflix
Netflix's "Wednesday" boasts quite the stacked cast from top to bottom. As far as the Addams themselves go, Jenna Ortega plays Wednesday, Catherine Zeta-Jones portrays her mother, Morticia, and Luis Guzmán joins them as family patriarch Gomez. Isaac Ordonez takes on Wednesday's brother, Pugsley, George Burcea plays Lurch the butler, and Victor Dorobantu — or his hand, rather — appears as Thing. Outside of the Addams family unit, viewers will get to see a host of incredible actors, too.
The extended cast of "Wednesday" includes Gwendoline Christie as Larissa Weems, Jamie McShane as Sheriff Donovan Galpin, Joy Sunday as Bianca Barclay, Emma Myers as Enid Sinclair, Riki Lindhome as Dr. Valerie Kinbott, Hunter Doohan as Tyler Galpin, Georgie Farmer as Ajax Petropolus, Tommie Earl Jenkins as Mayor Walker, William Houston as Joseph Crackstone, Luyanda Unati Lewis-Nyawo as Deputy Santiago, Naomi J. Ogawa as Yoko Tanaka, and a laundry list of other strong names (via IMDb).
Additionally, the actress behind the 1990s version of Wednesday Addams, Christina Ricci, appears on the Netflix series as one of the teachers at Nevermore Academy. When it comes to Fester, the lovable uncle is played by Fred Armisen.
Who directed Wednesday?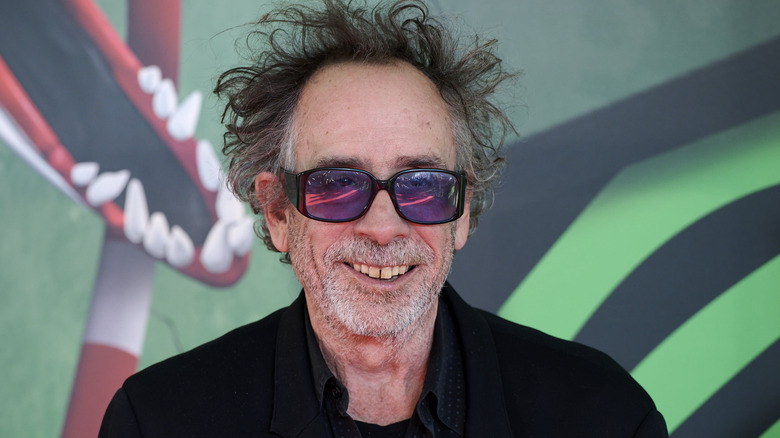 Carlos Alvarez/Getty Images
Tim Burton helmed all eight episodes of the series. If you've seen the trailer or the show itself, you likely didn't need us to tell you that, as every frame screams Burton. The eccentric director also serves as executive producer on the series.
Burton previously told Empire why he was so drawn to the script, and it seems like a match made in heaven. "When I read this [script], it just spoke to me about how I felt in school and how you feel about your parents, how you feel as a person. It gave the Addams Family a different kind of reality. It was an interesting combination," he told the outlet. "In 1976, I went to a high-school prom. It was the year Carrie came out. I felt like a male Carrie at that prom. I felt that feeling of having to be there but not be part of it. They don't leave you, those feelings, as much as you want them to go. You know, Wednesday and I have the same worldview."
What is Wednesday rated?
Vlad Cioplea/Netflix
"Wednesday" is rated TV-14, meaning the series is not suitable for those under the age of 14. This rating is given to the show for fear, language, and violence. Each specific episode will give you a warning of what themes that particular installment contains in the top left corner of the screen before it starts playing. 
Wednesday is a very dry person and is not afraid to hurt anyone. She lets piranhas lose in a pool full of bullies, resulting in some bloody imagery. There are also some spoilery confrontations that we won't mention but they do involve some somewhat violent fights. There is a murderer on the loose, after all. Circling back to Tim Burton, this is about what you'd expect ratings-wise for the visionary director. If his style has you feeling shaky about showing "Wednesday" to your children, it's probably best not to. 
How are critics and audiences responding to Wednesday?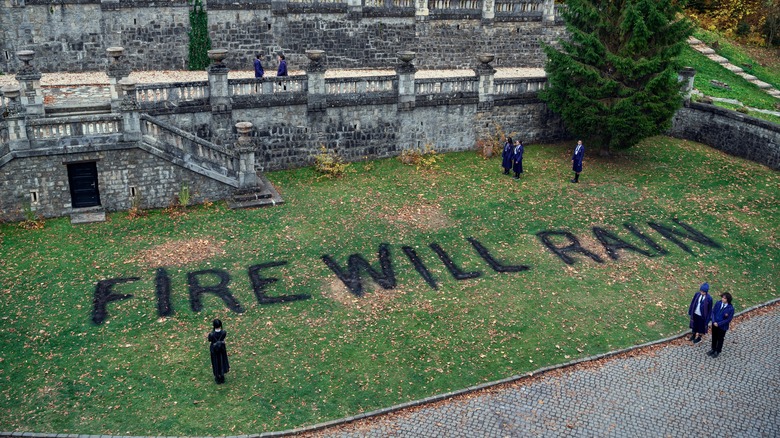 Vlad Cioplea/Netflix
Audiences seem to like "Wednesday" more than critics. The series is sitting at 69% on Rotten Tomatoes in terms of its critics' score, with an 88% from viewers. Some of the negative reactions from critics indicate that this show probably could have come out on The CW, but many noted that Jenna Ortega is its saving grace. Critics and viewers are praising the young actress for her spot-on performance, but it's other things about "Wednesday" that some find a little annoying.
The consensus is that "Wednesday" is catered to the young adult Netflix audience, and many suggest it would have been better suited to go darker. The trailers indicate that it was going to, but watching the series in its entirety gives the opposite effect. Too many references to trendy Gen X devices are the downfall of "Wednesday." But it's definitely worth a watch if you want to see an excellent lead performance by Ortega, despite the shaky story the actress was given to work with.