Jeffrey Dean Morgan Teases The Return Of Old Negan On TWD's New Spin-Off Series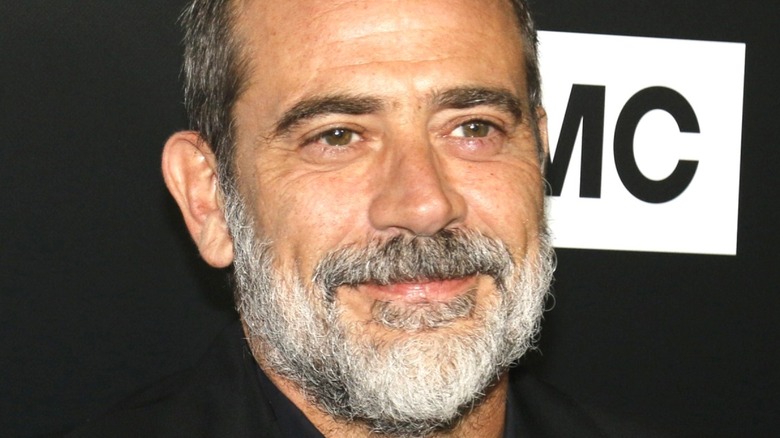 Tinseltown/Shutterstock
AMC's "Isle of the Dead" series starring Jeffrey Dean Morgan and Lauren Cohan is gearing up to be one of "The Walking Dead" franchise's most riveting spinoffs, and it sounds like Morgan has something very special planned for old-school Negan fans.
Slated for a 2023 release, "Isle of the Dead" is set to be a six-episode miniseries spotlighting Negan and Cohan's Maggie as they travel to New York City for a yet-to-be-revealed reason — possibly in search of a zombie bio-weapon. The official synopsis reads: "'Isle of the Dead' envisions the popular Maggie and Negan characters traveling into a post-apocalyptic Manhattan long ago cut off from the mainland. The crumbling city is filled with the dead and denizens who have made New York City their own world full of anarchy, danger, beauty, and terror."
As of right now, little is known about Negan and Maggie's motivations heading into "Isle of the Dead," especially seeing as how Part 3 of "The Walking Dead" Season 11 still hasn't aired at the time of this writing. Luckily for fans, though, Morgan has been using his social media to keep everybody updated. If his recent social media posts are true, we can expect the return of the much more bloodthirsty and brutal Negan from seasons pasts. 
Morgan says 'Wicked is making a return'
Fans of "The Walking Dead' may be enjoying Jeffrey Dean Morgan's return to grace over the past few seasons, but don't expect things to be all sunshine and rainbows once Negan makes his way to the Empire State. 
"The end is nigh," wrote Morgan in his June 14 Instagram post. "Crazy to think about. Though stories shall continue. Month and change away from negan and Maggie strapping up in NYC. No rest for the wicked... and make no mistake... wicked is making a return."
Over the past few seasons of "The Walking Dead," Negan has flirted with his old Lucille-loving self multiple times before eventually returning back to the good-natured side of things. In the Season 11 premiere, he straight up left Maggie to die after boasting about his shocking Season 7 slaying of her husband Glenn (Steven Yeun) earlier in the debut episode. "I am not gonna let you drag me through the mud, filth, and slime to put me down like a dog. Like Glenn was," Negan told her (via Giant Freakin Robot). So it's natural to assume that moments of brutality and wickedness, as Morgan describes it, will also come out during "Isle of the Dead," which Morgan had previously said would "blow [fans'] f***ing minds."