The Walking Dead Season 10: Negan May Earn His Freedom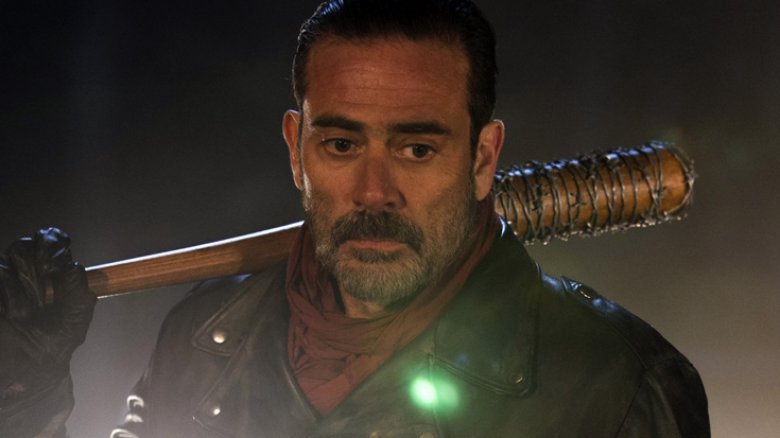 AMC
Brace yourselves Walking Dead-heads, 'cause big-time baddie Negan may be walking the streets of Alexandria as a free man in season 10.
That volatile bit of news came straight from the mouth of series showrunner Angela Kang in a recent interview with Entertainment Weekly, and it seems likely to send shockwaves through The Walking Dead community. 
The reveal also arrives just days ahead of The Walking Dead's hotly anticipated San Diego Comic-Con panel, and comes just a day or so after Kang essentially refused to comment on the potential return of series stalwart Lauren Cohan as the beloved character Maggie.
While Cohan's return would certainly be big news for the flagging AMC series, the thought of Negan potentially earning his freedom in the upcoming season is a bit of a stunner. The character has, after all, become the very face of fascistic evil since making his bloody first appearance back on that season 6 finale. On the ensuing seasons, the brutal leader of the so-called "Saviors" became one of the most feared and reviled characters in the show's history — a fact bolstered by the continued, bad-boy brilliance of Jeffrey Dean Morgan in the role. 
For her part, Kang fully acknowledged the potential complications of turning the dubious character loose, telling EW, "Things get complicated, because it's Negan. Here's this guy who has been on a path of trying to redeem himself in some way, but he's still Negan. He's not the hero. He's, at best, an antihero, but there's definitely darkness and an edge to him." 
We won't waste your time explaining the hows and whys behind all that Negan hate. You're either one of the knowing fans who've continued watching the grueling, zombie-fied action unfold with baited breathe like us, or you're one of the many who have long since parted with The Walking Dead. Either way, we can assure you the nefarious baddie more than earned all that hatred. So it was a bit of a shocker that, after a couple of torturous seasons of Rick Grimes' (Andrew Lincoln) incessant promises that he was going to kill Negan himself, the former sheriff — at the behest of his dying son Carl (Chandler Riggs) — postponed Negan's execution, instead confining the murderous rogue to a prison cell before traipsing off into the wild unknown. 
It was there where Negan found himself at the end of season 9, and where he may have ultimately redeemed himself in some small way by heroically saving the lives of Rick's daughter Judith (Cailey Fleming) — not to mention Daryl's (Norman Reedus) beloved dog — in the finale. When last we saw Negan, he lay idly in the town's infirmary, recovering from the experience sans any chains or handcuffs.
Kang was quick to key in on that particular fact, claiming, "We had a whole year with him in his cell, so I think after his heroic rescue of Judith, people might've noticed that when he was in that bed in the infirmary, he was not tied up or cuffed. So we're dealing with the next stage of what things are for Negan. I think for people who have been wanting us to release the Negan, there will be some satisfaction there." 
She also noted the potentially reforming bad guy may play a big role in the ongoing war with the current mortal threats known as the Whisperers, saying, "When that is in the mix with a story having to do with this new set of enemies, and when he himself still is an outsider in the community, just a lot of explosive things are at play."
"Explosive things," indeed. With all the moving parts potentially in play for The Walking Dead's 10th season, the series seems apt to reclaim a bit of its former glory. A big part of that happening may come in the guise of some serious human drama surrounding Negan's role in the community, and amongst the people he spent so much time and energy brutalizing. If there's one thing we're certain of, it's that Morgan will continue to find way to make the duplicitous character one worth watching.
No official release date has been set for The Walking Dead's season 10 premiere, but given the show's history, you can bet it'll arrive on AMC sometime in late March. Of course, it's highly likely that Kang and co. will reveal a premiere date — along with some other juicy bits of news — at their Comic-Con panel this weekend. Be sure to keep your eyes peeled and ears open for all the biggest Walking Dead news spilling out of that event.