New The Walking Dead Spin-Off Will Focus On Two Characters Who Shouldn't Be Left Alone Together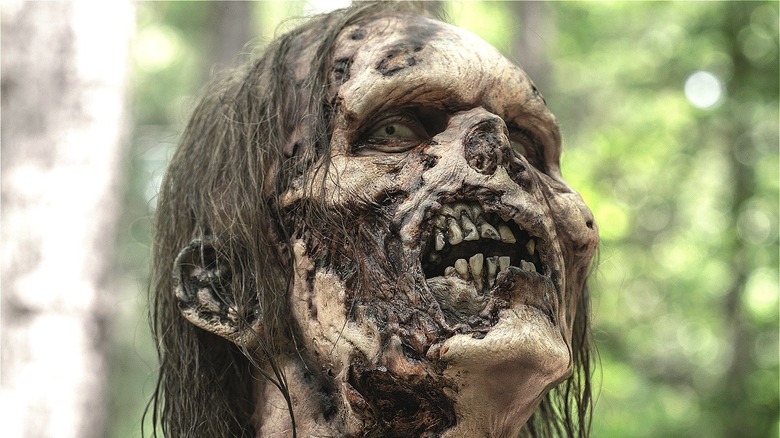 Josh Stringer/AMC
Though AMC's "The Walking Dead" is set to conclude before the end of the year, the larger franchise at hand seems destined to live far beyond the lifespan of its original television incarnation. 
Of course, "Walking Dead" fans are probably already familiar with the trilogy of long-gestating theatrical releases planned to feature fan favorite characters like Rick Grimes (Andrew Lincoln) and Anne (aka Jadis) (Pollyanna McIntosh) (via IMDb). Though we have yet to hear much info on films set in "The Walking Dead" universe since they were first announced in 2018, "The Walking Dead" Chief Content Officer Scott Gimple has confirmed these films are still very much in development (via TVInsider).
Following the conclusion of the flagship series, "The Walking Dead" will also continue on in the form of its first spinoff, 2015's "Fear the Walking Dead," and a slew of other planned television series, including an upcoming anthology series called "Tales of the Walking Dead" and an as-of-yet untitled spinoff centered on Daryl (Norman Reedus) and Carol (Melissa McBride).
News today from Variety confirms that AMC is just getting started when it comes to spinoffs of the popular zombie walker drama.

Maggie and Negan will star in Isle of the Dead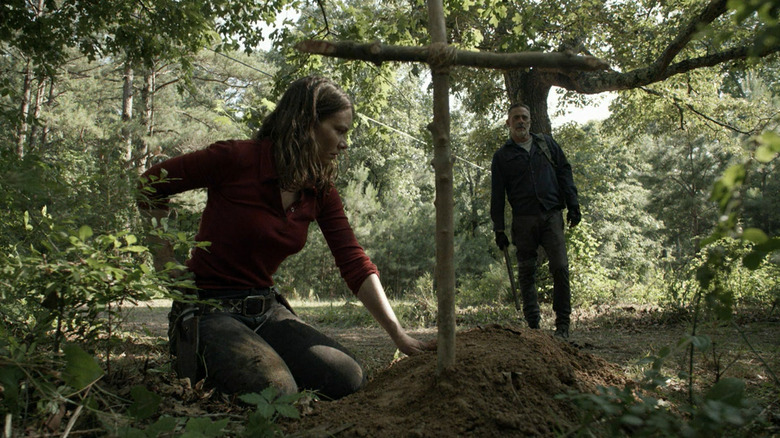 AMC
According to Variety, Lauren Cohan and Jeffrey Dean Morgan are set to reprise their respective roles as Maggie and Negan in an upcoming six-episode series titled "Isle of the Dead." Planned for release in 2023, the series will see the mortal enemies trade signature "Walking Dead" locations like Alexandria and Hilltop for New York City. Of course, the announcement from Variety assures audiences that the characters' new home will also be filled with a plethora of threats, both from the living and the dead.
"This is a very big day for the expanding universe we are building around 'The Walking Dead,'" said Dan McDermott, an executive at AMC (via Variety). "It not only adds another compelling series to this collection, it extends our storytelling around two unforgettable characters fans have grown to love, hate or hate and then love in Maggie and Negan, brilliantly inhabited by Lauren and Jeffrey. It also lets us explore a corner of this universe located on the island of Manhattan, with an iconic skyline that takes on a very different meaning when viewed through the lens of a zombie apocalypse."
Per Variety, much of the behind-the-scenes crew of the new series will be comprised of creatives who have previously contributed to "The Walking Dead" universe. Eli Jorné, who has served as a longtime writer and co-executive producer on the flagship series, will lead "Isle of the Dead" as a writer, executive producer, and showrunner. In addition to their starring roles, Cohan and Morgan will also serve as executive producers. Of course, the aforementioned Scott Gimple will also be heavily involved in the new series as the chief content officer of "The Walking Dead" universe.
New episodes of "The Walking Dead" Season 11 are currently airing on Sundays on AMC and AMC+.