Lightyear Confirms Chris Evans' Existence In Toy Story's Canon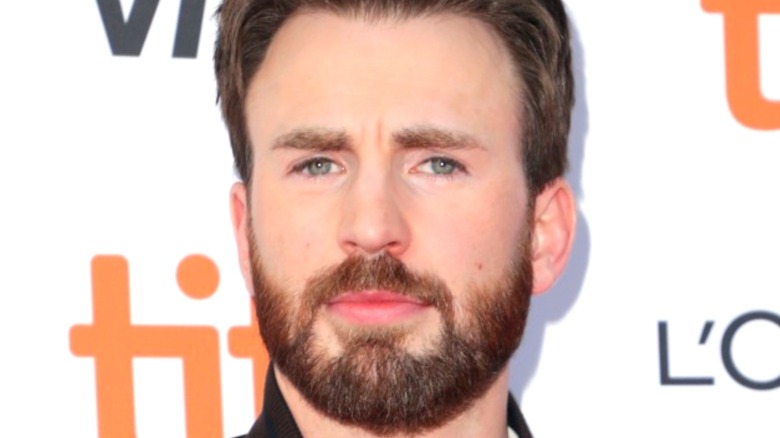 Joe Scarnici/Getty
On June 17, moviegoers will venture to infinity and beyond with the much-anticipated release of Disney and Pixar's "Lightyear," which will cover the intergalactic backstory of "Toy Story" character Buzz Lightyear, played by Chris Evans. Director Angus MacLane has already discussed how the animated film ties into the "Toy Story" universe, but now, he's officially revealed the circumstances of the movie that makes Evans and even himself a part of canon. 
Speaking at a media Q&A hosted on June 10, MacLane described how "Lightyear" wouldn't be your typical "Toy Story" spinoff. "The idea came to me as, I've always wanted to tell or know about the back story of the Space Rangers and Star Command and Buzz Lightyear — what the movie is for that," MacLane said. "So, what I decided to do was just think, 'Wait a minute, why don't we just make that movie? Like a cool sci-fi movie?' And I pitched it just like that. 'What was the movie that Andy saw that made him want a Buzz Lightyear figure? Why don't we just make that movie ... And that was really the initial pitch and initial idea."
While we officially know that "Lightyear" will be a movie that was made in the "Toy Story" universe, another major question that fans have been asking is whether it, too, is an animated film or possibly live-action. If it is live-action, does that mean that Evans is starring in the titular role as an actor who exists in that universe? On Friday, MacLane finally gave everyone an answer.
Lightyear is a live-action film in the Toy Story universe, meaning Chris Evans is canon
According to Angus MacLane, "Lightyear" is a live-action film that was shot and released in the "Toy Story" universe, which means actor Chris Evans and even MacLane himself are all now officially canon. 
"We got asked yesterday, 'Who were the filmmakers who made the film?' And then we realized, 'We're the filmmakers,'" MacLane explained during the June 10 Q&A. "Because the credits have our names on it, I think there's an in-universe version of each of us — that we are now Disney characters." However, don't expect any fourth walls to be broken when "Lightyear" hits theaters next week. "The movie doesn't end and then you see Andy eating popcorn," MacLane revealed back in October 2021 to Entertainment Weekly. "This is its own thing... This is standalone," he said. "It's the Buzz Lightyear movie. It's that character but as the Space Ranger, not as the toy."
Buzz, previously voiced by Tim Allen, is captain of the Intergalactic Alliance's Universe Protection Unit of the Space Ranger corps in the "Toy Story" movies (via EW). In "Lightyear," he will be embarking on an intergalactic adventure with a group of recruits and his robot companion Sox. According to the official synopsis provided by Disney, "As this motley crew embark on their toughest mission yet, they must learn to work as a team to escape the evil Zurg and his dutiful robot army who are never far behind."