Lightyear Director Angus MacLane Explains Why Nostalgic Toy Story Fans Will Love The Movie And Its Theme - Exclusive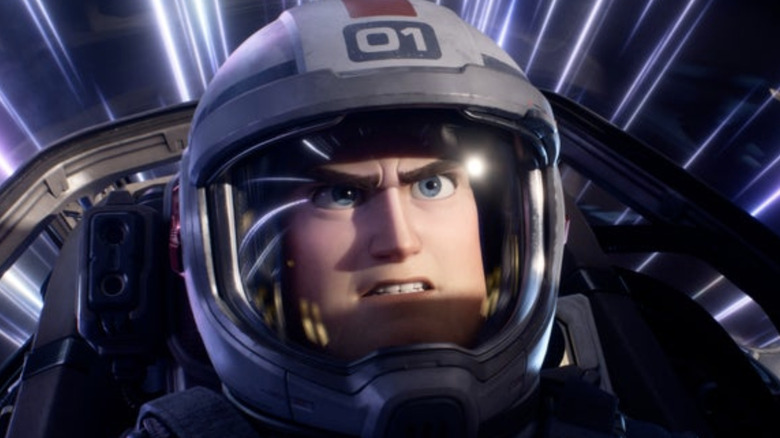 Disney/Pixar
Original "Toy Story" fans have waited literal decades to see Andy's favorites from the original film again. No longer children themselves, the fandom has grown up with Andy, reaching the same milestones — and ultimately giving their toys away, too. Many OG fans now even have their own families with whom they've shared their love of the franchise. After all this time, the wait is almost over as "Lightyear," a spinoff story for the popular Buzz Lightyear character, is coming to theaters this summer. Starring Chris Evans as Buzz, how does the new film and its focus on time recapture some of the original nostalgia?
During an exclusive interview with Looper, Angus MacLane shed some light on the main theme of time in "Lightyear." He also revealed whether or not it was an intentional homage to the now grown-up former kids who grew up with "Toy Story" and how the concept of nostalgia played into the film's plot and direction.
Time is a fickle beast when bringing characters back to life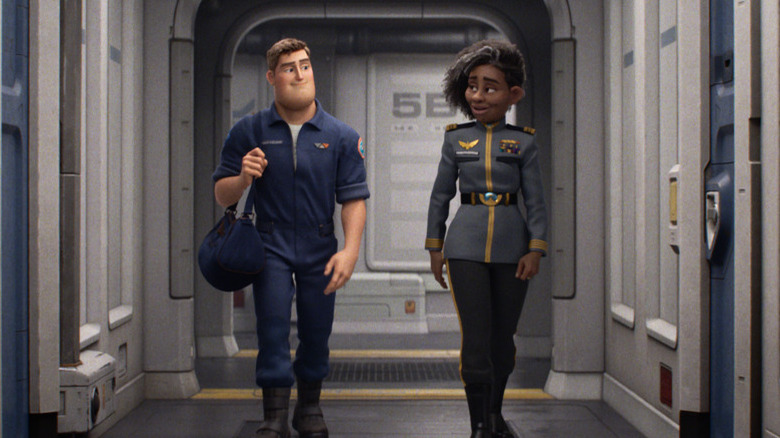 Disney/Pixar
There's no denying that time is a palpable character in "Lightyear." When it comes to how screenwriter/director Angus MacLane thinks the concept of time will impact the adults who grew up with "Toy Story," he said, "I've never thought about that. That's fascinating. I was thinking about it earlier today, that I've been here for 25 years, but it really feels like it started yesterday. There's a thing about that, that when you're doing something you love, time can melt by."
He added, "I really feel like we're making the movie that we want to make, and that's the only way you can make a movie that's universal ... It's someone's vision, someone's nerding out about this so that you can enjoy it." While there are certainly homages to the original story arc in "Lightyear," and the theme of passing time will certainly resonate with millennials who grew up on "Toy Story," the new film certainly stands on its own, even for audiences who never watched the first edition.
The unspoken idea of nostalgia in 'Lightyear'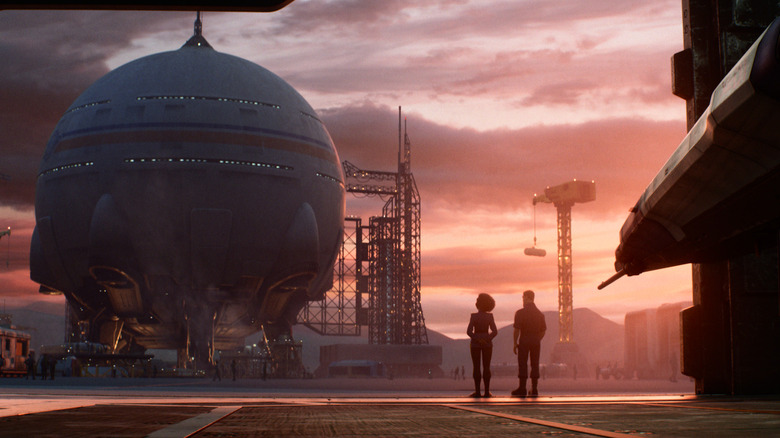 Disney/Pixar
As MacLane added, nostalgia was another main component of "Lightyear" and its story. "The idea of nostalgia, [and the] potential for it, only really came about when we started working with the voice casting, and when we were recording Uzo [Aduba] doing, 'To infinity and beyond.' It was a big deal for her on a fan level," he said, adding, "I didn't quite understand it because we've never experienced really, the movie. I liked the first movie, [but] I was already in college by then. The stewardship we had over the property was really, 'Can we make a great movie?'" 
It can be pretty debilitating thinking about the reception of long-time fans for a new project. Luckily, MacLane didn't psych himself out with that line of thinking, and noted, "I'm glad I didn't think about it too much, about the weight of responsibility on a nostalgia level because that would seem really daunting to me, and I'm glad to hear it went over well."
MacLane also mused, "I could see it just as easily irritating so many people because you're giving a voice to something [where] everyone has a point of view. When we're making the movie, we're like, 'It's not really the movie.' People have an opinion about it." He added, "The only way we were going to solve that is by making something that's so exciting and awesome that ... while the details may not have been what you expect, at least [the] final product is something that's really exciting. You go, 'Well, it's not what I thought it was going to be, but it's amazing.'" As MacLane noted, "Everyone has a point of view about what that world is," but he just had to focus on creating his own vision.
"Lightyear" premieres exclusively in theaters on June 17.