Bryce Dallas Howard Discusses Jurassic World Dominion's Physical Challenges - Exclusive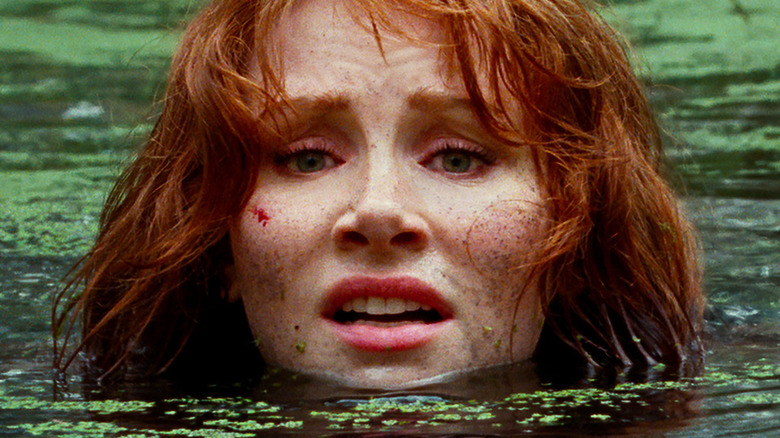 Universal Studios
Anyone who's seen "Jurassic World Dominion" can attest to the movie's significant number of wild action sequences. Of course, as two of the film's leads, Chris Pratt (Owen Grady) and Bryce Dallas Howard (Claire Dearing) weren't spared the heavy lifting (and running) — all with a little help from their stunt doubles. It's no surprise that "Jurassic World Dominion" has so much excitement packed into a single movie. 
The film marks the end of the "Jurassic World" trilogy, though, according to the film's director Colin Treverrow via our sister site Slashfilm, this isn't the hard end for the franchise. The trilogy's conclusion is more "bye for now" than "bye forever." But while fans eagerly wait for what's next in the "Jurassic" universe, they can enjoy watching all of the Easter eggs and jam-packed action in "Jurassic World Dominion."
During an exclusive interview with Looper, Howard (joined by Pratt) dished on her most epic action sequences in the film — and how much of it was courtesy of her stunt double Sarah Lochlan.
Getting by with help from a stunt double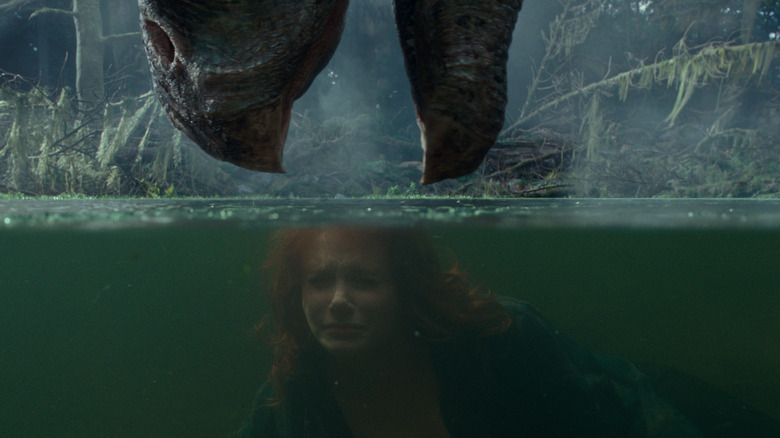 Universal Studios
At the mention of the heavy action sequences in "Jurassic World Dominion," Pratt praised Howard's roof jumping abilities, but the actress was quick to give props to her stunt double. As Pratt said, " Oh my gosh. You should see Bryce jump off a roof over an alley and land on a fire escape." While Howard shot back, "Thanks, Sarah Lochlan."
Howard elaborated with, "All of these movies are really physical, and part of the preparation for doing a movie like this is to get ready to take some pretty big body slams, but that's also part of the fun. The fun of doing an action adventure movie is that you're going to have some action and some adventure." And she was quick to add, "Thank goodness for our stunt doubles and the ways in which they either executed the stunt or prepared us beautifully so that we could do it ourselves." So, when fans watch Howard's particularly wild stunts in the film, they probably have Lochlan to thank for them.
"Jurassic World Dominion" is now playing in theaters.