Bryce Dallas Howard And Chris Pratt On Jurassic World Dominion, OG Stars, And Filming Challenges - Exclusive Interview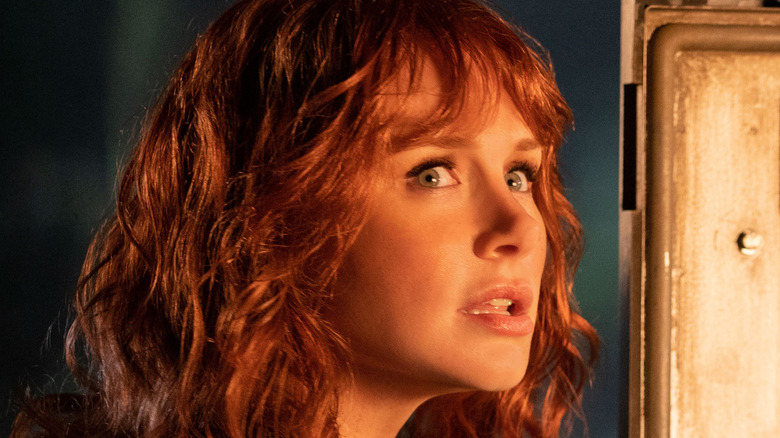 Universal Studios
While fans' favorite dinosaur experts dealt with a scaley outbreak of epic proportions following the events of "Jurassic World: Fallen Kingdom," reality faced its own epidemic: COVID-19. Though the pandemic prevented "Jurassic World" staples like Jake Johnson from appearing, Bryce Dallas Howard (Claire Dearing) and Chris Pratt (Owen Grady) are back in action in "Jurassic World Dominion" — along with more than a few fan-favorites from the original "Jurassic Park" trilogy. The pandemic may have pushed the film back, but it was certainly worth the wait to see if the dinosaurs will truly inherit the Earth.
Since the second installment of "Jurassic World" in 2018, Howard has played Sheila in "Rocketman" and herself in "Arrested Development." She also voiced Bella in "A Dog's Way Home" and multiple "Jurassic World" video games. Pratt has also been busy playing Peter Quill in "Avengers: Endgame" and filming the third "Guardians of the Galaxy" volume — along with a slew of other MCU projects. Additionally, he took on the roles of Dan Forester in "The Tomorrow War" and James Reece in "The Terminal List." 
Like Howard, Pratt has done significant voice work since "Fallen Kingdom." He voiced Emmet Brickowsk in several "Lego Movie" projects along with Barley Lightfoot in "Onward," and he's even gearing up to voice Garfield in the self-titled 2023 film. Now, fans can finally see their work in "Jurassic World Dominion" pay off.
During an exclusive interview with Looper, Bryce Dallas Howard and Chris Pratt revealed what it was like working with the original "Jurassic Park" cast, the culmination of Claire and Owen's will they/won't they relationship, and detailed the film's most difficult stunts.
The OG dino wranglers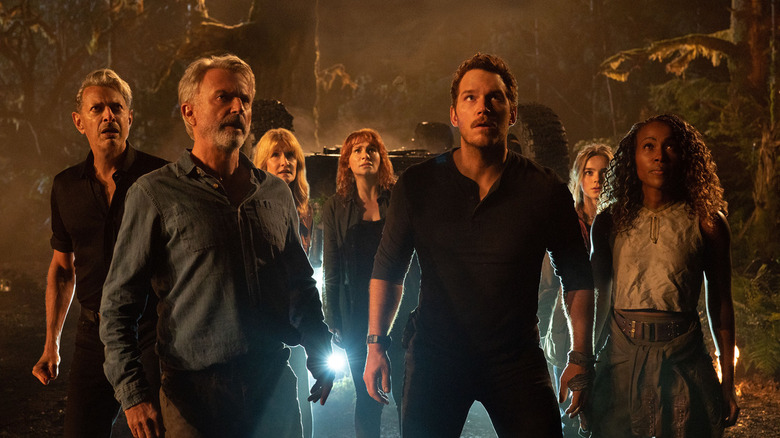 Universal Studios
I'd love to know what it was like having all the original cast back.
Chris Pratt: God. Surreal, epic.
Bryce Dallas Howard: Really fun. Wonderful. They're wonderful people.
Pratt: It's true. It was really cool, man. They were cemented in both of our brains as icons when we were children watching this movie. You're like young teenagers. She was 12 [and] I was 13 when the film came out — "Jurassic Park" in '93. To think 30 years later, we're wrapping up this franchise with them on screen, sharing the screen, it's epic.
Your characters are parents here. And so, tell me a little bit about their relationship now and where they are when we start.
Howard: It's the first time in the "Jurassic World" franchise when the question isn't between Owen and Claire, "Will they or won't they?" It's pretty clear that they're a couple. They're together. There's actually a hilarious line that Justice Smith [Franklin Webb] says where he's like, "Aren't you guys still a weird thing?" And we are. Now, we're parents.
Pratt: Hot mom and dad chemistry.
 Howard: Weird mom and dad chemistry.
Pratt: That's what you pick up. Maybe don't kiss? [It] grosses our –
Howard: Our kids out, yeah.
Chris Pratt: ... our [onscreen] daughter out. Yeah. We are. It's nice because beautifully, that "Will they, won't they" sexual chemistry that many of these films have, is left to two real pros with Sam Neill and Laura Dern, and boy, talk about some red hot chemistry right there. Watching them on screen is amazing.
Our relationship is actually and wonderfully evolved in a way that it's not just about a guy getting a girl or whatever, as it was in the first movie. It's really turned into a relationship and a couple that [has] to put the needs of their youngster before themselves and who desperately care about the well being of one another. It's an equal team.
Let's get physical — dino style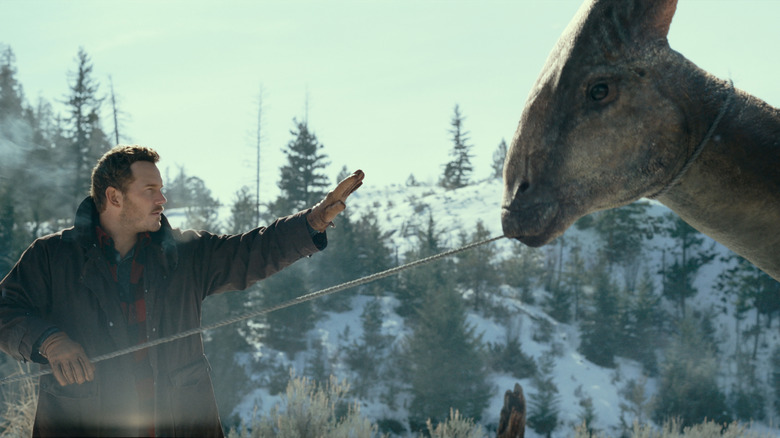 Universal Studios
This was a really physical film. I'd love to hear about some of the physical challenges you guys went through.
Pratt: Oh my gosh. You should see Bryce jump off a roof over an alley and land on a fire escape.
Howard: Thanks, Sarah Lochlan [Howard's stunt double].
Pratt: Oh my gosh.
Howard: Yeah. All of these movies are really physical, and part of the preparation for doing a movie like this is to get ready to take some pretty big body slams, but that's also part of the fun. The fun of doing an action-adventure movie is that you're going to have some action and some adventure. Thank goodness for our stunt doubles and the ways in which they either executed the stunt or prepared us beautifully so that we could do it ourselves. Really fun.
I won't ask you your favorite dinosaur, but which one do you think is the coolest in this film?
Pratt: Oh man, it's a great question. The coolest. There's something called a quetzalcoatlus, which is the largest ever flying predator. It's like the size of the 747. That's pretty cool.
Howard: Dreadnoughtus — which is the largest dinosaur ever. It's an herbivore. It was an herbivore, but it was the size of like eight T-Rexes.
"Jurassic World Dominion" premieres exclusively in theaters June 10.