Movie Scenes That Actually Killed Stunt Actors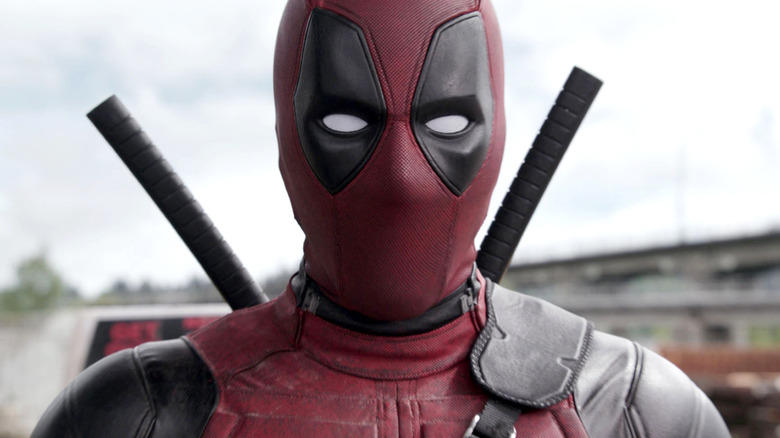 Being a Hollywood stunt person might seem like a great chance to rub elbows with A-listers and perform some gnarly on-camera maneuvers for money. But there's a reason those A-listers use stunt doubles in the first place—specifically the fact that the stuff they do to entertain us is incredibly risky even under the relatively safe environs of a major movie set. Doing stunt work means you get to contribute to millions of filmgoers' fondest viewing memories; the downside of the job, however, is that it can be very dangerous for even the most skilled and cautious of the craft. No matter how much training you have or how many safeguards a production might have in place to try and minimize the risk, there's always a chance that something will go horribly—and irrevocably—awry. For these stunt actors, the productions turned lethal, and they lost their lives in the line of duty.
xXx (2002)
Harry O'Connor, who served as a stunt double for Vin Diesel in xXx, died on the Prague set of the film while performing a paragliding stunt in his place. An experienced skydiver and stunt performer who'd joined the industry after retiring as a Navy SEAL, O'Connor reportedly collided with a pillar of the Palacky Bridge while paragliding and broke his neck in the process before passing away. It was his second effort to complete the stunt, the first of which was successful and used in the movie.
Director Rob Cohen later said on his commentary track, "We had 500 stuntmen involved with this picture; 499 didn't get a scratch. It shows you the lengths to which we will go to bring this kind of intense experience to the viewer. Stuntmen know they are in danger. They make their living through danger. Most of the time, it's all right. Sometimes, unfortunately, it isn't." O'Connor was 45.
Top Gun (1986)
Stunt pilot Art Scholl had become internationally renowned for his aerial stunt work in films like Blue Thunder and The Right Stuff before he was selected to complete an inverted air stunt that would become a big part of Top Gun's storyline. According to The Los Angeles Times, Scholl was heard relaying his in-air troubles during production on the scene, saying on his radio, "I've got a problem here." Scholl was highly skilled at the maneuver, so colleagues concluded that there must have been a mechanical failure that caused his vessel to crash. However, neither he nor his plane were recovered from the debris, despite a search effort, so the details leading up to his death are unknown.
The mystery that surrounds the failure that cost him his life still lingers with his widow, Judy Scholl, who told The Daily Mail, "Art didn't say what the problem was. This is the one thing I'm not happy about with him. So I don't know if he had a control failure, where maybe the camera jammed into the flight controls. Or whether he had an issue with the flight controls where he wasn't able to get the airplane out of the flat spin or whether he was disorientated. He didn't say." Scholl was 53.
Steel (1979)
Stuntman A.J. Bakunas was doubling for actor George Kennedy on the Lexington, Kentucky set of Steel when tragedy struck. Bakunas had become a big name in the industry before he attempted the daring drop that would feature him falling from the top of a high-rise to simulate the falling death of Kennedy's character.
He prepared for the jump for weeks and decided to increase the length of his fall to 323 feet instead of the ninth-story leap he'd already completed, all to top rival stuntman Dar Robinson's feat on another set. Bakunas completed the jump as planned, but the airbag below ruptured, injuring him critically right in front a massive crowd of spectators which had assembled to celebrate the jump. He was still alive and conscious as he was rushed to the emergency room and treated, but he ultimately succumbed to his injuries. Bakunas was 27.
Million Dollar Mystery (1987)
A few years after Bakunas' untimely death, Dar Robinson also paid the ultimate price for a daring Hollywood shot. While filming Million Dollar Mystery in Arizona in 1986, Robinson was completing a motorcycle chase scene when he lost control of his bike at a planned high-speed turn and launched off a ledge, crashed into a rock, and then impaled himself on a tree, dying en route to the hospital.
After inspiring Bakunas' unwise jump with a 1978 plunge of 286 feet, Robinson would continue to outdo himself and set records with his increasingly daring jumps, spurring his final film's stunt coordinator to say, "We have a saying, it's always the easy ones that get you." Robinson was 39.
The Expendables 2 (2012)
During production of a second unit water scene on Lake Ognyanova, Bulgaria set of Expendables 2, stunt actor Kun Liu was killed and fellow double Nuo Sun was severely injured when a planned explosion went awry, gravely injuring the pair who were riding on an inflatable rubber raft at the time.
Sun ultimately survived his serious injuries and filed suit against Sylvester Stallone and Millennium Films for damages, and the family of Liu also pursued wrongful death damages against the parties responsible for the pic. Liu was reportedly doubling for Stallone himself, while Sun was subbing for Jet Li in the second unit shot. Liu was 26.
Shark (1969)
In one of the grisliest accidents to ever occur on a Hollywood set, stuntman Jose Marco, a double for Burt Reynolds, was brutally attacked by a real-life shark while shooting an underwater scene for Shark. According to Life Magazine, Marco was filming alongside a subdued bull shark in scuba gear when a great white managed to make it through the nets protecting the area from the rest of the sea and charged at the camera crew before launching at Marco and disemboweling the actor where he swam.
Crew members tried to steer the shark away from Marco with spears, but the animal was undeterred, and the stuntman's resulting injuries were so severe that he died shortly after being transported to the hospital. The incident was catastrophic, but producers wanted to (and ultimately did) use the footage of Marcos' death in the movie, along with publicizing the incident as a marketing push. Director Samuel Fuller was so disgusted that he disavowed the movie, unsuccessfully attempting to have his name removed from its credits. Marco was 32.
Exit Wounds (2001)
On the Toronto set of Steven Seagal's Exit Wounds. Canadian stuntman Chris Lamon lost his life in a bizarre accident that occurred when he and another stuntman were supposed to jump from an upside-down van while it was being towed by a truck. Instead of leaping feet first from the vehicle during the maneuver, Lamon fell on his head. As a representative of Warner Bros. would later explain to ABC News, he "made an error with his footing [and] landed badly and hit his head on the pavement."
In addition to suffering multiple skull fractures, Lamon also suffered from severe swelling of the brain and died a few days after the incident. Lamon's fiancée campaigned to have the film pulled from its release schedule, to no avail. He was 35.
The Sword and the Sorcerer (1982)
Veteran stuntman Jack Tyree was filming a scene for The Sword and the Sorcerer on the production's Malibu set in which he was to jump from an 80-foot cliff. He unfortunately landed a few feet away from his landing airbag, causing severe injuries that ultimately cost his life.
The stunt was ultimately left in the film, despite his tragic passing, and the film was dedicated to him. Tyree was 37.
For Your Eyes Only (1981)
In this installment of the James Bond franchise, a four-man bobsled was being used by the second unit director to better capture footage for a skiing scene amidst the wintry slopes of Italy. Unfortunately, stunt driver Paolo Rigon fell beneath the vehicle and was rapidly killed by the sleigh after it overturned and dragged him under.
It wasn't the first or last serious injury to happen on the set of a James Bond film, but it was the deadliest. Rigon was 23.
Red Cliff (2008)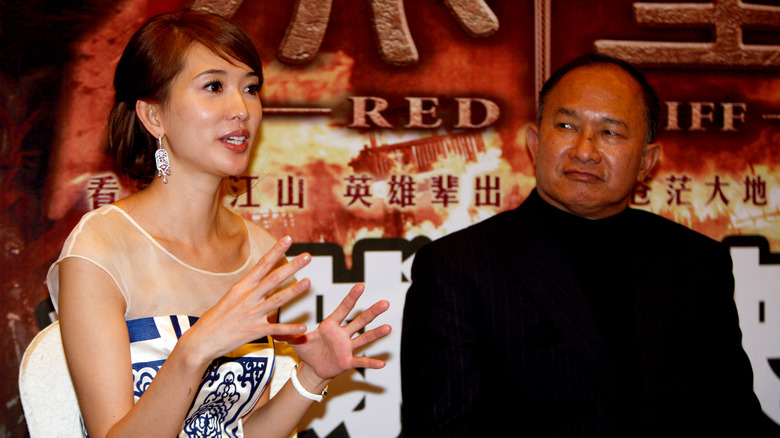 China Photos/Getty Images
The set of Red Cliff, John Woo's period piece about the battle of China's Three Kingdoms, became a deadly inferno when a blaze claimed the life of stuntman Lu Yanqing and injured six crew members.
The accident took place during production of a ship battle scene just outside of Beijing, when a smaller vessel which was meant to be on fire and collide with a larger ship was met with high winds that carried the flames to the second ship and injured those on board. Yanqing was 23.
The Walking Dead (2017)
Although it didn't technically take place on a movie set, the death of Walking Dead stuntman John Bernecker rocked the Hollywood community in July, 2017. The stuntman was filming a fight sequence with actor Austin Amelio on the set of the hit AMC series' eighth season during which he was supposed to fall from a balcony onto a padded landing mat below. Instead of falling straight onto the mat, he made an effort to grab onto the railing and missed the padded area by a matter of inches, landing on the concrete flooring instead.
Although Bernecker was still alive when he was transported to an Atlanta hospital, he was pronounced brain dead within hours as a result of his head injury and was taken off life support. Amelio later tweeted of the incident, "I have no words. My heart is absolutely broken from John Bernecker." Bernecker was 33.
Deadpool 2 (2018)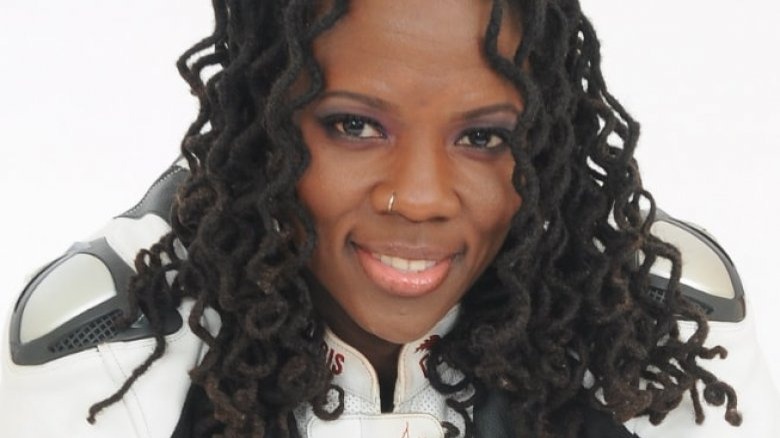 Black Girls Ride Magazine/Facebook
The Vancouver, Canada set of Deadpool 2 became the site of a tragedy in August of 2017 when a stunt woman named Joi "SJ" Harris was killed while attempting to complete a motorcycle sequence for the film. Harris was substituting for actress Zazie Beetz as the character Domino and was not wearing a helmet during the scene in question to match the character. According to The Hollywood Reporter, Harris had successfully completed the stunt four times in a row, but on the fifth attempt, she lost control of the vehicle and went airborne before careening into a glass building. Local news crews reported that she was treated on site by paramedics after the incident, but was later taken to the hospital and ultimately declared dead.
In a statement, a rep for 20th Century Fox said of the incident, "We are deeply saddened by the accident that occurred on the set of Deadpool 2 this morning. Our hearts and prayers are with the family, friends and colleagues of our crew member during this difficult time." Lead actor Ryan Reynolds echoed that sentiment, writing on Twitter, "We are heartbroken, shocked and devastated ... but recognize nothing can come close to the grief and inexplicable pain her family and loved ones must feel at this moment. My heart pours out to them—along with each and every person she touched in this world."
Vampire in Brooklyn (1995)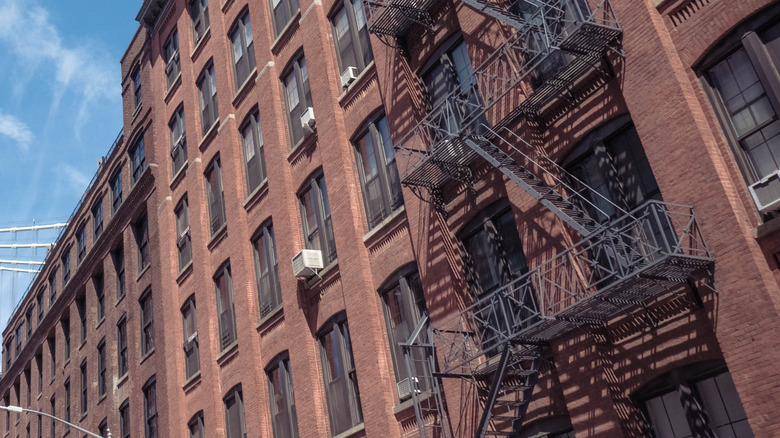 Shutterstock
Angela Bassett's double in Vampire in Brooklyn had invited her mother and siblings to the set of the film to watch her work on the day her life was cut short. Sonja Davis' mother Wanda Sapp would later reveal that she overheard her daughter casting doubt on the safety of the stunt she was about to perform during their fateful visit, telling The Los Angeles Times, "The last words I heard my baby say was when she yelled down to the stunt coordinator, 'Are you sure?' I could feel Sonja wasn't comfortable with the stunt."
Davis had been performing a 42-foot backward jump off of a building, but rather than landing safely on the air bag that was supposed to cushion her fall, she instead bounced back into the building before making impact with the ground, much to her family's horror. Her mother initiated a multi-million dollar wrongful death suit against the studio, Paramount Pictures (along with director Wes Craven and producer/star Eddie Murphy), but the case was ultimately dismissed. Stunt coordinators on the film would later claim in an oral history of the movie that Davis didn't perform the jump correctly, but there were also no ambulances on set during the incident. Davis was 32.
Comes a Horseman (1978)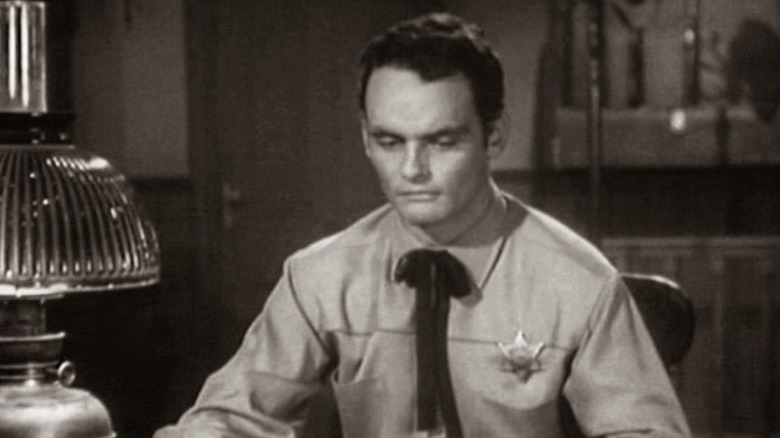 NBC/Hollywood Stuntmen
Working as Jason Robards' stunt double on Comes a Horseman, veteran stunt actor Jim Sheppard was filming a scene in which he was supposed to be dragged behind a galloping horse through a fence to simulate the death and disappearance of Robards' character.
However, the horse didn't stick to the intended course, and caused Sheppard's head to strike a fence post. Although the film ultimately cut away from the fatal collision, Sheppard's last stunt was still included in the picture. He was 40 at the time of his passing.