Ron Perlman Really Doesn't Want To Talk About The Hellboy Reboot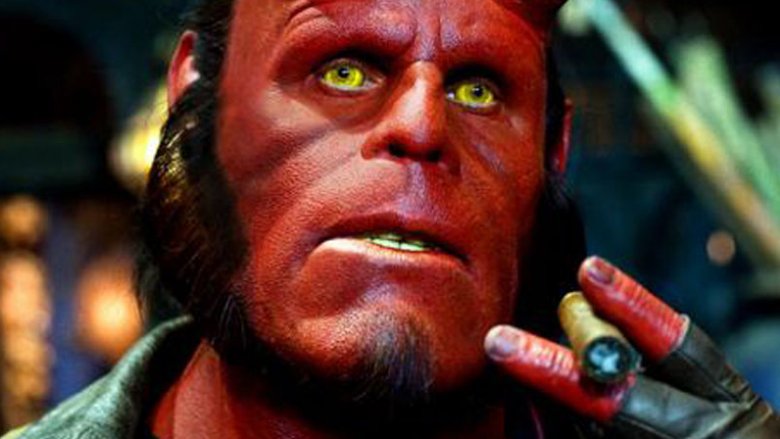 Buzz around the upcoming Hellboy reboot is growing louder by the minute, but former Hellboy actor Ron Perlman wants to stay silent. 
During an Ask Me Anything (AMA) session on Reddit Wednesday, Perlman fielded a number of inquiries about his past film roles—discussing everything from playing Clarence "Clay'" Morrow on the crime drama series Sons of Anarchy to portraying the Kaiju organ-dealing black marketeer Hannibal Chau in 2013's sci-fi monster film Pacific Rim. The actor was candid about his previous work, but when one user asked him to comment on the Hellboy reboot, which sees Stranger Things star David Harbour taking on the devilish mantle, Perlman balked. 
"Now that photos have been released, how do you feel about the 'new' Hellboy?" the user questioned, referring to the pictures of Harbour as Hellboy Lionsgate and Hellboy comic creator Mike Mignola shared online earlier this month. 
"I've made my peace with it," Perlman wrote in response. "I refuse to answer any questions about it."
Perlman appeared as the eponymous red-skinned character in 2004's Hellboy and its 2008 follow-up flick Hellboy II: The Golden Army, both directed by visionary filmmaker Guillermo del Toro. Back in February of this year, del Toro revealed that he had met with Perlman and Mignola to talk about a potential third collaboration, but the discussions didn't work out. "Hellboy 3. Sorry to report: Spoke [with] all parties. Must report that 100% the sequel will not happen. And that is to be the final thing about it," the director wrote on Twitter. 
Not long after, Mignola announced that there would, in fact, be a third Hellboy movie—but without the original director or cast involved in any way. The reboot, initially thought to be titled Hellboy: Rise of the Blood Queen but later confirmed as simply Hellboy, will be helmed by The Descent and Game of Thrones director Neil Marshall. 
Alongside Harbour are Milla Jovovich as the central villain, the Blood Queen; Ian McShane as Professor Trevor "Broom" Bruttenholm, Hellboy's adoptive father; Daniel Dae Kim as Bureau for Paranormal Research and Defense member Major Ben Daimio, who replaced Ed Skrein after the English actor departed from the project following whitewashing allegations; and Sasha Lane as Alice Monaghan. 
Perlman's statements (or, rather, lack thereof) come a few months after he had dinner with Harbour and comedian Patton Oswalt, which was apparently a lovely time, though it wasn't very productive. "Not since Bill Clinton, Menachem Begin, and Anwar Sadat has there been such an epic summit yielding such a little result!" Perlman said of the experience. "Apparently Patton Oswal[t]... thought it was a good idea to host David Harbour and yours truly for a detente dinner. The result: I gained three pounds and ruined my liver."
The former Hellboy star even previously voiced his support for Harbour taking over the role, calling him a "good dude" and wishing him "nothing but the best when it comes to the retooling of Hellboy." However, those remarks were given before the public got its first look at Harbour all gussied up as Hellboy. Perhaps seeing Harbour in costume as the character he originated on screen made Perlman change his stance on the situation.
Hellboy is scheduled for release on January 11, 2019. In the meantime, check out these reboots that actually worked in a big way.