Ron Perlman, David Harbour, Patton Oswalt Went Out For A 'Hellboys' Dinner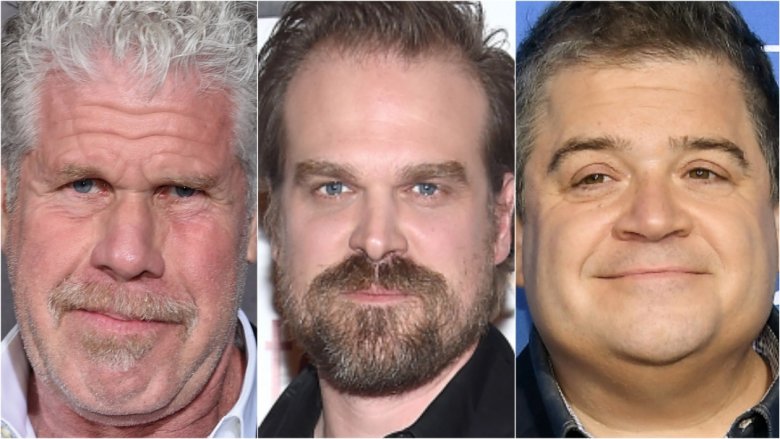 Getty Images
Ever hear the joke about two Hellboys and a Patton Oswalt who walk into a restaurant?
Comedian and bona fide comic book fan Oswalt recently orchestrated one of the nerdiest meet-ups in memory: He brought together original Hellboy actor Ron Perlman and the soon-to-be-red-faced hero David Harbour to chat about the upcoming Hellboy reboot over a nice meal. 
Oswalt took to Twitter to revel in the meeting of the minds and offer up a hilarious nicknamed for the newly minted trio of men. "The summit dinner was a smashing success. Now, to launch my new pop duo, Hellboyz," Oswalt wrote, captioning a photo of him, Perlman, and Harbour sitting in a restaurant booth.
Perlman followed suit and shared the same snap (and an even funnier caption) on his Facebook page. "Not since Bill Clinton, Menachem Begin, and Anwar Sadat has there been such an epic summit yielding such a little result!" Perlman wrote. "Apparently Patton Oswald... thought it was a good idea to host David Harbour and yours truly for a detente dinner. The result: I gained three pounds and ruined my liver."
Perlman's self-aware use of the word "detente," which refers to an easing of hostility or tension between two entities, to describe the evening is likely a cheeky jab at the Hellboy fans up in arms about the impending remake, particularly Harbour's casting. News that the Stranger Things star would be replacing Perlman as the devilish comic book character broke last month. Since then, Perlman has voiced his support, calling Harbour a "good dude," and wishing him "nothing but the best when it comes to the retooling of Hellboy." 
While some Hellboy devotees may not be all that jazzed about the reboot, Perlman has made it evident that there's no bad blood between him and Harbour. Perlman closed his dinner snap with a touching send off: "Good luck kid! Signed, the Babe."
Guillermo del Toro, who wrote and directed the first two Hellboy movies, won't be involved in the R-rated reboot. Past reports indicated that Millennium is eyeing Larry Gordon and Lloyd Levin to produce alongside Dark Horse Entertainment's Mike Richardson. 
It may be quite a while before we hear more juicy details about the new Hellboy film, so why not pass the time by discovering how the original cast should really look?
Not since Bill Clinton, Menachem Begin, and Anwar Sadat has there been such an epic summit yelding such a little result!...

Posted by Ron Perlman on Tuesday, June 6, 2017