Karen Gillan Is Breaking Fans' Hearts With Her Guardians Of The Galaxy Vol. 3 Wrap Message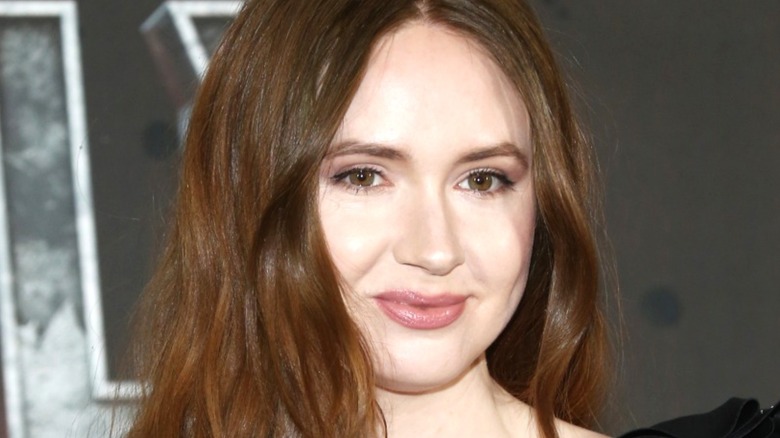 Tommaso Boddi/Getty
As we near the middle of the Marvel Cinematic Universe's Phase 4, fans have plenty to be excited about. "Doctor Strange in the Multiverse of Madness" is nearly here, and "Moon Knight" just released its final episode on Disney+. Of course, "Thor: Love and Thunder" is up next on the slate, with the official trailer now out. The movie is notably set to feature Jane Foster's Mighty Thor (Natalie Portman) along with The Guardians of the Galaxy. Thor (Chris Hemsworth) is currently spending time with The Guardians after the events of "Avengers: Endgame," so it will be interesting to see how much of a part they play in this Thor-centered movie. However, it's likely that "Thor: Love and Thunder" will set up The Guardians for their next adventure in the recently wrapped "Guardians of the Galaxy Vol. 3."
For some time now, fans have watched Peter Quill (Chris Pratt), Gamora (Zoe Saldana), Drax (Dave Bautista), Rocket (Bradley Cooper), and Groot (Vin Diesel) become like a family — and one that has grown in number. The group gained Mantis (Pom Klementieff) and Gamora's sister, Nebula (Karen Gillan), after "Guardians of the Galaxy Vol. 2." Unfortunately, they lost the version of Gamora that they know and love in "Avengers: Infinity War," but seem to be seeking out the other one post "Avengers: Endgame."
"Guardians of the Galaxy Vol. 3" has been said by director James Gunn to be the last adventure for the group (via Deadline), leading some of the cast, like Karen Gillan, to leave a heartbreaking message of gratitude. 
Karen Gillan says Guardians of the Galaxy Vol. 3 may be Nebula's last movie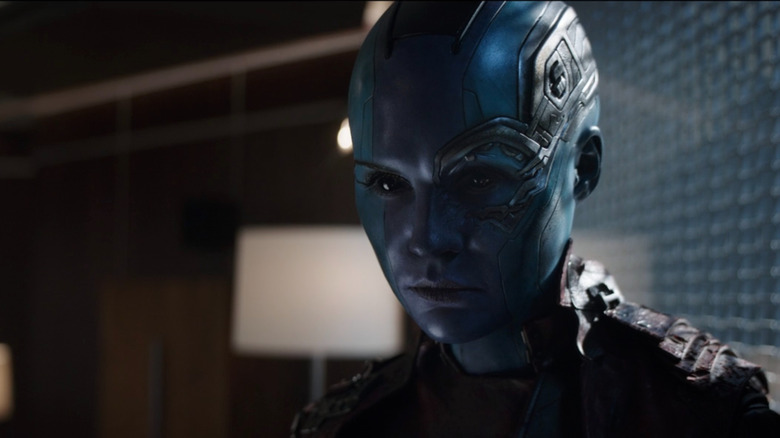 Marvel Studios
In a recent Instagram post from Karen Gillan, the 34-year-old Nebula actress shared an image of her chair on set that has her character name on it. The photo's caption explained that the cast and crew have officially wrapped "Guardians of the Galaxy Vol. 3," and she went on to note that she doesn't know if Nebula will come back after this movie. "It's possible that this is her final chapter," Gillan wrote, before thanking James Gunn for providing her with such an "interesting, complex and fascinating character to play." She added that Nebula has been an exploration that she has enjoyed most of all the roles that she's played thus far, closing her caption by thanking fans for watching.
Of course, this message from Gillan is emotional for her and those who have watched her play Nebula for years. Users in the comments professed their desire for Nebula's story to continue, while others shared heartfelt thank you's for Gillan's time and performance. Either way, it would certainly be hard for fans to watch The Guardians of the Galaxy lose another member again so soon (if indeed anything happens to her in the movie), especially after everything that's happened with Gamora.
Only time will tell what happens to all of The Guardians when "Guardians of the Galaxy Vol. 3" hits theaters on May 5, 2023.