Every Film To Watch On Netflix With The Cast Of Stranger Things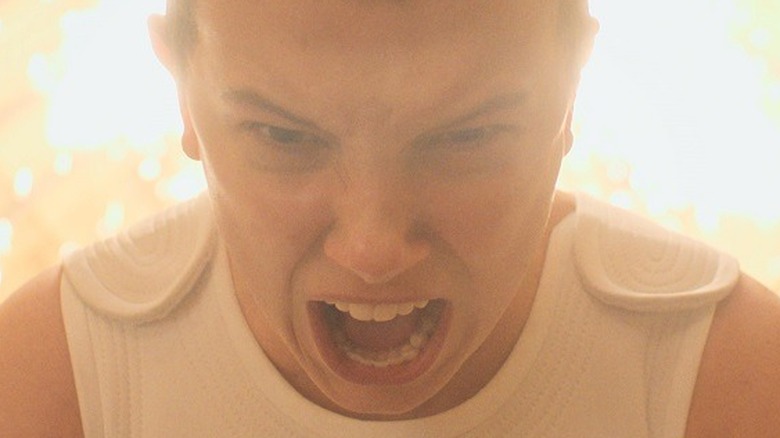 Netflix
This content was paid for by Netflix and created by Looper.
It's almost time to head back to Hawkins. The fourth and penultimate season of "Stranger Things" will premiere in two volumes, with part one debuting on Friday, May 27 and part two following along on Friday, July 1. These new episodes promise to ratchet up the stakes for our heroes once again — this time, with the group scattered to some new locales, exploring their relationships old and new, and, of course, grappling with a few truly terrifying creatures that threaten to turn the whole world upside down.
But before the long-awaited arrival of a new "Stranger Things" season is here, you can prepare for the series' return by digging into some of the other exciting projects that feature the all-star cast of the show. Here's a look at every film you can watch on Netflix with the cast of "Stranger Things."
Millie Bobby Brown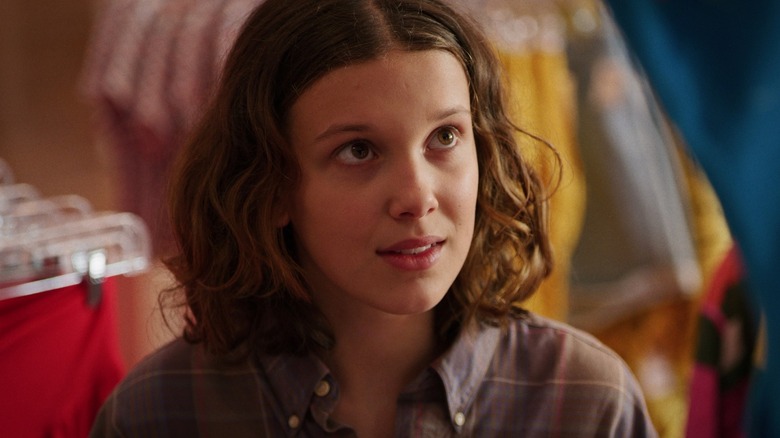 Netflix
Millie Bobby Brown has emerged as a major screen sensation thanks to her captivating and original performance as Eleven in "Stranger Things." The character's journey has been an intense and emotional one, and Brown's performance is nothing short of spectacular from start to finish. Whether she's seen swiping waffles from the frozen foods aisle or blasting away baddies through an interdimensional portal, Brown's Eleven is always a treat to watch.
Similarly, Brown also owns the screen in the 2020 mystery drama "Enola Holmes," featuring her in the title role as a pint-sized sleuth and sister to the famous detective extraordinaire Sherlock Holmes (portrayed by Henry Cavill in the film). As Enola, Brown brings both a delightful level of determination and some moments of mischief that make the character unique. Brown will soon return to the role for "Enola Holmes 2," so be sure to check out this uplifting original film and see more of her talents in action.
Winona Ryder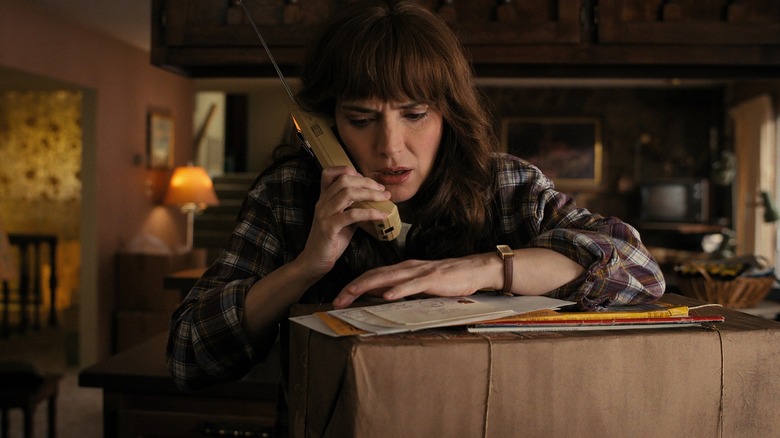 Netflix
Audiences have long loved Winona Ryder, and after lighting up the screen for decades, she gives us something new to celebrate in "Stranger Things" with her delightful role as the wonderfully weird Joyce Byers. At the start of the show, she's a single mother who does her best to provide for her boys but faces the unimaginable when her youngest son disappears. Amid her grief, eerie supernatural occurrences begin happening around her, and she's the first person to really embrace the truth of what's going down in Hawkins. As Joyce, Ryder is loving and kind but also ferocious when it comes to protecting her kids.
Ryder fans can watch a few of her other all-time performances on Netflix right now. Her Oscar-nominated turn as the unconquerable Jo March in the 1994 adaptation of "Little Women," for example, is perfectly complex and riveting. She also delivers a tour-de-force performance in the gripping 1999 drama "Girl, Interrupted," starring as Susanna, a depressed woman who's forced by her family to live in a mental institution and who unexpectedly finds fellowship with the other patients. Fans can also watch her take on an acerbic but oddly charming role as Lindsay in the 2018 romantic comedy "Destination Wedding," which reunites her with fellow pop culture favorite Keanu Reeves.
If you or someone you know is struggling with mental health, please contact the Crisis Text Line by texting HOME to 741741, call the National Alliance on Mental Illness helpline at 1-800-950-NAMI (6264), or visit the National Institute of Mental Health website.
David Harbour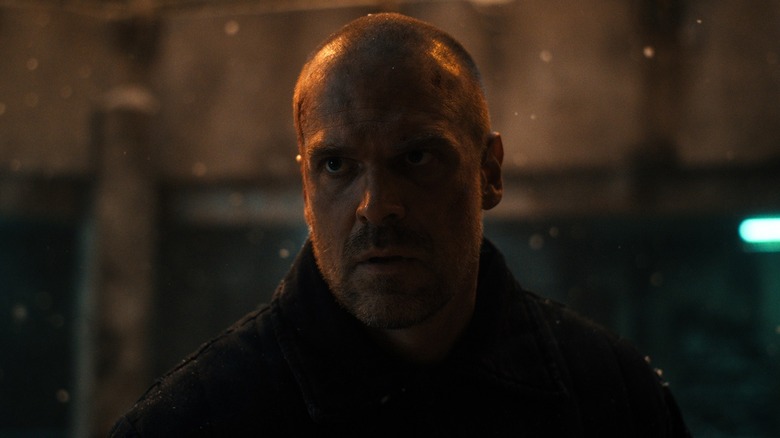 Netflix
David Harbour has been tearing it up on the silver screen for some time now, but his role as Chief Jim Hopper officially launched the actor into the big time. As Hopper, Harbour is a bit jaded by the humdrum existence of his small town, which makes him the perfect person to lead his ragtag team of teens during their ventures into the mysterious Upside Down. Harbour manages to make the character stern and angry at times but also exceptionally caring and attentive beneath the surface.
For more of Harbour's unique talents, fans can also catch him as a CIA chief named Gregg Beam in the 2008 James Bond thriller "Quantum of Solace" and in his supporting role as Gaspar, a charismatic former mercenary, in the 2020 thriller "Extraction." Perhaps his most electric performance to date, though, can be found in his performance as David Harbour III in "Frankenstein's Monster's Monster, Frankenstein," a hilarious 2019 mockumentary about an actor looking back on the life of his father (also Harbour), who once portrayed Dr. Frankenstein in a play. It's a riotous and rewarding showcase of Harbour's energetic and enigmatic performance skills, and it's a must-see for fans of the actor.
Caleb McLaughlin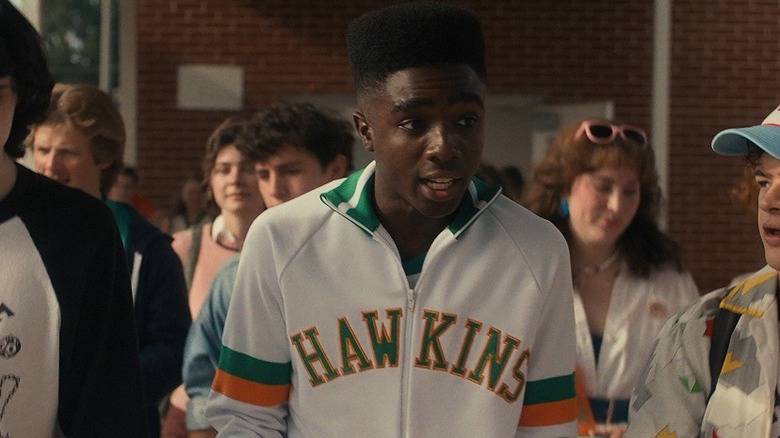 Netflix
Caleb McLaughlin is a young star who's enjoyed a major breakthrough thanks to "Stranger Things." In the series, he stars as Lucas, the most skeptical kid of the bunch. And as Lucas, McLaughlin is sharp-witted and strong, and he's brave enough to admit when he's wrong too.
Fans can also see McLaughlin's talents in Steven Soderbergh's 2019 sports drama "High Flying Bird," which features him as Darius, a kid who witnesses a bit of a revolution when two locked-out basketball players go head-to-head on the court and make a big splash on the internet. 
McLaughlin is also a revelation in the 2021 drama "Concrete Cowboy," an adaptation of the book "Ghetto Cowboy" featuring McLaughlin as Cole, a rebellious teenager who's sent to live with his estranged father, a man whose biggest passion is riding horses through the streets of Philadelphia with his friends. McLaughlin's performance in the picture is extraordinary and heartwarming, and the film is both entertaining and illuminating about the fascinating culture of Black horseback riders in the City of Brotherly Love.
Natalia Dyer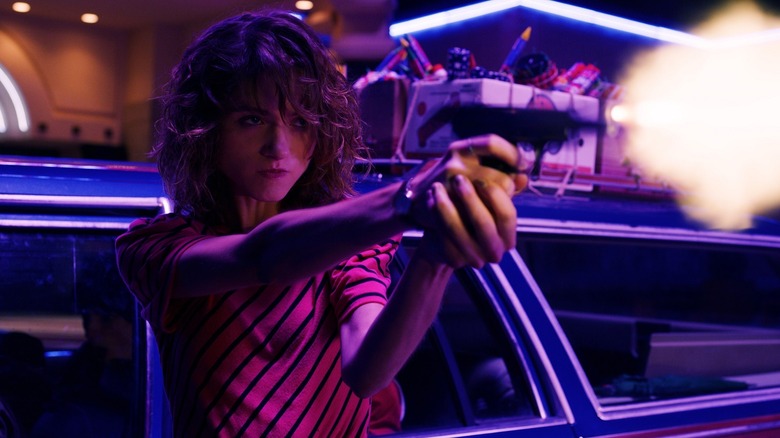 Netflix
Natalia Dyer is another star who's continued to rise since stunning audiences with her role as Nancy Wheeler in "Stranger Things." Thanks to Dyer, Nancy has thoroughly evolved from a messy teen into an industrious journalist who stops at nothing to pursue the truth. She's also experienced a lot of emotional ups and downs, from a brutal breakup to losing her own best friend, and Dyer has been spectacular throughout the character's journey.
Fans can see more of Dyer's screen savvy in several other movies available in the Netflix library right now. For starters, she appears in the 2019 dark comedy-horror film "Velvet Buzzsaw" as Coco, an art assistant who's unfortunately caught up in a cavalcade of mysterious deaths, and she somehow keeps stumbling upon all the bodies of her bosses. Then, she also leads the cast of the 2019 dramedy film "Yes, God, Yes," which features her as Alice, a Catholic school girl who struggles with her burgeoning sexuality and her spiritual devotion. 
And fans definitely don't want to miss her work in the 2021 period horror film "Things Heard and Seen." Dyer stars in the film as Willis, a seductive student who engages in a consequential affair with an art professor, just as a supernatural presence is taking over his home life. Her performance is disarmingly good and helps ramp up the tension at some critical moments in the movie.
Joe Keery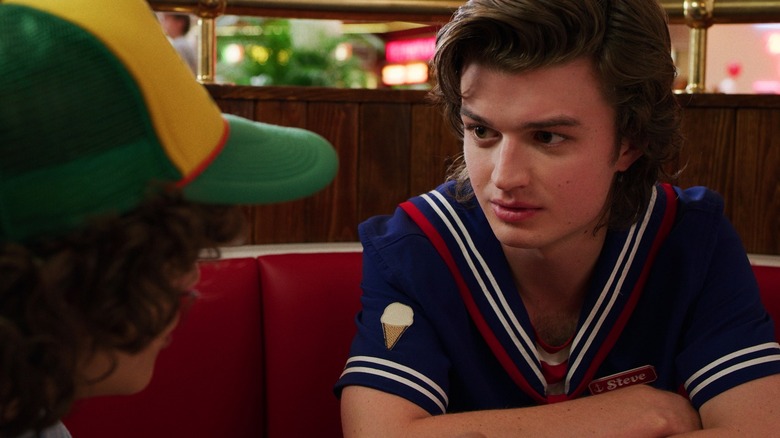 Netflix
Joe Keery has enjoyed a meteoric rise as a result of his beloved role as Steve Harrington in "Stranger Things." With his beautiful bouffant, winning smile, and willingness to shepherd the younger Hawkins kids through dangers untold, Steve has managed to become one of the best characters on the show, and he's certainly experienced some serious growth from his jealous boyfriend phase at the beginning.
Harrington's humor is a big part of Steve's appeal in the series, of course, so it's only fitting that he's gone on to do some very humorous work. Harrington also stars in the hilarious back-to-back mockumentary series "Death to 2020" and "Death to 2021," from "Black Mirror" creators Charlie Brooker and Annabel Jones, which commemorate two very unusual and eventful years. Keery appears in the films as Duke Goolies, a young man who's a jack of many modern trades, including DJing, mixology, and content creation. Plus, his attitude about the apocalyptic events that surround him is blasé in the best way.
Noah Schnapp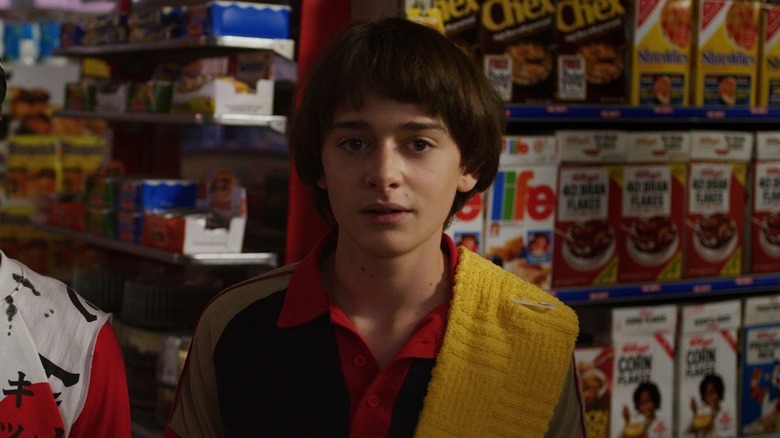 Netflix
As the first character to experience the Upside Down — make that, the first kid to make it out and tell the story of the Upside Down — Noah Schnapp's Will Byers basically sets the tone for the entire ordeal. Sure, he's absent for a lot of the action in the first season, but his storyline is truly chilling, as he dodges the Demogorgon and desperately tries to make contact with his mother and friends in his world. In the subsequent seasons, Will's mindset has continued to be an essential element of the show, especially when it comes to his lingering connection to the eerie underbelly of his terrorized town, and Schnapp has done a brilliant job of making his character both brave and understandably terrified about everything that's happening to him.
Schnapp's ability to nimbly balance the character's fear and fight is something he also brings to his role as Tommy in the 2020 holiday comedy-thriller "Hubie Halloween." Tommy is a foster kid who gets routinely picked on by local bullies but still steps up when spooky stuff starts to happen around town. It's a fun, festive film that Schnapp fans are sure to enjoy.
Sadie Sink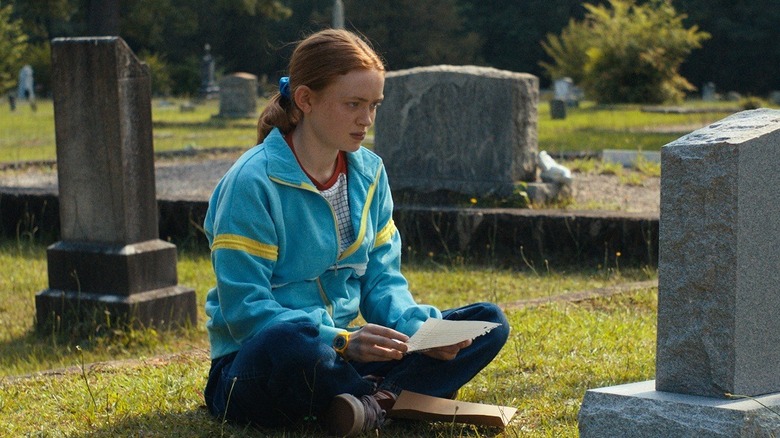 Netflix
Sadie Sink came in to shake up the action quite a bit in Season 2 with her cool girl character Maxine "Max" Mayfield, a champion of "Dig Dug" and a skateboard enthusiast who becomes fast friends (and then something more) with Lucas and, by extension, all of the littlest Hawkins heroes. She develops a particularly special bond with Eleven over the course of the series, and she becomes an essential member of the fight against the creepy-crawlies that slither out of the Upside Down.
Sink's skills for navigating the complex emotional experience of youth amid a backdrop of horrors can also be seen in the 2019 thriller "Eli." Sink stars in the film as Haley, a mysterious girl who lives in a remote treatment facility that has a sinister secret. And, just as "Stranger Things" is a celebration of the '80s, the second installment of the "Fear Street" trilogy is something of a love letter to late '70s slashers. Sink's role in this installment of the series is particularly invigorating, as she stars as a no-nonsense summer camp kid who finds herself in a fight for her life once a spree of grisly murders breaks out. As ever, Sink plays the role with smarts and sophistication that makes her character even more compelling to watch. 
(And as a bonus, "Fear Street: Part One" also features a knockout cameo by "Stranger Things" star Maya Hawke, so be sure to check out the entire series!)
Matthew Modine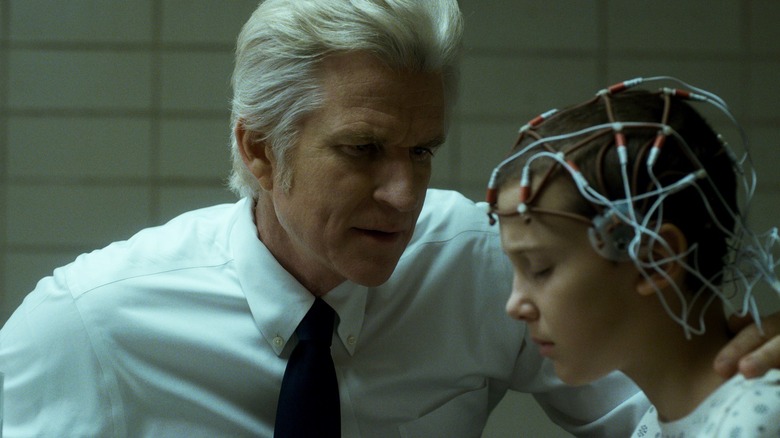 Netflix
While most of the villains in "Stranger Things" are of the otherworldly variety, there are a few people who help make Hawkins' horror story happen. One of those is Mathew Modine's sinister scientist character Martin Brenner, aka "Papa." As we learn throughout the series, Brenner is personally responsible for the torturous tests that Eleven and other children have been subjected to, and it's his laboratory that has unleashed the Upside Down on the town.
Yep, Modine is very good at playing twisty characters, and you can see another example of that with his remarkable portrayal of real-life fraudster Rick Singer in the 2021 documentary "Operation Varsity Blues," in which he dramatizes the man behind the infamous college admissions scandal by acting out his real conversations and actions. Fans can also currently enjoy a couple of his other celebrated screen performances as Pvt. Joker in the 1987 war drama "Full Metal Jacket" and as Dr. Ollie Powers in the 1999 sports film "Any Given Sunday."
Brett Gelman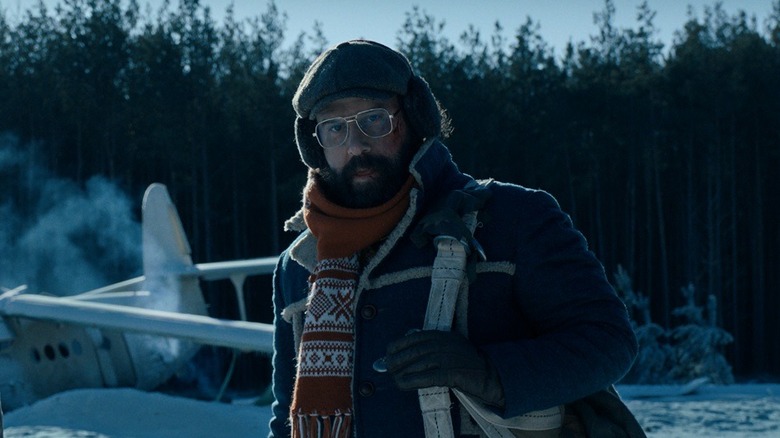 Netflix
As scary as "Stranger Things" can be when the monsters come crawling out of the woodwork, there are also many moments of levity and humor sprinkled throughout the series as well. Brett Gelman's character, Murray Bauman, for example, is certainly one of them. As Murray, Gelman is as inquisitive as he is odd, but he somehow manages to win over his peers and the audience alike thanks to his unique charms. Even though he's clearly the comedic relief of his plot lines, he's also quite helpful in carrying forward the story.
There's more of Gelman's signature humor to be found in some of his other films as well, including the 2018 dramedy "Like Father," which features him as Frank Lerue, and the brand new music dramedy "Metal Lords," in which he stars as Dr. Sylvester, the very opinionated father of a devoted metalhead teen.
Rob Morgan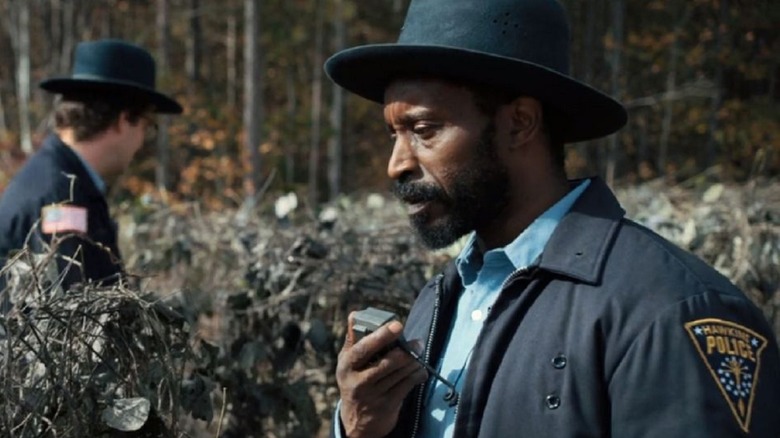 Netflix
Chief Hopper is undoubtedly the leader of the pack when it comes to Hawkins' law enforcement squadron, but he has a whole lot of help from his second-in-command, Rob Morgan's Officer Powell. As Powell, Morgan is skeptical but attentive, and he's always just on the edge of discovering what's really going on in town.
Morgan is, of course, a very accomplished actor, and he's brought his skills to bear in many, many movies and television series. You can catch him in the celebrated 2017 historical drama "Mudbound," for instance, as Hap Jackson, the patriarch of a hardworking family of sharecroppers and a pastor for his community, who grapples with the scourge of violent racism in the South in the World War II era. Then, in the searing 2021 drama "The Unforgivable," Morgan can be seen as Vincent Cross, the attentive parole officer of a woman convicted of a vicious crime. 
Most recently, Morgan can be seen in the apocalyptic 2021 satire "Don't Look Up," which features the actor as Dr. Teddy Oglethorpe, a NASA scientist who is absolutely incredulous when the world ceases to care about a planet-killing comet that's bound to destroy Earth.
Sean Astin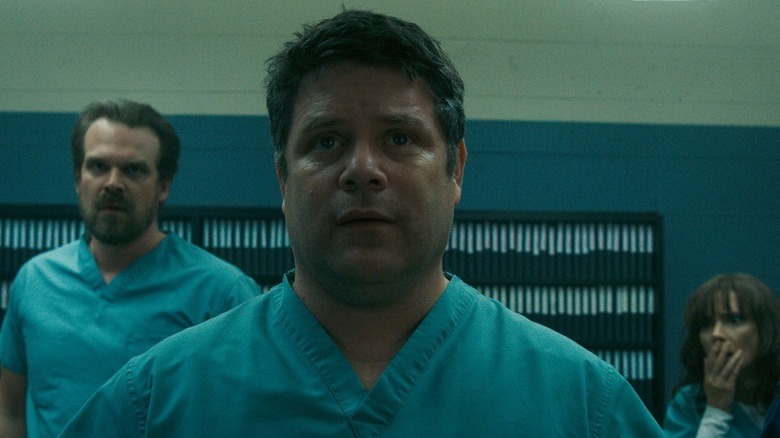 Netflix
The supporting cast of "Stranger Things" is full of icons from the era in which the show takes place, including Sean Astin as the beloved Bob Newby. In the second season, Bob becomes an instant favorite as we see that his wholesome nice guy persona is anything but an act. Put simply, it's impossible not to like — or even love — good old Bob, thanks in no small part to Astin's earnest performance in the role.
Astin is, of course, a highly seasoned screen star with everything from cult favorites to blockbuster franchises under his belt. Netflix subscribers can currently catch some of the actor's other heartwarming work in his role as Ed in the series "No Good Nick" and as Ted-O in the 2016 buddy comedy adventure film "The Do-Over."
Paul Reiser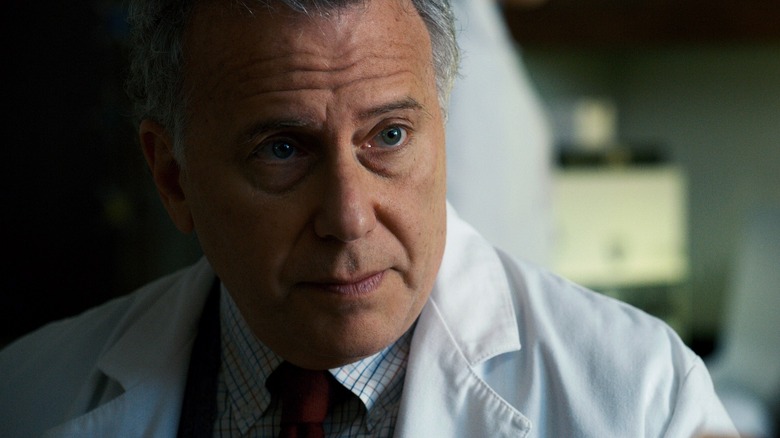 Netflix
Paul Reiser is another longtime Hollywood favorite who makes a major splash in "Stranger Things." Reiser appears in the series as Sam Owens, a member of the federal Department of Energy who's charged with containing the outbreak of otherworldly creatures in Hawkins, Indiana. In the process, he becomes a major ally of Chief Hopper and Joyce Byers.
Reiser has an impressive filmography to complement his work in "Stranger Things," including an Emmy-nominated turn as Martin in the critically revered series "The Kominsky Method." Fans can see him as Gary, the stepfather of the titular character in the 2020 psychological drama "Horse Girl," and he also impresses with his role as Simon in the 2016 thriller "The Darkness."
Shannon Purser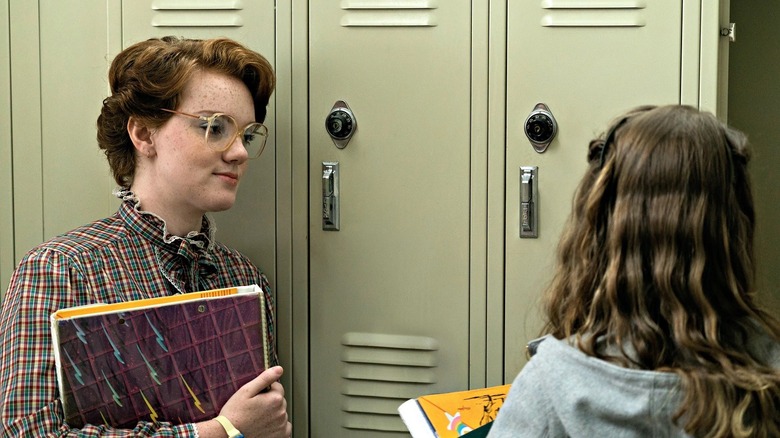 Netflix
Perhaps no "Stranger Things" moment was more meme-able than when poor Barb went missing from the pool, thanks to that sneaky Demogorgon. And a major part of the reason #JusticeForBarb became such an instant sensation after Season 1 is that Shannon Purser's performance in the role is so darn pure. As Barb, Purser is the patient and kind best friend to Nancy Wheeler, and it's her concern for Nancy's well-being — and her decision to stick around just in case her friend needs her — that ultimately lands lovely Barb in the wrong place at the wrong time.
Fans of Purser can see her taking on another heartwarming — and far less tragic — role in the lead of the 2018 teen dramedy film "Sierra Burgess Is a Loser." Purser stars in the eponymous part as a girl who begins texting a hunky football player, although he thinks he's talking to a popular cheerleader, not Sierra. As the lead, Purser is just as lovable as ever, and the film is a great next stop for those who are still sour about the bad hand Barb was dealt.
Robert Englund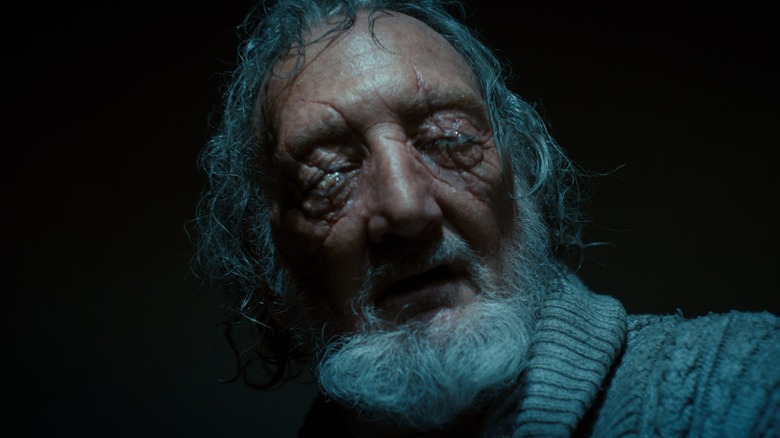 Netflix
In "Stranger Things" Season 4, there are a bunch of new faces joining the fold, not the least of which is horror legend Robert Englund, who appears in the show as Victor Creel. Though fans will have to wait until the new season drops to see what Victor Creel brings to the story, what we do know is that he's a patient imprisoned at the Pennhurst Mental Hospital for the grisly murders of his family committed some decades before. Oh, and he also has some truly chilling eyes.
Englund is no stranger to giving audiences a chill, of course. Audiences can revisit some of his masterclass work as the iconic villain Freddy Kreuger in films like "Nightmare on Elm Street" and "Freddy vs. Jason." Fans can also catch him in the recently released slasher sensation "Choose or Die," which features him as the mysterious director of a deadly game called CURS>R. Be warned — by seeing Englund's performances in these pics, you might lose a little sleep afterward.
All in all, there's a lot to catch up on from the cast of "Stranger Things" before the fourth season arrives, so happy streaming!