What Millie Bobby Brown Has Been Up To Since Enola Holmes
This content was paid for by Netflix and created by Looper.
After turning the sci-fi scene upside-down with her mind-bending portrayal of Eleven in Stranger Things, Millie Bobby Brown also breathed new life into the Victorian era detective genre with her delightful turn as the title character in Enola Holmes, the can-do spirited sister of Sherlock Holmes who embarks on a wild journey to find her missing mother in London.
Brown's performance as the quick-witted sleuth proved there is nothing she can't do, and the actress has been as busy as ever since the film debuted on Netflix last fall. Not only has Brown been devoting her time to charitable causes like her Goodwill Ambassadorship with UNICEF, as well as strengthening her business brands and celebrating her 17th birthday with some adorable throwback footage, but Brown has also been racking up new film and television projects. Here's a look at what Millie Bobby Brown has been up to since Enola Holmes.
Fourth time's a charm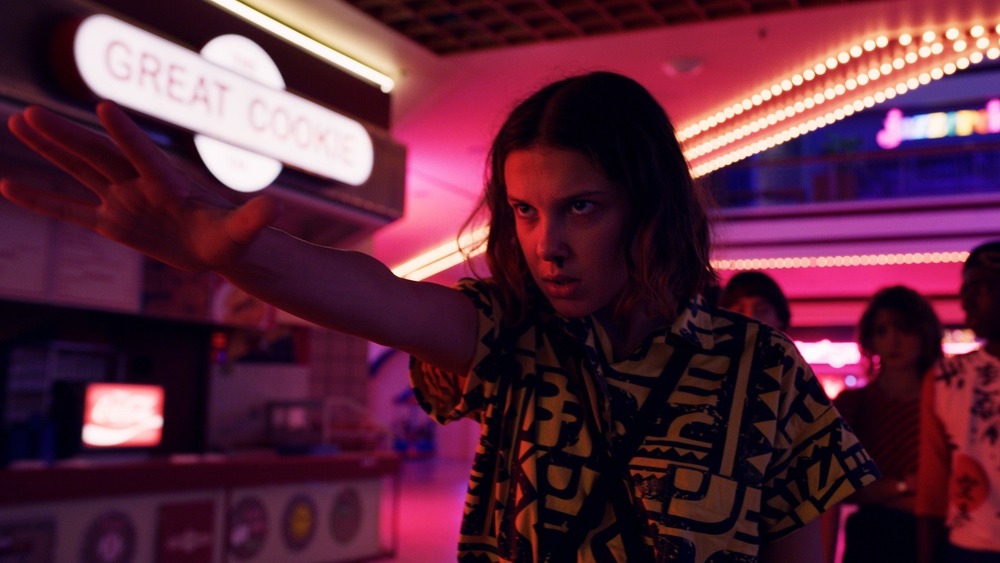 Netflix
It's almost time for some new adventures with the Hawkins crew. Like many other Hollywood productions, filming on Stranger Things season 4 was temporarily delayed as a result of the coronavirus pandemic, but things officially got back into gear in October 2020.
Fans of the hit sci-fi series will know that by the end of Stranger Things season 3, Eleven's telekinetic powers seemed to fade, and after the disappearance of Chief Jim Hopper (David Harbour), El was taken in by Joyce (Winona Ryder), Jonathan (Charlie Heaton), and Will Byers (Noah Schnapp) as they moved to a new home outside of their turbulent town. The teaser for season 4 revealed, however, that Hopper is bound to make a comeback somehow, so we'll have to wait and see what that might mean for Eleven and the rest of the gang
In the meantime, Millie Bobby Brown has revealed that she hopes her character will experience a "little self journey" in season 4, telling Elle Magazine, "I hope she finds who she is... Everyone needs that moment in life to sit there and think, 'Who am I as a person, who am I without everyone around me? How can I really love myself?'" Her co-star Finn Wolfhard also teased to CBC that fans can look forward to "the darkest season ever" when Stranger Things 4 debuts.
A whole new monster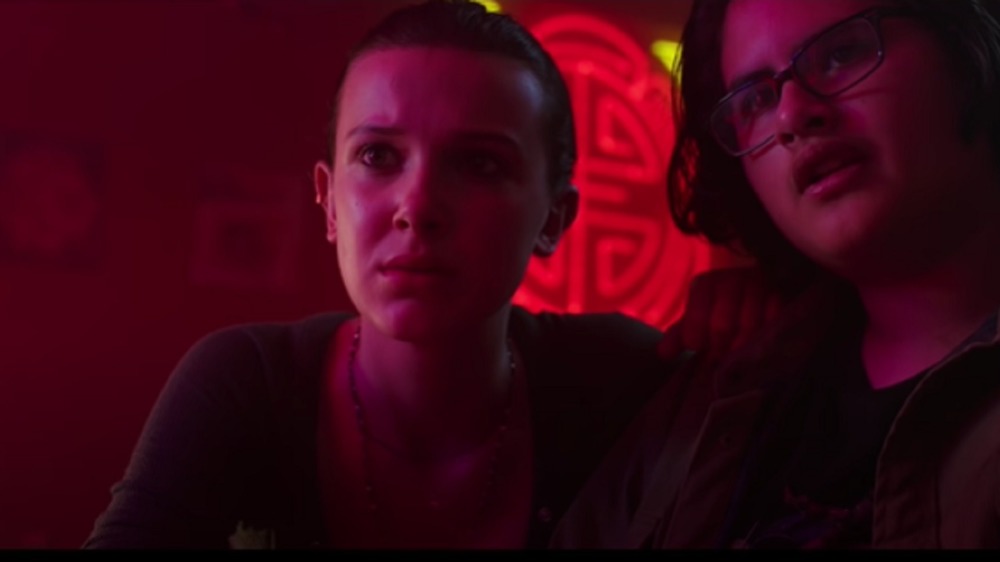 Warner Bros. Pictures
Before we get the chance to reconnect with Eleven, Millie Bobby Brown will next be seen on-screen dealing with some monsters that are much bigger than the Demogorgon when Godzilla vs. Kong debuts on March 26. In the film, Brown reprises her role from 2019's Godzilla: King of the Monsters as Madison Russell, the talented teen daughter of paleobiologist Emma (Vera Farmiga) and animal behaviorist Mark (Kyle Chandler).
In the newest chapter of the intense action film series, which is directed by acclaimed horror auteur Adam Wingard, Brown has teased that her character will have to "go on [a] journey" to determine if she will be "Team Kong or Team Godzilla" as the two titans engage in a massive battle that will affect the entire world. In the epic trailer for Godzilla vs. Kong, it looks like Madison will also take action and get to the bottom of what's provoking her ferocious favorite ... whichever one that might be.
No damsel in distress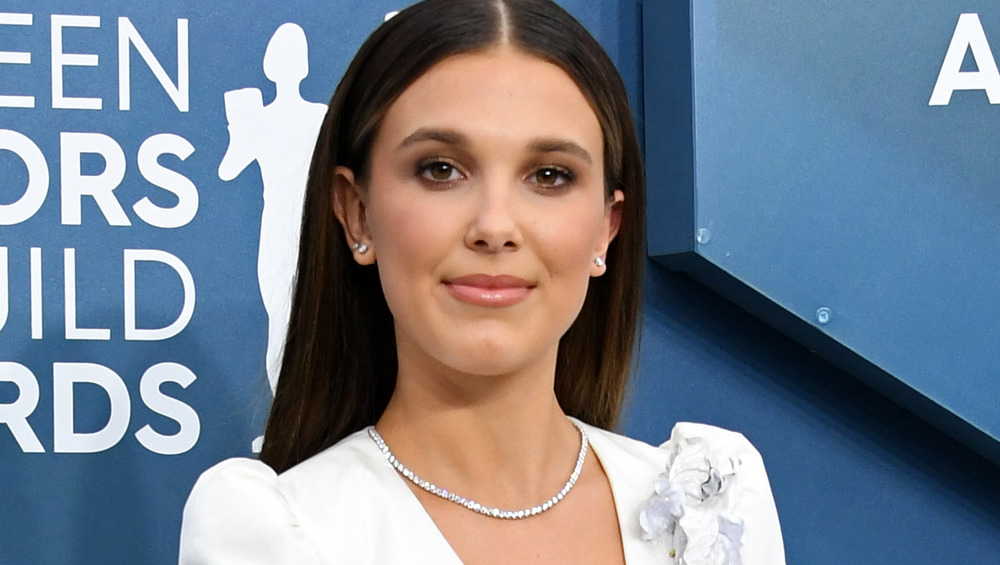 Jon Kopaloff/Getty Images
In addition to returning to her twice-Emmy-nominated television role and preparing for her next major movie premiere, Millie Bobby Brown has also been busy lining up a ton of other interesting future projects.
She recently signed on to star in and executive produce Damsel, a movie which will be directed by Juan Carlos Fresnadillo from a script by Dan Mazeau. Brown will star in the film as Princess Elodie, a young woman who is expecting to marry a prince from a rival kingdom in an arranged marriage, but she learns that she is instead going to be sacrificed to a dragon. Considering how well she's handled other dangerous fantastic creatures on-screen in the past, that dragon is going to have its work cut out for it when it faces this princess.
Meanwhile, Brown is also expected to team up with the Russo brothers to star in their next sci-fi film The Electric State. The film is an adaptation of the 2018 graphic novel of the same name by Simon Stålenhag and follows a teen runaway and her toy robot as they travel through the wreckage of a landscape riddled with ruined technology and discover a major conspiracy along the way. The script for the film is written by Avengers: Endgame screenwriters Christopher Markus and Stephen McFeely.
If that weren't exciting enough, Brown is also expected to star in an upcoming film adaptation of Tess Sharpe's new young adult novel The Girls I've Been, which centers on the daughter of a con artist who gets taken hostage by two bank robbers. Brown also previously signed on to star in an adaptation of Ali Benjamin's celebrated story The Thing About Jellyfish, which will feature her as the lead character Suzy, a girl who searches for answers after her friend is lost in a tragic accident.
In other words, Brown has been very, very busy in the months since we last saw her in Enola Holmes – and there's still so much more to come from this talented screen star.